Posted By Norman Gasbarro on July 29, 2012
Joseph Albright was born 6 Jul 1836 in Allentown, Lehigh County, Pennsylvania, and migrated with his family to Northumberland County.  His ancestry was German, tracing back to the immigrant Christian Albright who came to Berks County in the early eighteenth century.  The family moved about in the area east of the Schuylkill River, some venturing into Schuylkill County and others, like Joseph's grandfather, settling in Lehigh County.  Joseph's parents were Charles S. Albright, a tailor, and Esther Newhart, of Allentown.
Joseph was one of twelve children born to Charles & Esther Albright.  Those children also moved about as did their ancestors.  At the time he received his education, Joseph was living in Catawissa, Columbia County, and was learning how to be a plasterer.
The story of Joseph's Civil War service was told in the Genealogical and Biographical Annals of Northumberland County, which was published in 1911 by the J. L. Floyd Company of Chicago:
He enlisted in August 1862 in Company B, 131st Pennsylvania Regiment [13st Pennsylvania Infantry], with which he served ten months. During this time he was in the Second Battle of Bull Run, in the engagements at Monocacy, South Mountain, Antietam, Fredericksburg, and Chancellorsville.

His second enlistment was in February, 1864, in Company K, 112th Regiment, 2nd Pennsylvania Heavy Artillery, for three years, and he served to the close of the war. taking part in the Battles of the Wilderness, Spottsylvania, Cold Harbor, etc.  On 16-18 June 1864, the command was established in front of Petersburg where he received two bullet wounds, fighting hand to hand and standing up to his waist among the dead and wounded.  At Cold Harbor, while he was reloading his rifle, a bullet stripped the skin from his nose.  On 30 July at the mine explosion, he was captured, and was held eight months in the prison at Danville, being transferred to Libby Prison, from which he was exchanged 10 March 1865.  He was then brought to Annapolis, and sent to Baltimore Hospital, where he remained several weeks in a serious condition, weighing less than sixty-five pounds.  He was brought to Sunbury in this sad condition, and thence to the "Huff House" at Milton, more dead than alive; he laid between life and death from 2 April to 2 October 1865, but eventually recovered, though his improvement was very gradual. 

His army experience was trying and full of hardships, and he saw active service in some of the most important battles of the war.  At Fredericksburg his brigade was nearest to the heights where the Confederate line was posted.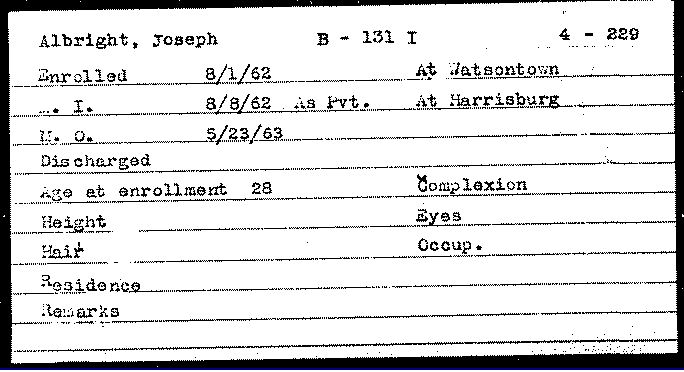 One of the two available Pennsylvania Veterans' Index Cards is shown above.  Neither card gives any personal descriptive information about Joseph except his age.
Also mentioned in the Genealogical and Biographical Annals of Northumberland County was the death of Joseph's brother Thomas Albright at the prison camp at Florence, South Carolina.  Nothing further is noted about Thomas' service, but a search of the war records indicates that Thomas served in the 4th Pennsylvania Cavalry, Company D, as a Private.  Although his muster date was given as 1 February 1864, there is no mention that he died while a prisoner.  There is only the mention that he was not present at muster out.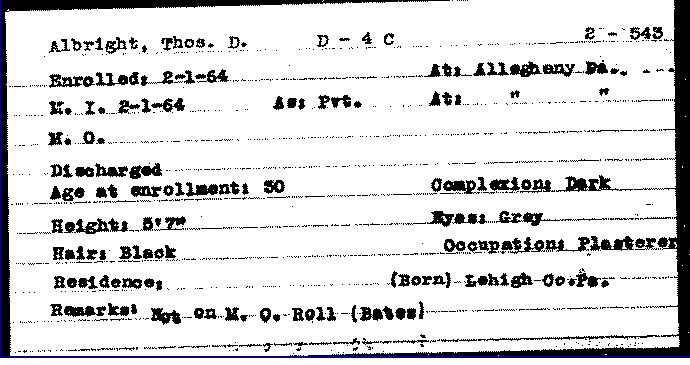 Thomas Albright was 5 foot, 7 inches tall, had black hair, dark complexion, and gray eyes.  Like his brother, Thomas was a plasterer by occupation.  It is believed that Thomas died in early 1865, but no evidence has been seen that confirms this.
After the Civil War, Joseph Albright decided to take up his plastering business in Watsontown, Northumberland County, but after a year gave that up to operate a livery stable, which he did for eight years.  After 1881, illness confined him to his house until 1890, when he recovered sufficiently to return to work.  During the early years, in addition to working at his trade, he was overseer of the poor, tax collector and constable in addition to serving as the president of the board of trustees of his Methodist church.  As a veteran, he also participated in the activities of the G.A.R.
Prior to his war service, Joseph Albright had married Mary Ann McCurley Tate of Northumberland County.  They had four sons, two of whom were twins.  Mary Ann was killed in Philadelphia in a trolley accident on 26 August 1902.
In 1907, Joseph married Ella Blue.  He died on 22 November 1911 and was survived by Ella.  He was buried in the Watsontown Cemetery, a place he helped to found.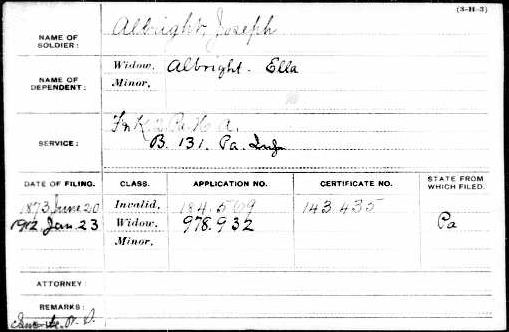 As can be seen from the Pension Index Card (above) which references pension application files at the National Archives, Joseph had applied for a pension in 1873, which he collected during his lifetime.  The early application date is confirmation that his disability was war related.  The widow Ella, applied for benefits in early 1912, but was not awarded them.
No news article has been located on the accident that killed the first Mrs. Albright.  The date of the accident was reported in the Genealogical and Biographical Annals of Northumberland County, and could be in error.  If any reader has seen a news article on the trolley accident or an obituary of Mrs. Tate, please advise.
Also, additional information is sought on Thomas Albright who supposedly died while a prisoner at Florence, South Carolina.
Finally, any and all information that can be provided on Joseph Albright would be greatly appreciated.
——————————
Pension Index Cards are from Ancestry.com.  Pennsylvania Veterans' Index Cards are from the Pennsylvania Archives.