Posted By Norman Gasbarro on June 10, 2012
William H. Geanslen was born in August 1846 in Pottsville, Schuylkill County, Pennsylvania, the son of George L. Genslin (1810-1850) and Mary [Lehr] Genslin (1812-1889).  His father, George, was born in Germany and was a baker and confectioner, who had come to America before 1838 and settled in the Pottville area.  The mother, Mary, was born in Switzerland, and probably worked together with her husband in the baking/confectionery business.  William had several siblings who he never knew because they died young, namely, George L. Genslin (1839-1840), John A. Genslin (1841-1842), and Sarah A. Genslin (1842-1845).  An older sister, Louisa Genslin, was born in 1838, and appears to have survived to adulthood, although not much is known about her.
One of the difficulties in researching this family is the many variations in the spelling of the surname.  The name has been found as Geanslen, Genslin, Gensler, Geanslen, Ganslen, Genslir, Geantsen, and many other ways.  The spelling of the name as "Geanslen" was chosen as the "primary" spelling because that is how William H. Geanslen is listed in business records of Minersville as well as the spelling his children used in their records and the name under which he was buried.
In the records of the 50th Pennsylvania Infantry, Company C, there is a William Genslin, who served as a musician.  In A History of Company C, 50th Pennsylvania Veteran Volunteer Infantry Regiment (Charleston: The History Press, 2006), J. Stuart Richards only notes that William was one of three musicians who served in the company and then repeats the information that is found on the Veterans' File Card from the Pennsylvania Archives: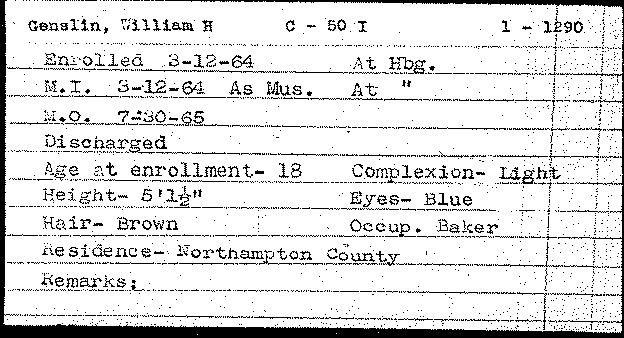 William H. Geanslen enrolled in the 50th Pennsylvania Infantry, Company C, as "William H. Genslin", as a Musician, on 12 March 1864, at Harrisburg, Dauphin County, Pennsylvania, and was mustered into the company on the same day.  He was then sent to join the regiment which had a short furlough and then began moving toward Annapolis, Maryland, to re-join the Army of the Potomac.  William was a replacement musician for Jere K. Helms who had been killed at Antietam on 17 September 1862, but much had transpired in the regiment and company since that time, including many of the surviving men who had joined in 1861 re-enlisting at Blaine's Crossroads, Tennessee, on 1 January 1864.  At the time of his enrollment, William listed his residence as Northampton County, Pennsylvania, but that was not the place of his birth, as previously noted.  William was short in stature, standing less than 5′ 2″ tall, had brown hair, light complexion, and blue eyes.  He gave his occupation as baker.  Since he was too young to have learned his father's trade from his father, he may have been apprenticing in Northampton County before the war – or may have learned from his mother.
One other musician was enrolled at the same time as William.  His name was Celestine McKibbon (also found as Clestine McKibbons) and he was a laborer from Montgomery County, Pennsylvania.  It is not known why the company had no official musicians on its rolls from the death of Jere K. Helms in 1862 until the newcomers joined in 1864.  Practically nothing is known about Celestine and he seems to disappear completely from the records after the war.
In researching the military record of William H. Geanslen, a Pension Index Card was located which indicated prior experience as a military musician: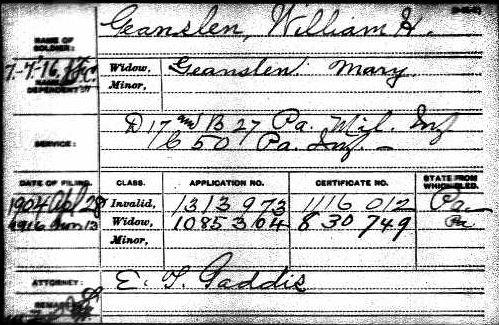 William had previously served in two militia regiments prior to his service in the 50th Pennsylvania Infantry.  Finding all the records was difficult because of the short service of the militia as well as variations in the spelling of his name.  What was learned was the following:
On 17 September 1862, in response to the Emergency of 1862, William Gensler was mustered into the 17th Pennsylvania Infantry (Emergency Militia of 1862), Company D, as a Musician.  He was discharged around 28 September 1862 when the emergency was over.
On 19 June 1863, William Gentsen was mustered into the 27th Pennsylvania Infantry (Emergency Militia of 1863), Company B, as a Musician.  He enrolled at Pottsville and was mustered in at Harrisburg.  When the emergency was over, he was discharged on 31 July 1863.  Although William Geanslen served the state of Pennsylvania during the Gettysburg crisis, he was not sent to Gettysburg for the battle and therefore neither his name, nor his militia regiment, appear on the Pennsylvania Monument tablets.
The two militia duties did not total three months service and alone would not have qualified William for a pension.  His more than one year of service as a Musician in Company C, 50th Pennsylvania Infantry, with the discharge date of 30 July 1865, alone would have been enough for a pension, but pension applicants were instructed to include all military service on their applications, which William did as can been seen by the Pension Index Card.
When the war was over, having acquired the skills of a baker prior to the war, William H. Geanslen settled in Minersville, Schuylkill County, and on 9 May 1872, at the Zion Evangelical Lutheran Church, married Mary Oerther (1852-1932).  The children of this couple included:  George Milton Geanslen (1873-1961); Harry H. Geanslen (1878-1954); and Robert R. Geanslen (1882-1895).  The baking business developed into a confectionery, which William established in a commercial area of Minersville at 108 Sunbury Ave.  William operated this business at this location until around 1906, when it appears that he retired and turned the business over to his two sons.  George continued as a confectioner and Harry expanded into ice cream.
George M. Geanslen, who took over the family business around 1906, was probably apprenticing with his father for some years before that.  On 10 April 1907, the Philadelphia Inquirer noted his marriage: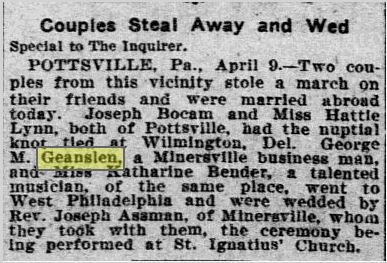 COUPLES STEAL AWAY AND WED

Pottsville, Pennsylvania, 9 April 1907 — …George M. Geanslen, a Minersville business man, and Miss Katharine Bender, a talented musician, of the same place, went to West Philadelphia and were wedded by Rev. Joseph Assman, of Minersville, whom they took with them, the ceremony being performed at St. Ignatius' Church.
Prior to his marriage, George officiated local sporting events in and around the Pottsville area – some of them at the same time his younger brother Harry was also officiating.  But George was not known as an athlete.   His success in business allowed him to retire early, and in 1930, he was living in Minersville in the household of his mother.  George M. Geanslen died in May 1961 in Minersville.
Harry Geanslen became a well-known athlete in Schuylkill County, particularly with baseball teams that played at a level just below what we would refer to today as "major league."  Teams were formed in various communities and players were lured to play for places other than their home town.  Baseball in Schuylkill County had developed just after the Civil War and by 1900, Pottsville had become a major center of baseball where only the best players were attracted to play.  Harry Geanslen was among those, who, if he had stayed with it longer, may have made a name for himself in either the National or American Leagues.
One interesting story about a game in which Harry played is given below and is from the Philadelphia Inquirer of 16 August 1900: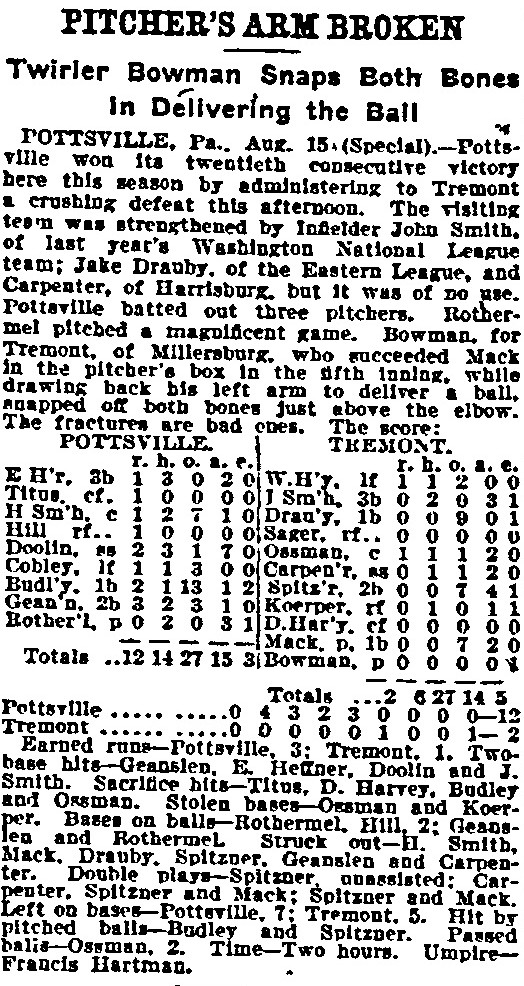 PITCHER'S ARM BROKEN

Twirler Bowman Snaps Both Bones in Delivering the Ball

Pottsville, Pennsylvania, 15 August 1900 (Special) — Pottsville won its twentieth consecutive victory here this season by administering to Tremont a crushing defeat this afternoon.  The visiting team was strengthened by Infielder John Smith of last year's Washington Nations League team; Jake Drauby, of the Eastern League, and Carpenter of Harrisburg, but it was of no use.  Pottsville batted out three pitchers.  Rothermel pitched a magnificent game.  Bowman, for Tremont, of Millersburg, who succeeded Mack in the pitcher's box in the fifth inning, while drawing back his left arm to deliver a ball, snapped off both bones just above the elbow.  The fractures are bad ones.  The score:… Pottsville 12, Tremont 2….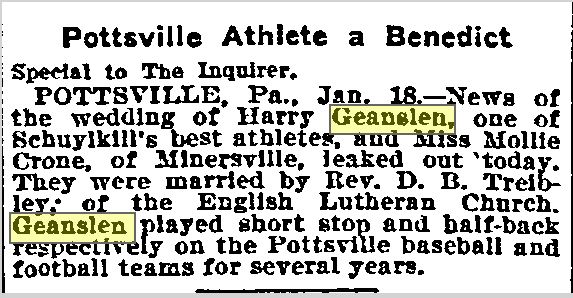 On 18 January 1906, the Philadelphia Inquirer reported Harry's marriage to Mollie Crone of Minersville, by Rev. D. B. Treibley of the English Lutheran Church.  At about the same time, Harry's name stopped appearing in the sports pages as an athlete and instead he began to officiate at local football games.  Also, his marriage seemed to coincide with his settling down as a business man.  Minersville business directories, consulted through the year 1915, list him as an ice cream maker working out of his father's old store.  By 1930, he had moved to Norwegian Township, Schuylkill County, and was retired.  He died in November 1954.
One further note about Harry. At the time of the Spanish American War, he joined a Pennsylvania Regiment that was sent to Puerto Rico and therefore, like his father, had veteran status.
William H. Geanslen died in November 1916.  The old Civil Warrior, who had attended the 35th Pennsylvania Encampment of the G.A.R. as a member and representative of Minersville's Capt. George J. Lawrence Post was laid to rest in Charles Baber Cemetery, Pottsville.  His widow Mary [Oerther] Geanslen, lived to April 1932 and she was buried in the family plot next to her husband.
The Civil War Research Project is seeking more information about George M. Geanslen including pictures and stories.  Readers are invited to contribute.  We are also attempting to find out the full identity of the pitcher from Millersburg named "Bowman" who played for Tremont and broke his arm in 1900 in the game against Pottsville.
This post is a continuation of the story of the men of Company A and Company C of the 50th Pennsylvania Infantry.