Posted By Norman Gasbarro on June 1, 2012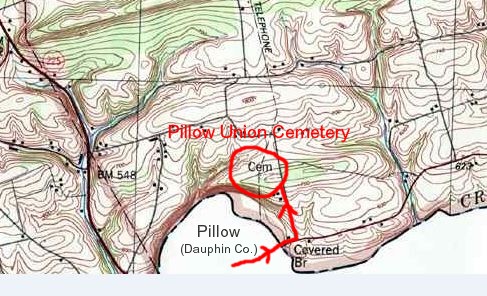 Although Pillow is located in Dauphin County, Pennsylvania, the Pillow Union Cemetery is actually located on the north side of the Mahantongo Creek, which places it in Jordan Township, Northumberland County.  To locate the cemetery, head east on Market Street from the central square of Pillow, cross the small bridge for the Mahantongo Creek, and then take the first left onto Cemetery Road.  The Union Cemetery is on the left side of the road just beyond the crest of the hill.
Seven identified Civil War veterans are buried in this cemetery.  The photos of the graves of three were presented yesterday followed by the final four today.  It is possible that others buried here had some Civil War services – certainly many who are buried here had connections to the war in that they were of an age to serve.
—————————
MICHAEL MESSNER (1842-1917)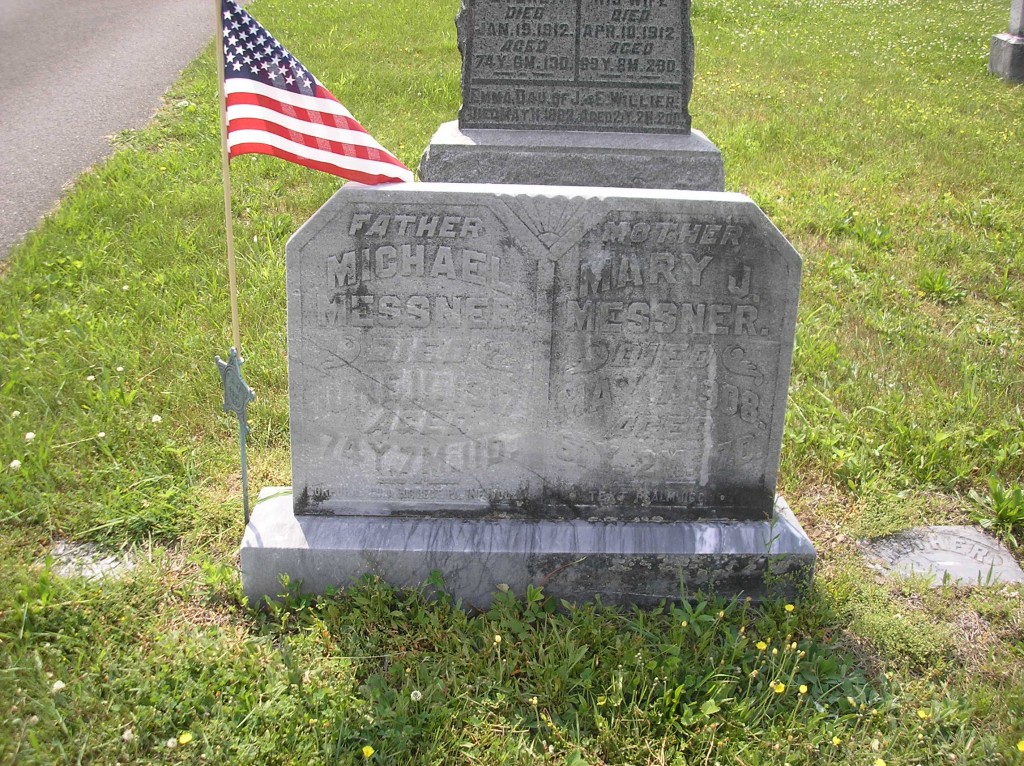 Michael Messner was born 3 October 1842 in Pennsylvania, possibly the son of Michael Messner (1811-1845) and Elizabeth [Shutt] Messner (1815-1888). Not much is known at this time of his early years.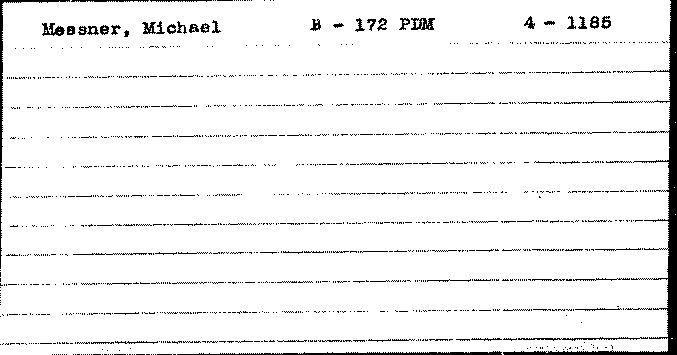 Michael was drafted into the 172nd Pennsylvania Infantry and began his service on 28 October 1862 in Company B as a Private.  He was discharged on 1 August 1863 at the conclusion of his service.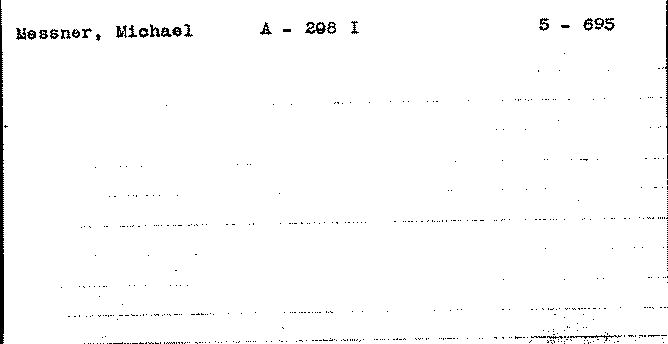 After one year out of the military, Michael Messner enlisted in the 208th Pennsylvania Infantry, Company A, as a Corporal on 23 August 1864.  Unfortunately, he was seriously wounded at Fort Steadman, Virginia, on 25 March 1865 and lost the use of his hand.  The remainder of the war was spent in the hospital where he was still recovering when his regiment was mustered out of service on 7 July 1865.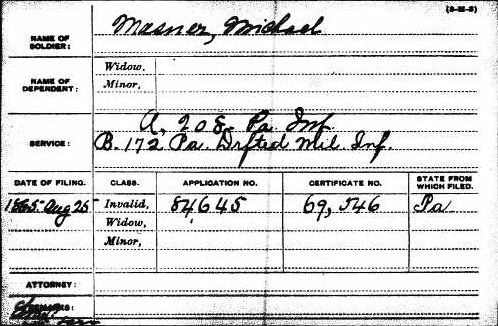 About six weeks after his release, he applied for pension benefits, which he received for his lifetime.  Around 1866, he married a woman named Mary and with her had three known children:  Margaret "Maggie" Messner, born around 1867; William Messner, born around 1869; and Elizabeth "Lizzie" Messner, born around 1870.
In 1870, Michael Messner was working in a brickyard and living in Uniontown (Pillow), Dauphin County.  In 1900 he was working as a day laborer.  He remained in Uniontown for most of the rest of his life.  Mary died in 1908 and Michael spent his remaining days as a widower.  Both are buried in Pillow Union Cemetery.
—————————-
JOEL W.  STROHECKER (1846-1924)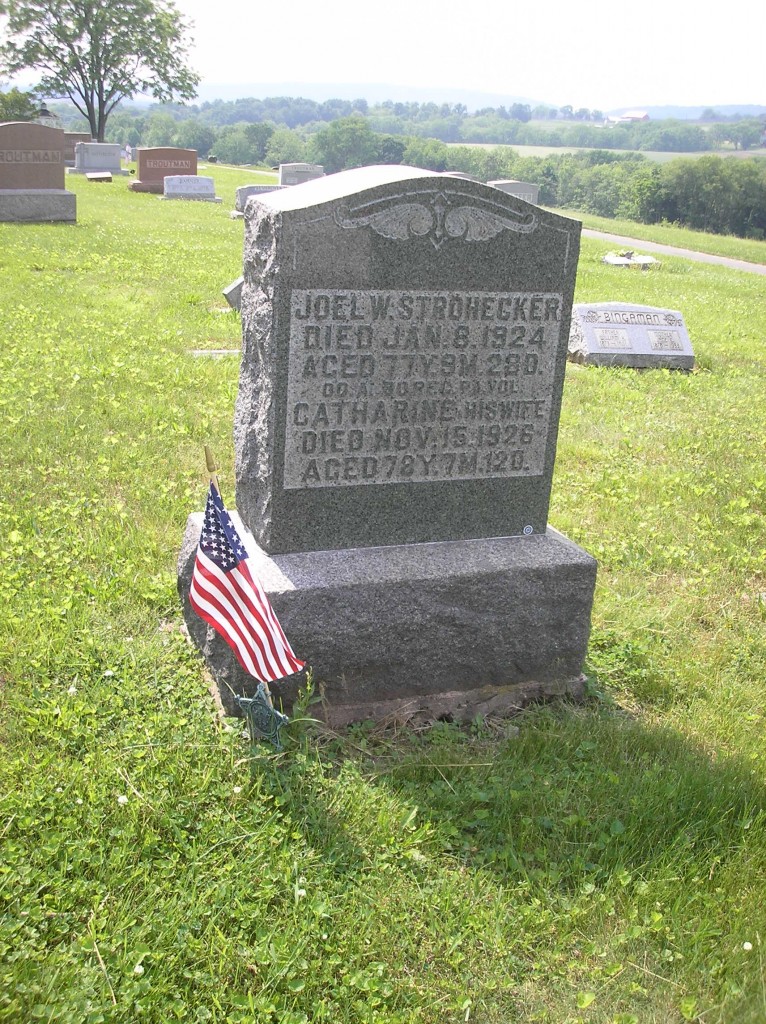 Joel W. Strohecker was born on 10 March 1846 in Jordan Township, Northumberland County, the son of William Strohecker (1811-1889) and Salome "Sallie [Wiest] Strohecker (1816-1865).  The father, William Strohecker, was a farmer in Jordan Township in 1850.  Not much is known about Joel's early life.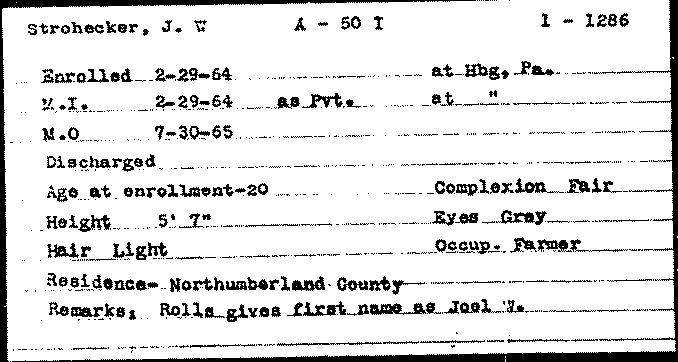 Joel W. Strohecker enrolled in the 50th Pennsylvania Infantry, Company A, the same day as John W. Strohecker enrolled in the same company and regiment – both enrolling as "J.W." making it sometimes difficult to separate their records.  Joel said he was 20 years old and was from Northumberland County.   His occupation was "farmer", he stood 5′ 7″ tall, had light hair, gray eyes, and a fair complexion.  Upon entry into the company, 26 February 1864, he was given the rank of Private.  At Nye River, Virginia, on 9 May 1864, Joel was seriously wounded in his left side and sent to hospitals in Alexandria, Virginia, and Washington, D.C.  During his time in the service he also contracted typhoid fever.
After the Civil War, Joel returned to Pennsylvania to marry Catherine Ann "Catie" Lesher.  The couple had eight known children, dates of birth approximate, as follows:  Aaron Strohecker, 1868; Catherine "Catie" Strohecker, 1873;Polly Strohecker, 1874; William Strohecker, 1876; Joel A. Strohecker, 1881; Daniel Tobias Strohecker, 1884 (who died about 1871); Minnie Strohecker, 1887 (who died about 1973); and Walter Strohecker, 1889.
In 1870, Joel is found living in the household of John W. Haffa, a farmer, in Bennington, Black Hawk County, Iowa.  But by 1880, he is again in Northumberland County, Pennsylvania, where he worked variously as a farm laborer, day laborer, and a laborer in a saw mill through 1920.
Joel W. Strohecker's disability from the war was sufficient to qualify for an early pension.  He applied in 1868 and collected to his death in 1924, afterwhich his widow Catharine collected until her death in 1926.  Both Joel and Catherine are buried in Pillow Union Cemetery.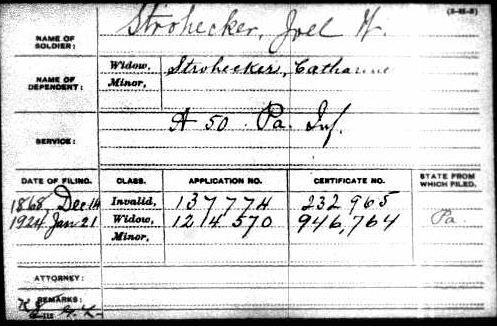 As previously noted, a brief biography of Joel W. Strohecker appears in the book, A Comprehensive History of the Town of Gratz Pennsylvania.
——————————
SAMUEL KLINGER (1826-1897)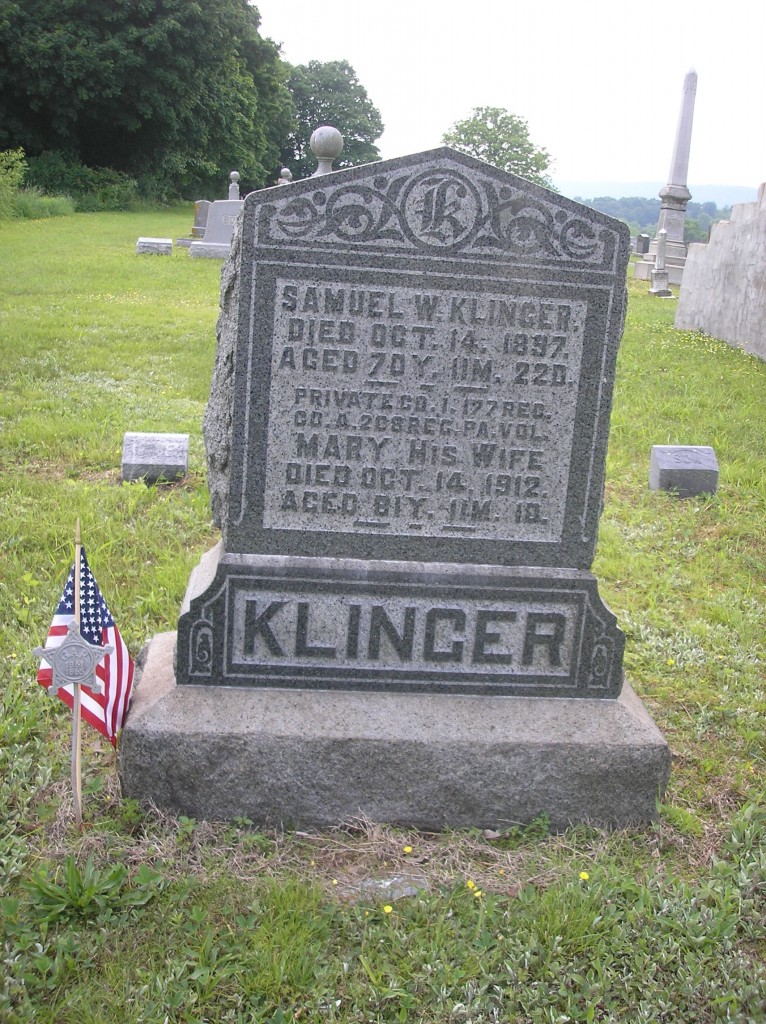 Samuel Klinger was previously featured in the post entitled, Honorable Discharges – 177th Pennsylvania Infantry (Part 5).  Click here to access that post.  He was also mentioned in the post entitled, Descendants of Johann Peter Klinger and Catharina Steinbruch.  Click here to access that post.
——————————
WILLIAM WILLIARD (1846-1920)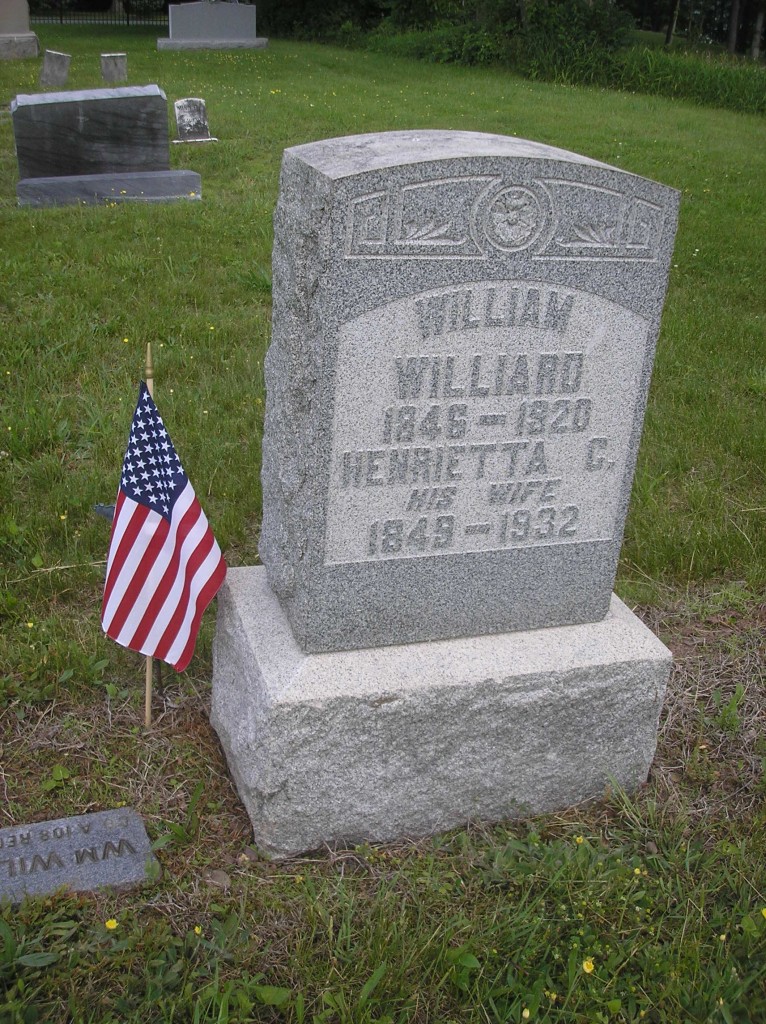 William Williard was born in February 1846, the son of Joseph Williard (1816-1883) and Elizabeth [Matter] Williard (1819-1872) his mother a descendant of the pioneer Matter family of the Lykens Valley area. In 1850, Joseph Matter resided with his family in Mifflin Township, Dauphin County, where he was a farmer.  Williams's older brother Henry H. Williard (1839-1864) went off to war in 1862 fighting with the 84th Pennsylvania Infantry and was wounded and eventually died of gunshot wounds on 29 May 1984.  This could have prompted the young William to enlist, which he did on 30 August 1864, when he joined the 208th Pennsylvania Infantry, Company A, as a Private.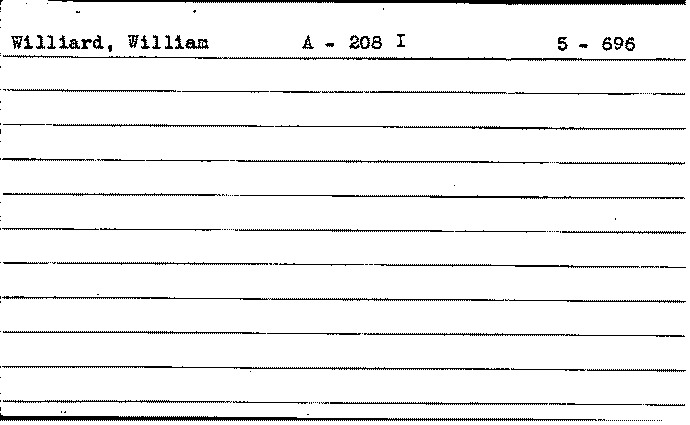 William Williard survived the war and served until his company was discharged  on 1 June 1865.  After the war, he married Sarah E. Groff (1845-1881) who bore him three children: Ulysses Grant Williard (1868-1934); Mary Williard, born about 1874; and Catharine Williard, born about 1877.  After Sarah died, William married for a second time to Henrietta C. Hoffman (1849-1932), a direct descendant of Johann Peter Hoffman (1709-1797) and his son John Nicholas Hoffman (1799-1814), pioneer settlers of the Lykens Valley.  The marriage with Henrietta produced two children:  Amanda Williard, born about 1886; and Ruth Williard, born about 1891.
William worked as a plasterer and later as a general contractor.  His residences included Uniontown, Dauphin County, in 1870; Herndon, Northumberland County, in 1880; and finally, after his marriage to Henrietta, the couple settled in Girardville, Schuylkill County., where they remained until his death.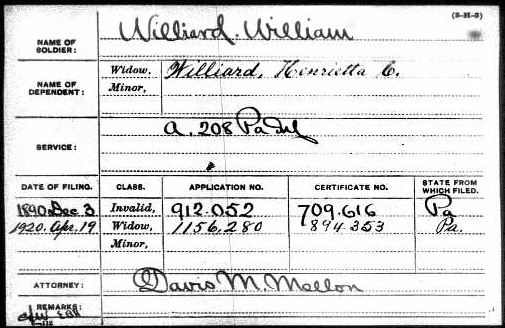 The 1890 Veterans Census notes no disability that William Williard claimed to have incurred as a result of his Civil War service.  His first application for an invalid pension occurred in 1890, after the rules for obtaining a pension were relaxed sufficiently so that just about any veteran who had survived that long would be eligible.  He received a pension based on that 1890 application and he collected up to his death in 1920, whereupon his second wife, Henrietta, who survived him , collected until her death in 1932.  Henry and his two wives are buried in the same plot in Pillow Union Cemetery
—————————–
Pennsylvania Veteran File Cards are from the Pennsylvania Archives.  Pension Index Cards are from Ancestry.com.  The portraits of William Williard and Joel W. Strohecker were cropped from family photos in the files of the project. Pictures are being sought of other veterans who are buried in this cemetery.
This concludes the posts on Union Cemetery, Pillow.  Anyone with more information on any veterans being researched by the Civil War Research Project is urged to contribute it.