Posted By Norman Gasbarro on June 5, 2012
Early in 1865, two men were assigned to Company A of the 50th Pennsylvania Infantry to replace men who had been discharged, who had been taken prisoner, or who had become casualties.  These two men were paid to serve as substitutes.  Very little is known about the men other than what is presented below.  Most of the men in Company A who had started with the  50th Pennsylvania Infantry in September 1861 were from the Lykens Valley area.  Not so for the newcomers.
——————————
JESSE SHEWALL (1847-1922)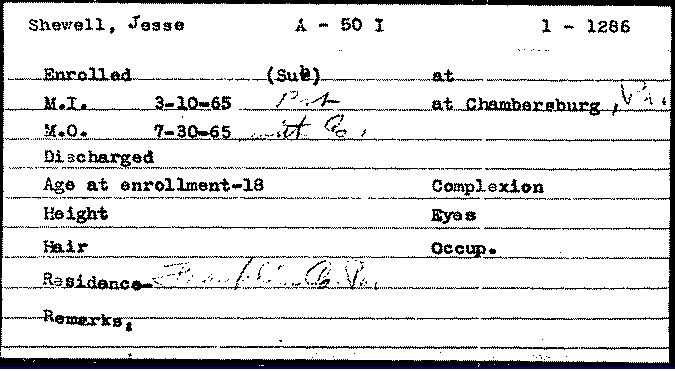 Jesse Shewell was born around 1847, a date that has been calculated from the Veterans' Index Card at the Pennsylvania Archives and from subsequent census returns.  He was born in Pennsylvania, although no specific locale has yet been identified, but it likely could be somewhere in York County.  His parents were Samuel Shewell (1822-?) and Mary [Seachrist] Shewell (1822-?), dates approximate.  The mother's family name is sometimes spelled "Seagrist" in the records.  The father, Samuel Shewell, according to the 1850 census of Shrewsbury Township, York County, was a cabinetmaker.  In 1860, in the same location, Samuel Shewell was listed as a farmer.
At the time Jesse Shewell joined the 50th Pennsylvania Infantry, Company A, as a substitute and as a Private, 10 March 1865, he was living in Franklin County, Pennsylvania, according to information that was added (handwrittten) to the Veterans' Index Card at the Pennsylvania Archives.  His "muster in" took place at Chambersburg, Franklin County, and he joined the regiment in the field.  On 30 July 1865, he was mustered out with his company.  There is no indication that he was wounded or was ill during his service time.  On 26 December 1890, Jesse applied for an invalid pension, which was eventually awarded.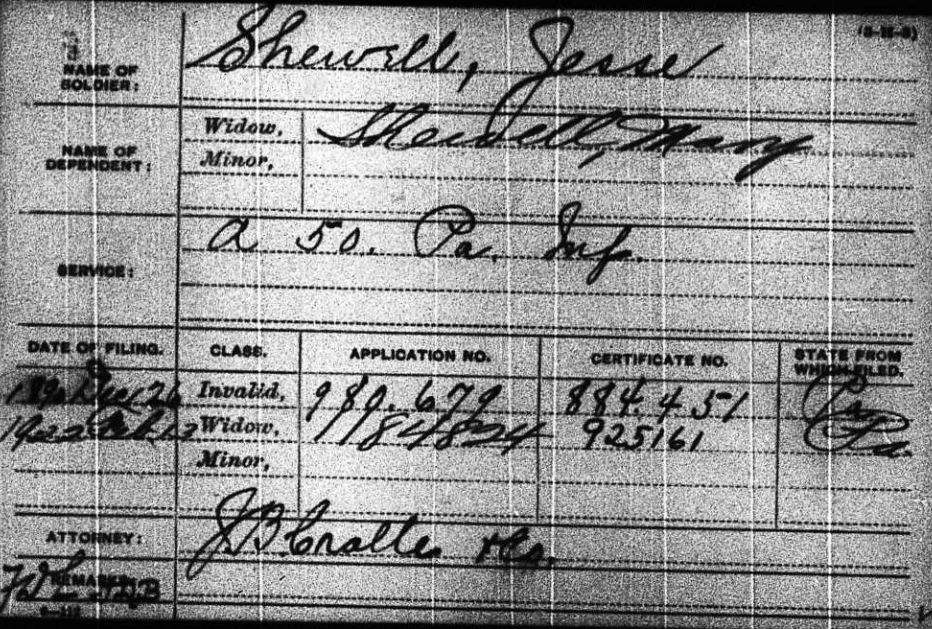 After the war Jesse Shewell returned to Shrewsbury Township, York County, where he married a woman named Elizabeth and proceeded to have a family.  Children born of this marriage were (dates approximate):  Alice Shewell (1867-?); Howard Shewell (1869-?); Edward Shewell (1873-?); and Charles Henry Shewell (1876-?).  Then, with a second wife, Agnes G. Staniford (1858-1900), who he married about 1880, there were more children:  Stella M. Shewell (1882-?); and David C. Shewell (1885-?).  A third wife, Mary Shewell (1857-?) survived him and was able to claim widow's benefits which she collected until her death.
In 1880, Jesse was working as a railroad engineer and living in York County.  He was still living in York County at the time of the 1890 census.  In 1900, he was working in a window sash factory and living in New Freedom Borough, York County and in 1910 his occupation was house carpenter and his residence was Glen Rock, York County.  By 1920, he had again switched occupations and was working as a dealer in real estate in Glen Rock.
Jesse Shewell died on 27 January 1922 in York County and he is buried in Christ Evangelical Lutheran Cemetery, Shrewsbury Borough, York County.
On the findagrave site, there is the following paragraph about Jesse, which was provided by researcher Dennis Brandt:
He returned from war and over the years became a prominent real estate man (called a "model landlord") and musician. Transferred G.A.R. membership from Shrewsbury to York, but the York post refused to attend his funeral because Shrewsbury was "out of jurisdiction."
Basic information about him and his family can also be found in the York County Heritage Trust Civil War Soldier Database.  Type in "Shewell" in the search box and his record will come up.
——————————
CHARLES FRANKLIN SPICHER (1848-?)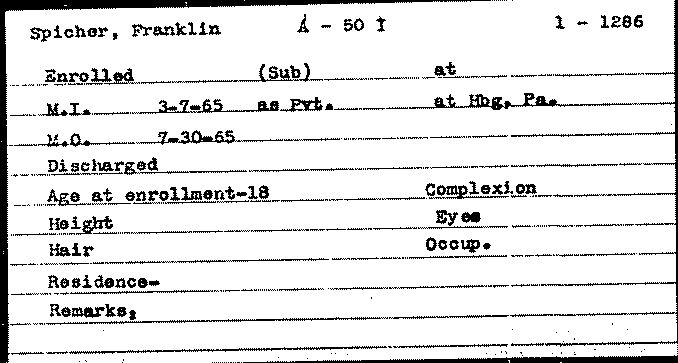 Charles Franklin Spicher, also found in the records as Franklin Spicher, Charles Spicher, or Spichard, was probably born in January 1848, and is possibly the son of Daniel Spicher (1810-1879) and Sarah [Ickes] Spicher (1817-1885) of Delaware Township, Juniata County, Pennsylvania.  His pre-war activity is elusive and thus far, his recorded history seems to begin with his enrollment in the 50th Pennsylvania Infantry, Company A, as a Private and a substitute on 7 March 1865.  The "muster in" took place in Harrisburg, Dauphin County, and from there he traveled to join the regiment in the field.  No serious conditions resulted from his somewhat brief but honorable service and he was discharged with his company on 30 July 1865.
After the war, he returned to live with his parents on their farm in Delaware Township, where he worked as a farm hand.  A younger brother, Daniel Spicher, was also in the household and working as a school teacher.  At about 1877, he married Naomi Craig who was born about 1858, and began to raise a family, with children born as follows (dates approximate):  Maggie V. Spicher (1876-?); Sadie M. Spicher (1879-?); Craig R. Spicher (1886-?); Tinzah V. Spicher (1888-?); and Charles F. Spicher (1890-?).  In 1880, the family residence was in Delaware Township, where Charles Franklin Spicher continued in the occupation of farming.  In 1890, he was living in Williamsport, Lycoming County.  No Civil War-related disabilities were reported in the census of 1890.  In 1900, the family is still living in Williamsport with Charles Franklin Spicher working as a printer.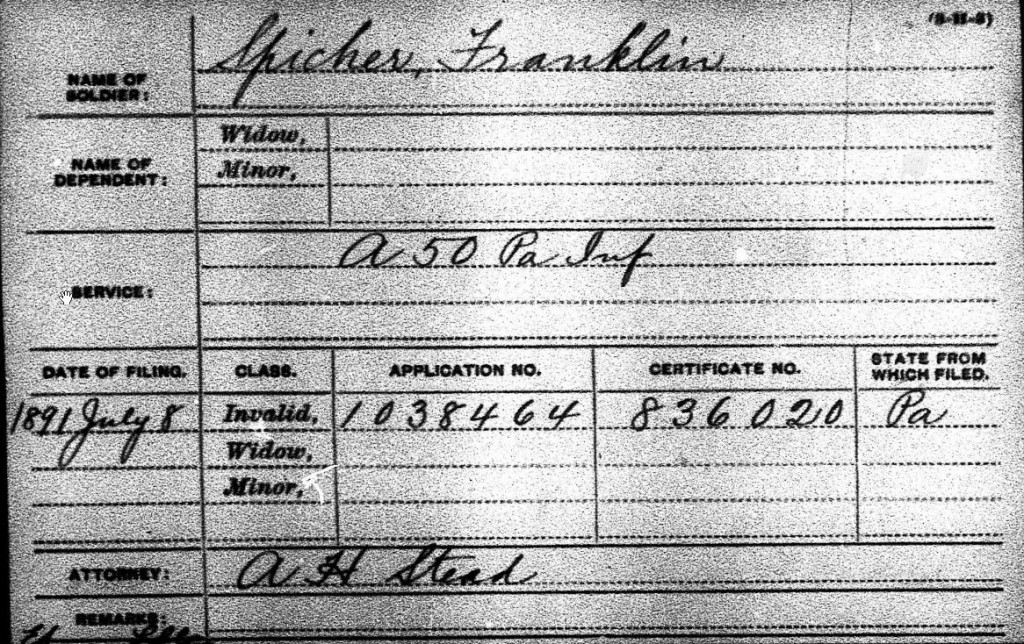 In 1891, Charles Franklin Spicher first made an application for an invalid pension based on his Civil War service (card shown above).  The pension was awarded.  Unusual in this case is that there are actually two Pension Index Cards referencing the pension application files – one made later on behalf of minor children by a guardian, R. G. Bannen. That card is shown below: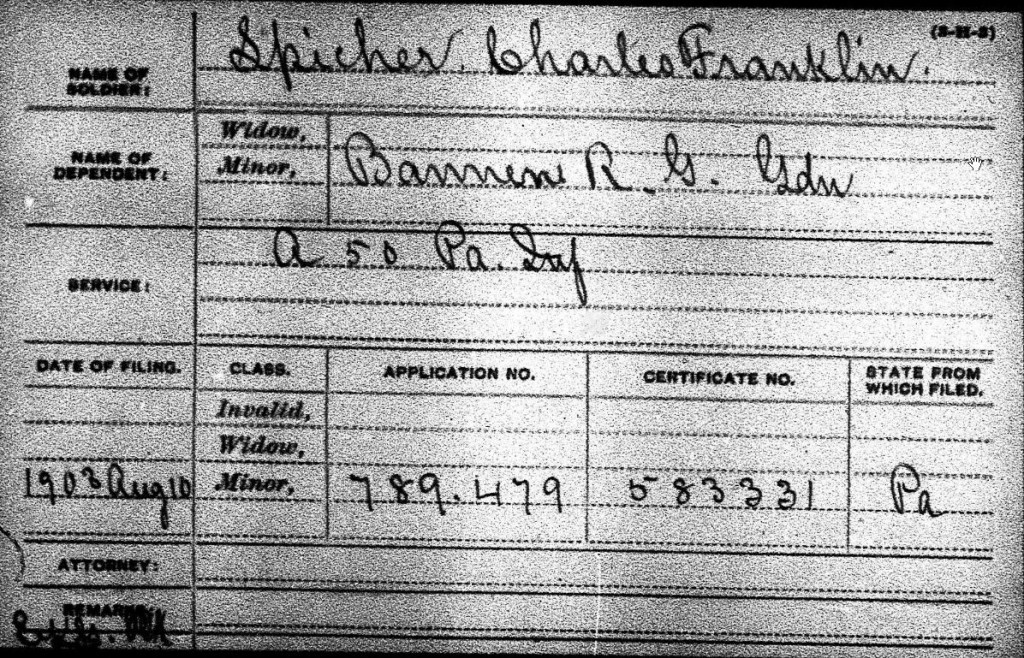 The confusion that has resulted in two separate Pension Index Cards could have been caused by the sometimes use of the veteran's full name and the sometimes use of "Franklin Spicher," which was the name under which he originally enrolled in the 50th Pennsylvania Infantry.  The date of 10 August 1903, at which time R. G. Bannen made application as guardian of Charles Franklin Spicher's minor children, could indicate that he died in that year.  The two children who would have been eligible for benefits in 1903 were Tinzha Spicher and Charles Spicher, both of whom were under the age of 16.  Did this application on behalf of the children mean that the wife had also died by 1903?  Not necessarily.  Women often had to defer to men in serving as legal guardians of their own children.  But what is puzzling about these two Pension Index Cards is that there is no widow's application.  She should have been eligible if she survived a veteran so it is particularly interesting that Naomi [Craig] Spicher is listed in a 1910 city directory for Williamsport as a "widow."  The mystery of why she did not apply for a widow's pension might be answered in either of the two pension application files.
Who was R. G. Bannen?  The 1900 census for Williamsport gives his occupation as "reverend."  Web searches have produced a possible match with Dr. Robert G. Bannen, a professor of theology at Susquehanna University, Selinsgrove, Snyder County and as the long-time (35 years) pastor of Messiah Lutheran Church in South Williamsport.  It seems to make sense that a respected theologian would have served as a guardian for these young children, particularly if they were members of his congregation – which seems likely given the address of Messiah Lutheran Church and the last-known residence of the Spicher family.  The records of this church may provide answers.
A web search also produced 1902 orphan school records for Williamsport which name the two younger Spicher children and indicate that both parents were still alive at the time.  Perhaps Charles Franklin Spicher had a serious disability that prevented him from supporting his family – and his wife was also unable to provide care and support necessitating a guardianship and the enrollment of the children in an orphan school.
When did Charles Franklin Spicher die and where is he buried?  He is last reported alive in 1902 (orphan school records) and his "widow" is living in Williamsport in 1910.  Narrowing the date of death to a more specific time (between 1902 and 1910)  is not possible with the currently available information.  Perhaps a reader of this blog can supply the answers.
——————————
More information is sought on Jesse Shewall and Charles Franklin Spicher and readers are urged to contribute.  Pictures and/or stories about these men who served in Company A with men from the Lykens Valley area of Pennsylvania are especially welcome.
This is a continuation of the series of posts on men who served in the 50th Pennsylvania Infantry.