Posted By Norman Gasbarro on June 9, 2012
On 14 March 1891, an article appeared in the Philadelphia Inquirer that reported the abduction of a 16-year old girl from outside her home in Shamokin, Schuylkill County, Pennsylvania.  Upon closer examination of this incident it became apparent that the father of the girl was Daniel Stoop, who was a veteran of the 50th Pennsyvlania Infantry, Company A, who served from 1 March 1864 through his discharge on 30 July 1865.  In researching Daniel Stoop, he was located in the 1850 census for Lykens Township, Dauphin County, where he was living in the household of Solomon Umholtz, age 36, a farmer, and possibly working there as a farm hand or a servant.  Nothing much else is known about the early life of Daniel Stoop and his Civil War service.  His story is now being researched because of his connection to the 50th Pennsyvlania Infantry, Company A, a majority of whose members were from the Lykens Valley area; because he lived in Lykens Township as a young boy in 1850; and because of the interesting development and possible tragedy resulting from the abduction of his daughter.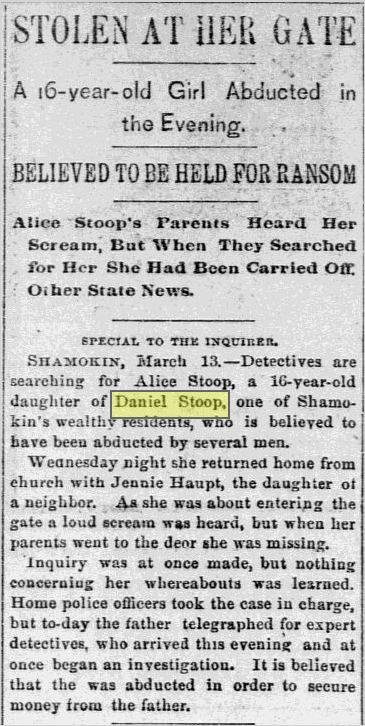 STOLEN AT HER GATE

A 16-year-old Girl Abducted in the Evening

BELIEVED TO BE HELD FOR RANSOM

Alice Stoop's Parents Heard Her Scream, But When They Searched for Her She Had Been Carried Off….

SPECIAL TO THE INQUIRER

Shamokin, 13 march 1891 — Detectives are searching for Alice Stoop, a 16-year old daughter of Daniel Stoop, one of Shamokin's wealthy residents, who is believed to have been abducted by several men.

Wednesday night he returned home from church with Jennie Haupt, the daughter of a neighbor.  As she was about entering the gate a loud scream was heard, but when her parents went to the door she was missing.

Inquiry was at once made, but nothing concerning her whereabouts was learned.  Home police officers took the case in charge, but to-day the father telegraphed for expert detectives, who arrived this evening and at once began an investigation.  It is believed that the [sic] was abducted in order to secure money from the father.
Three days later, the Harrisburg Patriot picked up the story:

The 16 year-old daughter of Daniel Stoop of Shamokin, was abducted last Wednesday night, and it is believed she was carried off in order to secure money from her father.
Nothing else was reported on this matter by either the Philadelphia Inquirer or the Harrisburg Patriot.  The story probably ended, especially if she returned home.  However, efforts to find an Alice Stoop in the genealogical records beyond 1891 have not been successful to date.  Did she permanently disappear?  Did some tragedy befell her?  Or was this a staged act or hoax designed for publicity or other purposes?
Daniel Stoop's brief obituary appeared in the Courier of Connellsville, Pennsylvania around 22 June 1906:

His prominence as a "Grand Army Man" (G.A.R.) should have warranted a more detailed obituary.  The information on his battle wounds at Nye River, Virigina, and the statement that it was his wounds that caused his death (about 40 years after the fact) was interesting, but no mention was made of survivors.  Perhaps a reader of this bog has found a more detailed obituary from a Shamokin-area newspaper – and one that mentions Alice, either in the context of her abduction or as a survivor.
In 1863, Daniel Stoop appeared in the Civil War Draft Registration records for Branch Township, Schuylkill County, as a married man and a laborer.  Other records show that he had married a woman named Amanda Wenrich but didn't begin having a family until after the Civil War.  Children born of this marriage were as follows (dates approximate):  Isaiah Franklin Stoop (1866-?); Ida S. Stoop (1868-1933); Emma P. Stoop (1870-?); Alice E. Stoop (1872-?); Charles E. Stoop (1874-?); Francis L. Stoop (1876-?); Samuel U. Stoop (1877-?); Gary L. Stoop (1879-?); and Louisa G. Stoop (1880-?).
In 1870, Daniel Stoop and family were living in Coal Township, Schuylkill County, and he was working as a coal miner.  In 1880, the family lived in Shamokin, where Daniel was still working as a coal miner and oldest son Isaiah Stoop was working as a slate picker and living in the household.  No 1890 Veterans' Census record has yet been located for Daniel but it must be assumed that he was still in Shamokin or the area around Shamokin because of the abduction report in 1891.  In 1900, still in Shamokin, Daniel is working as a coal miner along with his son Samuel Stoop, also working as a coal miner.  It is hard to imagine that this family was considered "wealthy" according to the abduction reports – but with several sons working in the mines and ownership of property, Daniel could have conveyed that impression to outsiders.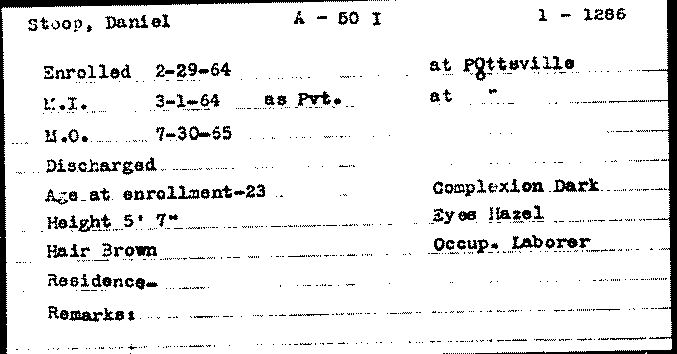 The Pennsylvania Veterans' File Card from the Pennsylvania Archives gives Daniel's physical description as 5′ 7″ tall, 23 years old at enrollment (in 1864), dark complexion, brown hair, and hazel eyes.  His age was probably incorrectly stated at enrollment because other records place his birth year more likely in 1839.  No mention is made of any injuries received or any hospital stays.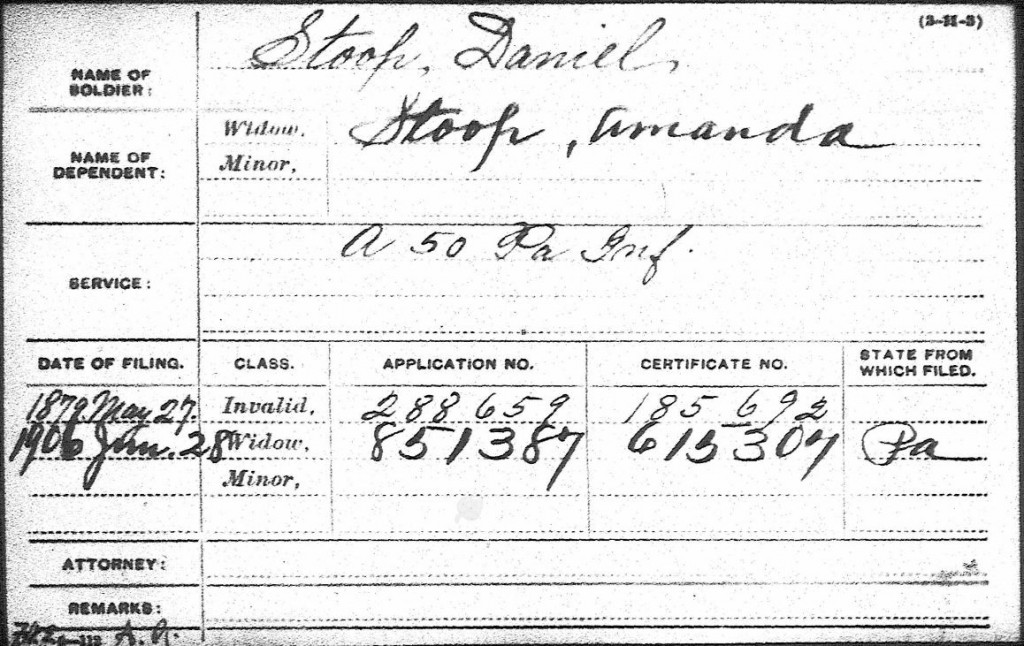 A war-related condition must have resulted in Daniel deciding to submit an application for a pension in 1879 which resulted in the granting of a pension from that application.  The widow's pension application was submitted several days after his death in 1906.  Undertakers and local lawyers were quick to guide widows toward pension applications much as funeral directors today automatically submit Social Security Death Applications for survivors.
In 1883, the government published a list of all those who were receiving pensions, the amount of the pension, the certificate number, and the reason for the issuance of the pension.  Daniel Stoop's name appeared on that list for Shamokin:
The date of the awarding of the pension to Daniel Stoop was March, 1881.  He received a $1 per month amount that was due for a gun shot wound to the left hip.  This is apparently the wound received at the Nye River, Virginia, that resulted in his death in 1906.
One final note in regard to the pension.  It was common for pension increases to be reported in the local newspapers.  On 27 March 1891, the Philadelphia Inquirer reported a list of those who had recently received pension increases and Daniel Stoop was included on that list. While it it highly doubtful that the increase was so significant that it would have placed Daniel Stoop in the "wealthy" category, it is interesting to note that this report occurred 13 days after the same newspaper reported the abduction of Alice Stoop!  It is highly possible that Daniel Stoop found out about the increase weeks before it was published in the newspaper – or it may have been reported in a Shamokin newspaper prior to the date of the abduction, and may have had something to do with the abduction.  All this is speculation.  And, while the true story may never be known, it is possible that someone out there will be able to tell the rest of the story.
Reader comments are invited.
This is a continuation of the posts on the men who served in the 50th Pennsylvania Infantry.  News clippings are from the on-line resources of the Free Library of Philadelphia.  The Pension Index Card and the 1883 pension list are from ancestry.com.