Posted By Norman Gasbarro on June 29, 2012
As noted in the post yesterday, nine men with the name "Daniel Riegle" have been identified as soldiers in Pennsylvania Civil War regiments (with the surname spelling in variation). The most famous of these was Daniel P. Reigle, who served in Company F of the 87th Pennsylvania Infantry, as a Sergeant, and who, for his bravery, received the Medal of Honor.  He was the subject of the post yesterday.  Yesterday, four additional men named Daniel Riegle were presented.  Today, the final four will be featured.  The attempt here is to identify specific facts about each that will help to separate them in the records and to see if they are in any way related to each other.  It was previously speculated that there was a good possibility that any person with the Riegle surname who had origins in Berks County had a good possibly of being related to others of the same surname and it was previously stated that because of the spelling variations of the name, there was difficulty sometimes in making genealogical connections.
——————————-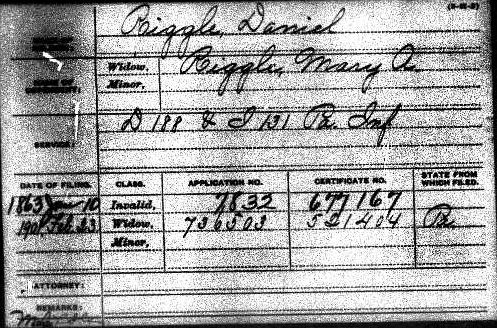 DANIEL RIGGLE (1830-1901)
Daniel Riggle or Daniel Riggles was born about 1830 in Pennsylvania and worked as a laborer.  On 12 August 1862, he enrolled at Williamsport, Lycoming County, in the 131st Pennsylvania Infantry, Company I, as a Private and was mustered in at Harrisburg.  He was wounded at Fredericksburg, Virginia, 15 December 1862, and on account of the wound, was discharged on 7 January 1863 on a Surgeon's Certificate of Disability.  On 20 February 1864, he re-enlisted in the 188th Pennsylvania Infantry, Company D, as a Private and served until a charge of desertion was placed on his record on 18 November 1864.  In 1890, Daniel reported to the census that the charge of desertion was officially dropped on 18 April 1890.  He also reported that he was shot in the shoulder during the war.
According to pension records and on-line family trees, Daniel Riggle died on 6 January 1901.  He is buried in Hyner Cemetery, Chapman Township, Clinton County, Pennsylvania.  After Daniel died, his widow, Mary A, Riggle, applied for and received his pension benefits.
There is a possibility that this Daniel Riggle is the same person as the one who joined the 3rd Pennsylvania Heavy Artillery (see post from yesterday) since they both are from Muncy, Lycoming County, and both are 6 foot, 1 inch tall.  If they are the same person, then the confirming information could be in the pension records along with explanation of why the charge of desertion was dropped.
—————————–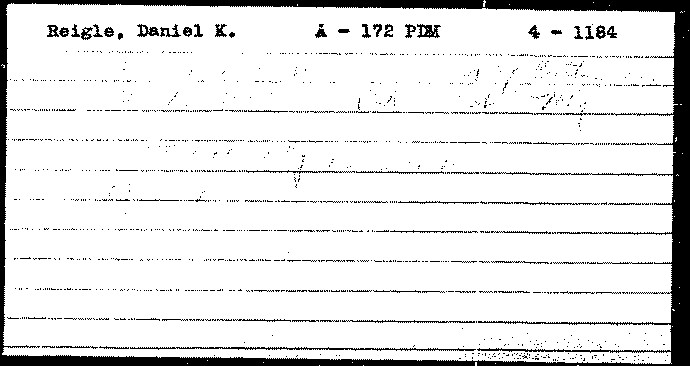 DANIEL K. REIGLE (1827-1875) and DANIEL J. REIGLE (1825-1901)
Daniel K. Reigle was born 31 December 1827 in Union Township, Snyder County, Pennsylvania.  He was a direct descendant of Johann Cornelius Riegel (1674-1750), the immigrant who settled in Berks County, Pennsylvania, and whose descendant migrated to the Lykens Valley.  Daniel K. Riegle, though his ancestral line, was a third cousin to the children of the Daniel Riegle who was the Dauphin County Commissioner in the 1850s.
On 28 October 1862, Daniel K. Reigle was mustered into the 172nd Pennsylvania Infantry, Company A,  as a draftee.  He held the rank of Private.  No Pension Index Card has been located.
Daniel married Elizabeth Herrold (1825-1881) and the couple had three known children (birth years approximate):  Sarah Riegel (1852- ); Rebecca Riegel (1854-   ); and Viola Riegel (1858-1931).  In 1870, Daniel's occupation is given as sawyer.  Daniel and Elizabeth lived in Snyder County, but for some reason, when Daniel died 29 August  1875, he was buried in the Himmel's Church Cemetery, Rebuck, Northumberland County.  Daniel Riegle had a brother John Riegle (1817-1867) who also served in the Civil War.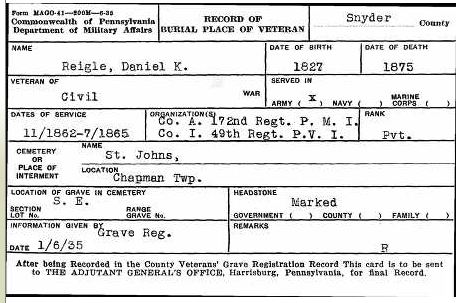 The above card from the Pennsylvania Archives presents a problem in that a different cemetery is given for the Daniel Reigle presently being discussed – and also states that Daniel also served in the 49th Pennsylvania Infantry, Company I, as a Private. The card was probably prepared in error since another Daniel Reigle has been located in the 49th Pennsylvania Infantry… as Daniel J. Reigle, with birth date of 13 January 1825 (Union County, Pennsylvania) and death date of 27 September 1901.  This Daniel J. Snyder is buried at Beavertown Cemetery, Beavertown, Snyder County, Pennsylvania and was known to have at least three wives:  Mary Ann Getz; Susan (a widow); and Amelia Felmey (also a widow).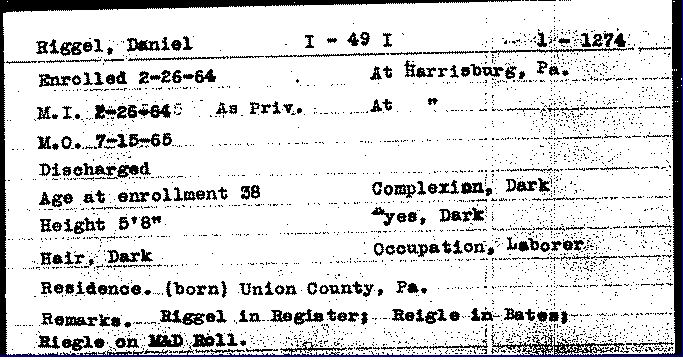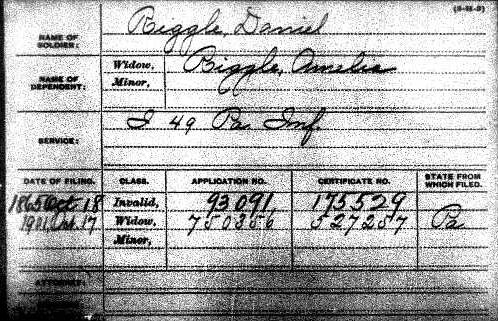 The above cards show that a different Daniel Riegle served in the 49th Pennsylvania Infantry than the one who served in the 172nd Pennsylvania Infantry.
——————————-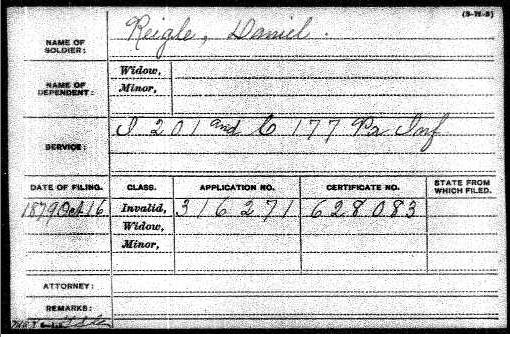 DANIEL RIEGLE (1830-1905).
Daniel Riegle was born in July 1830 in Pennsylvania.  On 2 November 1862, he was drafted into the 177th Pennsylvania Infantry, Company C, as a Private and served until 5 August 1863 until he was mustered out with his company.  He then re-enlisted in the 201st Pennsylvania Infantry, Company I, as a Private, on 22 August 1864, serving until mustered out on 21 June 1865.
In 1875, Daniel married Jane Painter (1843-?).  In 1890, they were living in East Hanover Township, Dauphin County, and Daniel noted no Civil War-related disabilities to the census.  In 1900, they were living in Lower Paxton Township, Dauphin County, where Daniel was working as a well digger.  Daniel died on 4 December 1905 and is buried in Linglestown Church of God Cemetery, Linglestown, Dauphin County.  His stone notes both regiments in which he served.
———————————
Anyone with further information on any of the men named Daniel Riegle (various spellings) can contribute it to the data files of the Civil War Research Project where efforts continue to sort out the many persons of this surname who served in the Civil War.
Pennsylvania Veterans' File Cards are from the Pennsylvania Archives.  Pension Index Cards are from Ancestry.com and reference records at the National Archives in Washington, D.C..