Posted By Norman Gasbarro on June 28, 2012
As noted in the post yesterday, nine men with the name "Daniel Riegle" have been identified as soldiers in Pennsylvania Civil War regiments (with the surname spelling in variation). The most famous of these was Daniel P. Reigle, who served in Company F of the 87th Pennsylvania Infantry, as a Sergeant, and who, for his bravery, received the Medal of Honor.  He was the subject of the post yesterday.  Today, four additional men named Daniel Riegle will be presented.  Tomorrow, the final four will be featured.  The attempt here is to identify specific facts about each that will help to separate them in the records and to see if they are in any way related to each other.  It was previously speculated that there was a good possibility that any person with the Riegle surname who had origins in Berks County had a good possibly of being related to others of the same surname and it was previously stated that because of the spelling variations of the name, there was difficulty sometimes in making genealogical connections.
—————————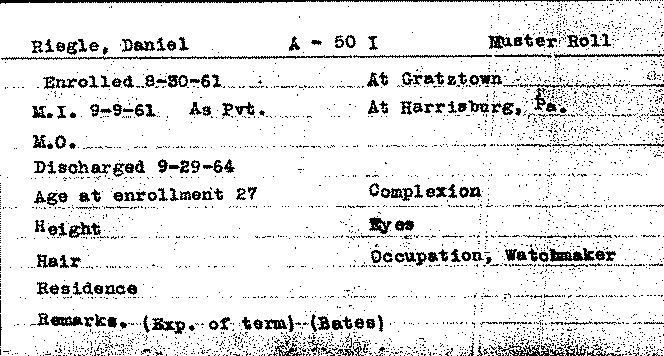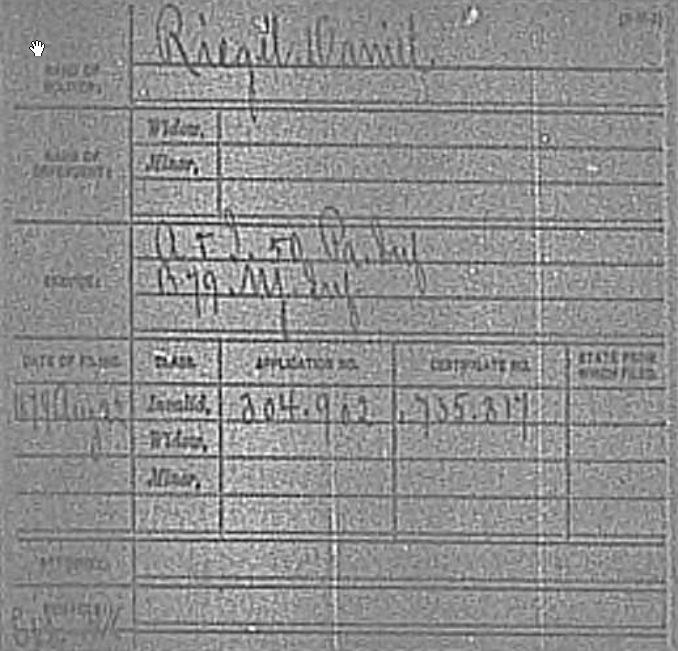 DANIEL RIEGLE (1834-   ).
Daniel Riegle. a 27-year old watchmaker (approximate year of birth 1834), enrolled in the 50th Pennsylvania Infantry, Company A, at Gratztown, Dauphin County, and was mustered into service as a Private at Harrisburg on 9 September 1861.  He served until his discharge on 29 September 1864.  During the course of his service he was detached to the 79th New York Infantry, Company B (from 15 January 1864 to 15 April 1864).  It is a mystery as to who this Daniel Riegle is connected to and why he enrolled at Gratz.
The Pension Index Card shows that he applied for a pension prior to 1890 when the rules were relaxed and that he received a pension so his disability from the service must have contributed to his inabilities.  There is no widow named on the card so it is not possible from this record to approximate his date of death.   This Daniel Riegle has not been located in the 1890 census, possibly indicating that he died before 1890.  Searching with the various spellings of the surname yielded no good matches in the Findagrave database.
The above biographical sketch is also part of a continuing story on the men who served in the 50th Pennsylvania Infantry.
—————————-
DANIEL RIGGAL (? – ?)
Of all the persons with this name, this is the one about whom the least is known.  This is because this Daniel Riggal served as a Sergeant for only one month in one of the Pennsylvania Emergency Forces in 1863, that of the 37th Pennsylvania Infantry, Company K, that was mustered into service in July 1863 and discharged on 4 August 1863.  Also in the same company was a Levi Riggal, who served as a Private.
No Pension Index Card has been found for this individual, most likely because he didn't serve for three or more months and because his short and uneventful service would have precluded a war-related disability.  No matching record has been located in the 1890 census possibly indicating that he died before 1890.
—————————-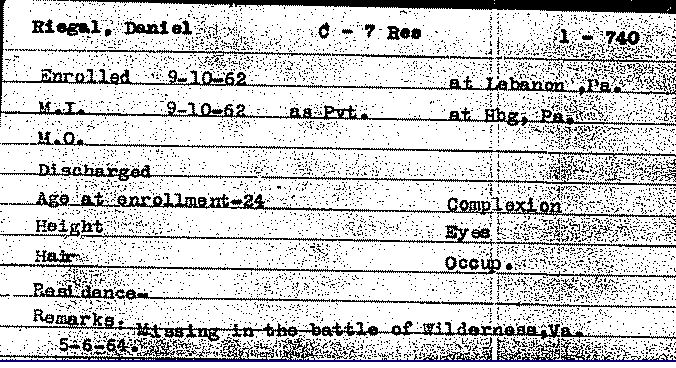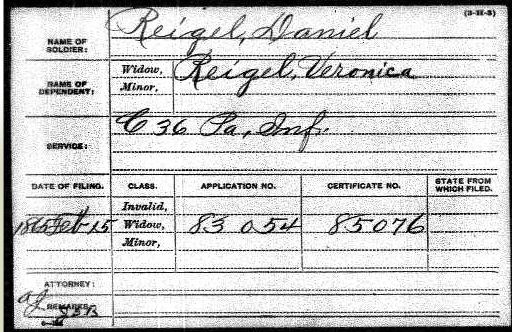 DANIEL RIEGAL (1838-1864)
Daniel Riegal was born about 1838 if he was 24 when he enrolled in the 7th Pennsylvania Reserves (36th Pennsylvania Infantry) at Lebanon, Lebanon County, Pennsylvania, on 10 September 1862 and was mustered in as a Private into Company C the same day.  According to the Pennsylvania Veterans' Index Card, no personal information was given at the time of enlistment, other than his age. In some records, his name appears as "Riegel."
At the Battle of the Wilderness, Virginia, on 6 May 1864, Daniel was reported missing and presumed dead.  A few years later, his widow, Veronica Riegal, applied for benefits from the Pension Bureau, which she received.  Veronica was recorded in the 1890 Census for Lebanon, Lebanon County,as the widow of Daniel and she referred to his military regiment as the 7th Pennsylvania, which was actually the 7th Pennsylvania Reserves.  She can also be found in the 1891 Lebanon City Directory.
Not much more is known about Daniel Riegal at this time.
——————————
DANIEL RIGGELL (1829-   )
The Daniel Riggell who enrolled at Mifflin Township, county not given, on 29 February 1864, was mustered in the same day to the 3rd Pennsylvania Heavy Artillery, Company U (unassigned), as a Private.  On his enrollment records, his age was given as 33 year (birth year about 1829), his height was 6 foot, 1 inch, and he was of dark complexion with black hair and black eyes.  He gave his occupation as laborer and his birthplace as Muncy, Pennsylvania, a borough in Lycoming County.  While there is a Mifflin Township in Dauphin County, it is more reasonable to assume that since this Daniel was born in Muncy, that he enrolled from the Mifflin Township in Lycoming County.
As for the military record, there is no muster-out roll available with this Daniel Riggell's name.  No Pension Index Card has been located.
Not much more is known about him.
——————————
The final four men named Daniel Riegle who served in Pennsylvania Regiments will be presented tomorrow.
Pennsylvania Veterans' File Cards are from the Pennsylvania Archives.  Pension Index Cards are from Ancestry.com and reference records at the National Archives in Washington, D.C..