Posted By Norman Gasbarro on June 8, 2012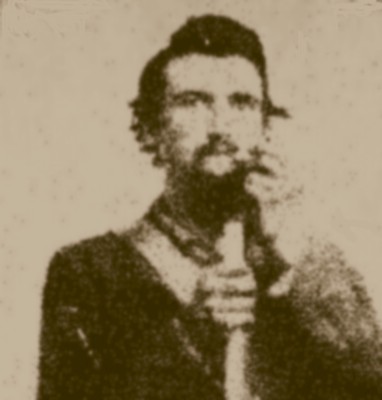 Lewis Zimmerman was born 20 October 1842 in Branch Township, Schuylkill County, Pennsylvania, the son of John Zimmerman (1811-?) and Hannah Zimmerman (1814-?).  The 1850 census for Branch Township gives John Zimmerman's occupation as laborer.  Lewis had two brother who were of age to have served in the Civil War, but it it not known at this time whether either answered the call: Jacob Zimmerman, who was born around 1836, and Frank Zimmerman, who was born about 1845.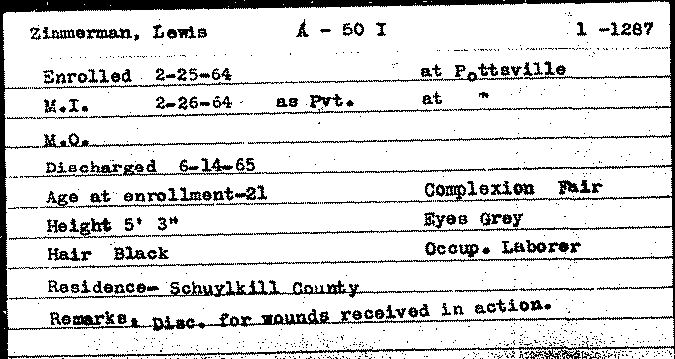 At age 21, Lewis Zimerman went to Pottsville and enrolled in Company A of the 50th Pennsylvania Infantry as a Private.  He was mustered in there on 25 February 1864 as a late war replacement for other soldiers who were casualties or who had been taken prisoner.  He had to travel to join the regiment in the field.  It is not clear from the current records available to the project at what point in his tour of duty that he was seriously wounded.  The wound was serious enough to cause the amputation of his left arm about three inches below the elbow.  He also received a wound in his left hip.  His discharge on 13 January 1865 indicates the cause as "for wounds received in action."  In the 1890 Veterans' Census, Lewis disclosed the nature of his disability, which included the loss of his left arm.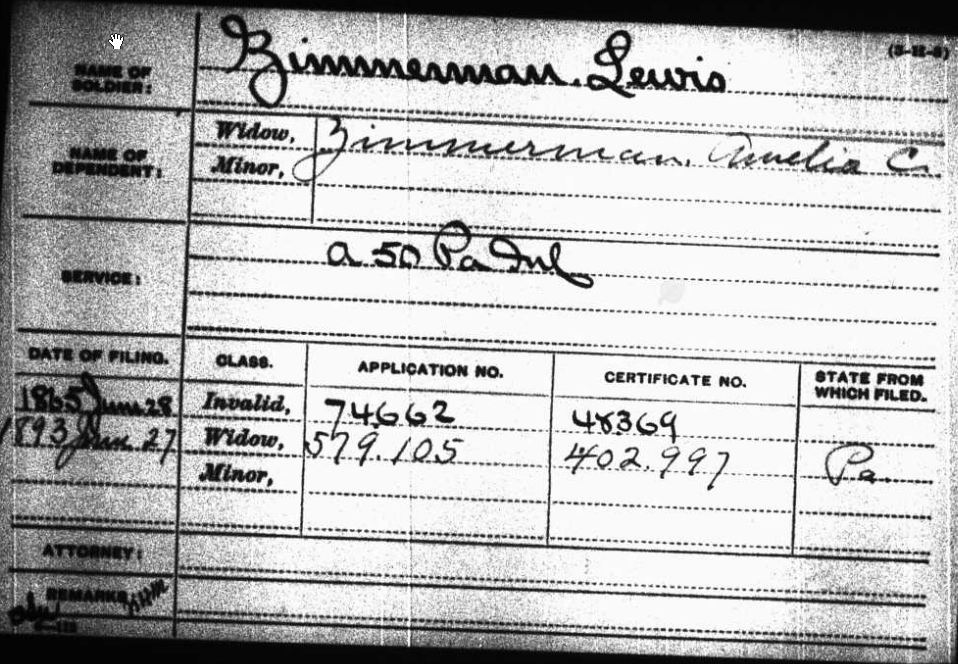 On 28 June 1865, Lewis Zimmerman applied for a disability pension, which he received as an invalid and amputee.  The complete details of the nature of his injury and where it occurred should be in the pension file which is available at the National Archives in Washington, D.C.  If anyone is researching Lewis Zimmerman and has obtained a copy of the file, the Civil War Research Project would like to receive the information since Branch Township is included in the geographic area of the Project.  Costs associated with such contributions are usually tax deductible.
After the Civil War, Lewis returned to Branch Township where in the 1870 census his occupation is given as "store keeper" which he supposedly continued doing the rest of his life.   Just before 1879, he married Amelia C. Sponsler who was born about 1856 and with her had two known children:  Minnie A. Zimmerman (1879-?) and Howard Blaine Zimmerman (1882-1954).  Death occurred for Lewis Zimmerman on 4 June 1893 and he was laid to rest in the Reformed Cemetery in Branch Township.  Amelia survived him and continued to collect a widow's pension until her death.
—————————–
The picture at the head of this post was cropped from a photo provided by a member of ancestry.com to a public family tree.  Pension Index Cards are also from ancestry.com.  More information is sought on Lewis Zimmerman and readers are urged to contribute.  Pictures and/or stories about other men who served in Company A or Company C with men from the Lykens Valley area of Pennsylvania are also welcome.
This is a continuation of the series of posts on men who served in the 50th Pennsylvania Infantry.