Posted By Norman Gasbarro on June 27, 2012
The following statement is taken from the Official Records of the Union and Confederate Armies, 1861-1865:
Corpl. Daniel P. Reigle*, Eighty-seventh Pennsylvania, captured a battle-flag from a color bearer of the enemy.  The enemy retreated precipitatively, throwing away guns, accouterments, &c. in their flight.

*[He was] awarded a Medal of Honor.
A "circular" on display at the Civil War Museum at Gettysburg National Battlefield further describes the the actions of Daniel P.Reigle in this regard:
Headquarters, 3rd Division, 6th Army Corps

October 31, 1864

The Colonel commanding the division takes pleasure in announcing to the command that COLOR-SERGEANT DANIEL P. REIGLE, Company F, 87th Pennsylvania Volunteers, has been ordered by Gen. SHERIDAN to report to Washington, D.C. for the purpose of having presented to him by the President of the United States, a Medal of Honor for marked bravery displayed on the battlefield on the evening of the 19th last near Middletown, Virginia, and for gallantly rushing forward through a terrific fire and capturing a Rebel Flag at the stone fence where the enemy's last stand was made.

COLOR-SERGEANT REIGLE will also be given, for these exhibitions of noble daring, a furlough of 15 days to enable him to visit his home.

It would be almost impossible to note each of the many brave deeds performed upon the field by the troops of this Division.  The Colonel commanding tenders his thanks to the whole command for the very creditable way in which they behaved during the engagement of the afternoon of the 19th last.

By order of Colonel J. W. Keiffer

Andrew J. Smith, Captain
Daniel Peter Reigle was born 19 February 1841, in Mount Joy, Adams County, Pennsylvania, the eighth child of Samuel E. Reigle (1800-1876) and Rachel [Smeach] Reigle (1803-1845).  When Daniel was about four years old, his mother died, possibly as a result of complications of childbirth of a younger sister, Mary Elizabeth Reigle (born about 1845).  On-line family trees at Ancestry.com show that Daniel's ancestors arrived in York County early in the eighteenth century, with some speculation (but no proof) that the family was previously in the Berks County area.  At this time, no definite connection can be made with the Berks County Riegel family, one line of which migrated to the Lykens Valley area. [See:  The Riegel Family Origins including note on spelling variations].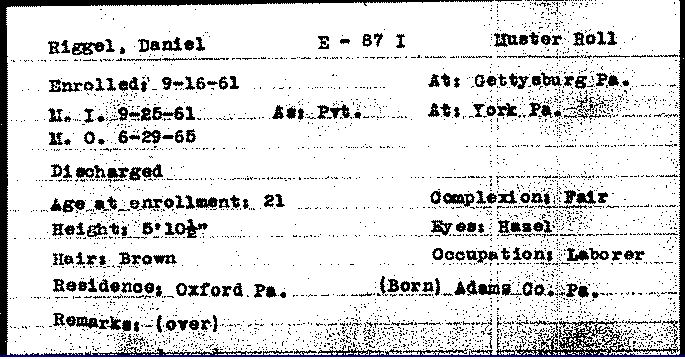 On 16 September 1861, at Gettysburg, Adams County, Pennsylvania, the 21 year old Daniel enrolled in Company F of the 87th Pennsylvania Infantry.  He was mustered in at the rank of Sergeant at York, York County, on 25 September 1861.  At the time of his enrollment, he gave his occupation as laborer, he was 5 foot, 10 1/2 inches tall, had brown hair, hazel eyes, and a fair complexion.
According to one researcher, Daniel's military experience included his capture at the Battle of Carter's Woods, 15 June 1863, his desertion on the 28 July 1863 with subsequent return on his own on 7 October 1863, assignment as regimental color bearer on 1 September 1864, wounded at Fisher's Hill on 22 September 1864, and discharge on 29 June 1865.  Also, Daniel P. Reigle suffered from sunstroke while marching in the Grand Review in Washington, D.C., in 1865.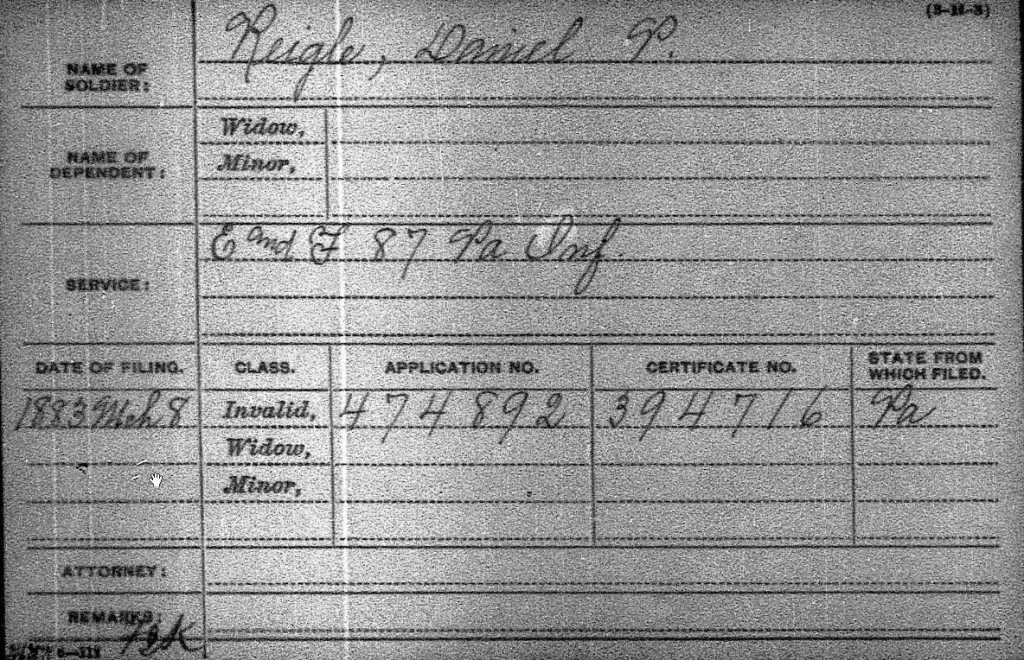 After the war, on 20 December 1866, Daniel married Cevilla Rachel Degroft (1846-1916).  Their children were all girls (with birth years approximate):  Emma Jane Reigle (1868-  ); Clara C. Reigle (1870- ); Amelia Albertie Reigle (1872-  ); Anna May Reigle (1874-  ); and Ida Susan Reigle (1877).
Daniel's pension application, which was submitted in 1883, was approved (see card above).  However, he reported no Civil War-related disabilities in 1890 to the census.
In the post-war years, Daniel was a farmer and is alternately found in censuses in Carroll County, Maryland, and Adams County, Pennsylvania – adjacent counties.  Daniel P. Reigle died at Gettysburg, Adams County, Pennsylvania on 19 March 1917 and is buried at Mt. Carmel Cemetery, Littlestown, Adams County.
A military marker notes his Medal of Honor:
As previously posted, Daniel P. Reigle is also honored at the Pennsylvania Medal of Honor Memorial in Harrisburg: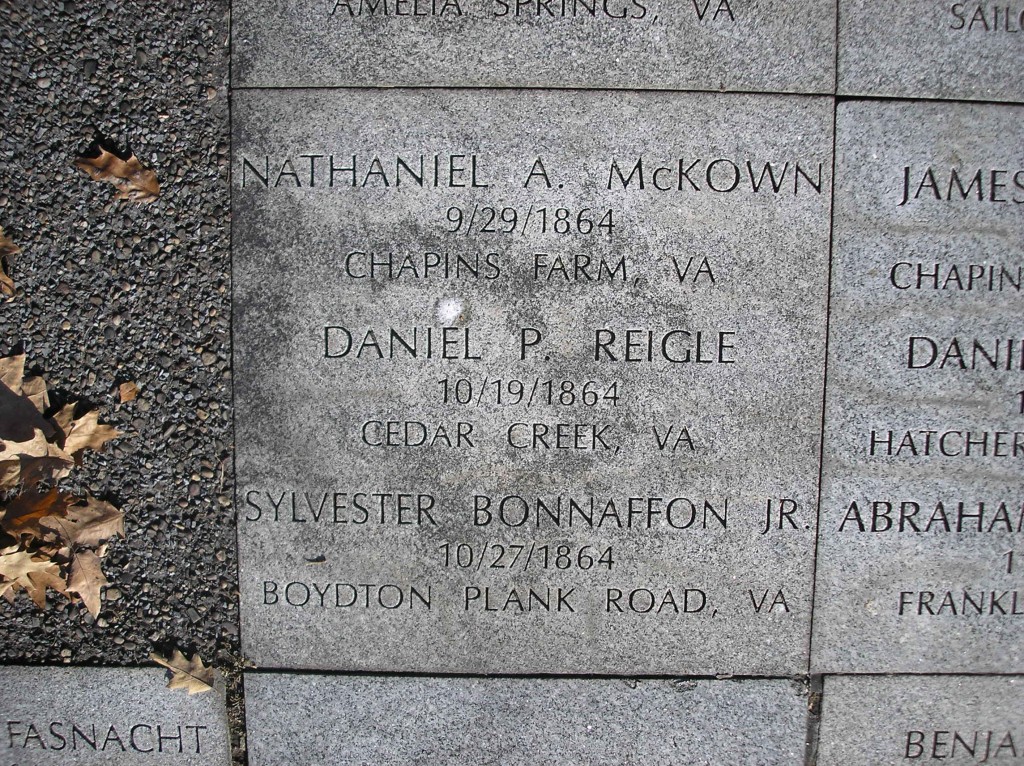 In the course of research on the the Riegle family in the Civil War, it was quickly discovered that nine persons named Daniel Riegle served in Pennsylvania regiments.  In today's post, one of those "Daniel Riegle's" was presented.  Separating these persons in the military records is not all that difficult since most applied for pensions and there are descriptive veteran file cards on most at the Pennsylvania Archives.  However, researching their family histories and trying to connect them to a single family origin is much more difficult as is finding pictures and interesting stories about each.  Several family researchers are actively working on these issues and it is hoped that the findings can be presented here soon.  Any readers with helpful information are urged to contact the Civil War Research Project which is serving as a collection center for this information.
Tomorrow, more men named "Daniel Riegle."
The photograph at the top of this post was cropped from a tintype photo on display at the National Battlefield Museum in Gettysburg.