Posted By Norman Gasbarro on June 21, 2012
The three sons of Daniel Riegle and one son-in-law all saw Civil War service.
—————————–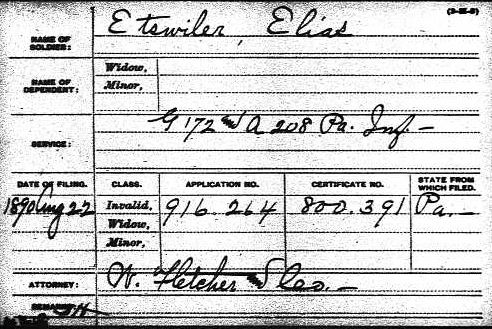 ELIAS ETZWEILER (1829-1909) son-in-law of Daniel Riegle, who is also found in the records as Elias Etsweiler, was mustered into the 172nd Pennsylvania Infantry, Company G, as a Private, on 28 October 1862.  He served until 31 October 1863, when he was mustered out of service with his company.  On 30 August 1864, he was mustered into the 208th Pennsylvania Infantry, Company A, as a Private.  He served until 1 June 1865 when he was mustered out with his company.  At the time of the 1890 Census, Elias reported no Civil War-related disabilities, but in the same year, he made his first application for an invalid pension, which he eventually received and collected until his death in 1909.  Since he survived his wife Elizabeth, who had died in 1885, there was no widow's pension.
——————————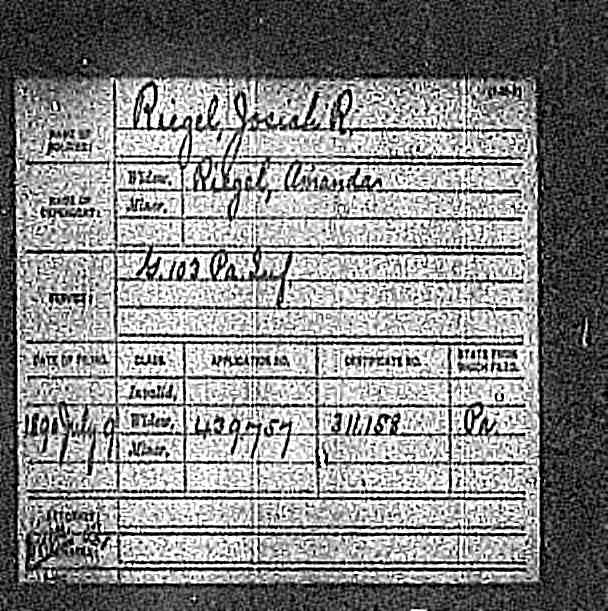 JOSIAH R. RIEGLE (1829-1886) first served in the Gratztown Militia which was called into service on 4 July 1863 as the 36th Pennsylvania Infantry (Emergency Force), Company C.  Probably, because of his experience in the militia, he entered the emergency force at the rank of Corporal.  The militia was discharged on 11 August 1863, when it was concluded that the emergency was over.  Near the end of the war, Josiah, along with younger brother Harrison, joined the 103rd Pennsylvania Infantry and was mustered into service on 14 March 1865.  During this latter service, he primarily did guard duty at Fortress Monroe and Roanoke Island.  His discharge came at New Bern, North Carolina, on 25 June 1865, and he returned to Harrisburg to receive his final pay.  After the war, Josiah worked as a laborer and lived in Gratz.  Josiah died in 1886, and his widow, Amanda, applied for benefits in 1890, which she received and collected until her death in 1897.
—————————–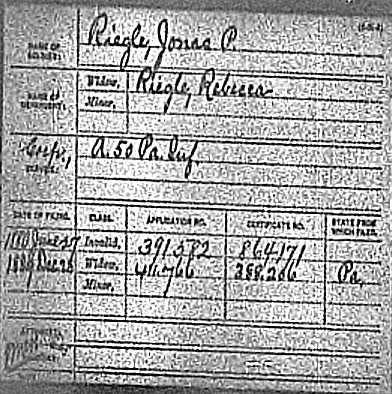 JONAS P. RIEGLE (1835-1889) joined the 50th Pennsylvania Infantry, Company K, as a Private on 9 September 1861.  In September 1864, he was confined to Hickman Bridge General Hospital, Camp Nelson, Kentucky, with typho-malarial fever.  Later that month, he was transferred to Company A at the rank of Corporal, but he was discharged about the same time.  when he returned home, he worked various jobs including a clerk in a store and a butcher.  He died in Schuylkill County on 1 November 1889 and is buried in Grace Evangelical Cemetery, Muir, Schuylkill County.  Jonas was an early pension applicant because of the illness he sustained during his war service.  After he died, his widow Rebecca, who lived in Pottsville, collected the pension until her death in 1921.
——————————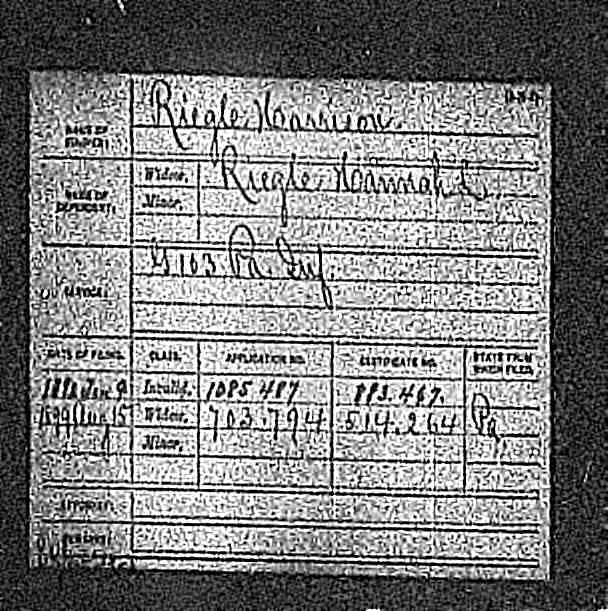 HARRISON RIEGLE (1840-1899), the youngest son, stayed with his mother until her death in 1864, and not long afterward, joined his older brother Josiah in enlisting in the 103rd Pennsylvania Infantry, Company G, as a Private.  The brothers had similar experiences in serving guard duty at Fortress Monroe and Roanoke Island between their muster in on 14 March 1865 at Harrisburg and muster out at New Bern, North Carolina.  On return from the war, Harrison married Hannah Rickert of Lykens Township and proceeded to raise a family.  Their first three children died as infants and the first to survive was born in 1870.  Harrison was the school tax collector for Lykens Township in 1890 and in addition was a farmer and a miner.  As a miner, he contracted asthma but on the 1890 census he claimed "body disabled" as a result of his war service.  Harrison's Civil War pension was collected by him until his death on 31 July 1899.  He is buried in Gratz Union Cemetery.  The widow, Hannah, collected until her death in 1919 and she is buried in the same place as Harrison.  See:  The Unknown Military Musician.
——————————
This concludes a brief summary of the military experiences of the three sons and one son-in-law of Dauphin County Commissioner, Daniel Riegle.  Other members of the extended family will be featured in future posts.
Pension Index Cards are from Ancestry.com and reference records in the National Archives in Washington, D.C.