Posted By Norman Gasbarro on June 11, 2012
Azariah Umberger, who died on 15 October 1895, and is buried in Dauphin Cemetery, Dauphin Borough, Dauphin County, Pennsylvania, was a Civil War veteran of the 9th Pennsylvania Cavalry, Company B, who served as Private during the last year of the war.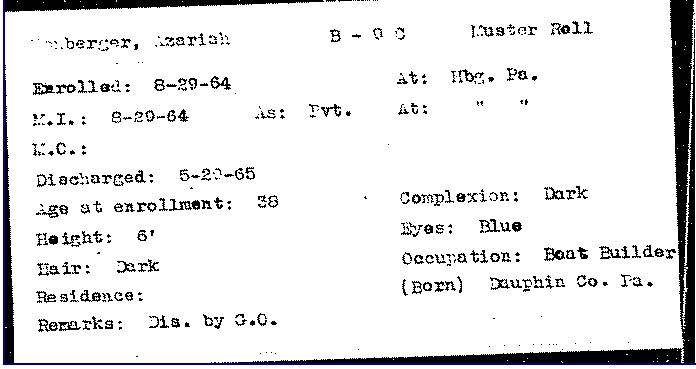 Not much is known about Azariah's early background except that he was probably the son of Johannes Umberger (1792-1842) and Catherine Umberger (1802-?) who resided in Dauphin County at the time of his birth 4 February 1828.  If a member of this family, then he had a number of siblings, several of whom may have also served in the war.  Family trees on ancestry.com mention the other children of Johanes Umberger as:  Louisa Umberger, Rebecca Umberger, John B. Umberger, Hiram Umberger, Daniel Umberger, Sarah Umberger, Elizabeth Umberger, Philip Umberger, and Webster Umberger.
In 1860, then about 32 years old, Azariah was living in Dauphin Borough and working as a boat builder. He was probably working in the industry related to the Susquehanna Canal, which was at that time declining due to the emergence of the railroad.  Azariah was married in 1860 to a woman named Caroline and one daughter, Mary C. E. Umberger, born about 1858 was living in the household.
In 1863 Azariah Umberger registered for the Civil War Draft from Middle Paxton Township, Dauphin County.  He declared that he was married and working as a boat builder.  On 29 August 1864, he enrolled in the 9th Pennsylvania Cavalry at Harrisburg, and on the same day was mustered into service in Company B as a Private.  He was 6 foot tall and had dark complexion, dark hair and blue eyes.
Azariah had to travel to join the regiment in the field.  He served in the war without any major incident and was discharged by General Order on 29 May 1865.  Since he was a member of the 9th Pennsylvania Cavalry, he participated in the final skirmishes that took place in North Carolina after the surrender at Appomattox had been signed in April 1865.  After his discharge, he returned to Dauphin County to work at Enterline.
With the decline of the boat building business along the Susquehanna River, Azariah Umberger adapted his skills to general carpentry.  In 1870, he was working as a carpenter in Enterline, Dauphin County, where he lived with wife and daughter Mary Umberger and toddler Alice Umberger who was born after Azariah returned from the war.  In 1880 he was still employed as a carpenter but in Dauphin Borough, both daughters still living in the household and both daughters working as clerks in a confectionery store.   In the Veterans' Census of 1890, Azariah indicated his service in the 9th Pennsylvania Cavalry, and noted no war-related disabilities.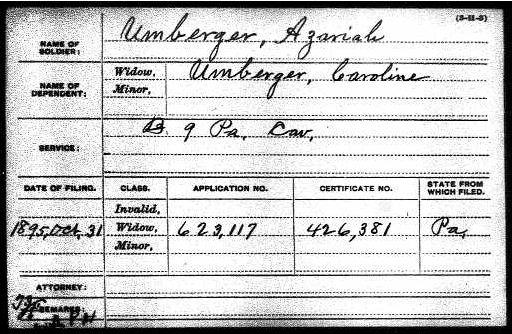 It is not known why Azariah Umberger never applied for a pension.  Perhaps he felt he did not qualify or maybe he wanted to forget about his experiences.  After his death, his widow Caroline Umberger wasted no time in applying for benefits, the application submitted less than a month after his death, and she was awarded a widow's pension which she received until her death.
Nothing much more is known about Azariah Umberger.  Since he lived and worked in Enterline for a time, and since he served in the 9th Pennsylvania Cavalry, Company B, which was heavily composed of members from the Lykens Valley area, he is a subject of study for the Civil War Research Project.  Any readers having further information that can be contributed to his file are urged to contact the project or submit comments to this post.
Pennsylvania Veterans' File Cards are from the Pennsylvania Archives.  Pension Index Cards are from Ancestry.com.