Posted By Norman Gasbarro on June 2, 2012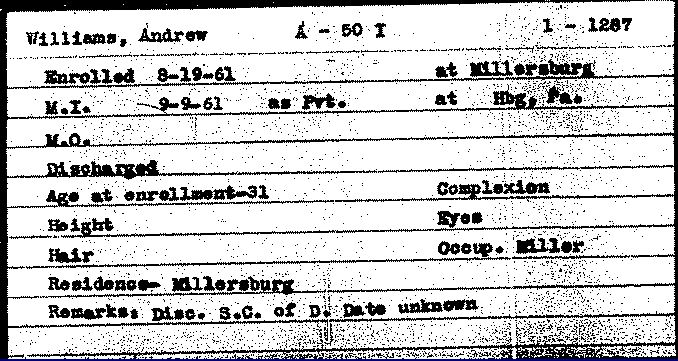 Andrew J. Williams was born about 1830 in Pennsylvania and at the time of his enlistment in the 50th Pennsylvania Infantry, Company A, as a Private, he was a resident of Millersburg, Dauphin County, and was working as a miller.
Andrew was mustered into service on 9 September 1861 but at some point in his service, he was discharged on a Surgeon's Certificate of Disability.  The discharge occurred prior to the draft registration of 1863, because on the registration, he noted that he "was in Company A of the 50th Pennsylvania."
Although he continued to live in Millersburg, he began working at the Brookside Colliery in the Tower City area.  In December 1879, while working at the colliery he was injured by a fall of coal and died a few days later.

Andrew Williams, a miner who was injured by a fall of top coal at the Brookside Colliery, Lykens Valley mines on last Friday afternoon died on Sunday morning, and was buried at Millersburg yesterday. [Harrisburg Patriot, 17 December 1879].

Andrew J. Williams was honored on the Millersburg Civil War Soldier Monument by having his name placed on the bronze plaque:
Andrew J. Williams is buried in Oak Hill Cemetery, Millersburg.  A photograph of his grave marker has not yet been taken for the Civil War Research Project.
More information is sought on Andrew J. Williams and readers are urged to contribute.
This is a continuation of the series of posts on men who served in the 50th Pennsylvania Infantry.  The news clipping is from the on-line resources of the Free Library of Philadelphia.