Posted By Norman Gasbarro on May 28, 2012
Harvey Monroe Miller, of Elizabethville, Dauphin County, Pennsylvania, was a self-educated man who was an avid reader of poetry, biographies, Biblical history, and Pennsylvania German folklore and a prolific writer of and about the same.  His primary business interests were in promoting trade in his hometown, including the luring of many businesses to the place he referred to as "The Parlor Town of the Lykens Valley."  To his credit, various enterprises including a shoe factory, canning factory, rug mills, clothing factories, and insurance company all were headquartered in Elizabethville.  These post-Civil War industries provided employment for the families of Civil War veterans, and although none in his immediate family had served in the war, he showed great respect for the former soldiers and honored them in his writings – for which he became better-known throughout the region than any business enterprises in which he participated.
In 1902, Miller published a book of poems entitled Harmonies of the Heart.  The book was printed on a Kelsey letterpress of the type now exhibited in the Gratz Historical Society Museum.  Miller set the type and printed and bound the books himself.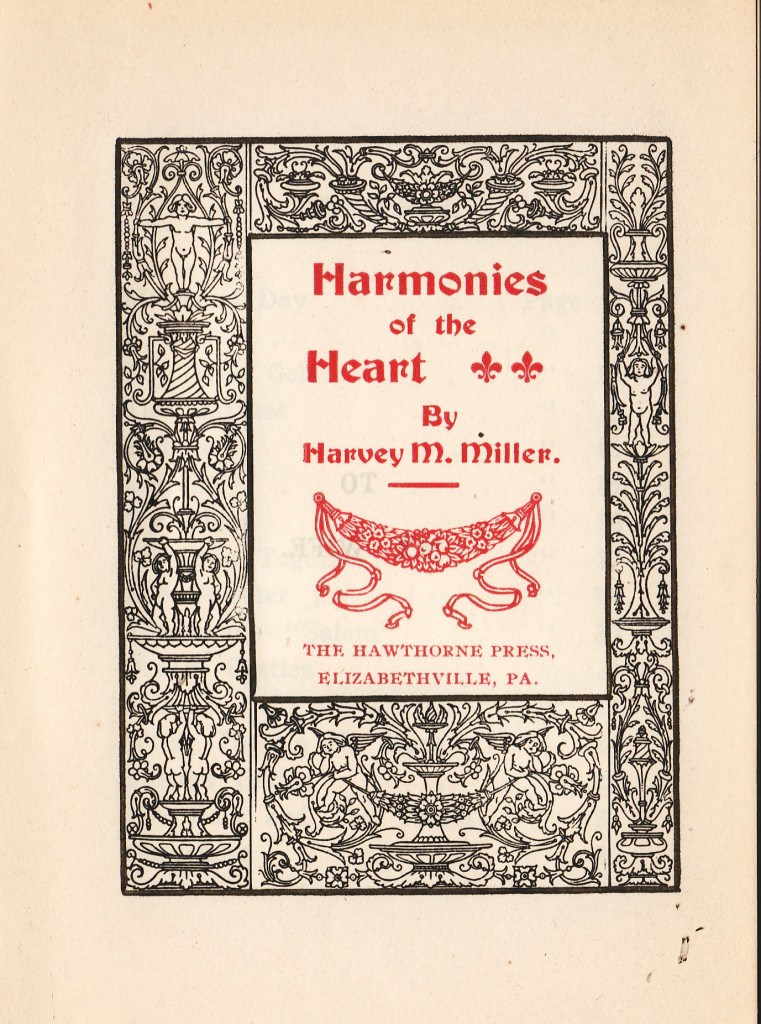 In 1902, Memorial Day was recognized as an event primarily to honor the veterans of the Civil War.  Appropriately, the opening poem in Harmonies of the Heart was entitled "Memorial Day."
MEMORIAL DAY

Have you seen the troops a-marching,–

                       steady, tramp?

How it thrilled your soul to join them in

                       the camp!

       How the glitter and the goal,

       When the war-drum thunder rolled

       Stirred your mettle and your bold

Patriot stamp!

How the very best of manhood in the bud,

Braved the hottest hell of iron, or the flood!

       Fighting for the common good,

       All-defiant there they stood,

       For unite brotherhood,

By their blood!

Now the sword is in the scabbard and the

                    gun

Is rusted, and the dove of peace has come;

       And the song birds North and South

       Are building in the cannon's mouth

Singing hallelujah anthems everyone.

Then let us wreathe a garland for the Blue,

The sons of glory, ever brave and true;

       And a tender tribute pay

       To the valiant southern Gray:

       Those have borne the heroes' bay,

And these the rue.
In addition to the poem by Harvey M. Miller for Memorial Day, another poem in Harmonies of the Heart is appropriate for consideration by the Civil War Research Project.  That poem was entitled "Lincoln."
LINCOLN

A plain, blunt man, whose every sense

Of plainness was its eloquence;

Who framed his creed upon the just

Prerogatives of love and trust,

Resolved its tenets to fulfill

And sealed it with a righteous will;

Who mapped his country on a chart

Writ on the tablets of his heart,

And there preserved it as a whole

With every purpose of his soul,–

The sponsor of the slave and free,

God-father of our liberty.
The following biographical notes are from the Elizabethville Sesquicentennial Book, 1967:
Harvey M. Miller won considerable fame as an author and poet, and it is for his writings that he is best remembered.  Among his talents was his ability to express his thoughts in meter and rhyme, and his pen reflected life as he saw it and enjoyed it.  He was author of several books of sentimental verse; one was Harmonies of the Heart which he wrote to his wife, Rose, soon after their marriage. This and other works he printed on a small hand press in his home and published them under the name of "The Hawthorne Press", Elizabethville.  Another book of verse was his Poems of Childhood written to his daughter, Sara when she was three years old and who, he said, brought back his childhood to him.  This was published by the Evangelical Press in Harrisburg and entered by him in the Library of Congress, Washington, D.C. in 1908.  This book was said by Professor H. G. Dornhein, in a thesis delivered at a literary function at Temple University, Philadelphia, to be the equal of Robert Lewis Stevenson's Child's Garden of Verse.

Mr. Miller was a man of letters and at various times contributed to a number of popular magazines.  His scrap book is a treasure chest of letters he received from noted contemporaries: James Whitcomb Riley, the "Hoosier" poet and author of such beautiful poems as "When the Frost is on the Punkin'" and "Little Orphan Annie"; Robert Lewis Stevenson, famous for his Child's Garden of Verse; Eugene Field, known as the children's poet and author of such familiar poems as "Wynken, Blynken and Nod" and "Little Boy Blue"; William Jennings Bryan, remembered as the "Great Commoner", statesman, orator, religious lecturer and author of "The Prince of Peace" and "The Cross of Gold."

His voluminous works of prose and poetry written in the Pennsylvania German dialect made Mr. Miller famous.  These compositions were first printed week after week in The Elizabethville Echo which was then published by his brother, Milton.  Under the nom-de-plume "Solly Hulsbuck" he contributed for a number of years to at least twenty weekly newspapers in the dialect-speaking counties of the State.  Prof. Richards, in an address before the German Society of Johns Hopkins University, declared Mr. Miller to be the most prolific writer in the German dialect in Pennsylvania; and Dr. Graeff, Professor of Languages in the University of Pennsylvania, stated that the writings of "Solly Hulsbuck" were works of "enduring excellence."

In these works "Solly" wrote about "Polly" who was his wife, Rose, from whom he derived much of his inspiration.  His "Pennsylfawnich Deitch" – as many called these writings – perpetuate the customs, dialect and culture of the Pennsylvania Germans and "flow" in wholesome humor and deep pathos.  His crowning work G'shbos und Arnsht is a volume of 374 pages and is a collection of those writings which he considered to be his best.  It was printed only several months before he died in 1939 by The Valley Citizen company operated in Valley View by his nephew, J. Melvin Bolton and the latter's son-in-law, Roland B. McRoberts, and is still in print.  His works are in the Library of Congress, Washington, D.C., University of Pennsylvania, University of Chicago, University of Minnesota, Johns Hopkins University, Cambridge and Oxford Universities, England, and the University of Leipzig, Germany.

For some years Harvey Monroe Miller was considered to be the "Poet Laureate of Dauphin County".  Whether he was or not may have been difficult to judge, but it can be said that as a native of Elizabethville, he was that town's most noted author and writer.
For a prior post featuring the father of Harvey M. Miller, James Miller, see:  Another Devil's Den Photo from Gettysburg – The Miller Family.