Posted By Norman Gasbarro on May 13, 2012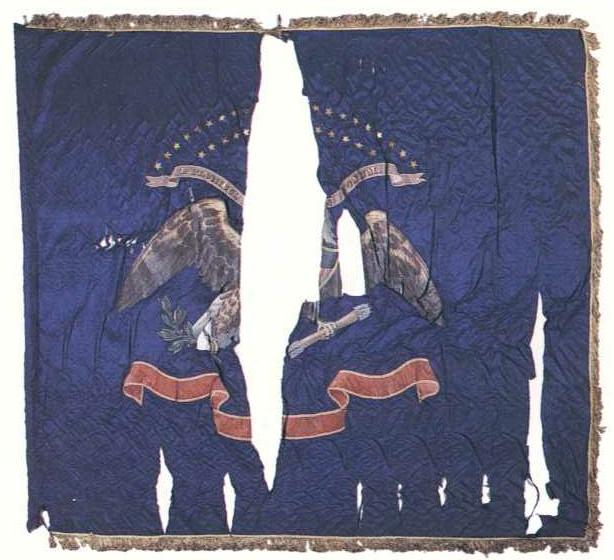 John William Matchett (1844-1864) was a soldier in the 11th Pennsylvania Cavalry who died of disease during the Civil War.
A story about John Matchett appeared in The Historical Society Gazette, the newsletter of the Halifax Area Historical Society, Halifax, Dauphin County, Pennsylvania, in the summer of 1994.  It was written by Bill Schreffler of Millersburg, who is the great-grandson of John William Matchett.  Edited excerpts of that story are given below along with additional items that were found in the files of the Gratz Historical Society:
On 12 February 1864, nineteen year old, muscular, five foot seven, John W. Matchett walked into the Harrisburg recruiting station… [and] enlisted as a Private in the [11th Pennsylvania Cavalry]….  [Prior to John's enlistment] the 11th Cavalry had distinguished itself with confidence and bravery….  [John] died 25 June 1864 at the age of 20 years and three months.  What we know of his story follows:

John W. Matchett was born 8 March 1844 in Jefferson Township, Dauphin County, the third son of William Samuel Matchett and Matilda Varnes Matchett.  John was a young boy when the family moved to a farm in Jackson Township and this is where he lived until he married… Elizabeth Ditty… on 25 May 1862 at St. John's [Hill] Church near Berrysburg [Dauphin County].  John and Sarah established their home in Washington Township and John worked as a miller….

John and Sarah had two sons, Alfred Nathan Matchett born 4 May 1863 and John William Matchett, born 27 October 1864….  John never saw his younger son who was born four months after his death.

Whether John was motivated to enlist out of a sense of patriotic duty or the lure of a $60 bounty plus $13 per month pay is uncertain.  He enlisted for three years and received $73 bounty and advance pay.  Within a few days he was on his way to Williamsburg, Virginia, to 11th Pennsylvania Cavalry Headquarters.  Here John and other recruits received intensive training.  The principal weapon employed was the sabre and the regiment was armed with sabres, revolvers and few Sharp's carbines to each company.  From December 1862 until the end of the campaign of 1864, the 11th Pennsylvania Cavalry was especially noted for its sabre charges.  Mounted charges at Beaver Dam Church, Deserted House, Franklin, White House, and raids on the Virginia Central arailroad completely routed the enemy and yielded large numbers of prisoners, guns, mules, wagons, and other property.  Several Confederate officers including Gen. W. F. H. Lee, son of Gen. Robert E. Lee, were also captured.

On 8 April 1864, the regiment returned Portsmouth, Virginia, where Brig. Gen. August V. Kantz took command of the cavalry division composed of the 11th and 5th Pennsyvlania Cavalry, 1st District of Columbia Cavalry, and 3rd New York Cavalry.  The strength of this division was nearly 3000 effective men.  Commencing its march on 5 May 1864, the division reached the Weldon Railroad at the Nottoway River.  The 11th Pennsylvania Cavalry and 5th District of Columbia Cavalry charged and drove back an entire regiment of Confederate infantry that was guarding the railroiad bridge over the Nottoway, burned the bridge and on the same day again defeated the enemy at Jurretts Station.  Then they proceede to City Point, where the cavalry arrived on 10 May 1864, having marched 300 miles in six days.

Without waiting to rest, the division crossed to Bermuda Hundred on 11 May 1864 and moved out for another expedition.  The Danville Railroad was struck that night at Coalfield, 12 miles from Richmond.  Raids continued in this area until 17 May 1864 and large amounts of railroad track were destroyed and large quantities of Confederate property, including station buildings, rail cars, and warehouses filled with stores were captured.  The 11th Pennsylvania Cavalry suffered the loss of one officer and six men killed and 18 wounded.  John Matchett had seen more action in 12 days than many soldiers saw in six months.

The division encamped at Bermuda Hundred until 28u May 1864, when it was placed on dismounted duty in the line of works in front of Bermuda Hundred.  On 9 June they marched to the rear of Petersburg on the Jerusalem Plank Road, made an attack and carried the works, captured one gun and 50 prisoners and entered the edge of town.  However, General Gilmore's failure to execute a feint on the main works, 4 miles to the right, permitted the enemy to move in heavy reinforcements to oppose the cavalry, which was then withdrawn without accomplishing the main object of the expedition – the destruction of the railroad bridge over the Appomattox.  In these operations the 11th Pennsylvania Cavalry suffered heavy losses.  On 16 June, they joined the attack which resulted in the capture of the main line of works around Petersburg.  It was here where John took ill from an infected wound and was taken to Hampton U.S. General Hospital, Fort Monroe, Virginia, on 23 June 1864.  He died of typhoid fever on 25 June 1864.

Private John W. Matchett made the supreme sacrifice for his country.  A search of military and pension records reveals that he was a model soldier….

Except for a proper military burial, there is no record of  honors or medals.  His legacy consists of a grieving widow and two orphaned sons.  A military pension was approved and paid.  Such are the fortunes of war.
The Veterans' Index Card for John W. Matchett is shown below: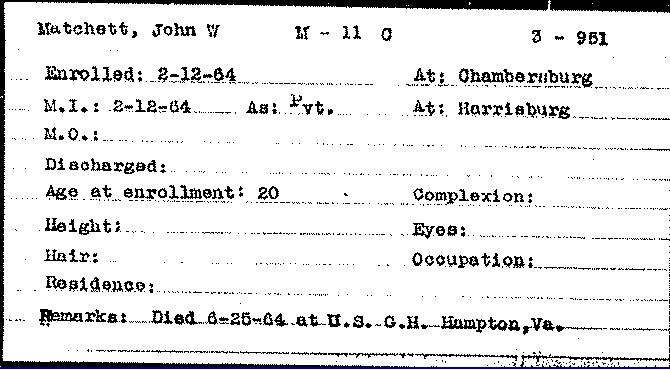 John's widow applied for a pension, but she was unable to officially apply as guardian for her minor children.  The Pension Index Card (below) names "A. Schreffler" as guardian.  Pensions were received to support the widow and the children to the extent that the law would allow.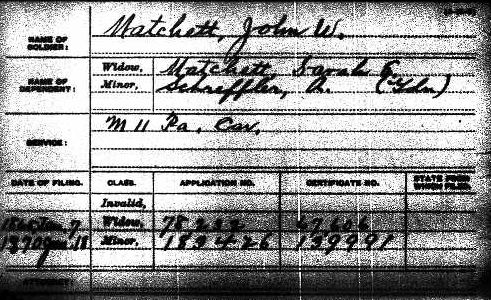 The original flag of the 11th Pennsylvania Cavalry, pictured at the top of this post is preserved by the Capitol Preservation Committee, Harrisburg.  Pension Index Cards are from Ancestry.com and reference files at the National Archives.  The Pennsylvania Veterans' Index Card is from the Pennsylvania Archives.