Posted By Norman Gasbarro on May 15, 2012
The post today is a continuation of a study of the men who served in the 50th Pennsylvania Infantry.   Franklin Wise was a Private in Company C, who enlisted on 9 September 1861, at Schuylkill Haven, Schuylkill County, Pennsylvania.  At the time, he was a resident of Schuylkill Haven and was employed as a boatman.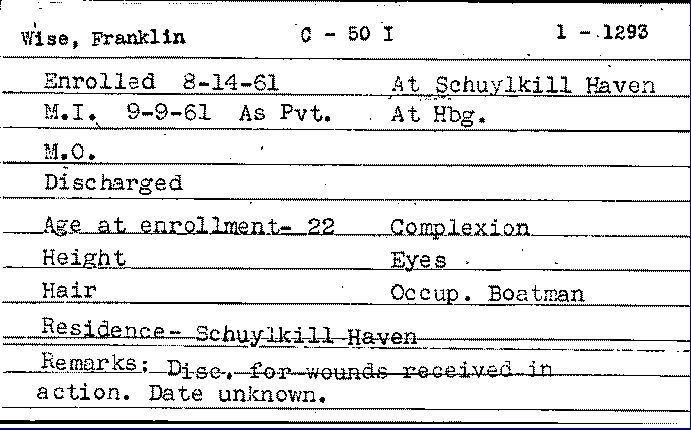 A physical description off Franklin Wise is not found on the Pennsylvania Veterans' File Card from the Pennsylvania Archives.  However, his age at enlistment was given as 22 years, something that will become apparent is inconsistent with other records.  Another piece of evidence is that he was discharged for wounds received in action, date unknown.  Franklin Wise is also found in the records as Franklin Felix Wise, Franklin F. Wise, and F. Frank Wise.
A search of Civil War Pension Index Cards on Ancestry.com produced the following result: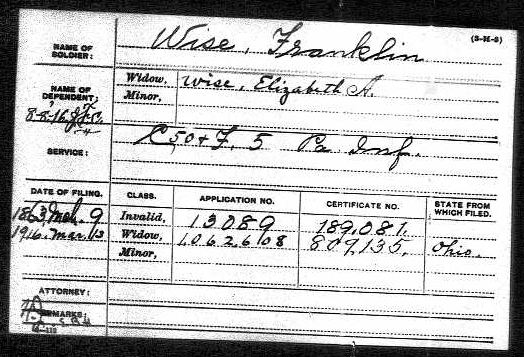 The date of 9 March 1863 on the Pension Index Card and the fact that he was eventually awarded a pension (certificate #189081) is proof that Franklin's wounds were sufficiently serious enough for him to make an early application while the war was still being fought and that the Pension Bureau accepted his application and awarded him a pension.  The date his widow applied, 10 March 1916, could be in close proximity to Franklin Wise's death – a date that to this point in the research had not yet been determined.  While there is no state named from which Franklin made application for the pension, Ohio is given as the place from which the widow made application, indicating that there was a possibility that Franklin Wise did in Ohio.
Another piece of information gleaned from this Pension Index Card is that Franklin Wise also served in the 5th Pennsylvania Infantry, Company F.  A search of the Pennsylvania Archives Veterans Index Cards produced the following result:
Unfortunately, there is no further personal information on this card.  However, adding to the confusion as to Franklin's year of birth is his stated age on enrollment – which he gave as 24, indicating a birth year of about 1837.  Franklin Wise's dates of service in the 5th Pennsylvania Infantry, a three month regiment, are given as 20 April 1861 to 24 July 1861, and his rank is given as Private.
In searching for more detail on his military experiences through the databases on Ancestry.com, it was discovered that in 1875, Franklin Wise was residing in the Soldiers' Home in Dayton, Montgomery Co., Ohio.  The record sheet for that home experience is shown below: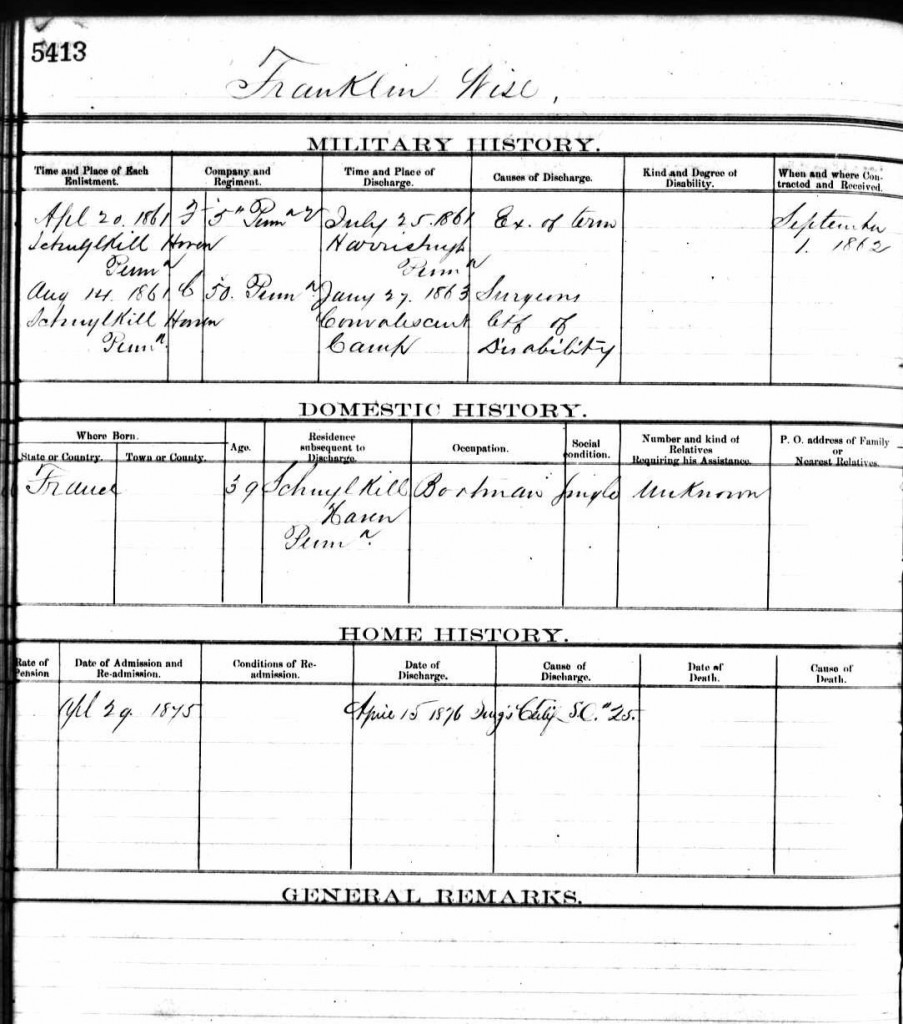 Confirmation that this is the correct "Franklin Wise" is given in the military record portion of the sheet.  From the dates and reason of discharge, a new piece of information is discovered – that Franklin was discharged from a "Convalescent Camp" on 27 Jan 1863 and that his disability was incurred on 1 September 1862.  The specifics of the disability are not stated.  From the personal information, an age of 39 was given for the home admission in 1875, indicating an approximate birth year of 1836.  At the time (1875) he was single and gave his occupation as boatman.  There were no known relatives who were named on the Dayton Soldier's Home record.  Under the section on "Home History," it is seen that Franklin Wise was a resident at Dayton for slightly less than one year, his date of entrance being 29 April 1875 and date of discharge being 15 April 1876.  The reason for his discharge is given as "Surgeon's Certificate" and it is not known at present whether this meant that he was capable of caring for himself – or if he was discharged because his condition was so bad that the home was not equipped to care for him.  In any event, there is no physical description of Franklin Wise in the home record, just as there was no physical description of him in the Pennsylvania Veterans' Index Cards.  Finally, an interesting fact that needs further research is his stated place of birth as "France."
Knowing that his death possibly occurred in 1916 in Ohio (from Pension Index Card), a search of Findagrave produced a record of his birth and death as well as a picture of his grave marker (see top of post).  A date of birth of 16 May 1833, as stated in this record, would seem to indicate that Franklin told recruiters that he was much younger than his actual age when he enrolled in both the 5th Pennsylvania Infantry and the 50th Pennsylvania Infantry.  Also, this record, not official, states his birthplace as Pennsylvania.  The Findagrave names his burial place as Cedar Hill Cemetery, Newark, Licking County, Ohio.  The date of death is given as 27 February 1916.  Franklin Wise most likely died in Ohio in Licking County.  There should be additional confirmations of this in Ohio records.  Also, since his grave marker is a "military" issue, an application card should be available for that stone.  The stone application cards are available in a database available through Ancestry.com.
One other "military" record to search for is the Veterans' Census of 1890, which should be available for Ohio.  A search of that census via Ancestry.com produced the following result for Franklin Wise:
Note:  By clicking on the document above, it will enlarge.  The military records is confirmed by the 1890 Census.  Franklin Wise was living in Newark, Licking County, Ohio.  The disability incurred in the Civil War is stated as a "gun shot wound… weak eyes and rheumatism."  A portion of the disability is difficult to read and could indicate a problem with the stomach.
The published records entitled List of Pensioners on the Roll, January 1, 1883, [giving the name of each pensioner, the cause for which pensioned, the post-office address, the rate of pension per month, and the date of original allowance], was searched via Ancestry.com, but Frederick Wise was not found in these records.
Finally, the census records (other than 1890) were searched and Frederick Wise was located in Newark, Licking County, Ohio in 1900 and 1910.  In both cases, he was reportedly married and named as the head of a household, but his wife was not living with him in that household and another individual was also named as head of the household.  In these censuses, Frederick Wise gave no occupation and indicated his birth place was Pennsylvania and that at least one parent was born in France.  Using the search tools of Ancestry.com, Frederick was not located in any other census, including 1860, when he most likely was living in Schuylkill County.
The Ohio Death Index, available through Ancestry.com, confirms that Frederick Wise died in Licking County, Ohio, on 16 February 1916.  However, no record was found in the Ancestry.com databases for  application for a "military issue" grave marker.
With the information that Frederick Wise was wounded on or about 1 September 1862, the histories of the 50th Pennsylvania Infantry were consulted.  First, from The Union Army, available on Ancestry.com, it was learned that the 50th Pennsylvania Infantry was in the Battle of Chantilly on 1 September 1862, and had just fought in the Second Battle of Bull Run only two days before.  The description of the Battle of Chantilly is provided from The Union Army, Volume 5, page 255:

3d Corps, Army of Virginia; 3d and 9th Corps, Army of the Potomac.

After the battle of Manassas [Second Bull Run] on 30 August [1862], Pope fell back to Centerville. His forces there on the morning of 1 September numbered about 62,000 men.  They were made up of the 1st, 2nd and 3d Corps of the Army of Virginia, commanded by Sigel, Banks and McDowell, and the 2nd, 3rd, 5th, 6th and 9th Corps of the Army of the Potomac, commanded by Sumner, Heintzelman, Porter, Franklin and Reno.  (The 9th Corps was temporarily commanded by Brig.Gen. Isaac I. Stevens.).

The last day of August was rainy, but Lee decided to push his advantage in spite of the weather. To this end Jackson's Corps closely followed by Longstreet's, was moved to Sudley Ford, where they crossed Bull Run, and early on the morning of the 1st September, Jackson started for the Little River Turnpike, intending to reach Fairfax Court House, 7 miles in the rear of Pope, and cut off his retreat.  At 3 o'clock that morning Pope ordered Sumner to make a reconnaissance in the direction of the pike, and the detachments sent out for that purpose discovered Jackson's column.  Pope ordered McDowell to move back toward Fairfax.

Hooker's Division of Heintzelman's Corps was to take a position on the right of McDowell, while Stevens was directed to push forward north of the road from Fairfax to Centerville in the direction of Chantilly to intercept Jackson's advance.  The remainder of Heintzehnan's corps was posted on the road between Centerville and Fairfax in support of Stevens, Franklin was placed on the left of McDowell; Sumner, Sigel and Porter, in the order named, were to form on the left of Heintzelman.

Banks' corps was sent with the trains by the old Braddock road to strike the Alexandria pike beyond Fairfax. Stevens was unable to reach the pike in advance of Jackson, but became engaged with the Confederate skirmishers south of the road.

Without waiting for support, he determined to attack. Seizing the colors of the 78th New York Highlander [his old regiment] he led the advance in person. His division, numbering about 2,000 men, every one of whom was inspired by the heroic conduct of their commander, charged impetuously upon the Confederate column, effectively checking its further progress. Stevens fell in the charge.

Gen. Kearny, commanding the 1st division of Heintzelman's Corps, moved promptly to the assistance of Stevens and was also killed.

The fighting continued for an hour or more. Ricketts' Division of McDowell's corps was drawn up across the road in the valley of Difficult creek and attacked Jackson in front while the fighting on his flank was going on. This assault from two directions forced the enemy to retire and Pope's army was saved.

The engagement is also known as the Battle of Ox Hill.

The official statement of the Union loss here is included in the report of the operations from 16 August 16 1862 to 2 September 1862.  The Confederate reports give 44 killed, 151 wounded and 5 missing.
Further confirmation that Franklin Wise was wounded at the Battle of Chantilly, Virginia, is found in a history of Schuylkill County, which names him in the casualties of Second Bull Run and Chantilly.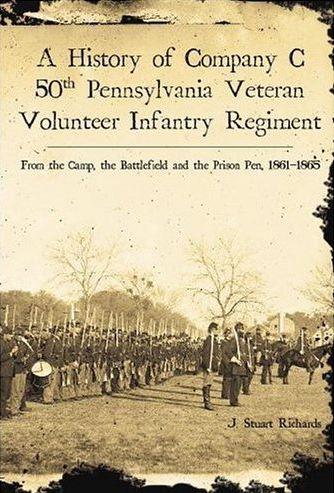 In his History of Company C, 50th Pennsylvania Veteran Volunteer Infantry Regiment:  From the Camp, the Battlefield, and the Prison Pen, 1861-1865, J. Stuart Richards presents a letter written to the Pottsville Miners Journal, 9 September 1862, by 1st Sergeant William H. Menning.  The letter is further confirmation that Franklin Wise was a casualty of the Battle of Chantilly, Virginia.  The letter reports the death of Gen. Stevens and then reports that missing men included Franklin Wise.  In the comments that follow the letter, Richards states (page 53):
The men who were mentioned in William Menning's letter who were missing were captured and sent behind Confederate lines, and in all probability marched south toward Richmond.  Sometime in early October they were paroled and sent to Camp Parole in Annapolis.  Here they would be exchanged for Confederate prisoners…. Franklin Wise was exchanged, but he was wounded seriously and was discharged.
For Franklin Wise, the information that for a time he was a prisoner of war can now be added to his story.
No obituary has yet been located.   However, the Call of Schuylkill County recognized the death of Franklin Wise in an article that appeared on 3 November 1916:
Of the total number of men in Company C, there survive about forty, only a handful being from or residing here at this time… During the year six members of this company that were former residents of Schuylkill Haven or who enlisted in Company C from this town passed away.  They were Charles Knarr of Haas, Pa, Peter Paul of Schuylkill Haven, G. Schwenk of Illinois, A. Williams of a Soldiers Home, Franklin Wise of Ohio and James Saylor of Philadelphia.  There was a total of nine deaths in Company C during the year.  There were thirty three deaths in the entire membership of the 50th Regiment leaving about 290 survivors in the regiment at this time.  In distances traveled, in the variety of their service and in the extremes of heat and cold to which they were subjected, it may be doubted whether any other organizations of Pennsylvania troops paralleled or approached the 50th and 45th Regiments.  The itinerary of the 50th or the total number of miles traveled by this regiment on rail, foot and water amounted to over 12,000 according to statistics gathered by writers and publishers of histories of the war.
Not much more is known at this time about Franklin Wise.  Was he born in France or in Pennsylvania?  Additional information can probably be found in the pension application files that can be found in the National Archives in Washington, D.C.  Pension application files exist for both Franklin and for his widow, Elizabeth A. Wise.  There is also the possibility of more detail available on the injuries sustained by Franklin at the battle of Chantilly and his capture and parole.  Where was he hospitalized during his recovery and up to the time of his release?
Franklin's move to Ohio may have coincided with his admittance to the Soldiers' Home in Canton, Ohio, but that is not certain from the available information.  Why was his stay at the home less than one year and why was he released?
Additional information on the Battle of Chantilly, Virginia, can be found in the newspapers of the time, particularly in the Philadelphia Inquirer and The Farmer's Cabinet, but nothing is mentioned of Franklin Wise's injuries or capture, in those brief descriptions.  The accounts focus more on the loss of Gen. Stevens and the fact that he was being touted as the next leader of the army.
More information is also sought on Elizabeth A. Wise.  What was her maiden name?  Where was she from? Why was she not living with her husband in 1900 and 1910?  Did the couple have any children and if so, are there any living descendants?
Comments are welcome from readers.  Pension records, not currently available on-line, are sought and a request is made to anyone who has already obtained them from the National Archives to submit copies for the Civil War Research Project.
Additional stories on the 50th Pennsylvania Infantry and the men who served in it can be found by clicking here.  The quote from the Call  of Schuylkill County is from the Schuylkill Haven web site.