Posted By Norman Gasbarro on May 20, 2012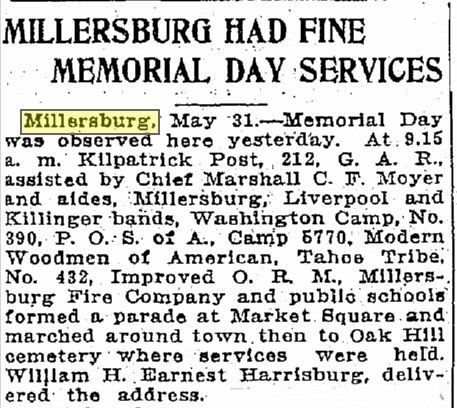 MILLERSBURG HAD FINE MEMORIAL DAY SERVICES

Millersburg, 31 May 1912 — Memorial Day was observed here yesterday.  At 9:15 a.m. Kilpatrick Post, No. 212, G.A.R., assisted by Chief Marshall C. F. Moyer and aides, Millersburg, Liverpool and Killinger bands, Washington Camp, No. 390, P.O.S. of A., Camp 5770, Modern Woodmen of American, Tahoe Tribe, No. 432, Improved O.R.M., Millersburg Fire Company and public schools formed a parade at Market Square and marched around town then to Oak Hill Cemetery where services weer held.  William H. Earnest, Harrisburg, delivered the address. [Patriot, 1 June 1912].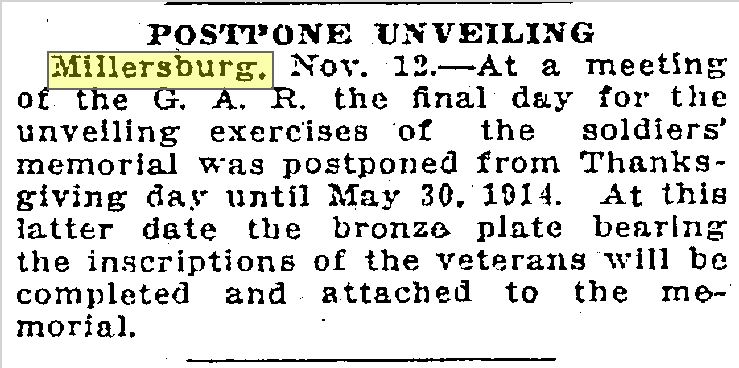 POSTPONE UNVEILING

Millersburg, 12 November 1913 — At a meeting of the G.A.R. the final day for the unveiling exercises of the soldiers' memorial was postponed from Thanksgiving Day until 30 May 1914.  At this latter date the bronze late bearing the inscriptions of the veterans will be completed and attached to the memorial.  [Patriot, 13 November 1913].

WILL DEDICATE SHAFT ON MEMORIAL DAY

Special Dispatch to the Patriot

Millersburg, 27 May 1914 — The monument, erected to the memory of the soldiers of Millersburg who fought from 1861 to 1865 was completed today when the bronze plate, 27 by 20, was attached.  The monument is an act of courtesy of Kilpatrick Post No. 212, G.A.R.  On 30 May at 2 p.m., the monument will be dedicated with appropriate exercises.  The unveiling will be made by Florence Cordes Jury.  The plate bears the inscription of 126 soldiers, 22 of whom are still living.  [Patriot, 28 May 1914].

SOLDIERS' MONUMENT IS DEDICATED AT MILLERSBURG

Millersburg, 31 May 1914 — The Soldiers' Monument on West Square was dedicated and unveiled Saturday afternoon in connection with the Memorial Day exercises.  Kilpatrick Post, No. 212, G.A.R., assisted by the civic organizations of the borough, the fire company, the Boy Scouts and the Sunday Schools, carried out the program of the day as had been announced.  A street parade to Oak Hill Cemetery, under the direction of Chief Marshall Harry M. Fairchilds and his aides, was one of the chief features of the day.  [Patriot, 1 Jun 1914].
The Soldiers' Monument in Millersburg was previously featured here on this blog in a post entitled,  Millersburg Civil War Soldier Monument.  Additional views of the monument are shown below: