Posted By Norman Gasbarro on May 11, 2012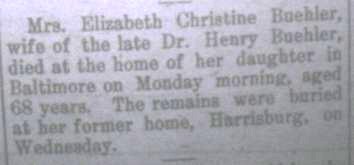 Mrs. Elizabeth Christine Buehler, wife of the late Dr. Henry Buehler, died at the home of her daughter in Baltimore on Monday morning aged 68 years.  The remains were buried at her former home, Harrisburg, on Wednesday.

From:  Lykens Standard, 12 August 1904.
The Harrisburg Patriot, 8 August 1904,  gave a more detailed description in their obituary of Mrs. Buehler: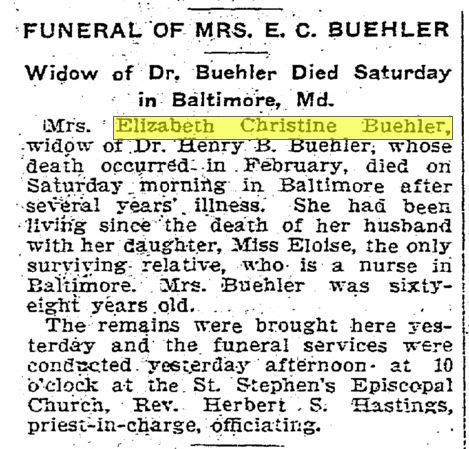 Funeral of Mrs. E. C. Buehler

Widow of Dr. Buehler Died Saturday in Baltimore, Md.

Mrs. Elizabeth C. Buehler, widow of Dr. Henry B. Buehler, whose death occurred in February, died on Saturday morning in Baltimore, after several years of illness.  She had been living since the death of her husband with her daughter, Miss Eloise, the only surviving relative, who is a nurse in Baltimore.  Mrs. Buehler was sixty-eight years old. 

The remains were brought here yesterday and the funeral was conducted yesterday afternoon at ten o'clock at the St. Stephen's Episcopal Church, Rev. Herbert S. Hastings, priest-in-charge, officiating.
Mrs. Buehler's illness and hospitalization had been previously reported in the Harrisburg Patriot, 4 March 1902 (below).  At the time, Dr. Buehler was still living.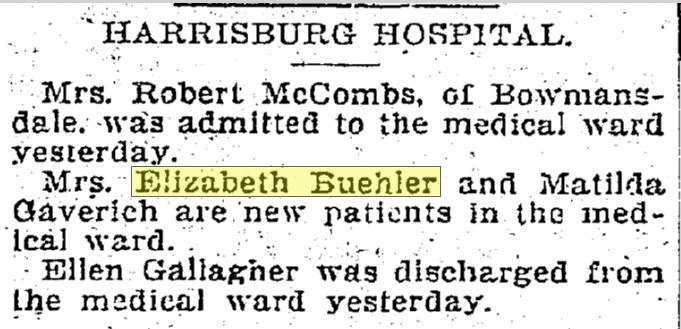 According the information available on family trees on Ancestry.com, the Buehler's were married around 1867 in Harrisburg.  Henry Buehler was a medical doctor in Gratz Borough, Dauphin County, for a short time immediately before the Civil War, and was a partner of Dr. Isaiah Schminky, but in order to help his father in the family hotel and insurance business, he moved to Harrisburg and was considered a resident of that place when he enrolled on the headquarters staff of the 11th Pennsylvania Infantry serving as Assistant Surgeon.  After the war, Mrs. Buehler was involved with the ladies' group that promoted the erection of the Dauphin County Civil War Monument through vigorous fund raising efforts.
Not much is known about Elizabeth C. Buehler other than what has been reported.  Further information is sought and readers are invited to contribute.
Previous posts mentioning Dr. Henry Buehler include:  Death of Dr. Henry Buehler, Gratz During the Civil War – Isaiah Schminky, Physician, and the series on the erection of the Dauphin County Civil War Monument.