Posted By Norman Gasbarro on May 14, 2012
Samuel A. Losch, a veteran of the Civil War and a Pennsylvania State Senator from the area around Schuylkill Haven, Schuylkill County, Pennsylvania, died in Atlantic City, New Jersey, at the age of 58.  Sen. Losch was born in Uniontown (Pillow), Dauphin County.  His death was reported in both the Philadelphia Inquirer and the Harrisburg Patriot: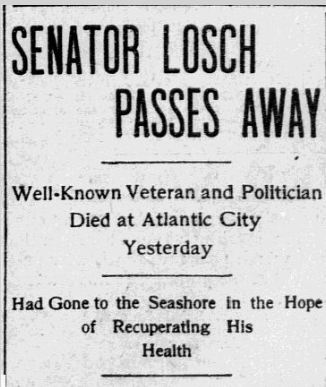 SENATOR LOSCH PASSES AWAY

Well-Known Veteran and Politician Died at Atlantic City Yesterday

Had Gone to the Seashore in the Hope of Recuperating His Health

THE LATE SENATOR LOSCH

ATLANTIC CITY, N.J., 11 September 1901 — State Senator Samuel Alfred Losch, aged 58 years, representing the Twenty-seventh district of Pennsylvania, died here to-day in a sanitarium, where he had been under treatment for kidney trouble.  He came here in May in ill health.  Mrs. Losch was with him when the end came.

His family of six children had been here during the summer and had only returned to their homes in Schuylkill Haven, Pennsylvania, last week.  His son Harry is a cadt aboard the Pennsylcvania training shipp "Saratoga," which is now in European waters.

The body of Senator Losch was sent to Schuylkill Haven in a special car this afternoon.

Senator Losch was born in Uniontown, Dauphin County, 10 December 1842.  He was educated in the public schools and when the Civil War broke out he enlisted as a private in Company C, Fiftieth Regiment Pennsylvania Volunteers [50th Pennsylvania Infantry].  He was promoted from time to time and when he was mustered out in 1865 it was as first lieutenant of his company. 

He was a member of the House of Representatives in 1875-76.  He was appointed Secretary of New Mexico by President Arthur.  He was elected chief clerk of the House of Representatives in 1887 and he had been a delegate to nearly every Republican State convention since 1871.  Senator Losch was active in the G.A.R.  He was also well know in Masonic circles.
Above article from:  Philadelphia Inquirer, 12 September 1900.
——————————
DEATH OF SAM LOSCH

State Senator From Schuylkill County Expires at Atlantic City Sanitarium

UP TO A FEW DAYS AGO HIS HEALTH HAD BEEN IMPROVING, BUT MONDAY HE TOOK TO HIS BED

WAS ONCE SECRETARY OF NEW MEXICO

Atlantic City, N.J. 11 September 1900 — State Senator S. A. Losch, of Pennsylvania, aged fifty-eight years, died here to-day at a sanitarium, where he had been under treatment for kidney trouble.  He came here from his home at Schuylkill Haven last May.  He was then in poor health, but had sufficient scrength and vitality to move around the hotel and visit the boardwalk in a rolling chair.  He was in the dining room Monday and ate a light breakfast.  An hour or two later he was forced to retire to his bed, where he remained until death came.

Mrs. Losch was with him when he expired.  Other members of the family who had been here during the season returned home a few days ago under the impression that the senator was improving.  The body was taken this afternoon to Senator Losch's late home.

Senator Losch was serving his first term in the state senate from the 29th district and for several years was chief clerk in the house of representatives at Harrisburg.
Above article from Harrisburg Patriot, 12 September 1900.
——————————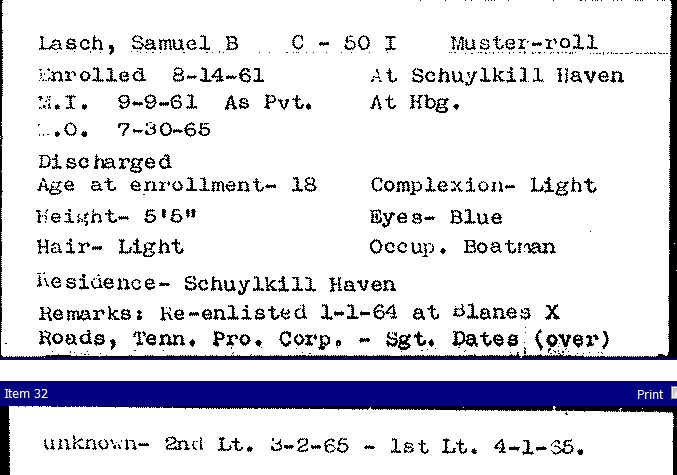 Samuel A. Losch was 5 foot, 6 inches tall, had blue eyes, light hair and light complexion, as his Pennsylvania Veterans' Index Card notes.  His occupation at the time of enlistment was boatman and he probably worked on the Schuykill River at or near Schuylkill Haven.  He was eighteen years old when started in the regiment, first as a Private, but later receiving promotions up to the final rank of 1st Lieutenant.  His term of service included a re-enlistment on 1 January 1864, at Blaine's Crossroads, Tennessee.  Pennsylvania Veterans' Index Cards are available from the Pennsylvania Archives.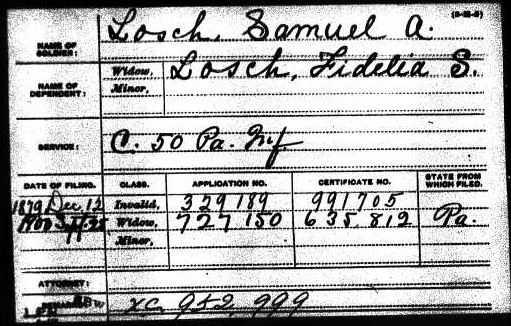 The Pension Index Card (above) gives the year of 1879 for the first application for an invalid pension by Samuel A. Losch.  He was awarded the pension as the presence of a certificate number indicates.  The date the pension was awarded would be found in the file for Samuel A. Losch at the National Archives.  When Sen. Losch died, his widow, Fidelia S. Losch, applied for and received the continuation of his pension.  Pension Index Cards, a product of the National Archives, are available through the on-line resources at Ancestry.com.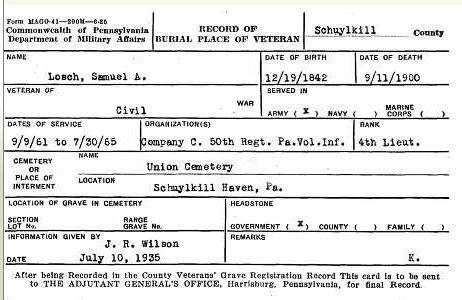 The Pennsylvania Veterans' Burial Card (above) correctly notes the birth and death date of Sen. Losch as 19 December 1842 and 11 September 1900, his dates of service, and his place of burial which is Union Cemetery, Schuylkill Haven, Schuylkill County.  However, his highest rank is given at 4th Lieutenant, when the military record clearly states his promotion to 1st Lieutenant on 1 April 1865, which was before his discharge. His grave marker gives his highest rank as "Major."  This later rank may have been a result of later service in the Pennsylvania National Guard, but needs confirmation  There was no additional U.S. service (other than the 50th Pennsylvania Infantry) noted on his Pension Index Card.  Pennsylvania Veterans' Burial Cards are a product of the Pennsylvania Archives but are available through Ancestry.com.  Information on these cards is often found to be inaccurate as it was usually supplied by family members who did not have access to official records.  The cards are useful in identifying grave locations, but the actual stone should be located to help confirm the information.  In this case, the picture of the stone as found on Findagrave clearly shows the rank as "Major."  No records have been located to confirm that Sen. Losch ever served at the rank of 4th Lieutenant.
The portrait of Sen. Losch was digitally improved from the picture that was published in the Philadelphia Inquirer at the time of his death.  News articles are from the on-line resources of the Free Library of Philadelphia.
For further information on the life and career of Samuel A. Losch, see the Schuylkill Haven History web site, and search on the page for "Losch."  There is very good information on his activities with the Schuylkill Haven G.A.R. Post on that page!
Since Sen. Losch was born within the geographic triangle of this Civil War Research Project, he will be included in the next edition of the Veterans List.  Anyone with further information on Sen. Losch is urged to contribute it – particularly information on his term as "Secretary of New Mexico".  Additional pictures and stories are always sought!