Posted By Norman Gasbarro on April 27, 2012
Sgt. Richard F. Martz, who served with the 9th Pennsylvania Cavalry on its headquarters staff, died in New Jersey in 1930 at the home of his son.  His obituary appeared in a Lykens, Dauphin County, Pennsylvania newspaper.
Richard F. Martz

LYKENS, ? 1930 — Richard F. Martz, 86, a life-long resident of this place, and Civil War veteran, died at the home of his son Charles Martz in Vineland, New Jersey, following an illness of one year, death having been caused by complications.

Mr. Martz who was widely known in this section and one held in high esteem, was born in Sunbury and was the son of the late Mr. and Mrs. William Martz.  He was united in marriage to Susan Buffington who preceded him in death some years ago.  He is survived by one son, Charles Martz of Vineland, New Jersey.  Fraternally he was connected with the Ashlar Lodge of this place, Knights of Pythias, G.A.R. and a life member of the Reformed Church.

During the Civil War, he enlisted in Harrisburg, 21 September 1861 in Company B, Pennsylvania Veterans Volunteer Cavalry [9th Pennsylvania Cavalry] having served from that time until 31 September 1863 at which time he was honorably discharged at Mossy Creek, Tennesee.  During that enlistment he served under Capt. William M. Porter.

Re-enlisting 1 January 1864 he served until honorably discharged at the ending of the war in Lexington, North Carolina, 18 July 1865.

During service he took part in 38 engagements, some of which were the most severe of the entire struggle, having left the service with the astonishing record of not sustaining even so much as a scratch.  He also accompanied Sherman on his famous March to the Sea.

A military funeral in charge of the Ashlar Lodge was held from the Gratz home in Market Street, Wednesday afternoon at 2 o'clock.  Rev. W. R. Hartzell, pastor of Christ Reformed Church officiating.  Burial was made in the I.O.O.F. Cemetery [Lykens Borough].
The Pennsylvania Veterans File Card showing some information about Richard F. Martz' Civil War service indicates that he enrolled at Lykenstown on 20 September 1861, that he was 18 years old at the time, that he was 5 foot 6 inches tall, had dark eyes, dark complexion and dark hair.  His occupation at the time of enrollment was "fireman."  His re-enrollment at Mossy Creek, Tennessee on 1 January 1864 is also noted. Richard F. Martz served as a Sergeant at Headquarters of the 9th Pennsylvania Cavalry as is noted by the "F & S" designation at the top of the card and the promotion indication at the bottom of the card.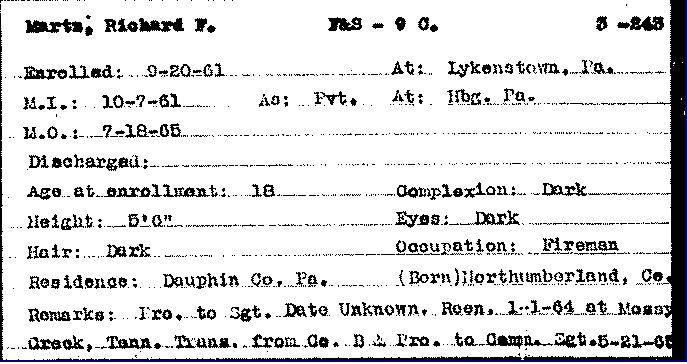 Richard F.Martz applied for an received a invalid pension for his Civil War service as shown by the Pension Index Card (below).  Since his wife preceded him in death (she died in 1899), the pension ended in 1930.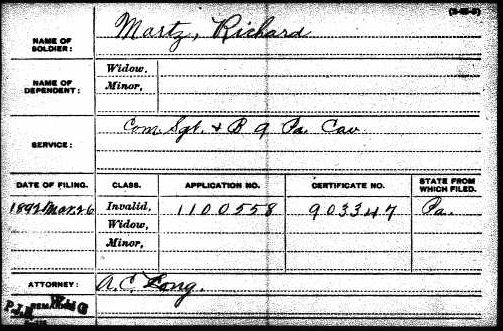 After the death of Susan [Buffington] Martz, Richard F. Martz went to live with his son who was living in Camden, New Jersey, in 1900.  But in 1917, he was admitted to a veterans' home in Hampton, Virgina, as the portion of the home record shows (below).  He apparently recovered enough to leave the home and in 1920 he was living with his sister Alice, a widow, in Warren County, Pennsylvania.  Then he moved back with his son where he died in 1930.
Richard F. Martz was a Charter Member of the Heilner G.A.R. Post in Lykens, Dauphin County, Pennsylvania, and was so noted on the Lykens G.A.R. Monument:

The grave of Richard F.Martz is located in the I.O.O.F. Cemetery in Lykens Borough, South Second Street.  He is buried with his wife Susan.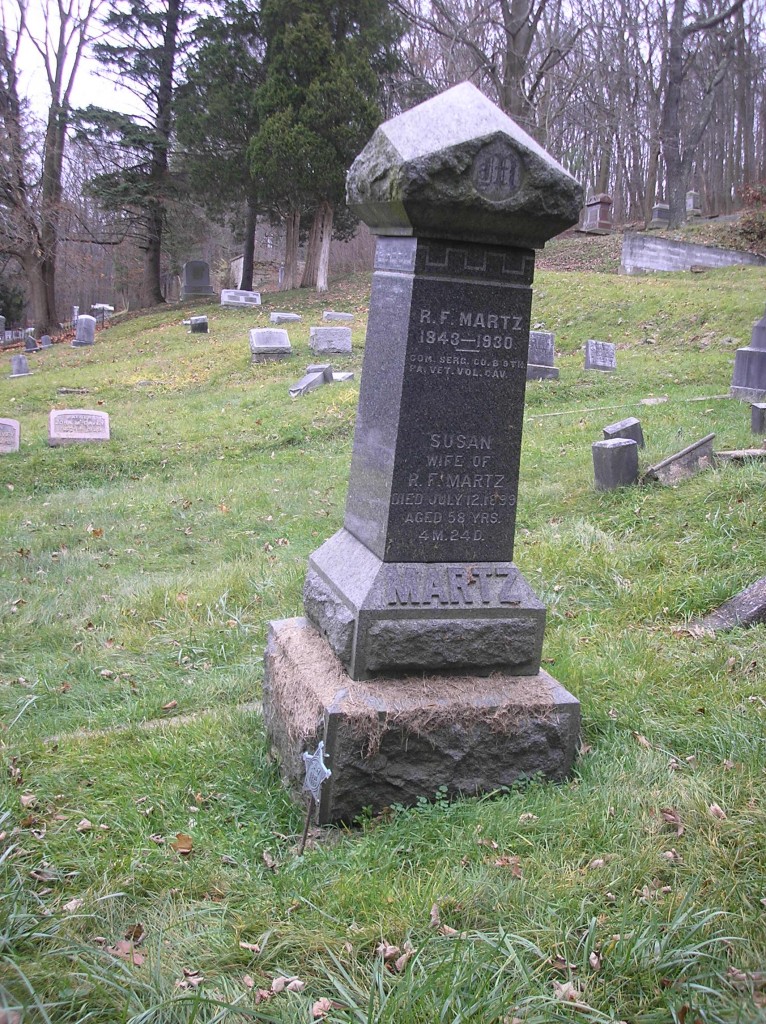 In 1929, a local newspaper featured an article on the five remaining Civil War veterans who were living in Lykens.  That article has been featured here before, and is again repeated in that it shows the honor given to Richard F. Martz and his surviving veterans by the community: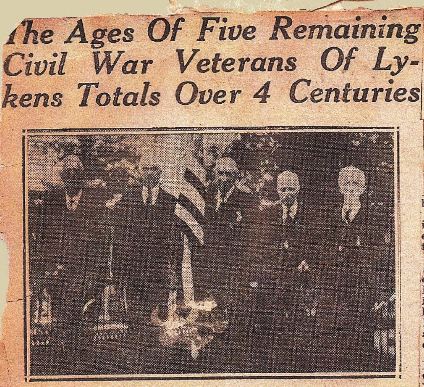 The Ages of Five Remaining Civil War Veterans of Lykens Totals Over 4 Centuries

The above picture represents five survivors of the Civil War who reside in Lykens.  Their combined ages total 425 years.  Reading from left to right they are:

William Irvin, born 1841; enlisted in Pottsville in the First Defenders in 1861; re–enlisted in Company I, 96th Pennsylvania Volunteer Infantry [96th Pennsylvania Infantry]

Jacob McCoy, born 1847; enlisted in 1864, in Troop M, 6th United States Cavalry; discharged in 1867 at Austin, Texas.

Isaac Garber, born 1849; enlisted in April, 1865, in Company H, 215th Pennsylvania Volunteer Infantry [215th Pennsylvania Infantry], discharged in July 1865.

R. F. Martz, born 1843; enlisted 21 September 1861, in Company B, 9th Regiment Pennsylvania Cavalry [9th Pennsylvania Cavalry]; discharged 31 December 1863; re-enlisted 1 January 1864, as Veteran Volunteer 9th Cavalry, discharged in July, 1865.

Henry Kaiser, born 1840; enlisted in April, 1861, in Company E, 10th Regiment [10th Pennsylvania Infantry], three months service; discharged in July, 1861; re-enlisted 23 September, 1861, in Company G, 96th Pennsylvania Volunteer Infantry [96th Pennsylvania Infantry]; discharged 16 March 1864, on account of re-enlistment Veteran Volunteer after 30 days' home leave; re-joined his regiment and was consolidated with the 95th Philadelphia Volunteers [95th Pennsylvania Infantry]; finally discharged in July, 1865.
Pennsylvania Veterans' File Cards are from the Pennsylvania Archives.  Pension Index Cards and Veterans' Home Records are from Ancestry.com.
Some of the information for this post came from Sally Reiner of the Lykens-Wiconisco Historical Society and was from news articles in her collection.  The new historical society in the Lykens Valley area is finalizing plans to move into the old G.A.R. building in Lykens where it will have its headquarters for meetings, house its collections and exhibits, and have a research library.  Anyone interested in participating in the activities of the Lykens-Wiconisco Historical Society can contact Sally via her e-mail.