Posted By Norman Gasbarro on April 19, 2012
Recently, some portraits were located of Millersburg, Dauphin County, Pennsylvania Civil War veterans and members of their families.  Included in this post are portraits of Andrew J. Pontius and John L. Freck.
——————————
Andrew J. Pontius (1838-1885).

Andrew J. Pontius, who is named on the Millersburg Soldier Monument as "A. J. Pontius," served with the 1st Battalion, Company A of the 16th U.S. Infantry during the Civil War.
A biographical sketch of Pontius is found in A Celebration of Millersburg's Bicentennial.  Highlights are given below:
A. J. Pontius was born on a farm in Washington Township [Dauphin County] on 7 February 1838.  He taught school for a time and then studied dentistry at Lykens under Dr. A. J. Polk.  In October 1863, he was drafted for three months military service and served as a Lieutenant during the period under Capt. Cornelius Harper.  Dr. Pontius reenlisted 25 February 1864, for three years as a Private under Captain Arthur Allyn in Company A, 1st Battalion, 16th Regiment, U.S. Infantry.  He was wounded near Atlanta, Georgia, by a gunshot to the right hand that caused the loss of his index finger, and he was later discharged.  After the Civil War, Dr. Pontius came to Millersburg and in 1873 was associated with Dr. Polk in the practice of dentistry….

It was a very common practice at the time to visit patients on their farms or in small villages and often dentists were away from home for several days.  On New Year's Day 1884, while tending to a patient, Dr. Pontius contracted a severe cold that settled in his lungs and developed into consumption.  His health gradually became worse, and on 2 February 1885, he died at age 47.  Dr. Pontius left behind a wife and five young children.  The couple also had two children who died, Nora, at age eight and A. L. at age nine months.

The youngest of the surviving children, a son, Pierce, who was six years old, was admitted as a ward to Girard College in Philadelphia in 1887.  Girard College had been founded in 1848 by the terms of the will of financier and banker Stephen Girard, the French-born businessman…. At the time of young Pierce's admittance, the college was set up for "poor white male orphans."

In September 1888, Joseph D. Pontius, Dr. A. J. Pontius's brother, whom the family had come to count on for support, dropped dead in the street in Matamoras.  Joseph was unmarried and only 47 years old….

After the death of Joseph Pontius, the family home on Union Street was sold to E. W. Steever….

Dr. A. J. Pontius's widow, Sallie, left soon after to return to her family home in Limerick, Montgomery County [Pennsylvania].  When she died at age 72 on 26 May 1915, she was brought home to Millersburg and buried with her husband in Oak Hill Cemetery.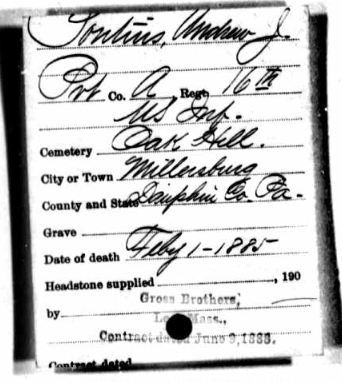 The family of Andrew J. Pontius applied for and received a military headstone as the above card shows.  Burial was in Oak Hill Cemetery, Millersburg.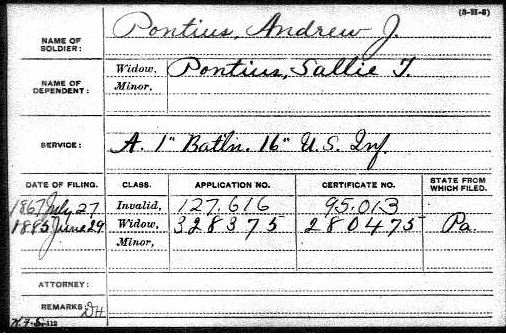 As the Pension Index Card shows, the widow, Sallie Pontius was able to collect Andrew's pension. after his death.
No picture of Dr. Pontius has yet been located.
——————————
John L. Freck (1839-1912).

John L. Freck appears on the Millersburg Soldier Monument as "J. L. Freck."
John was born in 1839, the son of Mathias Freck and his wife Eliza.  During the Civil War, he served in the 127th Pennsylvania Infantry, Company K, as a Corporal.  When he returned to Millersburg after the Civil War, he married Mary Elizabeth Frederick.
Many in the area believe that John Freck and other residents who lived near him erected the first bridge across the Wiconisco Creek (at their own expense) to connect with Woodside Station (a stop on the Lykens Valley Railroad).  In the 1870s, John Freck owned the Millersburg Ferry and was involved in the manufacture of shingles and staves.  He erected a mill and hired his own teamsters, one of whom lost a leg when his horse threw him into an oncoming train.  Additional expansion of Freck's enterprises occurred into the 1880s, but by 1887, a fire destroyed much of the old mill.  Freck also started a brewery and bottling works and had economic interests as far away as Delaware.  Then around 1890, Freck moved to Shamokin, Northumberland County, but for whatever reason returned to Millersburg in 1893.  He was then involved in the carrying of mail to the train station at Lenkerville (see post on Lykens Valley Railroad at Millersburg), as the new station in Millersburg had not yet been built.  Freck expanded the shuttle service to the Lenkerville Station by carrying passengers.
According to old newspapers accounts, John L. Freck's real passion was racing horses.  He traveled west and to Canada to purchase horses and often was found wagering on the streets of Millersburg with races to follow.  Freck also sold horses to those who needed them to pull carriages.
John L. Freck died on 25 Mar 1911.  He was 72.  His wife Mary died in 1933.
No picture is currently available of John L. Freck, but his a picture of his father is available and is presented below: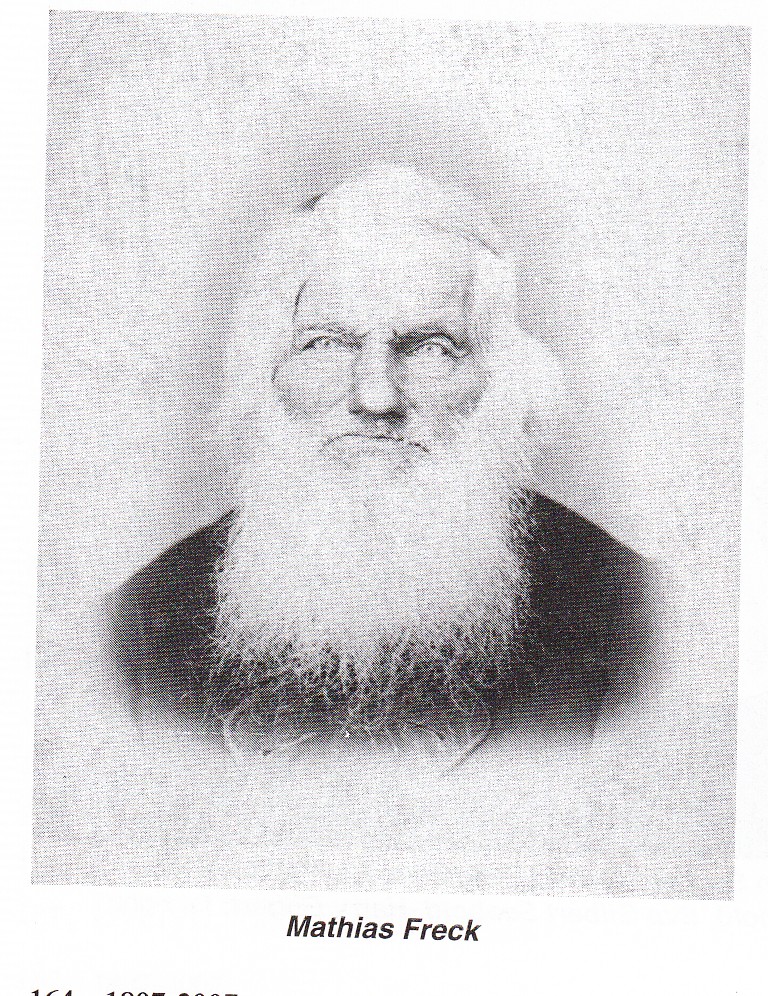 —————————–
Each of the above biographies is found in greater depth in A Celebration of Millersburg's Bicentennial, page 141 and pages 165-166  Copies of this book, which was published in 2007, are still available in Millersburg at the historical society museum.  To contact for information, click here.