Posted By Norman Gasbarro on April 28, 2012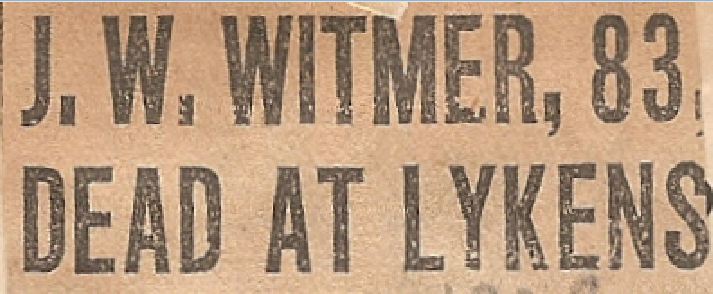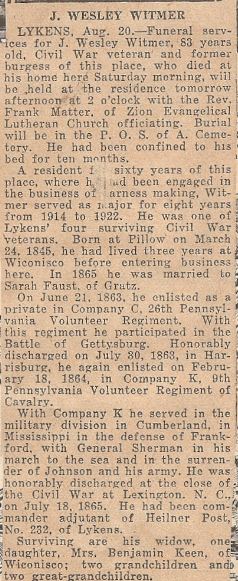 LYKENS, 20 August 1928 — Funeral services for J. Wesley Witmer, 83 years old, Civil War veteran and former Burgess of this place, who died at his home here Saturday morning, will be held at the residence tomorrow afternoon at 2 o'clock with the Rev. Frank Matter, of Zion Evangelical Lutheran Church officiating.  Burial will be in the P.O.S. of A. Cemetery.  He had been confined to his bed for ten months.

A resident for sixty years of this place, where he had been engaged in the business of harness making, Witmer served as a major for eight years from 1914 to 1922.  He was one of Lykens' four surviving Civil War veterans.  Born at Pillow on 24 March 1845, he had lived three years at Wiconisco before entering business here.  In 1865 he was married to Sarah Faust of Gratz.

On 21 June 1863, he enlisted as a private in Company C, 26th Pennsylvania Volunteer Regiment [26th Pennsylvania Infantry (Emergency of 1863)].  With this regiment he participated in the Battle of Gettysburg.  Honorably discharged on 30 July 1863, in Harrisburg, he again enlisted on 18 February 1864, in Company K, 9th Pennsylvania Volunteer Regiment of Cavalry [9th Pennsylvania Cavalry].

With Company K, he served in the military division in Cumberland, in Mississippi in the defense of  with Gen. Sherman in his march to the sea and in the surrender of Johnson and his army.  He was honorably discharged at the close of the Civil War at Lexington, North Carolina on 18 July 1865.  He had been Commander Adjutant of Heilner Post No. 232 of Lykens.

Surviving are his widow, one daughter, Mrs. Benjamin Keen of Wiconisco; two grandchildren and two great grandchildren.
John W. Witmer was located in the Pennsylvania Veterans' Card File.  The card for the 26th Pennsylvania indicates that he served in the Emergency State Militia of 1863, not to be confused with the regiment that went into national service, although it had the same number.  His obituary names the regiment as he probably did – which purist tend to challenge.  However, veterans sometimes did not refer to the "emergency" forces as "militia" and the terms they used often ended up in their obituaries – as is shown by the above clipping.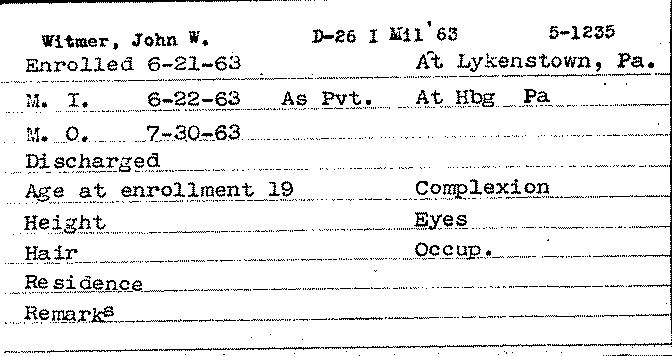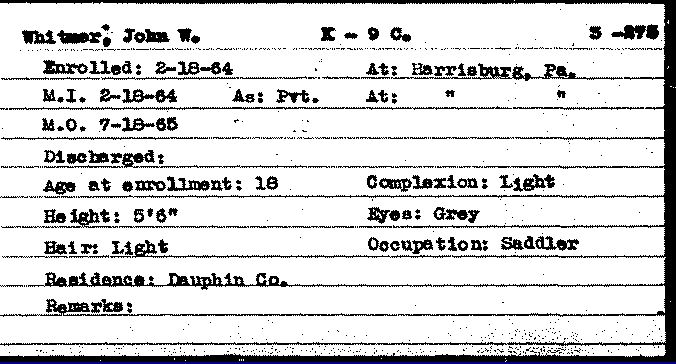 As shown by the Pennsylvania Veterans' File Card for John W. Witmer, he was 5 foot six inches tall, had light hair, light complexion, and gray eyes.  At enrollment he stated that he was 18 years old and was a saddler.
By serving at Gettysburg during the "Emergency of 1863," John W. Witmer's name appears on the plaque on the Pennsylvania Memorial.
The Pension Index Card gives an alternate spelling of the name as "Whitmer," and does note that the 26th Pennsylvania Infantry regiment in which he served was a "militia" regiment: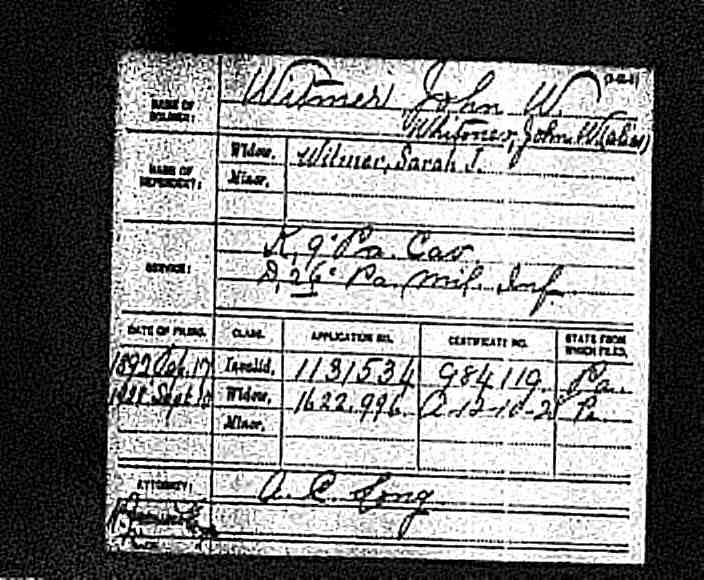 The name "John W. Witmer" appears on the Lykens G.A.R. Monument:

John W. Witmer died in 1928, about three years after the Lykens G.A.R. Monument was erected.  It was noted in his obituary (above) that he was one of only four surviving Civil War veterans then living in Lykens.  In 1929, an article appeared in a local newspaper that there were five surviving veterans living in Lykens:  William Irvin, Jacob McCoy, Isaac Garber, Richard F. Martz, and Henry Keiser.  After John Witmer died, there should have been only three surviving veterans in Lykens, unless two additional veterans moved there between Witmer's death in 1928 and the publication of the article in 1929.
Henry M. Witmer of Gratz was the brother of John Wesley Witmer and was also a Civil War veteran and a saddle and harness maker.  Henry was featured in the post entitled, Gratz During the Civil War – Henry M. Witmer, Saddle and Harness Maker.  According to information in A Comprehensive History of the Town of Gratz Pennsylvania, John learned saddle and harness making while serving as an apprentice to his brother in Gratz.  John's wife, Sarah Jane Faust, was a descendant of Andreas Riegle, early Lykens Valley area settler who married a daughter of pioneer Johann Peter Hoffman.  Genealogies of the Riegle and Hoffman families are available at the Gratz Historical Society.
Pennsylvania Veterans' File Cards are from the Pennsylvania Archives.  Pension Index Cards are from Ancestry.com.
Some of the information for this post was provided by Sally Reiner of the Lykens-Wiconisco Historical Society including the obituary which is from her collection.  The new historical society in the Lykens Valley area is finalizing plans to move into the old G.A.R. building in Lykens where it will have its headquarters for meetings, house its collections and exhibits, and have a research library.  Anyone interested in participating in the activities of the Lykens-Wiconisco Historical Society can contact Sally via her e-mail.