Posted By Brian Tomlin on April 23, 2012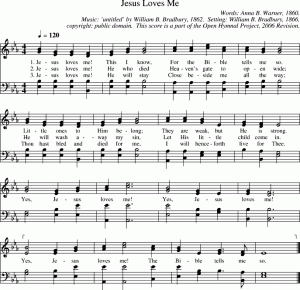 Jesus Loves Me: Lyrics originally written as a poem recited to a sick child in the 1860 novel Say and Seal, and William Batchelder Bradbury set it to music in 1862. The original lyrics are below, the image contains the more popular version which was edited to be less frightening to children.
Jesus loves me! This I know, For the Bible tells me so.
Little ones to Him belong;They are weak, but He is strong.
Chorus:
Yes, Jesus loves me!
Yes, Jesus loves me!
Yes, Jesus loves me!
The Bible tells me so.
Jesus loves me! This I know,As He loved so long ago,
Taking children on His knee,Saying, "Let them come to Me."
Jesus loves me when I'm good,When I do the things I should,
Jesus loves me when I'm bad,Though it makes Him very sad.
Jesus loves me still today,Walking with me on my way,
Wanting as a friend to give Light and love to all who live.
Jesus loves me! He who died Heaven's gate to open wide;
He will wash away my sin, Let His little child come in.
Jesus loves me! Loves me still
Tho' I'm very weak and ill; That I might from sin be free
Bled and died upon the tree.
Jesus loves me! He will stay Close beside me all the way;
Thou hast bled and died for me, I will henceforth live for Thee.
Fear Not, O Little Flock
A 17th Century hymn written during the Thirty Years' War, it was translated into English in 1855 and became popular in various versions throughout the war and after. These are the earliest translation of the lyrics, but many versions of this song exist in various denominations.
Fear not, O little flock, the foe
Who madly seeks your overthrow;
Dread not his rage and power;
What though your courage sometimes faints?
His seeming triumph o'er God's saints
Lasts but a little hour.
Fear not, be strong! your cause belongs
To Him Who can avenge your wrongs;
Leave all to Him, your Lord;
Though hidden yet from mortal eyes,
Salvation shall for you arise;
He girdeth on His sword!
As true as God's own promise stands,
Not earth nor hell with all their bands
Against us shall prevail;
The Lord shall mock them from His throne;
God is with us; we are His own;
Our victory cannot fail!
Amen, Lord Jesus, grant our prayer!
Great Captain, now thine arm make bare;
Thy church with strength defend;
So shall thy saints and martyrs raise
A joyful chorus to Thy praise,
Through ages without end.
There is Land of Pure Delight
There is a land of pure delight,
Where saints immortal reign,
Infinite day excludes the night,
And pleasures banish pain.
There everlasting spring abides,
And never withering flowers:
Death, like a narrow sea, divides
This heav'nly land from ours.
Sweet fields beyond the swelling flood
Stand dressed in living green:
So to the Jews old Canaan stood,
While Jordan rolled between.
But timorous mortals start and shrink
To cross this narrow sea;
And linger, shivering on the brink,
And fear to launch away.
O could we make our doubts remove,
Those gloomy thoughts that rise,
And see the Canaan that we love
With unbeclouded eyes!
Could we but climb where Moses stood,
And view the landscape o'er,
Not Jordan's stream, nor death's cold flood,
Should fright us from the shore.
Revive Us Again (1863)
We praise Thee, O God!
For the Son of Thy love,
For Jesus Who died,
And is now gone above.
Refrain
Hallelujah! Thine the glory.
Hallelujah! Amen.
Hallelujah! Thine the glory.
Revive us again.
We praise Thee, O God!
For Thy Spirit of light,
Who hath shown us our Savior,
And scattered our night.
Refrain
All glory and praise
To the Lamb that was slain,
Who hath borne all our sins,
And hath cleansed every stain.
Refrain
All glory and praise
To the God of all grace,
Who hast brought us, and sought us,
And guided our ways.
Refrain
Revive us again;
Fill each heart with Thy love;
May each soul be rekindled
With fire from above.
Refrain