Posted By Norman Gasbarro on April 1, 2012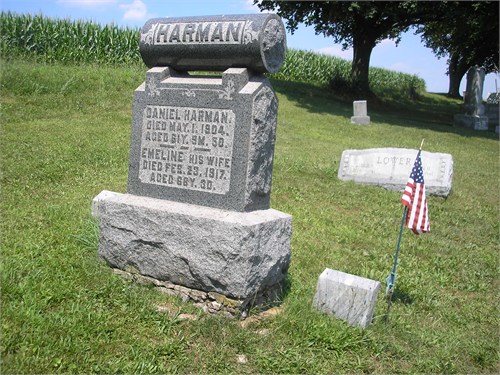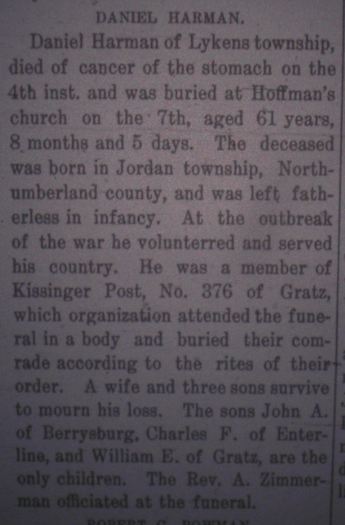 DANIEL HARMAN
LYKENS, 13 May 1904 — Daniel Harman of Lykens Township, died of cancer of the stomach on the 4th inst. and was buried at Hoffman's Church on the 7th, aged 6 years, 8 months and 5 days.  The deceased was born in Jordan Township, Northumberland County, and was left fatherless in infancy.  At the outbreak of the war he volunteered and served his country.  He was a member of Kissinger Post, No. 376, of Gratz, which organization attended the funeral in a body and buried their comrade according to the rites of their order.  A wife and three sons survive to mourn his loss.  The sons John A. Harman of Berrysburg, Charles F. Harman of Enterline, and William E. Harman of Gratz, are the only children.  The Rev. A. Zimmerman officiated at the funeral.
Daniel Harman registered for the draft in 1863 as noted on the Draft Registration record for Lykens Township, Dauphin County.  He indicated he was 21 years old, was a laborer, and was single.  No prior military service was given.
The Pennsylvania Veterans' File Card at the Pennsylvania Archives notes that Daniel Harman served in the 36th Pennsylvania Infantry, Emergency Militia of 1863 which was mustered into service on 4 July 1863, one day after the Battle of Gettysburg concluded.  The "Home Guard", although given the designation of 36th Pennsylvania Infantry, Company C, was actually a state militia unit that was not placed in national service under one of the active "armies" of the time.  This "Home Guard" was the subject of a prior post, "The Gratztown Militia and the Home Guards" and the numbering system was previously explained in the post entitled "Pennsylvania Regimental Designations, Naming and Numbering."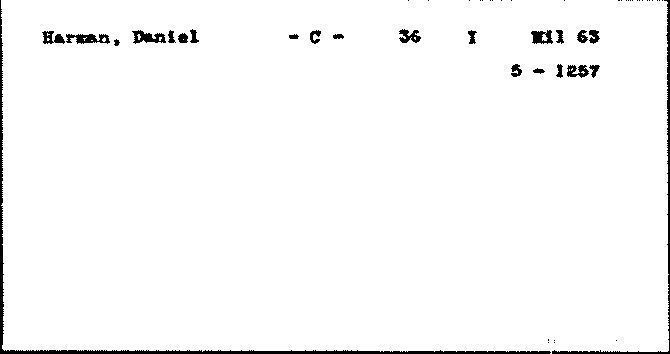 Suffice it to say that Daniel Harman's actual "war" service was brief and he was discharged on 11 August 1863.  Unfortunately for him, this was not enough time in service to receive a pension.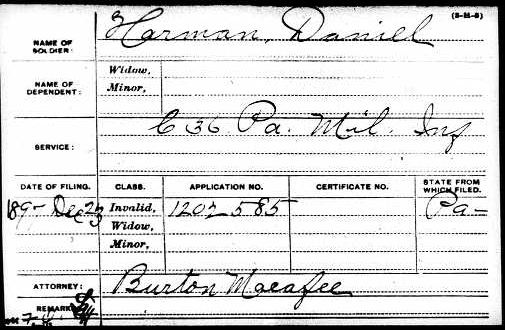 In 1897, as shown by the Pension Index Card from the National Archives (above), Daniel Harman applied for an invalid pension, but the record shows that he could not prove long enough service to qualify as the 36th Pennsylvania, Company C Emergency Militia was his only regiment and company.
In 1867, Daniel Harman married Emmaline Jane Matter (1849-1917) a daughter of Joel Matter (1817-1901) and Catharine [Hoffman] Matter (1819-1897).  Emmaline was the great-great granddaughter of Johann Peter Hoffman (1709-1798), Lykens Valley pioneer settler.  Emmaline is buried with her husband in Hoffman's Cemetery (St. Peter's) in Lykens Township.
The Civil War Research Project is seeking more information on the life and service of Daniel Harman.  Documents, pictures and stories are especially welcome.
Draft Registration Records and Pension Index Cards are from Ancestry.com.