Posted By Norman Gasbarro on March 21, 2012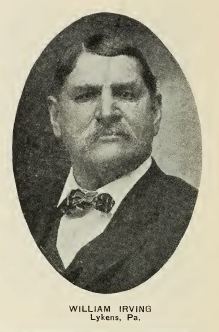 William Irving was one of Lykens elderly and respected citizens.  He was born in Wilkes-Barre, Pennsylvania, in 1841 and came to Lykens Borough, Dauphin County, in 1874 and entered the bottling business in which he engaged until 1874 when he entered the hotel business.  He conducted the Valley House which was located at Main and Pine Streets.  He sold the business in 1908 and retired.
Mr. Irving was a member of the First Defenders, enlisting on 16 April 1861, and attached to the National Light Infantry.  He once said he delighted in having the occasion to shake the hand of President Lincoln.   Although he saw service in many battles of the war, he was fortunately not injured.  He was a member of the organization known as the First Defenders who met on 18 April each year.  While the organization originally numbered 535 members, Mr. Irving was fortunate to have survived until 1935 and was one of the last ones living just prior to his death.  Mr. Irving claimed to have attended every annual meeting of that group since its formation after the Civil War and conducted "mutual discussions" as well as having a social get together.
The 1922 Centennial History of the Lykens-Williams Valley said of him:
Mr. Irving is held in high esteem by all who know him.  He is known to nearly every person, man woman and child in the town and his kindly appearance and jolly disposition have won for him an enviable pedestal of local citizenship.  He has assisted and taken initiatives in many civil movements during his career here, and withstanding his age, is about every day with the alacrity of one many years his junior. (p. 241).
Mr. Irving's military record is noted on his Pennsylvania Veterans' Index Cards found at the Pennsylvania Archives: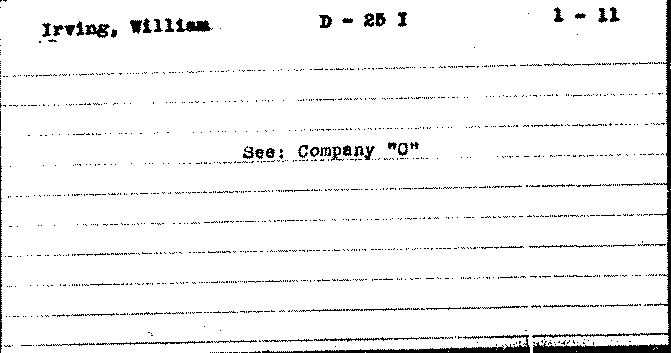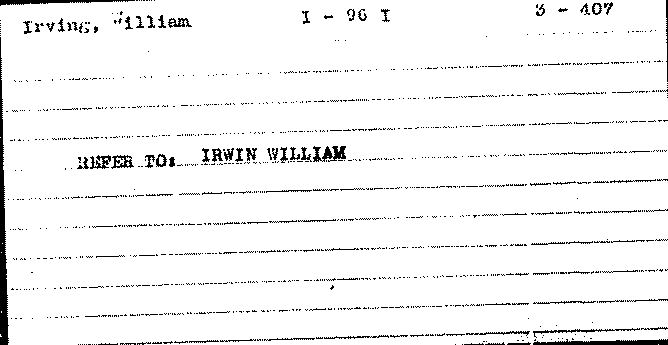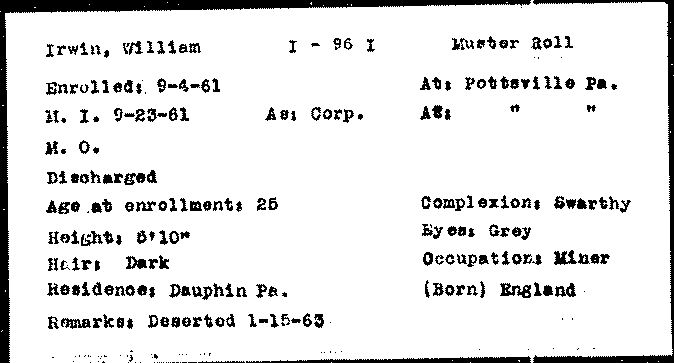 There are some confusing aspects about the military record as noted on the cards shown above.  The card for the 96th Pennsylvania Infantry notes a different age than the 1861 card and a phenomenal height of 6′ 10″ (most likely an error) as well as a birthplace of England and an occupation of miner.  The third card notes that William Irving's records are under the name of William Irvin.  And, while his Pension Index Card (below) notes service both his First Defender regiment and the 96th Pennsylvania Infantry, he never received a pension.  This conflict need to be further researched to determine whether there has been a co-mingling of records, or whether there was a problem which prevented him from getting a pension.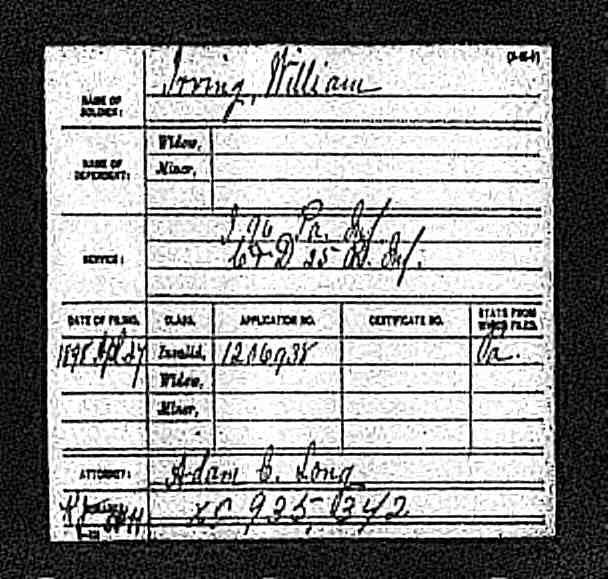 The following article appeared in the New Castle News (PA), 17 April 1925:
Four Civil War Vets at Pottsville Reunion

Pottsville, 17 April 1925. — Those in charge of the reunion of the First Defenders here next Saturday found that only four out of the 530 veterans who left here 18 April 1861 are still alive.  This will undoubtedly be the last reunion.  Those living are Captain James McDonald of Washington, William Irving, Lykens: E. W. Eisenbise, Chester, and Thomas Severn, Chicago.

In passing through Baltimore, the First Defenders were assailed by a mob of Confederates and Nicholas Biddle, a colored attendant of one of the veterans, was severely wounded.  The defenders say Biddle was the first man wounded during the Civil War.
Nicholas Biddle ,who was from Pottsville, was featured in a prior post on this blog.  The First Defenders are honored on the Schuylkill County Civil War Monument which is located in Pottsville.
William Irving is honored on the Lykens G.A.R. Monument: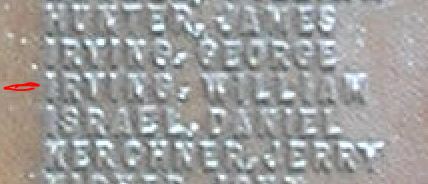 Tomorrow, the post will be entitled, Military Funeral for Comrade William Irving.
The portrait of William Irving is from the 1922 Lykens-Williams Valley Centennial History.  The news clipping about the First Defenders reunion is from the newspaper resources of Ancestry.com.