Posted By Norman Gasbarro on March 22, 2012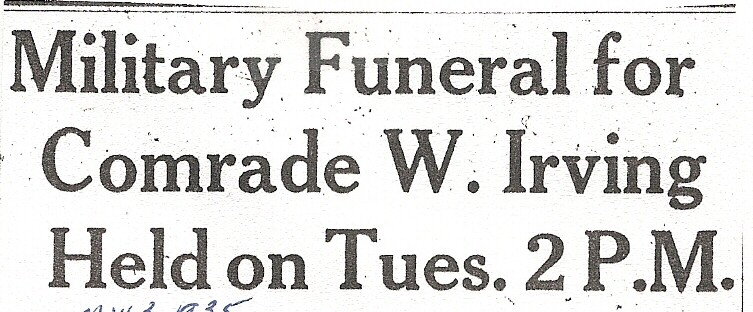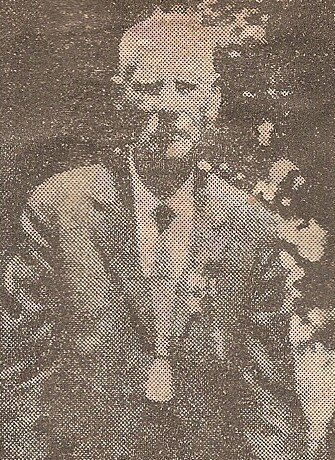 Military Funeral for Comrade William Irving Held on Tues. 2 P.M.

LYKENS, 3 May 1935. — The town of Lykens paid its last respects to its oldest 'first defender' on Tuesday afternoon at 2 o'clock, when the American legion, the High School Band, the Hose Company, and the school children beside a large number of friends and neighbors marched in a military funeral in his honor.

"Uncle" Bill, as he was affectionately known by every resident of the town, was buried in the Odd Fellows Cemetery after a brief service by the Revs. William Bond and E. W. Foulks, Episcopal Clergymen.

The military funeral was headed by the High School Band, followed by the American Legion as a guard of Honor, the hearse, the Hose Company and a procession of more than a score of cars.  The children of the public schools formed a column of honor as the funeral left the house and the parochial children lined both sides of the street in front of the church and convent as the funeral passed.

There were appropriate services with taps and a salute at the cemetery.

He came to Lykens on 1 Apr 1874, he engaged in the bottling business and then became proprietor of a hotel which he conducted for 31 years.

"Uncle" Bill was the last surviving charter member of the Liberty Hose Company, of Lykens.  For several years after he left the hotel business, he served as a clerk of Williams Township and Dauphin County.

Lieutenant Irving was the son of John Irving and Mary [Seaman] Irving and was a native of Wilkes-Barre where he was born 17 August 1841.  At the age of two years, his parents moved to Pottsville.   His father toiled in the mines in the vicinity of Pottsville and William became a slate picker at the age of seven.

As a young man of 19, he lacked but a half inch of standing six feet in his stockings, weighed 180 pounds and gained prestige as an athlete then making his home at St. Clair.  He was still following the vocation of a miner when the war broke out and he enlisted under Captain Edmund McDonald in the National Light Infantry.  After his enlistment expired, Mr. Irving returned home and resumed his work as a miner in and about St. Clair.  He finally gave it up to again enter military service under Col. Henry L. Cake, of Pottsville.  It was while he was doing duty near Alexandria, Virginia, that he was promoted to Sergeant.  Following the Battle of Antietam, he received another promotion when he earned the commission of 2nd Lieutenant.  In December  1863, Lt. Irving left the army and came back to St. Clair.  In the fall of 1863 he married Miss Anna Fisher, of LaSalle, Illinois.

In 1865, still following the vocation of a miner, with his wife and daughter Clara Irving, he again located in Pennsylvania at Locust Gap.  This daughter, Mrs. Clara Faust makes her home at Sunbury.  Lt. Irving was the father of six children, all but Mrs. Faust now being dead.

Mrs. Martha Ramsey, an octogenarian, of Lykens, is a sister of Lieutenant Irving, Mrs. Susan Lewis, a half-sister, for years postmistress and operator of Swatara, has passed fourscore years.

There are but two other First Defenders surviving.  They are John Shearer, aged 96, of Omaha, Nebraska, and Gen. Francis A. Stitzer, 95, of Denver, Colorado.
The above article, supplied by Sally Reiner of the Lykens-Wiconisco Historical Society is from her collection and was supplied by her for this post.  It appeared in a local newspaper in 1935 at the time of the death of William Irving who was a Civil War veteran.
The post of yesterday was entitled William Irving, First Defender, and featured additional biographical information on Mr. Irving.