Posted By Norman Gasbarro on March 10, 2012

TWO KILLED IN PLYMOUTH MINE

PLYMOUTH, 27 August 1903. — A heavy fall of coal in the Red Ash vein of the No. 5 colliery of the Delaware and Hudson Coal Company in Plymouth at 10:30 this morning cost the lives of two men.  They are,

J. W. Steever, miner, aged 52 years, of East Plymouth.

Peter Krok, laborer, aged 32 years, of Plymouth Township.

The men were at work as usual at the time of the big fall and were not given any warning of the unsafe roof before many tons of sand rock fell upon them, mangling their bodies almost beyond recognition.

When the heavy report of the fall was heard by the other miners they rushed immediately to the scene and made haste to retrieve the unfortunates.  After an hour's hard work the body of Steever was recovered from beneath several tons of rock.  At 2:30 this afternoon that of Krok had not been recovered.

Mr. Steever was a highly esteemed resident of the township and an expert miner.  He was a member of the Odd fellows Lodge of Plymouth, Captain Asher Post of the G.A.R. and a member of the United Mine Workers of American, and a veteran of the Civil War.  He is survived by his wife and the following children:  Mrs. David Holland of Waverly, New York; Mrs. Joseph Bertram of Plymouth Township; Mrs. Thomas Berry and Samuel Steever of Forty Fort; Thomas Steever of New Jersey; and Fred Steever of Dauphin County.

Peter Krok, the dead laborer, was 32 years of age and single.
The following story appeared in the Lykens Standard on the date indicated:
DEATHS AND FUNERALS

FUNERAL OF JOSIAH W. STEEVER

LYKENS, 4 September 1903. — By request we publish the following notice of the funeral of Josiah W. Steever:

The funeral of Josiah W. Steever, who was killed at No. 5 D. & H. Mine at Plymouth last week, took place on Saturday morning from his late home on Welsh Hill.  The funeral was one of the largest to occur at Plymouth in some time and demonstrated the esteem in which deceased was held.  Services were conducted at the house by Rev. E. A. Loux, assisted by Rev. Thomas Cook.  A quartet from the Methodist Episcopal Church Choir rendered several selections.  There was a large number of floral offerings sent by sorrowing friends.  The obsequies were attended by the members of Local 1132; G.A.R., Washington Camp, P.O.S. of A., and the three lodges of Odd Fellows.  The pallbearers were C. A. Hochlander, Jacob Bush, Jonah James, Alfred Verry, Benjamin Howells and Benjamin Jackson.  Interment was in Shawnee Cemetery.

Deceased was born at Millersburg, Dauphin County, nearly 65 years ago, where he spent his boyhood.  At the breaking out of the Civil War he enlisted in Company E, Ninth Pennsylvania Cavalry [9th Pennsylvania Cavalry] and served until its close.  He was with Sherman in his famous march from Atlanta to the sea.  At the termination of the war he returned to his widowed mother's home at Wiconisco and soon afterwards married Miss Rebecca Workman of that town.  He was for several years a hoisting engineer at the Lykens Valley Coal Mines.  He came to Plymouth in the year 1884 and followed the occupation of a miner until his sad and sudden death last week.  He was for many years a member of Wiconisco Lodge of Odd Fellows at Lykens, and Washington Camp, No. 148, Wiconisco, was also a member of Post 232, G.A.R.  He was also a member of the Royal Arcanum of Plymouth.  He was a brother of the late Joseph M. Steever, for many years outside foreman at the D. & H. Mines, and Mrs. Jacob Kramer, deceased.  His wife, who is 63 years of age, was stricken with paralysis a few months ago and is still in a helpless condition.
Announcement of Mr. Steever's burial also appeared in his local newspaper, the Wilkes-Barre Times, 29 August 1903: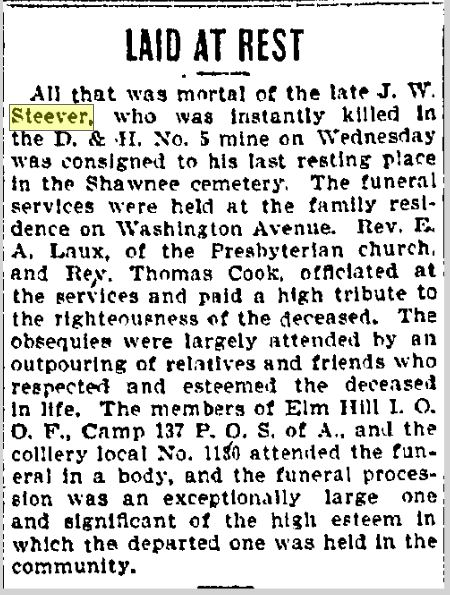 LAID AT REST

Wilkes-Barre, 29 August 1903. — All that was mortal of the late J. W. Steever, who was instantly killed in the D & H No. 5 Mine on Wednesday was consigned to his last resting place in the Shawnee Cemetery.  The funeral services were held at the family residence on Washington Avenue.  Rev. E. A. Laux, of the Presbyterian Church, and Rev. Thomas Cook, officiated at the services and paid a high tribute to the righteousness of the deceased.  The obsequies were largely attended by an outpouring of relatives and friends who respected and esteemed the deceased in life.  The members of Elm Hill I. O. O. F., Camp 137 P. O. S. of A., and the colliery local No. 1130 attended the funeral in a body, and the funeral procession was an exceptionally large one and significant of the high esteem in which the departed one was held in the community.
Josiah W. Steever (1838-1903) was born in Upper Paxton Township, near Millersburg, Dauphin County, Pennsylvania, the son of Thomas Steever, a boatman on the Susquehanna River.  At an early age he worked in an iron furnace as a puddler, then enlisted in the 9th Pennsylvania Cavalry, Company E, as a Private, at Phoenixville, Pennsylvania.  He served a full enlistment of three years and then re-enlisted at Mossy Creek, Tennessee, for an additional term of three years, or for the duration of the war.  At the time of his re-enlistment, he was promoted to Wagoner.  From his Pennsylvania Veterans' File Card, it is learned that he was 23 years old at the time of his enlistment, was very tall (at 5'11"), had dark hair and eyes, but a light complexion.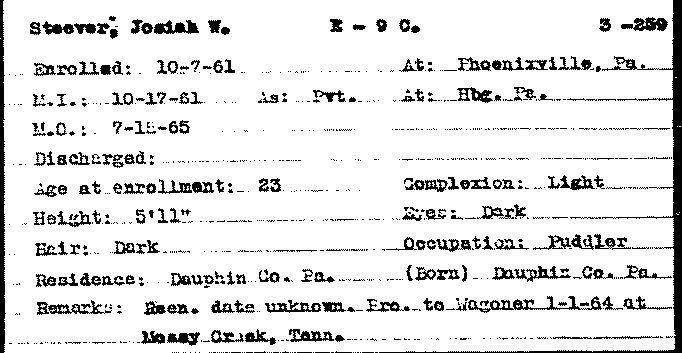 Josiah Steever's Civil War service time was sufficient to gain a pension, but for some reason, although he applied, he was not awarded one (see Pension Index Card below).  In what appears to be an application date more than two years after Josiah's death from the mine accident, his widow, Rebecca [Workman] Steever applied for a widow's pension, which she was awarded.  Being that his obituary states that the wife was in a state of paralysis, the funds were probably applied for by her family on her behalf.  There were no pensions for men killed in the mines, and it is fortunate that Josiah Steever's military service did qualify his survivor for assistance.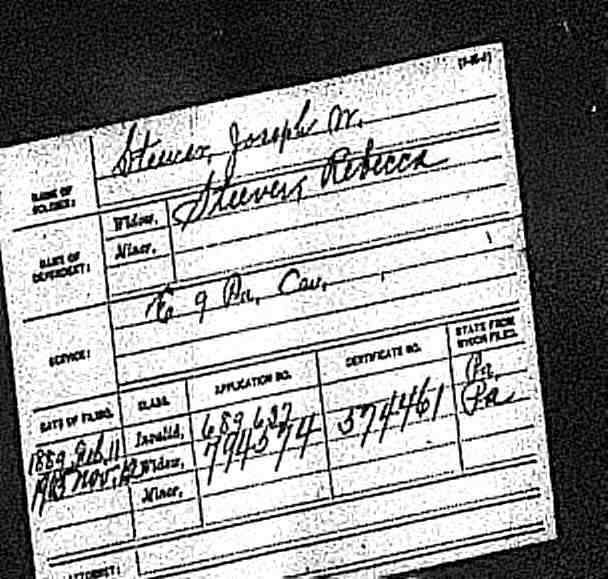 The picture of the grave marker (below) of Josiah Steever is from an Ancestry.com family tree and was supplied by Ancestry member Pollyann43.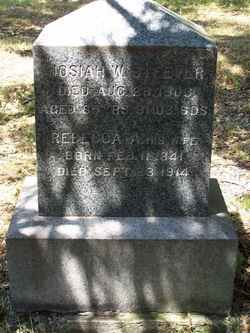 For his Civil War service, Josiah W. Steever was honored on the Lykens G.A.R. Monument – as J. W. Steever.

It is not known at this time whether the wife of Josiah Steever, Rebecca [Workman] Steever, was related to Sallie Workman who married Henry Keiser of Lykens who was prominent in the Heilner Post, G.A.R., and who was one of the driving forces behind the erection of the Lykens G.A.R. Monument.  If the two women were sisters, then Josiah Steever was the brother-in-law of Henry Keiser.
Finally, this notice appeared in the Harrisburg Patriot: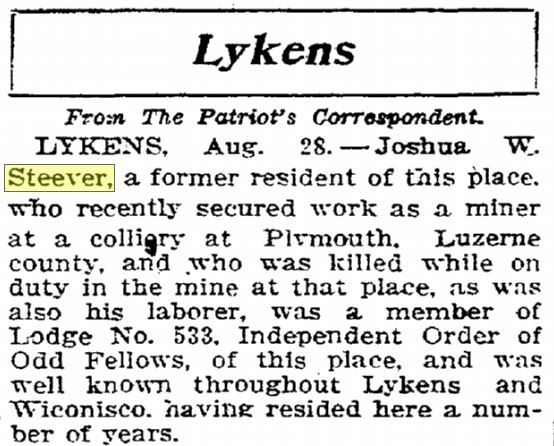 LYKENS, 28 August 1903. — Joshua W. Steever, a former resident of this place, who recently secured work as a miner at a colliery at Plymouth, Luzerne County, and who was killed while on duty in the mine at that place, as was also his laborer, was a member of Lodge No. 533, Independent Order of Odd Fellows, of this place, and was well known throughout Lykens and Wiconisco, having resided here a number of years.
The Civil War Research Project is seeking more information about Josiah W. Steever and his connection to the Lykens Valley area.  Readers are invited to contribute.