Posted By Norman Gasbarro on March 14, 2012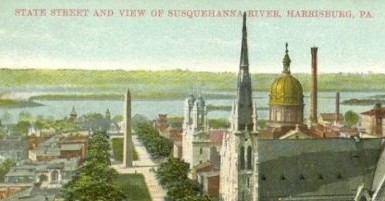 Part 2.  The Dauphin County Memorial to the Civil War is currently located in a park at 3rd Street and Division Streets near William Penn High School and near Italian Lake.  It is now in the Uptown section of Harrisburg, north of what was once the entrance area to Camp Curtin.  The monument stands about 110 feet high and is a single obelisk which resembles a smaller version of the monument to George Washington in Washington, D.C.  The stone of the monument is native to the area and was cut from the banks of the Susquehanna River.
The monument was originally located at the intersection of North 2nd Street and State Streets but in 1960, after years of deterioration, it was cleaned and restored and moved to the park where it presently resides.
While the monument inscription indicates that it was originally erected in 1869, the fact is that it was not completed until 1876 and before its completion, the "pile of stone" was an eyesore and embarrassment in downtown Harrisburg.  The long, difficult struggle to get funding for the monument and complete it in a reasonable amount of time after the war will be discussed in a series of five posts that began yesterday. The story will be told as reported in the Harrisburg Patriot, 25 December 1903.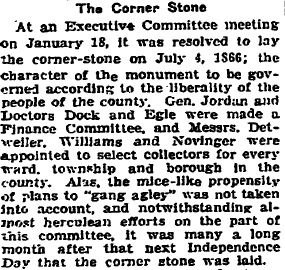 THE INTERESTING STORY OF THE STATE STREET MONUMENT

How the Great Shaft Was Raised as a Memorial to Dauphin County's Soldiers and Sailors in the Civil War

The Corner Stone

At an Executive Committee meeting on 18 January, it was resolved to lay the corner-stone on 4 July 1866; the character of the monument to be governed according to the liberality of the people of the county.  Gen. Jordan and Doctors Dock and Egle were made a Finance committee, and Messrs. Detweiler, Williams and Novinger were appointed to select collectors for every ward, township and borough in the county.  Alas, the mice-like propensity of plans to "gang-agley" was not taken into account, and notwithstanding almost herculean efforts on the part of this committee, it was many a long month after that next Independence Day that the corner stone was laid.

Interest was at once aroused; strong appeals were made to the public in letters in the daily papers, and the clergy, the press, superintendents of Sunday Schools, teachers in public and private schools, the firemen and other associations, men of every profession, and all mechanics and laborers were enlisted in the movement.  Operators in the different large factories, furnaces, and work-shops formed sub-associations to raise funds, and the first subscription made to the monument was one of $125.75, sent in 27 February 1866, through W. T. Hildrup from the employees of the "Car Factory."  S. D. Ingram, superintendent of the public schools perfected a plan to place subscription books in every school in the county, these books being placed later in the corner stone.

Despite all the efforts the progress was not very encouraging, and in July an appeal was made to the ladies for help.  It was not made in vain, and to the untiring zeal of the women of Dauphin County is largely due the Soldiers' Monument.

A fair was decided upon; and fortunately the list of devoted women who made it a success has been preserved, with its quaint, olf-time love of a title.

President – Miss Jennie Cameron, now Mrs. Wayne McVeagh.

Directors – Mrs. Gov. Andrew G. Curtin, Mrs. Gen. Simon Cameron, Mrs. Judge Pearson, Mrs. Gen. W. H. Miller, Mrs. Sarah Haly, Mrs. Col. S. G. Simmons, Mrs. Dr. S. T. Charlton, Mrs. Judge Burnside, Mrs. D. D. Boas, Mrs. Dr. C. Seller, Mrs. R. A. Lamberton, Mrs. Henry Gilbert, Mrs. Charles L. Bailey.

Treasurer – Mrs. James W. Weir.

Secretaries – Mrs. Mary S. Beatty, Mrs. Dr. George Bailey.
Committee [members from Upper Dauphin County area included; for others see original article]
Jefferson Township – Mrs. Archibald McLaughlin, Mrs. John Hoffman, Mrs. Jonathan Enterline, Mrs. Philip Hoffman, Mrs. George H. Bressler.

Jackson Township – Mrs. Lt. C. Bixler, Mrs. Lt. Charles E. Riegel, Mrs. John Zimmerman, Mrs. Isaac Hoffman.

Reed Township – Mrs. Maj. T. S. Freeland, Mrs. Martha Heickle, Mrs. Jacob Tyson.

Washington Township – Mrs. D. K. McClure, Mrs. Eli Swab, Mrs. Dr. Straub, Mrs. George Gilbert, Mrs. Benjamin R. Buffington.

Lykens – Mrs. Amos Hoffman, Mrs. H. B. Schreiner, Mrs. Simon Daniel.

Halifax  – Miss Mary Freeland, Miss Lizzie Landis, Miss Waldron, Miss Lyter, Mrs. Thomas Carpenter, Mrs. Ferguson.

Millersburg – Mrs. G. M. Brubaker, Miss Mary Bowman, Mrs. R. A. Wiggins, Mrs. H. B. Hoffman, Miss Auchmoody, Mrs. Henry Gilbert, Mrs. Maj. S. P. Auchmoody, Miss Mary Miller, Mrs. John R. Bowman.

Wiconisco – Mrs. Judge Young, Mrs. Col. E. G. Savage, Miss Amanda Schaffer, Miss Beckie Foster, Mrs. Jacob Hassler, Mrs. Simon B. Cales, Mrs. Gifford Dock, Mrs. Col. Hyde, Mrs. William Willones, Mrs. John L. Foster, Miss Leah Ferree, Mrs. Josiah Bowman, Mrs. A. F. Englebert.

Gratz – Mrs. Dr. J. Schminkey, Mrs. Daniel Lehr, Mrs. William Hoffman.
The story of the monument will continue in the post tomorrow.