Posted By Norman Gasbarro on March 30, 2012
On 7 December 1905, the Pennsylvania Memorial at Andersonville, Georgia, was dedicated. A commemorative volume was produced which included the history of the memorial, speeches given at the dedication, and a list of the veterans who had applied for free transportation to attend the ceremonies.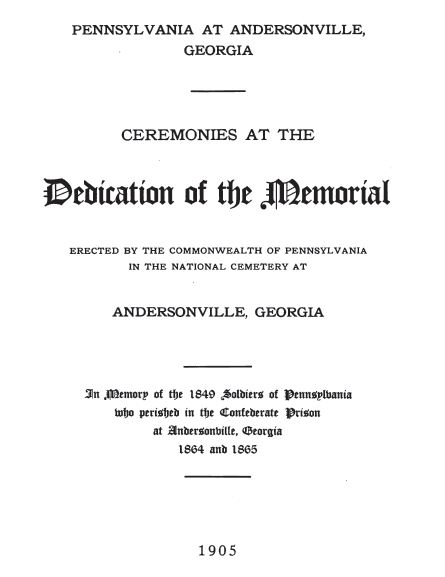 The book has been digitized and is a free download from Google.  Click here.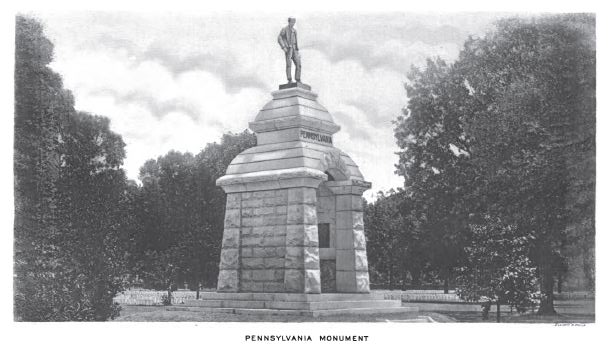 The Pennsylvania Monument as pictured in the book (above).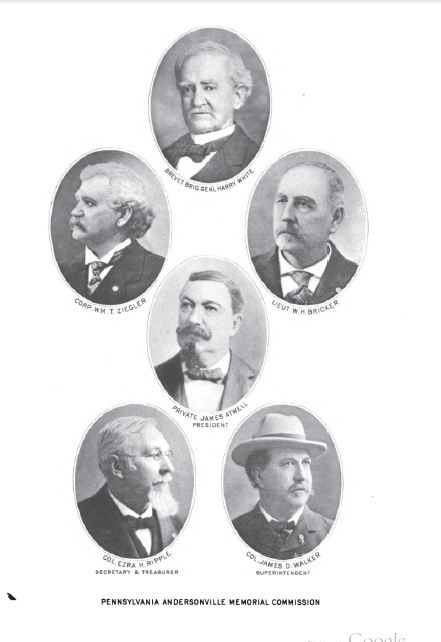 Portraits of the men who served on the Andersonville Memorial Commission:  James Atwell, President;  Ezra H. Ripple, Secretary;  William T. Ziegler —- Harry White —-William H. Bricker;  James D. Walker, Supt.
The book also contains a section entitled, "Roster of Application for Transportation to Americus, Georgia."  For each of the veterans who wished to attend the ceremony of dedication, their name, rank, company and regiment, as well as their hometown in 1905 was listed.  Some of the veterans had moved out of state, but most resided in Pennsylvania at the time of the dedication.  Some applied to go and were unable to attend the dedicatory ceremony and their names were noted with an asterisk.  The complete listing is found on pages 75 through 89 of the download.  Those who applied to go and gave residences in Dauphin, Schuylkill or Northumberland Counties are listed below.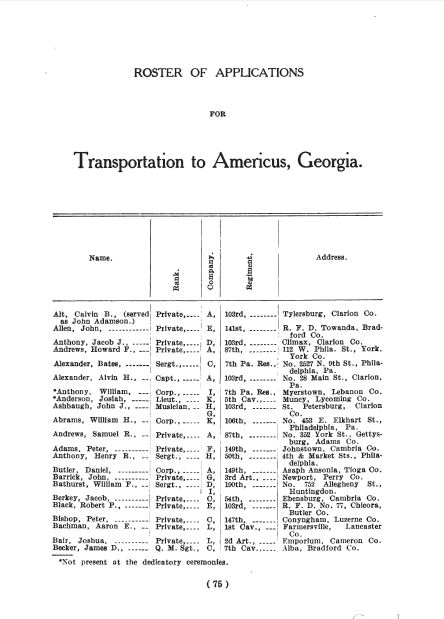 David Bricker —- James F. Becker —– Joseph N. Clark —– Levin Curoy —– Nicholas J. Cox —– Samuel Cain —– Francis R. Douglass —– Josiah Diehl —– William D. Guentler —– Jacob Hehn —– David C. Pritchard —– David Raudenbush —– Wilber Shepherd —– Elisha Skelly —– David Soonberger —– Erastus Sowers —– Francis R. Scott —–Isaiah D. Winters —– Andrew G. Wren
In tomorrow's post, there will be some stories about getting to the dedication ceremony.