Posted By Norman Gasbarro on March 11, 2012
DEATHS

SAMUEL S. MATTER

LYKENS, 20 November 1903. — Samuel S. Matter, an old resident of this place, was found dead in a back kitchen at his residence on Main Street, about 5:45 p.m. Tuesday.  Mr. Matter, who was employed at Short Mountain Breaker, returned home from work shortly after five o'clock and entered the back kitchen to take a bath, as was his daily custom.  When ready for the water he would rap on the door and his wife would hand the water in to him.  She heard what she thought was his rap and went out with the water, and finding the door locked called him several times.  Failing to receive and answer she became alarmed and ran to Mrs. Frank Grow, residing next door, and told her she feared something was wrong.  Mrs. Grow ran across the street and notified her father, Asley Cook, who with William Pickup, another neighbor, gained entrance to the kitchen through a window, when they found Mr. Matter lying on the floor in front of the door dead.  He had removed his shoes, coat and pantaloons, the latter being found rolled up under his head and used for a pillow.  It is inferred from this that he was taken suddenly ill while making preparations for his bath and laid down with the hope that the spell would pass off shortly.  Death was doubtless due to heart failure.

Deceased was born in Mifflin Township, Dauphin County, 3 March 1837, died 16 November 1903, aged 66 years, 9 months and 13 days.  On the 9 March 1856 he married Miss Lydia Matter of Berrysburg.  Nine children were born unto the couple, four of whom preceded him to the grave.  He is survived by his wife, two sons, and three daughters, viz: N. F. Matter of Harrisburg; William H. Matter of Youngstown, Ohio; Jennie J. Matter of Philadelphia; Ida (Mrs. William Stuppy)[Ida Matter], and Ophelia Matter.

In 1869 Mr. Matter moved to this place and secured employment at the roundhouse, which position he held about 13 years, after which he was night watchman at Short Mountain Colliery for a number of years.  His last employment was at the breaker feeding a counter screen.

He was a veteran of the Civil War, having served as a Private in Company G, 26th Regiment Pennsylvania Volunteers [26th Pennsylvania Infantry] and a member of Heilner Post, No. 232, G.A.R., of this place.  He was of a quiet disposition, a good citizen and a kind husband and father, and will be sadly missed by his numerous friends.  The funeral will take place this afternoon at 1 o'clock, Rev. S. E. Haas conducting the services in the Evangelical Church, after which the remains will be laid to rest in Wiconisco Cemetery.
——————————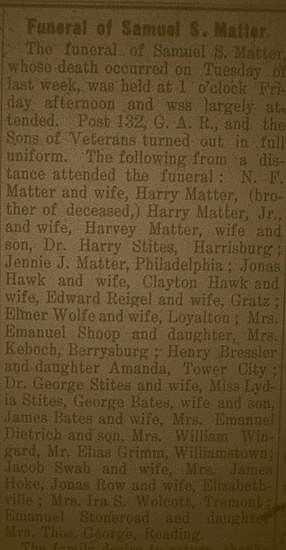 Funeral of Samuel S. Matter

LYKENS, 27 November 1903. — The funeral of Samuel S. Matter, whose death occurred on Tuesday of last week, was held at 1 o'clock Friday afternoon and was largely attended.  Post 132, G.A.R. and the Sons of Veterans turned out in full uniform.  The following from a distance attended the funeral:  N. F. Matter and wife, Harry Matter (brother of deceased), Harry Matter Jr. and wife, Harvey Matter, wife and son, Dr. Harry Stites, Harrisburg; Jennie J. Matter, Philadelphia; Jonas Hawk and wife, Clayton Hawk and wife, Edward Riegel and wife, Gratz; Elmer Wolfe and wife, Loyalton; Mrs. Emanuel Shoop and daughter, Mrs. Keboch, Berrysburg; Henry Bressler and daughter Amanda Bressler, Tower City; Dr. George Stites and wife, Miss Lydia Stites, George Bates, wife and son, James Bates and wife, Mrs. Emanuel Dietrich and son, Mrs. William Wingard, Mr. Elias Grimm, Williamstown; Jacob Swab and wife, Mrs. James Hoke, Jonas Row and wife, Elizabethville; Mrs. Ira S. Wolcott, Tremont; Emanuel Stoneroad and daughter, Mrs. Thomas George, Reading.

The family desire to return thanks to neighbors and friends, and also to the G.A.R. and Relief Corps for their kindness during the sad hour of bereavement.

Mr. Matter's age was 66 years, 8 months and 12 days, instead of the 66 years, 9 months and 13 days as stated in our last issue.
—————————–
Samuel S. Matter (1837-1903) was the son of Joseph M. Matter (1797-1842) and Catherine "Katie" [Schopp] Matter (1804-1879).  He married a cousin, Lydia Matter (1838-1915).  Both were descended from Revolutionary War soldier Johannes Matter (1732-1802), one of the earliest settlers of the Lykens Valley area.  As the descendants of an early settler, the Matters had many family interconnections with the other pioneer families of the area, including the Hoffman family, the Riegle family, the Dietrich family, and the Eisenhower family to name a few.
During Samuel Matter's life, he worked at various jobs including farming, carpentry, and as a watchman for the railroad and at the mines.
During the Civil War, he answered the call to service and was sent to Gettysburg and took part in the battle there.  His Pennsylvania Veterans' File Card at the Pennsylvania Archives shows (below) that he was 26 years old when he enrolled at Lykens.  There is little else about him on the card, except for his dates of service.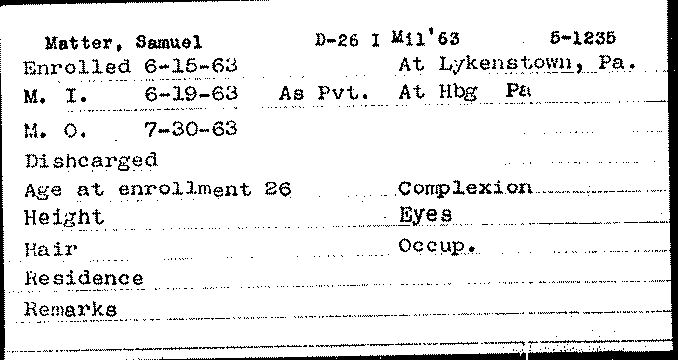 Samuel S. Matter's service at Gettysburg entitled him to recognition on the tablet for the 26th Pennsylvania Infantry Emergency Force of 1863.  However, he is named as "Samuel Motter" on the tablet.
Samuel S. Matter was also recognized on the Lykens G.A.R. Monument:

The above articles were taken from Lykens Standard issues of the dates indicated.  A Pension Index Card has not yet been located for Samuel S. Matter.
The Civil War Research Project is seeking additional information of the life of Samuel S. Matter and any family connections he had to other Civil War veterans from the area.  Pictures, copies of documents, genealogies, etc., are especially welcome contributions.