Posted By Norman Gasbarro on March 25, 2012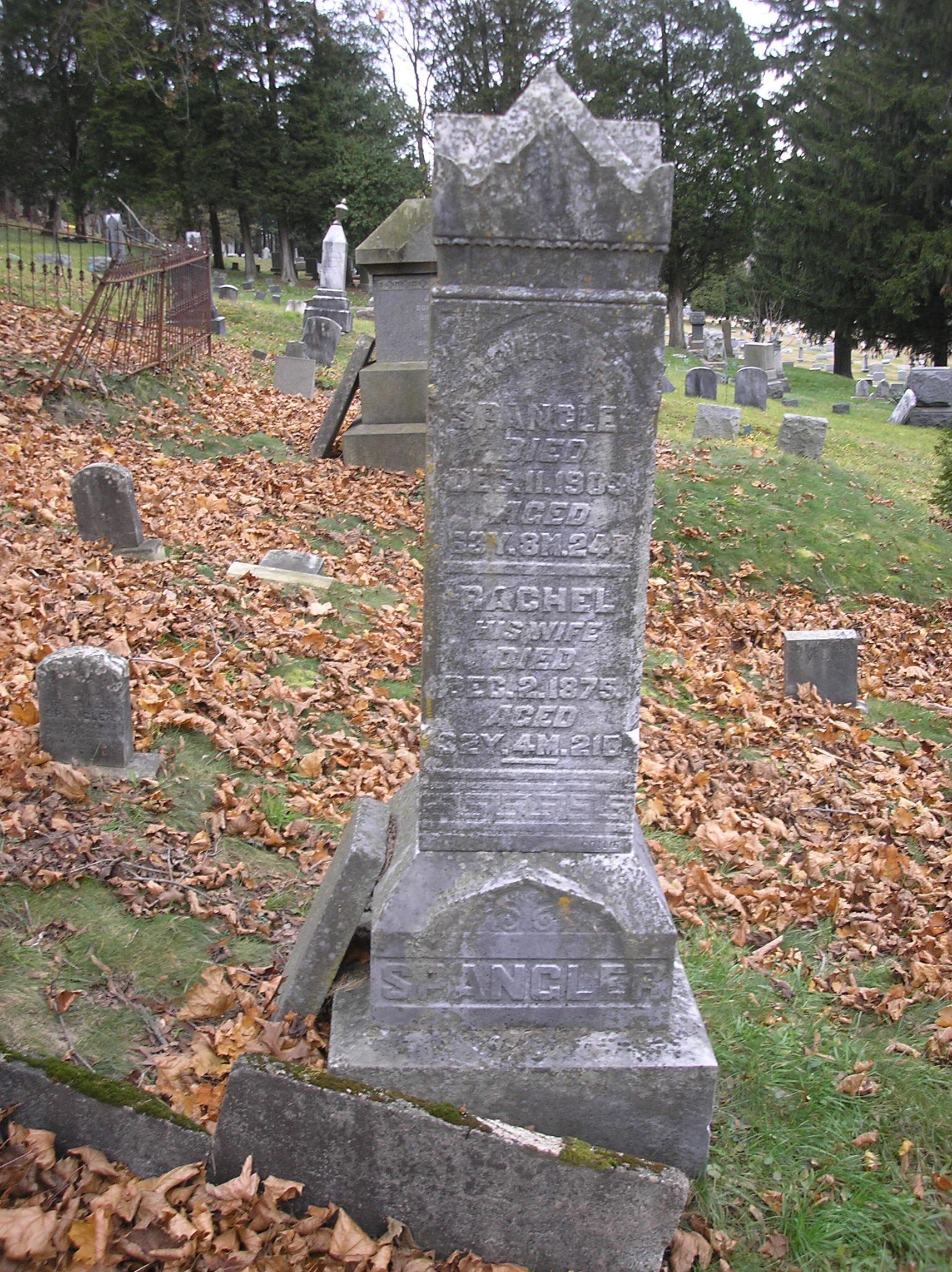 DIED

LYKENS, 18 December 1903. — John Henry Spangler, an old and highly respected resident of this place, died at his home on North Second Street, Friday last at 5 o'clock a.m., of gastritis, aged 63 years, 8 months and 24 days.

Deceased was born at Palmyra, Lebanon County, and came to this place in 1850.  He married Miss Rachael Myers of this place in 1861, who preceded him in death nearly 30 years ago.  In 1876 he married Miss Sarah J. Maurer, also of this place, who with the following children survive:  Elmer Spangler, Mrs. Joseph Loudenberger, Mrs. Hallie Messner, Mrs. Emmett Henery, Mary Spangler and Lucy Spangler.  There are nine grandchildren.

During the War of the Rebellion he enlisted in the three months' service at Harrisburg, 26 April 1861, as a Private in Company F, 10th Regiment Pennsylvania Volunteer Infantry [10th Pennsylvania Infantry] and was discharged at the expiration of his enlistment in 1861.  He re-enlisted 15 June 1863, as Corporal in Company D, 25th Regiment Pennsylvania Militia [25th Pennsylvania Infantry] which was organized as an emergency regiment, and was honorably discharged 30 July 1863.  He re-enlisted 28 February 1865, as a Private in Company B, 16th Cavalry Volunteers [16th Pennsylvania Cavalry].  He participated in the battles of Dinwiddie Court Hourse, Five Forks, Salor's Creek, Amelia Springs, Farmville and Appomattox, and was honorably discharged 11 August 1865.  He was a member of Heilner Post, No. 232, G.A.R., Wiconisco Lodge, No. 538, I. O. O. F., Lykens Lodge, No. 106, K. of P., and Lykens Conclave, No. 109, I. O. H., in which he held an endowment policy of $1,000.  All of the above organizations together with the Sons of Veterans and a large number of friends attended the funeral at 2 o'clock p.m. Sunday, which was held from his late residence.  Rev. D. L. Mackenzie, pastor of Zion Lutheran Church, of which deceased was also a member, conducted the services, and interment took place in Odd fellows' Cemetery.  The choir of the Lutheran Church rendered the music for the occasion.

The following relatives and friends from a distance attended the funeral:  Daniel Rettinger and wife, Philadelphia; Lee Y. Ream and wife, and John Keath of Harrisburg; Daniel Maurer and wife of Gordon; George Myers, wife and daughter of Reinerton; Mrs. Kate Myers, Mrs. Bess Myers and son, Mrs. Alice Travitz, Mrs. Jere Myers, all of Tower City; Mrs. Harry Varnes of Marysvile; Irwin Danbert and wife of Llewellyn.  Cyrus Spangler, George Spangler, Mrs. William Wallace, Mrs. Emma Umberger, brothers and sisters of the deceased, were also present.

Mr. Spangler was employed at Short Mountain Colliery either as a pump-runner or an engineer from the time the slopes were first sunk up to his last illness.  He thoroughly understood this class of machinery and for many years was the hoisting engineer at Short Mountain Slope.  He was a kind and devoted husband and father, and a good neighbor and citizen, and his death is generally regretted.

The family desire to return thanks to the choir, and to all the friends who in any way assisted them during the illness and at the funeral of Mr. Spangler.
The above article appeared in the Lykens Standard on the date indicated.
The three enlistments of John Henry Spangler can be confirmed at the Pennsylvania Archives on the Pennsylvania Veterans' File Cards for him: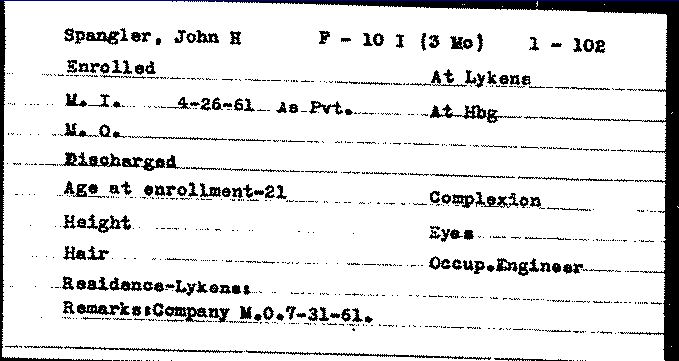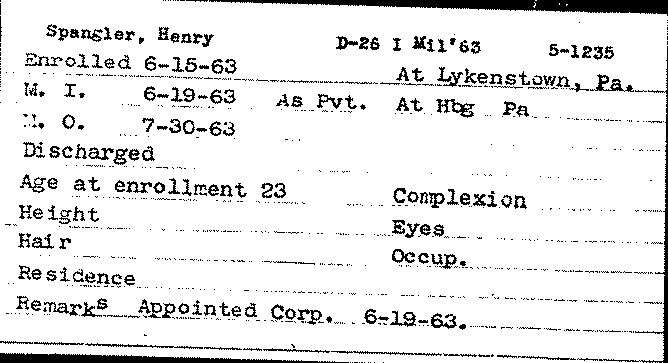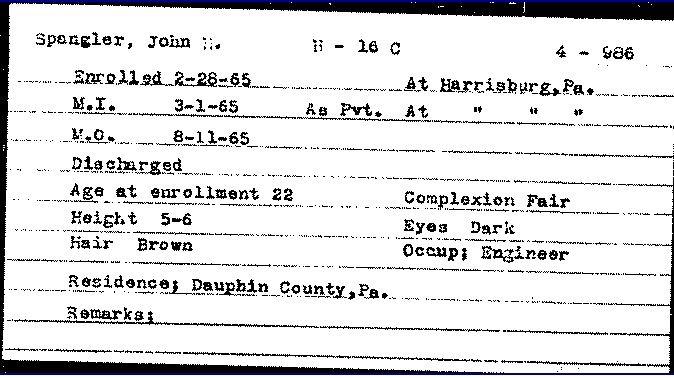 In one case, he is named as "Henry Spangler."  From the third enlistment, we learn that he was 5′ 6″ tall, had dark eyes, brown hair and a fair complexion.  At the present time, no pictures have been located of him.  He was an engineer by occupation and his residence was Lykens, Dauphin County.  No Pension Index Card has been located at this time.
For his service at Gettysburg as part of the 26th Pennsylvania Infantry, Company D, Emergency Force of 1863, he is named on the Pennsylvania Memorial tablet for that regiment and company:
He is also recognized on the Lykens G.A.R. Monument:

At the death of fellow veteran Daniel C. Hoffman in 1902, John Henry Spangler served as a pallbearer (see post on Daniel C. Hoffman).
The grave of John Henry Spangler, which is located in the I.O.O.F. Cemetery in Lykens, is pictured at the top of this post.
Additional information is sought about the life and service of John Henry Spangler.  Of particular interest are pictures of him and his family, if available.  Contact the Civil War Research Project if willing to contribute.