Posted By Norman Gasbarro on March 1, 2012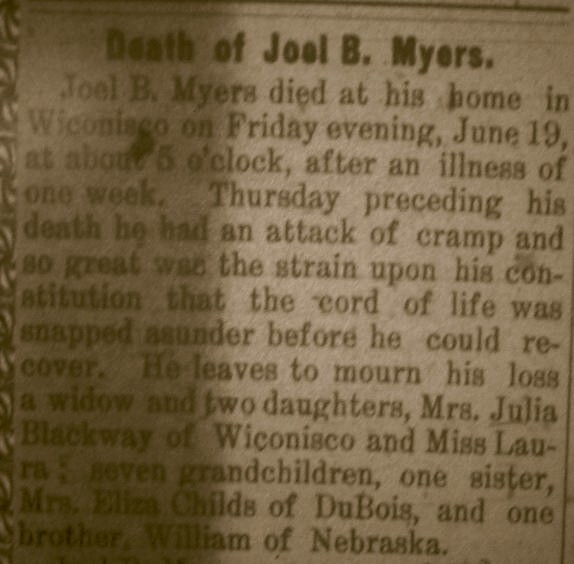 Death of Joel B. Myers

LYKENS, 26 June 1903 — Joel B. Myers died at his home in Wiconisco on Friday evening, 19 June, at about 5 o'clock, after an illness of one week.  Thursday preceding his death he had an attack of cramp and so great was the strain upon his constitution that the cord of life was snapped asunder before he could recover.

He leaves to mourn his loss a widow and two daughters, Mrs. Julia [Myers] Blackway of Wiconisco and Miss Laura Myers; seven grandchildren, one sister, Mrs. Ellen [Myers] Childs of DuBois, and one brother, William Myers, of Nebraska.

Joel B. Myers was a son of Edward Myers and Rachael Myers, and was born at Swatara, Schuylkill County, on 10 January 1840.  When 20 years of age he came to Lykens where he married Miss Sarah Ely of this place.  Twelve children were born unto the couple, ten of whom preceded him to the grave.  With the exception of a short residence at Williamstown several years ago and three years spent in Nebraska, he resided at this place from 1860 to 1901, when he purchased a small home at Wiconisco.

He was a member of the United Brethren church of this place and was beloved by all for his noble, Christian character.  He was also a member of Heilner Post No. 232, G.A.R., and Lykens Local, No. 1062, United Mine Workers of America, both of which organizations attended the funeral Sunday afternoon at two o'clock.  The Sons of Veterans also turned out in a body to pay respect to a deceased veteran.

Mr. Myers enlisted as 3rd Corporal in Company F, 10th Reg., Pa. Vol. [10th Pennsylvania Infantry] on the 26April 1861 (three months' service) and was discharged 30 July 1861.  On 15 June 1863, he enlisted as a private in Company D, 26th Reg. Pa. Vo. Inf. [26th Pennsylvania Infantry] and received an honorable discharge 30 July of the same year.

The funeral services were held in the United Brethren Church, this place, the pastor, Rev. Z. A. Weidler, preaching an impressive sermon on "The Precious Promise of the Saints."  Rev. I. J. Reitz of the Wiconisco Evangelical Church assisted in the services.  A select choir, composed of Misses Carrie Fox and S. I. Snyder and Messrs. Joseph P. Heckart and M. K. Turner, rendered appropriate music.  The casket was covered with beautiful flowers, tributes of friends and relatives.  Interment was made in Odd Fellows' Cemetery by the side of his father.

The following from a distance attended the funeral:  Miss Eliza Childs, DuBois; Mrs. Barbara Woland and daughter Kate Woland, Shamokin; Emanuel Zerby, Mrs. John Jones, Mrs. James Warlow, Miss Mary Warlow, Miss Tessa Warlow, Mrs. Martin Higgins, John Warlow, Williamstown; Preston Myers and wife, John Myers and wife, George Myers and wife, Mrs. Jere Myers and daughter, Oliver Trevitts, John Lebo and wife, Tower City; Amanda Koppenheffer, Reinerton; Philip Drum, Harrisburg; Jonas Row and wife, Elizabethville; William Umberger, Millersburg.
The above notice was taken from the Lykens Standard, 26 June 1903.
The military record of Joel B. Myers is recorded at the Pennsylvania Archives in the Pennsylvania Veterans' Card File as follows: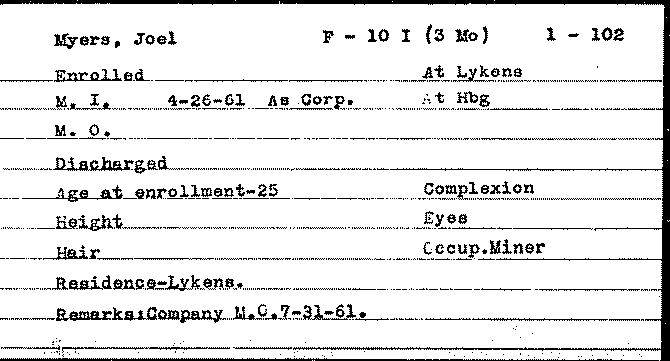 The veterans' record indicates Joel B. Myers was 25 years old at the time of his enlistment in the 10th Pennsylvania Infantry, with the occupation of miner, and residence in Lykens.  His rank of Corporal may have been given to him because he appeared to be older than the others in the company.  According to the birth date given in the obituary, he was actually 21 years old.  He was assigned to Company F and served for three months.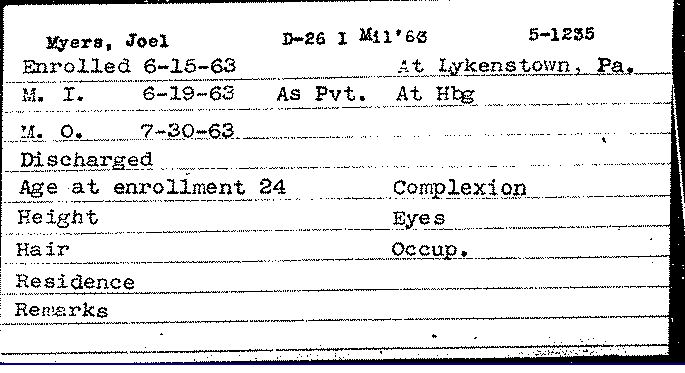 At age 24 (he was 23 if the birth year in the obituary is correct), Joel B. Myers, enrolled at Lykens, as a Private in the Emergency Militia of 1863, and was assigned to Company D, 26th Pennsylvania Infantry.  As part of the emergency force, he was sent to Gettysburg and took part in the battle there.  His name appears on the tablet for the 26th Pennsylvania Infantry at the Pennsylvania Memorial at Gettysburg:
Joel B. Myers was also a member of the Heilner Post 232, G.A.R. of Lykens and as such, his name appears on the Lykens G.A.R. Monument:

For his Civil War service, Joel B. Myers received a pension, which was later collected by his widow Sarah A. [Ely] Myers after his death: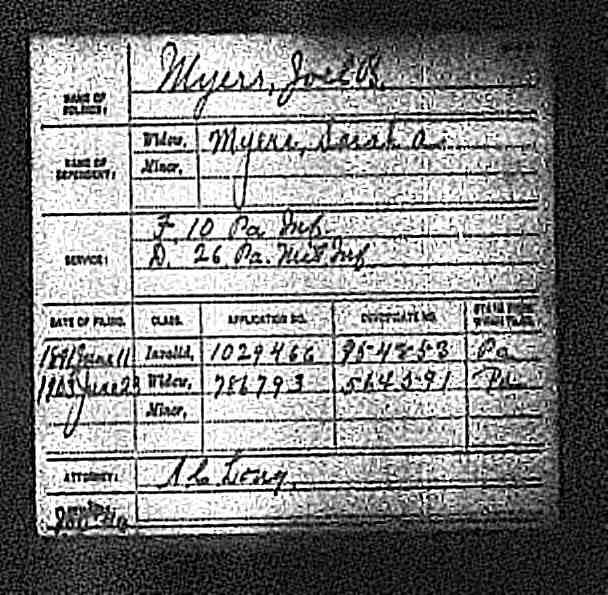 The Civil War Research Project is seeking more information on Joel B. Myers.  Anyone with information, including genealogies, pictures, and documents from family, military and pension records, is urged to contribute!
The Pension Index Card show above is from Ancestry.com.