Posted By Norman Gasbarro on February 2, 2012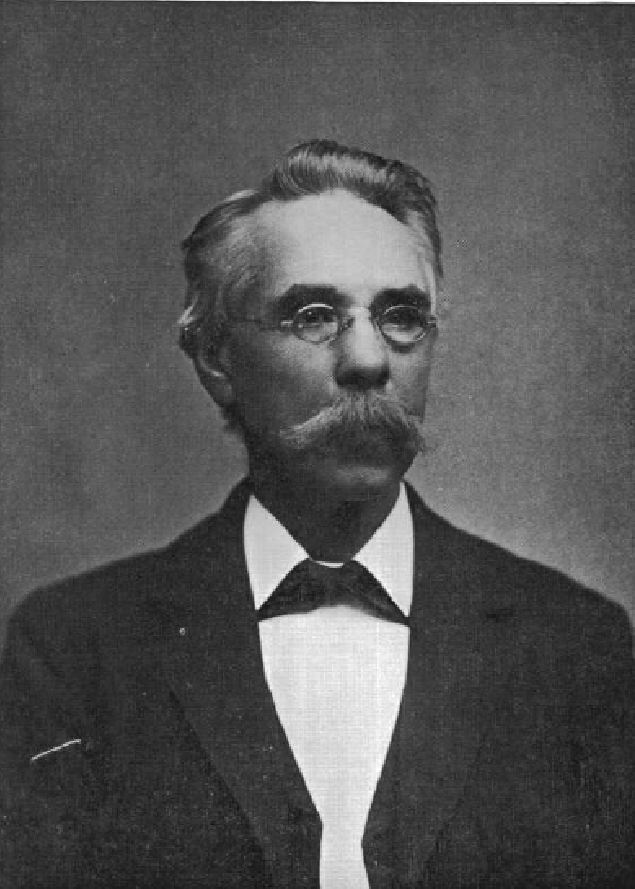 COL. WILLIAM W. JONES

COL. WILLIAM W. JONES, train dispatcher and yardmaster, Summit Branch railroad, Lykens, Pa. He was born at Llandilo, Caermarthenshire, Wales, August 22, 1827. His father, John J. Jones, was also born in Wales, where he spent his younger days as keeper for the estate of Lord De Never. In 1829 he embarked at Swansea on a sailing vessel for the United States. After a long voyage he landed at Millsvillage, Nova Scotia, where he spent one year. From there he came to Philadelphia, and after a year's stay in that city removed to Pottsville and worked for a time at shoe making. He was also employed five years by the Brooks Coal Company. He taught school in Pottsville and died there in 1860. He was married, in Wales, to Mary Jenkins. They had nine children: John, died in Wales; Ann, William W., Jane, Eliza, Amelia, Benjamin Franklin, John (2), deceased, and two children that died in infancy. Mrs. Jones died in 1888. William W. Jones attended the common schools at Pottsville and worked as a gardener in his boyhood. When he was eleven years old he left home with all he owned tied up in a bandanna handkerchief. He found employment on the Schuylkill canal as a hand on a canal boat for three years. He then returned to Pottsville and obtained the position of "printer's devil" with R. M. Palmer, editor of the Pottsville Emporium, and remained in that position until 1847. He learned carpentry in Schuylkill county and was employed for two years in building coal breakers. Mr. Jones was next employed by the Lykens Valley Coal Company at Lykens, in the capacity of carpenter and foreman in the car building and repair shops, for seven years. In 1852 he became brakeman on the Lykens Valley railroad and was promoted first to fireman and then to engineer on that road. In 1869 he was made a commissioner to construct a State road in Schuylkill and Dauphin counties, from Tower City to Keffers; and in 1872 was given the position of yardmaster and train dispatcher. In his long service of forty-four years with the company Colonel Jones has filled many positions, from the lowest to the highest. Colonel Jones enlisted at Harrisburg in June, 1863, in company D, Twenty-sixth Pennsylvania volunteers [26th Pennsylvania Infantry], Captain Pell and Colonel Jennings, for three months' service. He was discharged in September, 1863, at Harrisburg. He was married, in 1852, to Annie Shannon, born in Palo Alto, Schuylkill county, in 1831, daughter of Philip Shannon. Their children are: Elsie, wife of D. W. Day, residing at Millersburg, has four children, two deceased; Katie, deceased; Georgiana, wife of Albert Yeader, Lykens, Pa.; Harriet, John E., and William Howard, all deceased; Benjamin Franklin; Victoria W7., deceased; Bertha Nevada, deceased, wife of William Lehman, also deceased. Colonel Jones has served as school director. Colonel Jones is the sole survivor of the charter members of Wiconisco Lodge, No. 535, I. O. O. F., at Lykens.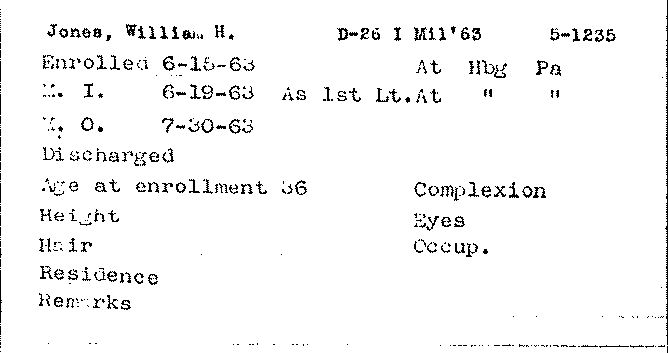 Records for William Jones are confusing in that he is sometimes referred to as William H. Jones.  One ancestry.com family tree indicates that his middle name was "Woodwill."  There is no other person who served in the 26th Pennsylvania Infantry, Company D, who had the name William Jones, so the listing for "William W." is most likely the "William H." who appears in the records of that emergency regiment.  An "H" and a "W" could be easily confused in the handwriting of the records.
William H. Jones enrolled in the Emergency Militia of 1863 at Harrisburg on the 15 June 1863 and four days later was mustered into service in the 26th Pennsylvania Infantry, Company D, as a 1st Lieutenant.  The regiment ws sent to Gettysburg to help protect the homeland from Lee's invasion.  The official records of the regiment indicate that he was discharged on 30 July 1863 (muster out date), and not the date of September 1863 that was given in the biographical sketch.

Lt. William H. Jones name appears on the Pennsylvania Memorial at Gettysburg on the special tablet for the Emergency Militia, 26th Pennsylvania Infantry.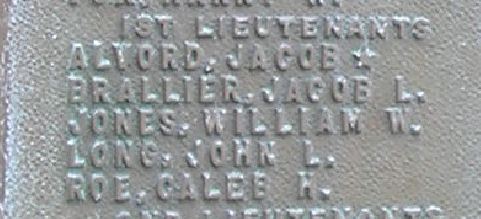 Because he was a resident of Lykens, his name also appears on the G.A.R. Monument which is located in front of the G.A.R. Building on North Second Street in Lykens.
In 1890, William Jones reported to the census enumerator that he couldn't recall his dates of service and that his "discharge papers burned when his house burned."
At this time, it is not known how William H. Jones achieved the rank of "Colonel."  It is believed that he died on 12 December 1906 (a date given in one ancestry.com tree), but his grave has not yet been located.  Information is sought on Col. Jones and can be added to this post as comments.
The portrait of William H. Jones was provided by Sally Reiner of the Lykens-Wiconisco Historical Society.  She also provided the transcription of the biography of Jones which appeared in a local history.  The Veterans' Index Card is from the Pennsylvania Archives.  No Pension Index Card has been located, probably due to the fact that Jones' service was less than three months and therefore he was not eligible to apply.