Posted By Norman Gasbarro on February 1, 2012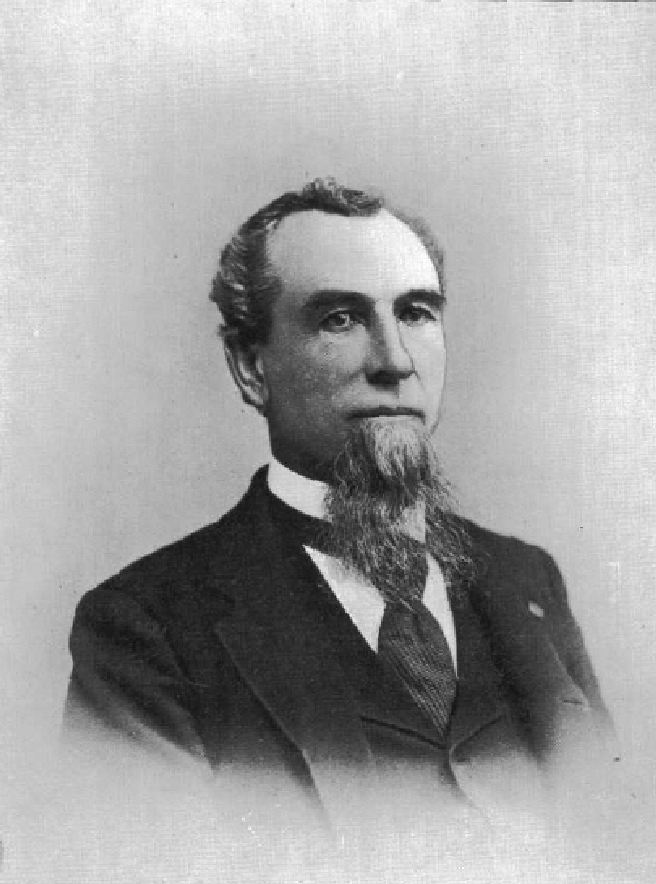 THOMAS M. WILLIAMS, manager of the Lykens Valley and Summit Valley Branch Coal Company.  He was born in Wales, G. B., June 5, 1835.  He is the only child of John and Margaret (Morgan) Williams.  His father was a tiler and plasterer; he died in Wales in 1837.  His mother was married again, to Thomas Reese, a native of Wales, and had three children: Mary, widow of John Evans, residing in Texas; Susan, wife of Thomas Finney, of Kentucky; Margaret, wife of William Finney, of Kentucky.  Mr. Williams' mother died in Kentucky.  Thomas M. Williams, when he was seven years old, worked with his stepfather in the Welsh coal mines, using pick and shovel, and working hard for six years.  In 1848, with his mother and her child, his half-sister, he embarked at Liverpool for America, and landed at Philadelphia, Pa.  Here he worked in the mines, first in Minersville, then one year at Mt. Savage, Md.; here he got twelve days schooling, the first school instruction he ever received.  He then worked at Minersville until 1853, and then went to St. Clair.  He began working for himself in the mines at Minersville, Pa., and for three months attended a day and night school.  From 1854 to 1857 he worked at Summit Hill, Schuylkill county, Pa., and from 1857 to 1862 he operated in the coal mines at Minersville, Pa.  Mr. Williams enlisted at Pottsville, August, 1862, for nine months, in company A, One Hundred and Twenty-ninth Pennsylvania volunteers, Capt. G. J. Lawrence and Col J. G. Frick; was ordered to Washington, D. C., and thence to Virginia. After three months in active service he was dangerously ill for six months, remaining in the regimental hospital until his discharge, May 18, 1863, after which he returned home and was idle for three months.  From 1863 to 1865 Mr. Williams worked in the mines as fire boss; he was then appointed boss of the mines.  He was then at the Wilkes-Barre mines until 1869, when he was made manager of the Anthracite Monitor, a newspaper published in Tamaqua in the interest of the laborers and miners who were then on a strike.  After managing the paper successfully for some time, Mr. Williams resigned and was appointed Government inspector of mines, which position he held until 1880, and was then for six months manager of the Cameron Coal Company.  Resigning this position in 1881, he was for one year with a company in Arizona, engaged in developing a silver mine; during that time he visited many parts of the Western States.  After his return from the West, Mr. Williams took contracts for tunnel and rock work.  He was appointed general inside foreman at Nanticoke, and held that position until 1885, when he was appointed superintendent of the Lykens Valley and Summit Valley Coal Company, which position he has held since that date, giving universal satisfaction, not only to the company, but also to the 2,200 men employed under him.  Mr. Williams was married, in the summer of 1854, at Minersville, to Annie Morgan, of Welsh descent.  They have six children: Margaret J., wife of Morgan R. Morgan, general inside superintendent of Lehigh and Wilkes-Barre Coal Company; Thomas J., treasurer and secretary of the Standard Oil Company, Baltimore, Md.; H. G., manufacturer of rock drill and compressor, Wayne, Pa.; Augusta R., wife of R. Crotzer, druggist, Danville; Josie H., unmarried; Horatio, machinist, and one that died in infancy.  Mr. Williams is a member of Heilner Post, No. 232, G. A. R., and of Wilkes-Barre Lodge, No. 61, F. & A. M.
When the Civil War started, Thomas Williams enrolled in the 129th Pennsylvania Infantry, Company A, as a Private, on 9 August 1862, and mustered into service at Harrisburg four days later.  He was 27 years old at the time.  No other information was found on the Pennsylvania Veterans' File Card at the Pennsylvania Archives.  He served until he was mustered out with his company on 18 May 1863.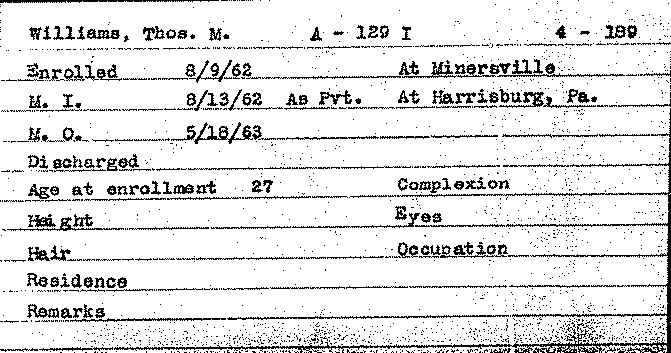 No record was found that he applied for a pension.  However, his widow, Annie, applied in what appears to be May 1906, but there is no record that she received a pension.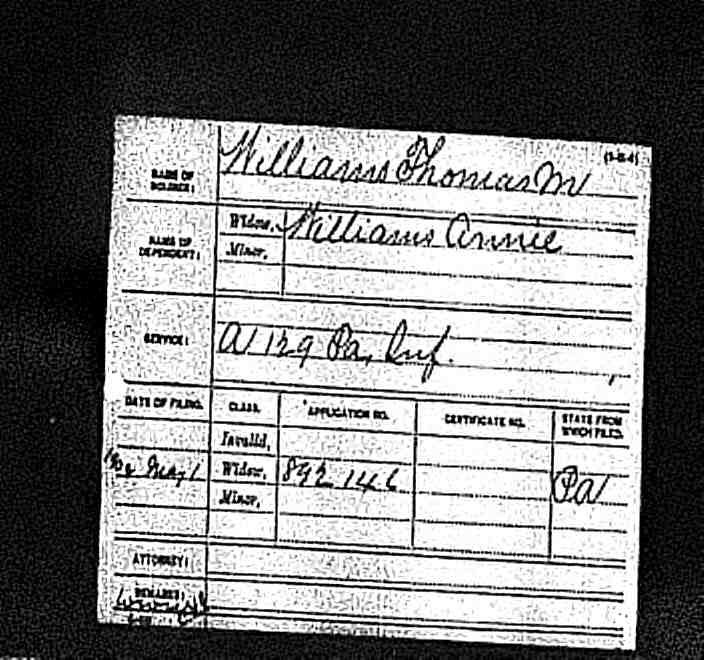 More information is sought on the actual death date of Thomas M. Williams as well as well as why he would not have applied for a invalid pension.  He would have been 55 years old in 1890 when the pension law was relaxed.

Thomas M. Williams did take an active part in G.A.R. affairs and his name appears on the Lykens G.A.R. Monument which is located in front of the G.A.R. Building on North Second Street in Lykens, Dauphin County, Pennsylvania.
Readers are invited to contribute additional information about Thomas M. Williams. Please note that there was another veteran from Lykens with the name William Thomas and the two should not be confused.  For a story about William Thomas, click here.
The biographical sketch of Thomas M. Williams was transcribed by Sally Reiner from a old volume on the history of Dauphin County.  Click here for more information about the newly formed Lykens-Wiconisco Historical Society.