Posted By Norman Gasbarro on February 14, 2012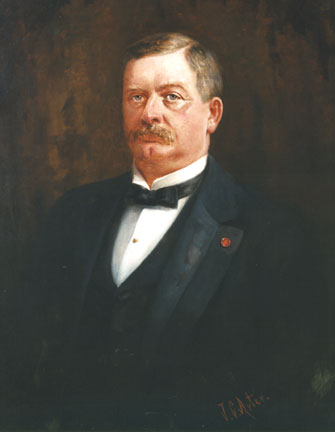 William Alexis Stone (1846-1920) served as Governor of Pennsylvania from 1899 to 1903.  He was born in Delmar, Tioga County, Pennsylvania, the son of Israel Stone (1802-1887) and Amanda [Howe] Stone (1806-1871).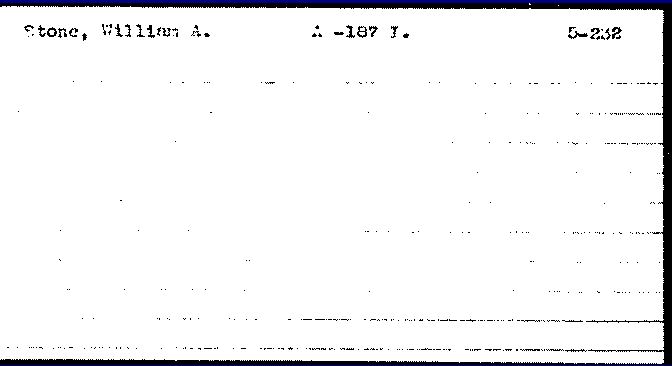 When the Civil War started, William Stone was too young to join a regiment, and although he tried to enlist by falsifying his age, his father intervened and he had to withdraw.  William's father, Israel Stone, needed him to work on the family farm in Tioga County, Pennsylvania.  When William became of age in 1864, he joined the 187th Pennsylvania Infantry, Company A, as a Private on 25 February 1864 and by 14 April 1864, he was promoted to 1st Sergeant.  By 10 March 1865, he received a promotion to 2nd Lieutenant, the position he held at discharge on 3 August 1865.  Several biographies report his service at the Battle of Cold Harbor and the Siege of Petersburg.
When the war was over, he studied law and soon after his appointment to the bar, he served for a time as a Clerk to the Pennsylvania Legislature.  In 1880, he was appointed U.S. District Attorney for the Western District of Pennsylvania and moved to Allegheny, County.  After re-appointment in 1884 by Republican President Chester A. Arthur, Stone chose to actively campaign for a fellow Civil War veteran, James A. Beaver, who was running for Governor of Pennsylvania.  This infuriated the newly elected Democrat, President Grover Cleveland, who removed Stone from office for violating the federal policy that prohibited federal office holders from participating in politics.  This did not dismay Stone, who then proceeded to run for the U.S. House of Representatives from the 23rd Pennsylvania Congressional District.  He was elected and served from 1891 though his resignation 1898 when he decided to challenge the incumbent Democrat Governor of Pennsylvania, George Jenks.  He won election easily, with the help of State Republican Political Boss Matthew Quay, another Civil War veteran with powerful influence in state G.A.R. activities.
William Stone was inaugurated as governor in 1899 and served only one term through 1903.  As a reward for Matthew Quay's support, Stone appointed him to a U.S. Senate vacancy that resulted from the legislature being unable to agree on a candidate.  The problem with this was that other than the obvious patronage connection, Quay was under indictment at the time for misappropriation of state funds – and he was also the incumbent – the state legislature was unwilling to return him to Washington because of the indictment.  The U.S. Senate did not approve seating Quay as the interim appointee so Quay used his influence to get the state party to nominate him making his election by the state legislature an eventual certainty as well as his acceptance by the U.S. Senate.  Ultimately, Quay was acquitted at trial of the misappropriation charges, but this left the state without one Senator for a two year period, and Quay served only from 1901 to 1904, dying in office.
During the time that Stone was Governor of Pennsylvania, he had to make a decision regarding the execution of Henry Rowe and Weston Keiper, who had been convicted of murder in the course of committing a robbery at the Halifax National Bank, Halifax, Dauphin County, in 1901. This case was discussed in several prior posts on this blog in that the victim, Charles W. Ryan, the bank cashier, was a Civil War veteran.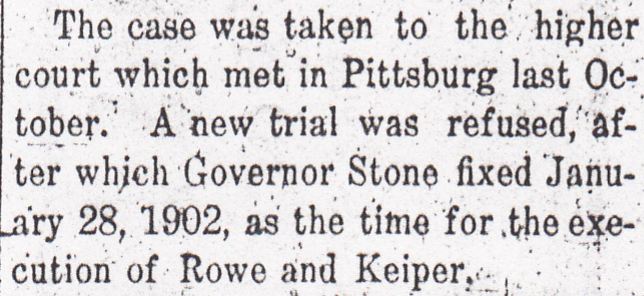 Attorneys for the condemned gave notice of filing reasons for a new trial.  The reasons were filed later and were overruled by Judge Simonton on May 18, when he sentenced the prisoners to be hanged by the neck until they are dead.  The case was taken to the higher court which met in Pittsburgh last October.  A new trial was refused after which Governor Stone fixed January 28, 1902, as the execution date of Rowe and Keiper.
The governor had the power to pardon the men, which he would not have done under any circumstances, or to commute their sentences to imprisonment for life.  Whether the killing of a Civil War veteran in the course of the robbery had any bearing on Stone's decision to set the execution date without delay is not known.  However, the outrage among living members of the G.A.R. posts throughout the state must have had some effect on him.  Stone was a member of the G.A.R. and Union veterans had played a role in his political rise.  Little did Stone know at the time that as a result of the public spectacle created at the execution of Keiper and Rowe, reformers would be so outraged that the immediate result would be the banning by law of public executions in Pennsylvania and the establishment of a process of appeal that would insure that those convicted of capital crimes would have sufficient time for legal scrutiny and appeal – thus ending the hasty, public executions that took place in Pennsylvania.
For prior posts on the Halifax Bank Robbery, see:  Halifax Bank Robbery  Abraham Fortenbaugh; Halifax Bank Robbery – Isaac Lyter; Halifax Bank Robbery – Charles W. Ryan; and Halifax Bank Robbery – The Robbers.
In 1902 Pennsylvania's anthracite coal miners went on strike.  Governor William A. Stone's supported the coal mine operators who were refusing to negotiate with the strikers.  This infuriated Pres. Theodore Roosevelt who saw the situation in terms of a nationwide coal shortage which would cripple the country's industrial capacity.  Roosevelt set up an arbitration commission that resolved the situation in favor of the miners. The federal government, for the first time in American history, had favored workers over management in a labor dispute.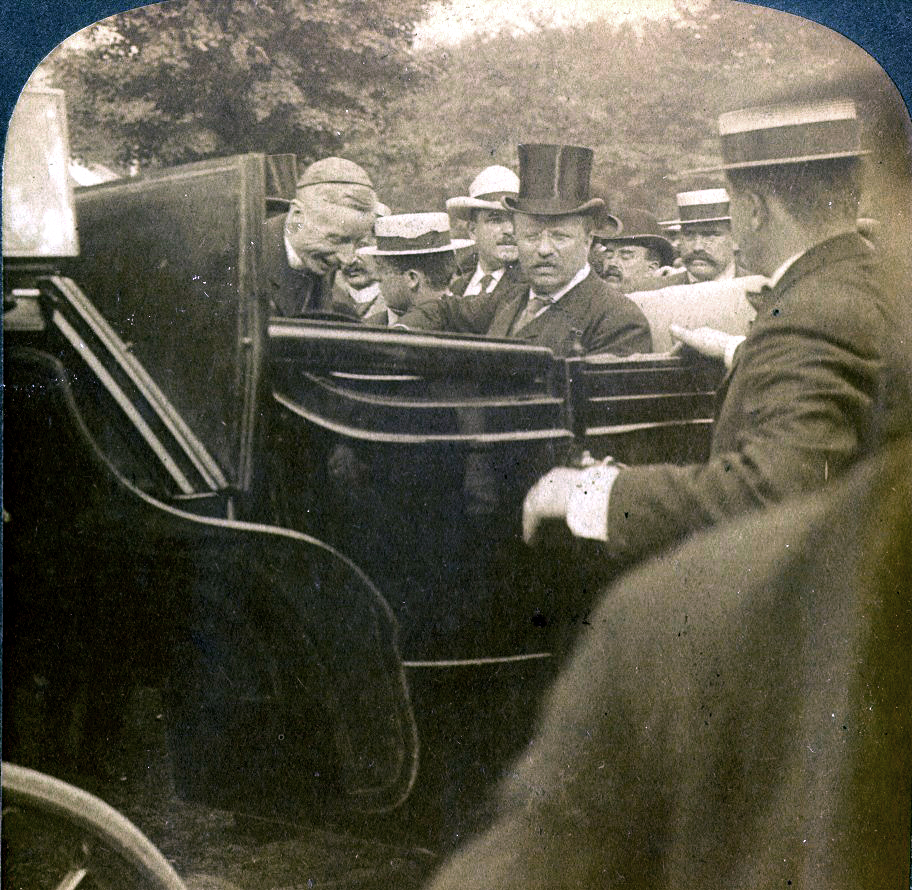 In the picture above, James Cardinal Gibbons (1834-1921) enters Pres. Roosevelt's carriage in Wilkes-Barre.  Cardinal Gibbons was the Archbishop of Baltimore and took a lead in getting the Roman Catholic Church to change its resistance to the organization of labor unions:
It is the right of laboring classes to protect themselves, and the duty of the whole people to find a remedy against avarice, oppression, and corruption.
Cardinal Gibbons was responsible for urging the Pope to allow Catholics to join labor unions.  He quickly won the trust of labor for his humanitarian concerns and he advocated a non-violent approach to dispute resolution.  He was widely respected by government leaders.  President Theodore Roosevelt said of him that he was the most venerated, respected, and useful citizen in America.
Gibbons was ordained a priest at the start of the Civil War and served as Chaplain at Fort McHenry during the war.  After the war, he served in ministry in  North Carolina and at age 34, he was consecrated a bishop, making him one of the youngest in the world.  In 1887, Gibbons became Cardinal.  In addition to serving in North Carolina and Richmond, he advocated for the creation of The Catholic University of America, and in 1887, with its creation, became its first Chancellor.  He was also the author of several books which explain the teachings of the Roman Catholic faith.
During the coal strike of 1902, James Cardinal Gibbons was serving as Archbishop of Baltimore.  Gov. Stone had to deal directly with him during the strike.
Gov. William A. Stone was succeeded in office by Samuel A. Pennypacker, also a Republican and also a Civil War veteran.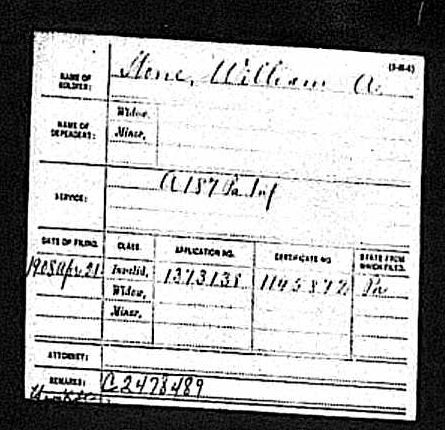 After he left office, William Stone applied for a Civil War pension and received one.  It is not known why he chose to wait so long to apply as he would have been eligible much earlier.  He died in 1914 and is buried in Union Cemetery, Bellefonte, Centre Co., Pennsylvania.
In retrospect, Stone must be given credit for eliminating a $3,000,000 state debt during his time as governor and for the commissioning of architect Joseph H. Huston to design a new capitol building to replace the one that had been destroyed by fire in 1897.  The new building was completed during the term of Stone's successor, Samuel Pennypacker.
Some information for this post was taken from biographical sketches of Stone that appear on the web site of the Capitol Preservation Committee, Wikipedia, and Find-a-Grave.  The portrait at the head of this post is from the Capitol Preservation Committee.  The Veterans' Index Card is from the Pennsylvania Archives.  The Pension Index Card is from Ancestry.com.
Matthew S. Quay (1833-1904) was awarded the Medal of Honor for gallantry at Fredericksburg, 13 December 1862.  A stone with his name is located in the Pennsylvania Medal of Honor Memorial and was featured in a prior post.  Quay was born in York County.  He will be featured in a future post on this blog.
James A. Beaver (1837-1914) served as an officer in the Civil War and eventually achieved the rank of Brevet Brigadier General.  He lost a leg  during the war and in addition to serving as Governor of Pennsylvania, he was very active in state G.A.R. affairs.  Military portraits as well as further biographical information about him will be present in a post one week from today.