Posted By Norman Gasbarro on January 26, 2012
William Thompson of Tower City was born about 1839 or 1840 in Schuylkill County, Pennsylvania, the son of Alexander Thompson (1805-1873), an immigrant from Scotland who emigrated to America in 1828 to engage in various pursuits including flour milling, lumbering and mining.  William Thompson's mother was the first wife of Alexander, Isabella Stoddart Pennman (1816-1851).  He was one of nine children and his brother Alexander F. Thompson (1845-1925) was featured in yesterday's post on this blog.  After the death of William's mother, Alexander Thompson (1805-1873) re-married and with his 2nd wife, Mary Bast, fathered another large family, giving William about ten more siblings.
William Thompson enrolled in the 96th Pennsylvania Infantry, Company G, at Lykens, Dauphin Co., Pennsylvania, on 23 September 1861, and then traveled to Pottsville, where he was mustered into service.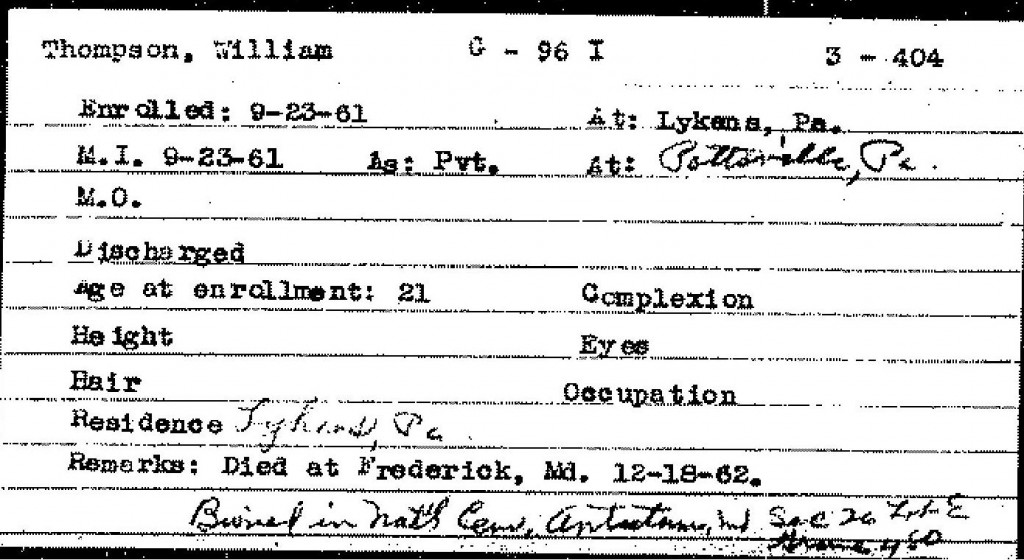 The record at the Pennsylvania Archives indicates that William Thompson died at Frederick, Maryland, on 18 December 1862.  The cause of death is not stated in the Pennsylvania Archives' Veterans' Card File.  The registers for this company and regiment do not record his death, probably because a few years later, the records were transferred to the 95th Pennsylvania Infantry, Company G, when the companies were consolidated.  All those who served the duration of the war were later transferred to the 95th Pennsylvania Infantry.  The handwritten notation on the Veterans' File Card (above) was placed there by someone doing later research on William Thompson and was not part of the original indexing project conducted at the Archives.
Burial took place in the Antietam National Cemetery, in Section 26, Lot E, Grave 480, and a "military-issue" grave marker was placed on his burial plot.  The picture of the stone is at the top of this post.
After William"s death, his father Alexander Thompson (1805-1873) and step-mother Mary [Bast] Thompson continued to have children, one of whom, born about 1866, was named Abraham Lincoln Thompson, after the martyred president.
No Pension Index Card has been located for William Thompson.  This may indicate that he was never married and left no minor children.  His mother would have been eligible for a pension, if his death was war-related, and if she had no other means of support.  However, William's mother had died before the war and his father had re-married.  The step-mother could make no claim as a result of William's sacrifice.

A possible cause of death of William Thompson is found on the Lykens G.A.R. Monument where it is noted that he died of disease (see name above with triangle symbolizing the cause of death as disease).  In a prior post on this blog, information from the Tower City post of the G.A.R. was given and the name of that post as the William Thompson Post.  His name is given in the lost of Civil War veterans from that area and his brother was Alexander F. Thompson who was a past commander of the Tower City Post.  It has to be concluded that the post was named after the same William Thompson who served in the 96th Pennsylvania Infantry and is buried at Antietam National Cemetery.
——————–
Elizabeth Thompson was the sister of Alexander F. Thompson (1845-1924) and William Thompson whose military service and death are described above.  She was also a child of Alexander Thompson (1805-1873) and his first wife Isabella Stoddard Pennman (1816-1851).  Yesterday, the post described the military service and career of her brother Alexander F. Thompson.  According to information found in a printed biography of Alexander F. Thompson, his sister Elizabeth was married to Hiram Kimmel.  She served as a nurse during the Civil War and died at Carver Hospital in Washington, District of Columbia.
Not much is known about Elizabeth or her war service.  Of the many persons named Elizabeth Kimmel who have entries in Findagrave, none died during the Civil War.  No records have been yet located of her nursing efforts or for that matter, it has not yet been determined when she was born or when she died.
For information on Carver Hospital in Washington, D.C., see the prior post:  Prisons and Hospitals.
Unfortunately, there are two persons named Hiram Kimmel who were of age to have served in the Civil War, so the records of each much be separated.  Both persons of this name had residence in Schuylkill County.  One in buried in St. John's Cemetery, Pine Grove, Schuylkill County and the other is buried in St. Paul (Artz) Cemetery, Sacramento, Schuylkill County.  The Hiram Kimmel who is buried at Pine Grove has a military marker which indicates he served in the 16th Pennsylvania Cavalry:
Anyone with information about either Elizabeth [Thompson] Kimmel or her husband Hiram Kimmel is urged to provide it.
A special thank you to Sally Reiner of the Lykens-Wiconisco Historical Society for providing the article in which the information on William Thompson and Elizabeth [Thompson] Kimmel appeared.