Posted By Norman Gasbarro on January 14, 2012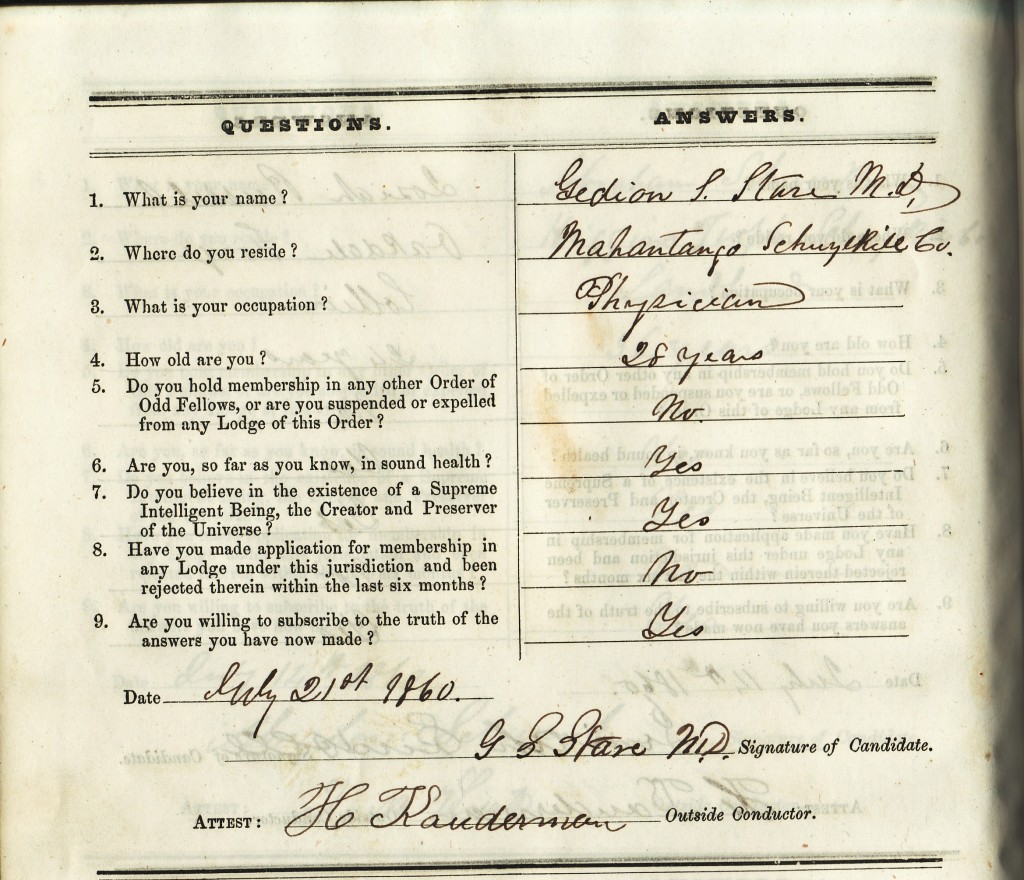 On 21 July 1860, Gideon S. Stare of Mahantongo Township, Schuylkill County, Pennsylvania, applied for admission to the Gratz chapter of the International Order of Odd Fellows(I.O.O.F.).  He signed the application indicating that the information he provided was truthful.  At the time, he declared that he was an "M.D." (a physician), and was 28 years old.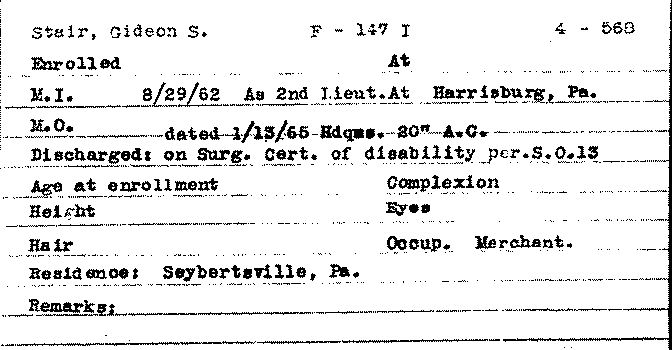 A "Gideon S. Stair" is found in the records of the 147th Pennsylvania Infantry, enlisting in Company F, as a 2nd Lieutenant on 29 August 1862 at Harrisburg, Dauphin County, Pennsylvania.  His residence was recorded as Seybertsville, Luzerne County, Pennsylvania, but his occupation was given was merchant.  Regimental records note a promotion to 1st Lieutenant on 12 September 1863 and a discharge on a Surgeon's Certificate of Disability on 13 January 1865.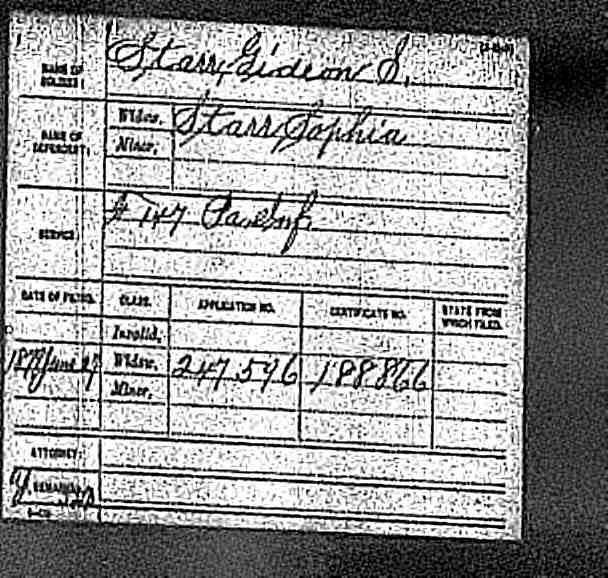 A widow's pension application was made by Sophia [Pettit] Stare in the 1870s and a widow's pension was received.  Burial records at the Brainard Presbyterian Cemetery, Conygham, Luzerne County, indicate that Gideon Stare died on 13 August 1867.  These burial records also delare that Gideon Stare was born in 1834, not 1832 as would have been calculated by his declared age of 28 on the Gratz I.O.O.F. application.
In the Census of 1860, there are two entries for Gideon Stare.  The first entry is in Sugarloaf Township (where Seybertsville is located), Luzerne County, Pennsylvania.  Gideon Stare is a medical doctor living with wife, Sophia Stare, and young children Millard Stare (born about 1854), Clara Stare (born about 1856), and Jacob Stare (born about 1859).  The second entry for Gideon Stare, medical doctor, is in Upper Mahantongo Township, Schuylkill County, where Gideon Stare is living in the household of Daniel Herb, whose occupation is "landlord."
By the 1870 Census, Sophia Stare is listed as a widow with the same young children as in 1860 and with the addition of William (born about 1862).  Sophia died in November 1906 and is buried in Mountain View Cemetery, West Hazleton, Luzerne County, Pennsylvania.
It is not known why Gideon Stare was living both with his family in 1860 as well as apart from it.  Of the several pages of medical doctors who have been associated with the Borough of Gratz and vicinity (see A Comprehensive History of the Town of Gratz Pennsylvania, p. 742-757), Gideon Stare is not mentioned.  In fact, the only place his name appears in the volume is in the list of I.O.O.F. applicants.
Also not known at this time was why Gideon Stare died so young – at about age 33.  Perhaps this information is in the pension application file of his widow.  His discharge from the military, accomplished with a surgeon's certificate, must not have been serious enough for him to have received an immediate pension because there seems to be no record that he applied.  It is also not known whether upon discharge from the service he was able to continue the practice of medicine.  Curiously, when he enlisted in the 147th Pennsylvania Infantry, he chose to say that he was a merchant rather than a physician, and served as an officer not as a "surgeon" as would have probably been the case if he had indicated that he had been a physician.
Two of his four children lived into the 20th century.  Clara Stare died in 1902.  Jacob Stare, also known as "Jay," died in 1929.
More information is sought on Gideon Stare.  His application for admission to the Gratz I.O.O.F and his Mahantongo residence in 1860 qualify him for inclusion in the Civil War Research Project.  Anyone with information can either send it by e-mail or attach a comment to this post.