Posted By Norman Gasbarro on January 4, 2012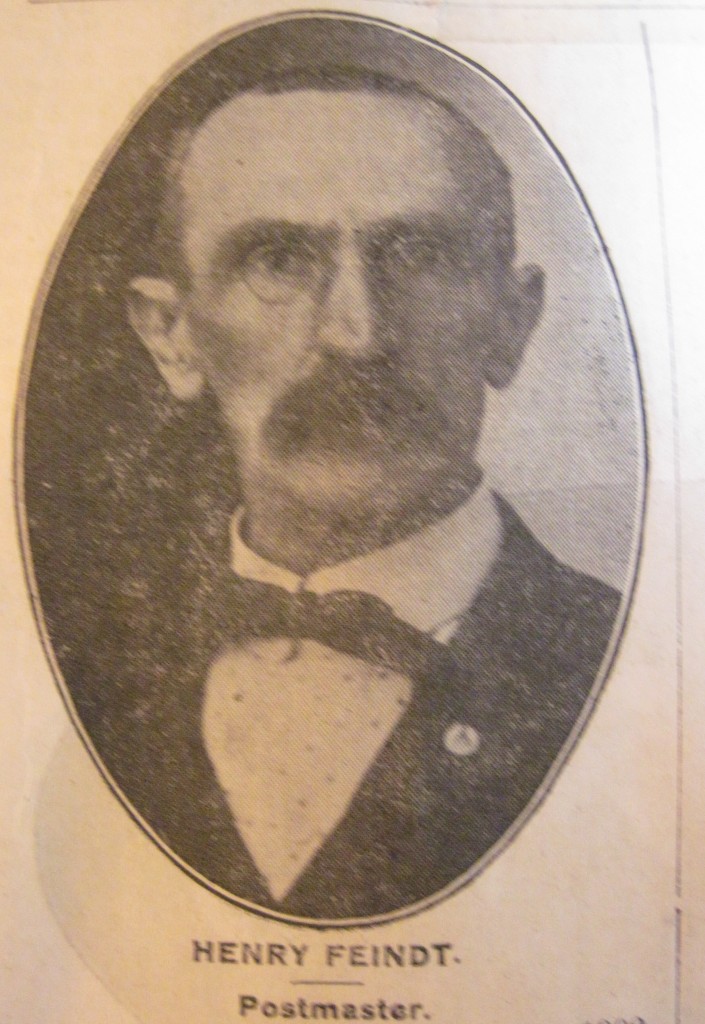 The following obituary appeared in a local newspaper at the time of the death of Henry Feindt (1842-1914).  There is no date on the article nor was the name of the newspaper noted.  The clipping was saved in a scrapbook that is now in the collection of Sally Reiner of Lykens, Dauphin County, Pennsylvania.
LYKENS — Ex-Postmaster Henry Feindt died at his home on South Second street, Friday of last week, from the effects of several attacks of paralysis, the last occurring a few days before his death.

Deceased in point of residence was one of the oldest citizens of the borough.  He was born at Elizabethville, Dauphin county, 1 January 1842, and came here with his parents when quite young, and has resided here ever since.  On 28 October 1865, he was united in marriage with Emma C. Mann, at Uniontown (now Pillow), by Rev. Heim.  The union was blessed with twelve children, four of whom preceded him in death.  The widow with the following children are left to mourn the loss of a devoted husband and affectionate parent:  William F., of Harrisburg; Estella M. (Mrs. Charles Bender), of Sunbury; Joseph W. of Philadelphia; Beulah I. (Mrs.Charles Dunkelberger) of Mt. Carmel); Mabel M. (Mrs. Floyd Shook) of Slayton, Oregon; Edna (Mrs. Wilson Polm), Lykens, and Viola and George at home.  There are fourteen grandchildren and 2 great-grandchildren.  He is also survived by two step-sisters, Mrs. Sophia Bitterman and Mrs. George W. Hawk of this place.

Deceased was a shoemaker by trade which occupation he followeed until appointed postmaster here.  This position he held for twelve years, being succeeded by Charles A. Hoff, the present incumbent, last year.  He also served as Chief Burgess of the borough.

He was a veteran of the Civil War, his record being exceeded by few who were engaged in that memorable conflict.  His first enlistment was 20 April 1861, when he was mustered into the United States service at Harrisburg, as a private to serve three months in Company F, Tenth Regiment Pennsylvania Volunteer Infantry [10th Pennsylvania Infantry] under Capt. E. G. Savage and Col. S. A. Meredith.  Discharged 26 July 1861 at Harrisburg, by reason of the expiration of his term of enlistment, 16 September 1861, he re-enlisted in Company B, Ninth Regiment Pennsylvania Cavalry [9th Pennsylvania Cavalry] to serve three years as a bugler under Captain E. G. Savage and E. A. Hancock, and under Cols. E. G. Williams and F. J. Jordan. He participated in the following engagements:  Lebanon, Kentucky, 4 May 1862; Shelbyville, 27 June 1862; Louisville, 9 July 1862; Perryville, 8 October 1862; Carter's Raid through the Pine and Cumberland Mountains; Franklin, 8 February 1862;Rover, 23 June 1863; Mossy Creek, 1864; Cambridge, 13-17 June 1864; Frankfort, Kentucky, 16 June 1864… and Sherman's march to the sea.  He was honorably discharged 18 July 1865, at Lexington, North Carolina.  He was a member of Heilner Post No. 232 G.A.R., and of Aslar Lodge, No. 570, F. & A. M., of this place, and of the Methodist Episcopal Church.

The funeral services were conducted at his late home Monday afternoon by Rev. I. T. Edwards, assisted by Revs. H. S. Keiffer and J. C. Wood.  Burial with military honors was made in Odd Fellows' cemetery, the members of Heilner Post G.A.R. and the firing squad of Sons of Veterans paying the last tribute of respect to a departed comrade.  The Masonic fraternity had charge of the body and performed their solemn and impressive rites over his remains.

The following relatives and friends from out of town attended the funeral:  William Feindt, wife, son Earl, and daughter, Mrs. C. B. Ashton, Harrisburg; Charles Bender and Wife, Sunbury; Mrs. Charles Dunkelberger, wife and sons Harry and Marlin and daughter Eleanor, Mount Carmel; Joseph W. Feindt, Philadelphia; Harry Myers and wife, Mrs. Joseph Fry, of Shamokin; Clem Gluny, Henry Gluny, Mrs. Herman Gluny, Pottswville; Mrs. Sophia Linciman, Ashland; Rev. J. C. Wood, Mauch Chunk.

Floral tribute3s – Charles Bender and wife, lillies; William Feindt and family, spray; G.A.R., sheaf of wheat; Mrs. William Zerby, wax roses; spray wax flowers, P. A. Matter.
A prior post on this blog featured more information about Henry Feindt.  See:  Lykens Postmaster Henry Feindt.  Additional documents and clippings about Henry Feindt are presented below: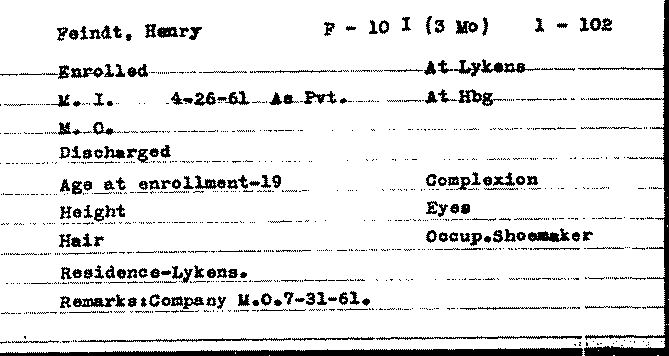 Pennsylvania Veterans' File cards for Henry Feindt's service in the 10th Pennsylvania Infantry and 9th Pennsylvania Cavalry.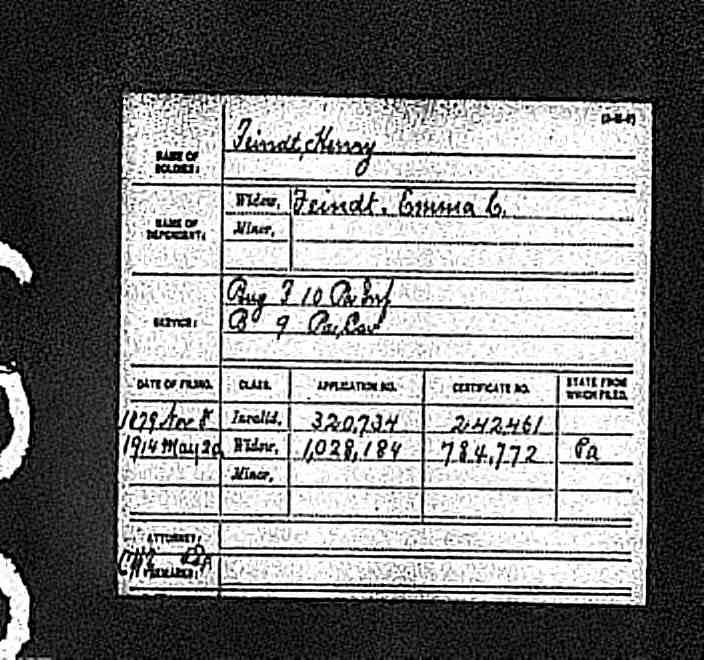 Pension Index Card for the pension application files of Henry Feindt (at the National Archives) shows that he applied for and received an invalid pension and that his widow applied and continued receiving the pension after his death.

The Harrisburg Patriot of 31 May 1899 reported that the Lykens town council elected Henry Feindt "policeman at a salary of $20 per month, with the privilege of doing other work during the day."
The portrait of Henry Feindt is from the collection of Sally Reiner of Lykens.  Information on the Lykens-Wiconisco Historical Society can be obtained by contacting her via e-mail.