Posted By Norman Gasbarro on December 12, 2011
The obituary of John Adam Klinger appeared in the Lykens Standard on 9 Jan 1903:
LYKENS.– John A. Klinger, a former resident of this place, died of asthma at his home in Minersville last week and was buried on Sunday.  He was married to Amanda, daughter of the late Jonas Hoffman and wife of this place who with the following children survive:  Maggie, Mrs. John Crump of Philadelphia, Charles, Lulu, and Harry at home.  Mr. Klinger was a veteran of the Civil War and a member of the Williamstown Post G.A.R.  During his residence here he was a brakeman on Conductor Daniel Miller's passenger train.  Grant Hoover of Main street, a nephew, attended the funeral.
Previously, John Adam Klinger was discussed in the post entitled, "The Descendants of Johann Peter Klinger and Catharina Steinbruch."  As a decendant of Catharina Steinbruch, John Adam Klinger was also a descendant of Johann Peter Hoffman, pioneer settler of the Lykens Valley.  See post entitled, "Hoffman Family Civil War Veterans."  The wife of John Adam Klinger, Ellen Amanda [Hoffman] Klinger (1848-1917) was also a direct descendant of Johann Peter Hoffman through his son John Nicholas Hoffman (1749-1814).
John Adam Klinger served in the 208th Pennsylvania Infantry, Company A, as a Private, from 30 August 1864 through 1 June 1865.  For his service, he was eligible for a pension, which he collected until his death.  After his death, his widow applied and received the pension until her death in 1917.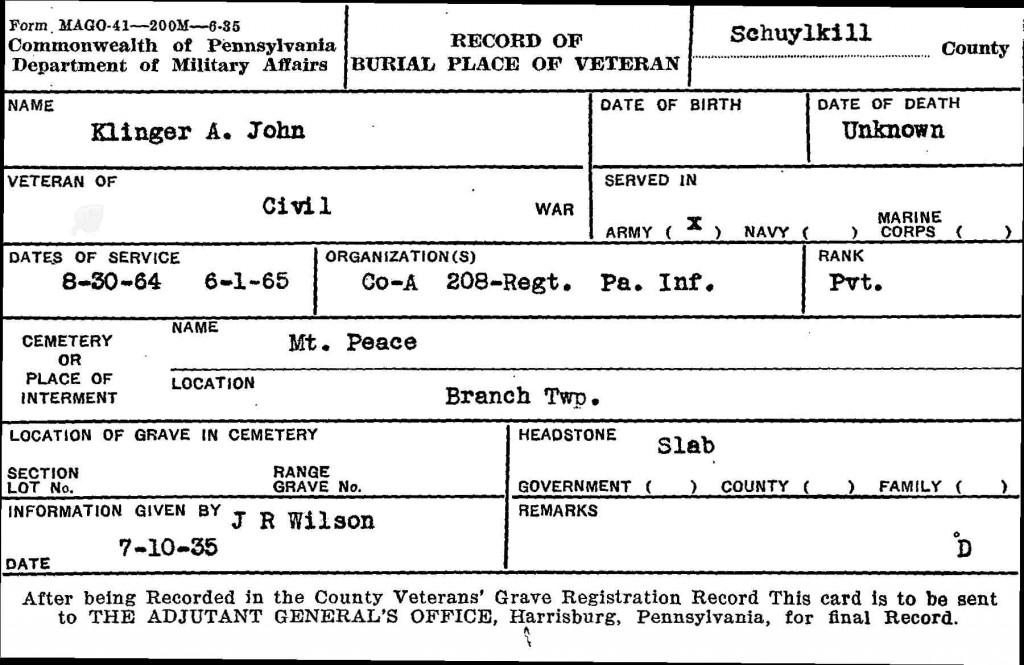 A Veterans' Burial Card from the Pennsylvania Archives indicates that John Adam Klinger was buried in Mt. Peace Cemetery, Branch Township, Schuylkill County.
John Adam Klinger was born in Jordan Township, Northumberland County, Pennsylvania, the son of Elias Klinger and Lucy Ann [Troutman] Klinger.  Elias was a farmer and a miller.  The family moved to Mifflin Township by 1860, after John's mother died in 1857.  In addition to serving as a brakeman on a passenger train (as is stated in the obituary), John Adam Klinger also worked as a miller and a coal miner.