Posted By Norman Gasbarro on December 20, 2011
Today, the blog post  again continues to feature members of the 177th Pennsylvania Infantry, Company I, who served the full term of nine months and received honorable discharges on 5 August 1863.  The research results presented here are based on preliminary data gathering on each of the members of the company and searches for Pension Index Cards that reference the pension application files that are available at the National Archives in Washington, D.C.  Some of the members of this company have been previously discussed on blog posts here and reference to those posts are provided with links.
In addition, much has already been written on Benjamin J. Evitts, the elected captain of this company (click here for previous posts on Benjamin J. Evitts).   Click here for previous posts on the 177th Pennsylvania Infantry.
The 177th Pennsylvania Infantry, Company I,was a drafted militia that served for nine months.  No member of this militia was reported injured as a result of a military act, so, theoretically, nearly all the pension applications should be post-1890, when "age" became the most significant factor for the veteran to receive a pension.  This should be reflected in the date of application on the Pension Index Card.  If the veteran died before 1890, there probably was no application made by the veteran, but it is possible that a widow applied.  In the column for "Certificate Number," if no number appears, this would indicate that an application was made, but no pension was awarded.  If a number appears in the "Certificate Number" column, it can be assumed that a pension was awarded, although the date of the award cannot be determined from the Pension Index Card.
——————————
DANIEL H. WINGERT
Not much is known about Daniel H. Wingert.  A Pension Index Card has not been located for the Daniel who served in the 177th Pennsylvania Infantry and neither has an 1890 veterans' census record.  It is possible that this is the same person who was living with his parents, Jacob Wingert, a laborer, and Phoebe Ann Wingert in Jackson Township, Dauphin County, in 1850, but more proof is needed of the connection.
——————————
HENRY HARRIS WEAVER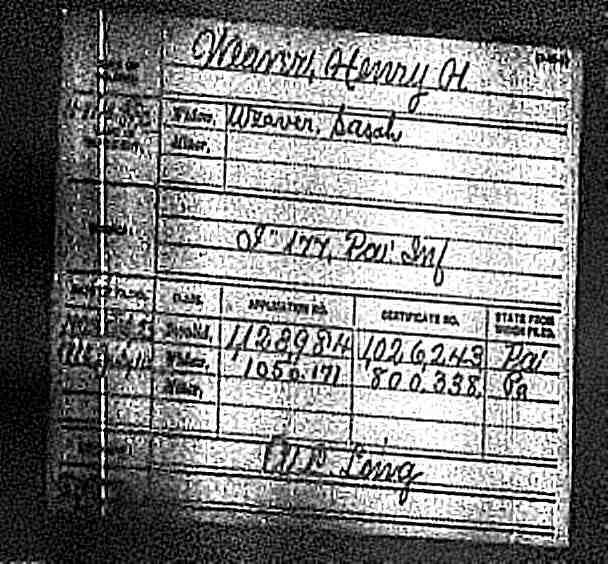 Henry H. Weaver was located in the Pension Index.  The attorney who represented him in his pension application was located in Lykens Borough, and the Henry H. Weaver who was found in the census returns in 1850 was also from Lykens, born about 1841, the son of John Weaver, a farmer, and Rebecca Weaver and from this information, a connection is assumed.  Not much else is known about him.
——————————
JOHN L. WILLIARD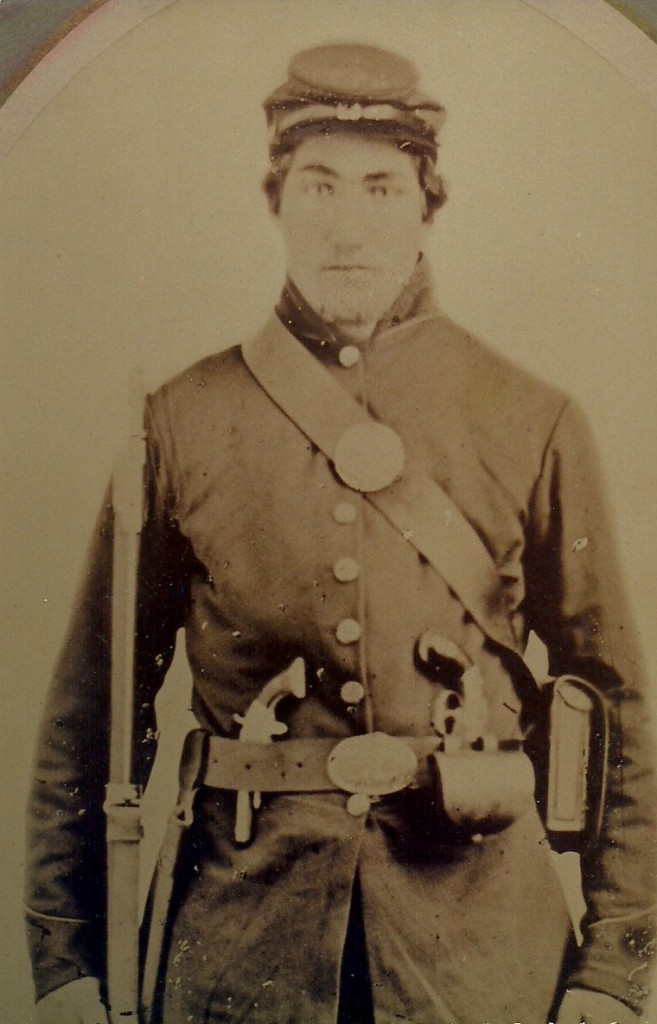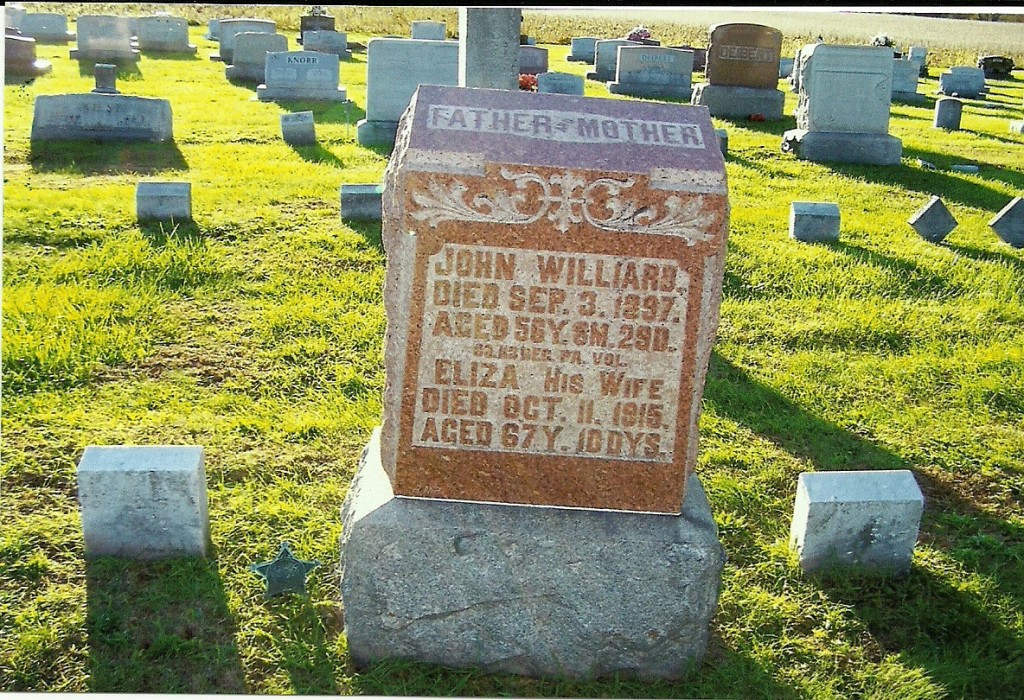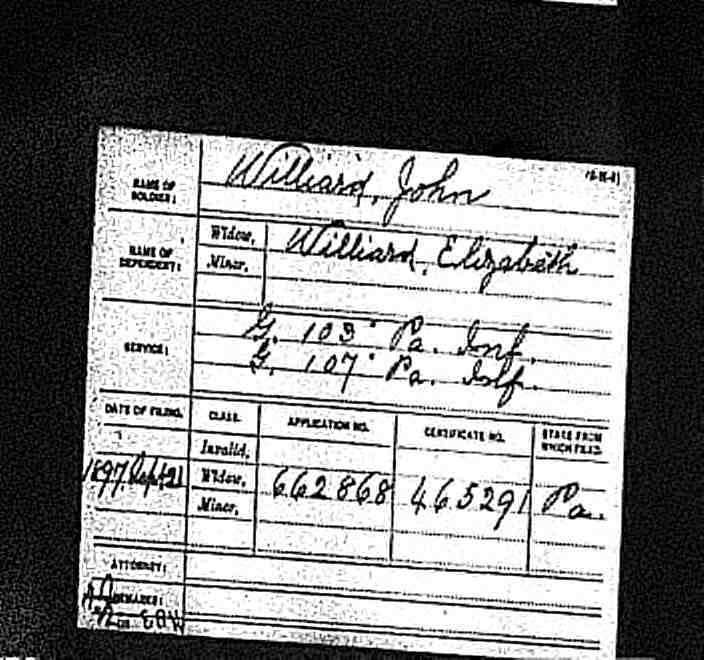 John L. Williard was born in 1840 in Lykens Township, Dauphin County, the son of John Aaron Williard (1804-1880) and Mary Polly Ossman (1806-1884).  In addition to serving in the 177th Pennsylvania Infantry, John also joined the 103rd Pennsylania Infantry with many of his neighbors from Lykens Township.  Two days prior to being mustered in, 12 March 1865, he married Elizabeth "Eliza" Thomas.  After his honorable discharge on 25 June 1865 at New Berne, North Carolina, he returned to the Lykens Valley to raise a family.  Children born to the marriage were (dates approximate):  Ann T. Williard (1867); Julianna Williard (1869); Mary Alice Williard (1871-1897); Eliza Williard (1873-1926); Gurney Queen Williard (1877-1933); John F. Williard (1880-1888); Daniel C. Williard (1884-1940); Henry Clarence Williard (1886-1943);  and Annie G. Williard (1891-1961).  Throughout his lifetime he was a farmer.  Late in life he applied for an received an invalid pension for his Civil War service.  He died of consumption in 1897 and was buried in Zion (Klinger's) Church Cemetery, Erdman, Lykens Township.
——————————
ELIAS ZERFING (1838-1918)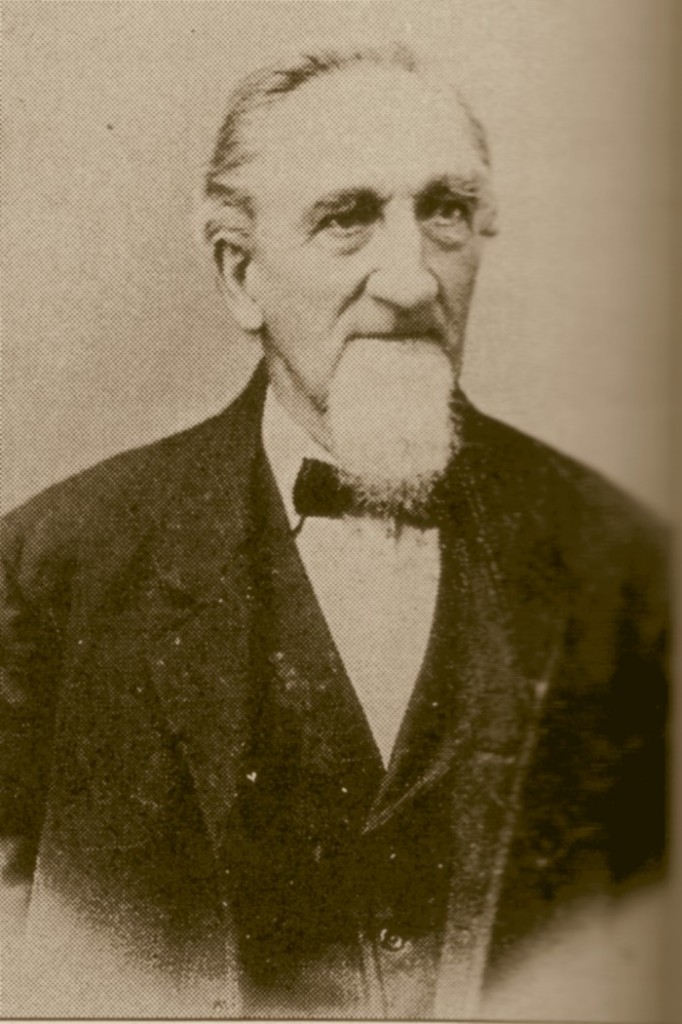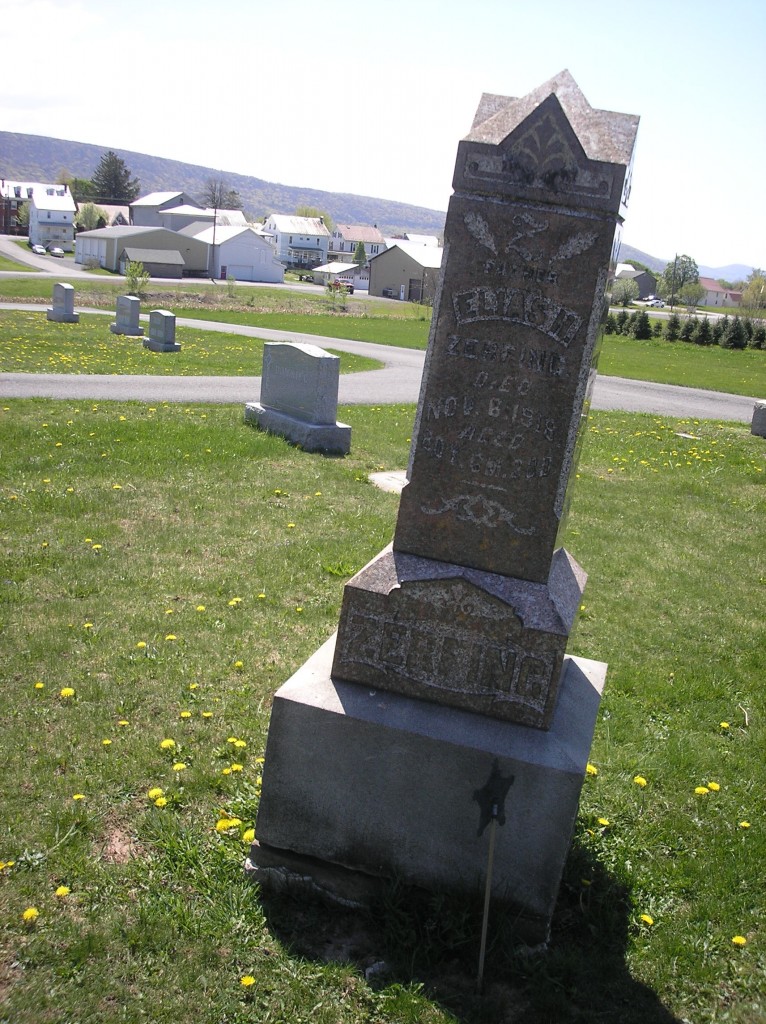 Elias Zerfing was born in 1838 in Pennsylvania.  His parentage is not known at this time.  His only known service during the Civil War was as a member of the 177th Pennsylvania Infantry.  The Pension Index Card for him was inacessible through Ancestry.com.  Near the end of the Civil War, Elias Zerfing married Elizabeth Hepner.  They lived in Gratz and Lykens Township where Elias was a farmer and a carpenter.  Their children were (birth years approximate):  Morris Zerfing (1867); Amelia Zerfing (1868); Charles Zerfing (1869-1937);  William A. Zerfing (1874);  James Zerfing (1876-1942); and Allen M. Zerfing (1880-1900).  Elias died in 1918 after living the last six years of his life as a widower.  He is buried in Gratz Union Cemetery.  Elias Zerfing was featured in a prior post on Civil War Gratz, "Elias Zerfing, Carpenter."
—————————–
This concludes the "Honorable Discharges" of the 177th Pennsylvania Infantry, Company I.  Future posts will discuss the commissioned officers who have not been previously featured as well as any remaining men who have claimed service in this regiment and company.