Posted By Norman Gasbarro on December 9, 2011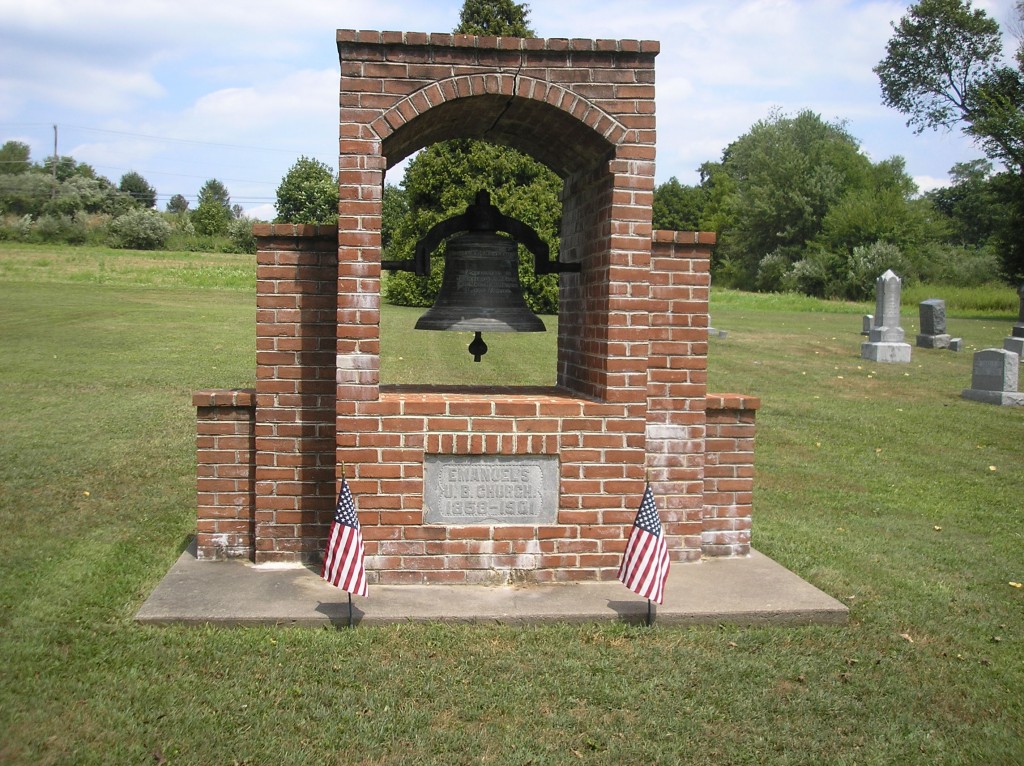 The Emanuel United Brethren Cemetery, also known as Forney's Cemetery, is located in Washington Township, Dauphin County, Pennsylvania (original post office address Rife).  Heading west out of Elizabethville on Route 209 traveling toward Millersburg, cross over the bridge at Wiconisco Creek and take the first left on Dam Hill Road and then the first right onto Shiffer Mill Road.  The cemetery is located on the right side of Shiffer Mill Road and is marked by a monument to the Emanuel Church.  The monument houses the original church bell and has two American flags flanking its front.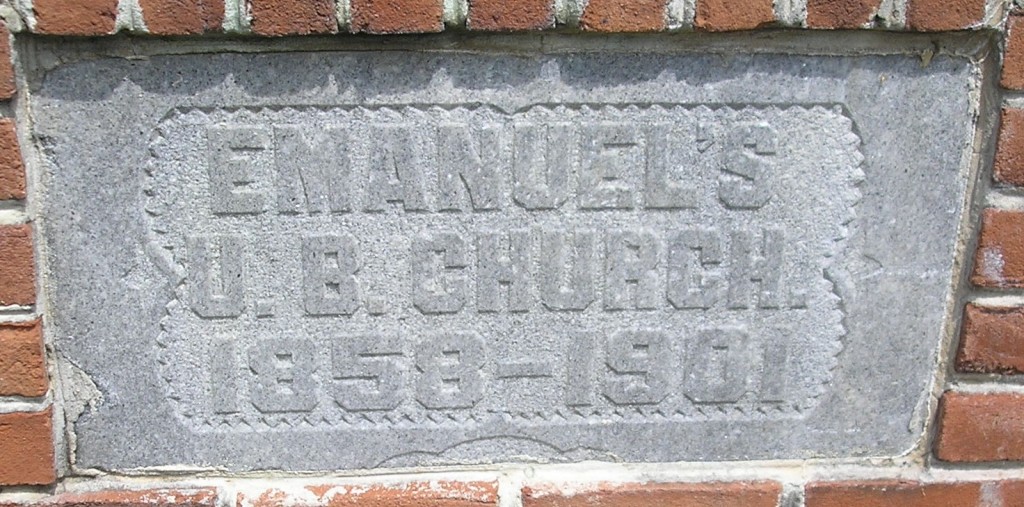 The stone plaque indicates that Emanuel's United Brethren Church existed here from 1858 to 1901.  This Civil War church has long since disappeared, but the cemetery is well-maintained.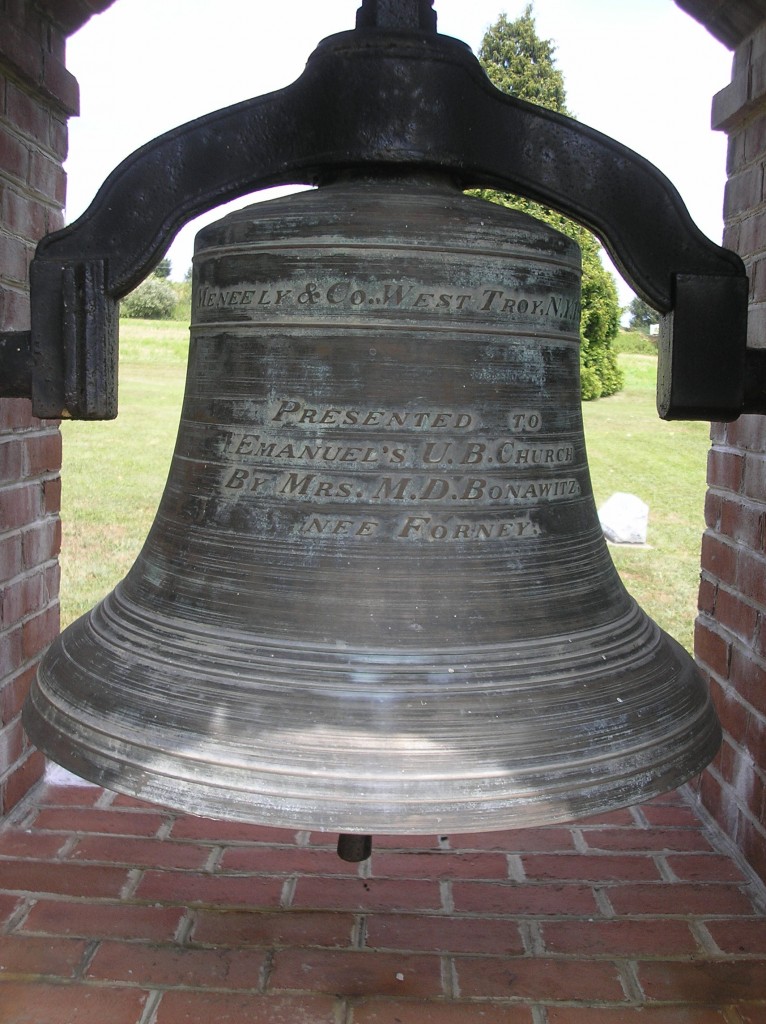 The church bell is inscribed with the name of its maker and donor.  McNeely and Company of West Troy, New York, cast the bell.  Mrs. M. D. Bonawitz (nee Forney) was the donor.  There are several persons with the surname Bonawitz or Forney who presently appear in the list of names compiled for the Civil War Research Project, but it is not known at this time if any of these have a genealogical connection to the donor.
One Civil War veteran is easily identified in this cemetery, and his grave is appropriately marked with the G.A.R. star and flag holder.
——————————-
JOHN HENRY JURY (1834-1918)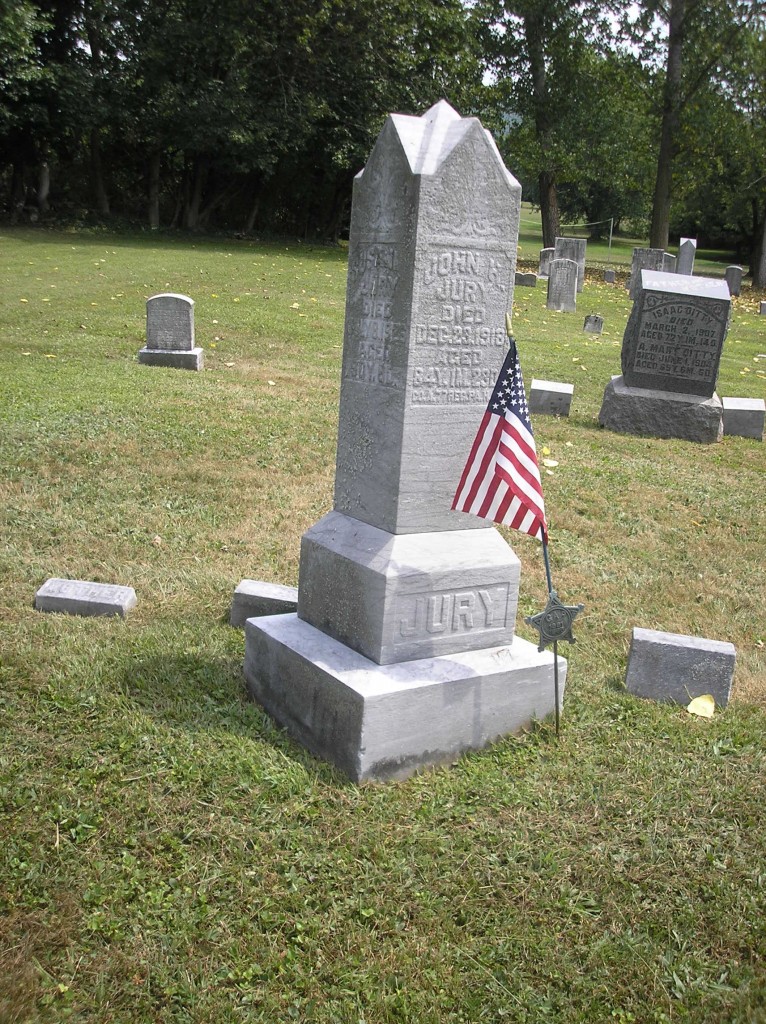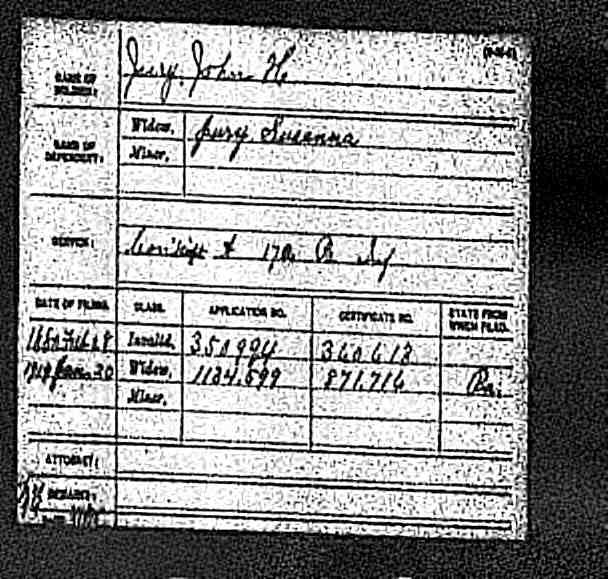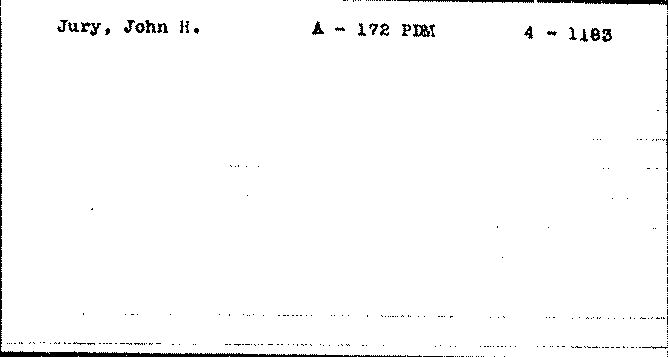 John Henry Jury was born in 1834 in Berrysburg, Dauphin County, Pennsylvania, the son of Jacob Bretz Jury (1799-1884), a farmer, and Mary Ann or Anne Marie [Schupp] Jury.  John Henry is sometimes found in the records as Johannes Heinrich Jury, the German equivalent of his name.  During the Civil War, he was drafted into the 172nd Pennsylvania Infantry, Company A, as a Private, serving from 2 November 1862.  Bates indicates he was not accounted for at muster out, but this must have been later clarified, because the Pension Index Card indicates he applied for and received a pension when the requirements were much more strict than they were years later.  After his death in 1918, his widow received the pension until her death in 1926. John Henry Jury was a farmer who settled in Upper Paxton Township and with his wife Susanna [Knoll] Jury began raising a family during the Civil War.  His known children were (birth years approximate):  Charles H. Jury (1862); Ann Jane Jury (1864); Ephraim Jury (1866); Harriet A. Jury (1868); William Lawrence Jury (1870); Catharine F. "Kate" Jury; (1872); Emma Jury (1876); Lora Jury (1878); and John H. Jury (1888).  Both John and his wife are buried in Emanuel (Forney's) Cemetery.  John Henry Jury's name is inscribed on the Millersburg Civil War Monument.
——————————
Cemetery records are currently being examined to determine if any other Civil War soldiers were buried there.  Some other views of the cemetery are shown below.