Posted By Norman Gasbarro on December 28, 2011
The most popular individual posts during the year were of the individual tablets on the Pennsylvania Memorial at Gettysburg.  These posts also generated a number of questions from readers who were confused as to why their ancestor's name was not on the tablet, when in fact, they knew their ancestor was a part of the particular regiment and actually fought at Gettysburg.  The first post describing the monument and its history is reproduced below.  To locate a post that presents the tablet of a particular regiment, either type the regiment number and name in the search box at the top of the middle column on the blog or scroll through the list of tablets by clicking here.  Another way to locate the correct tablet is to use your search engine.  In any case a standard form of entry is needed for a search.  Use the number of the regiment, the word "Pennsylvania" and either "Infantry", "Cavalry" or "Artillery."  Thus, an entry for the "26th Pennsylvania Infantry Emergency Force of 1863" would be searched for by simply entering "26th Pennsylvania Infantry."
——————————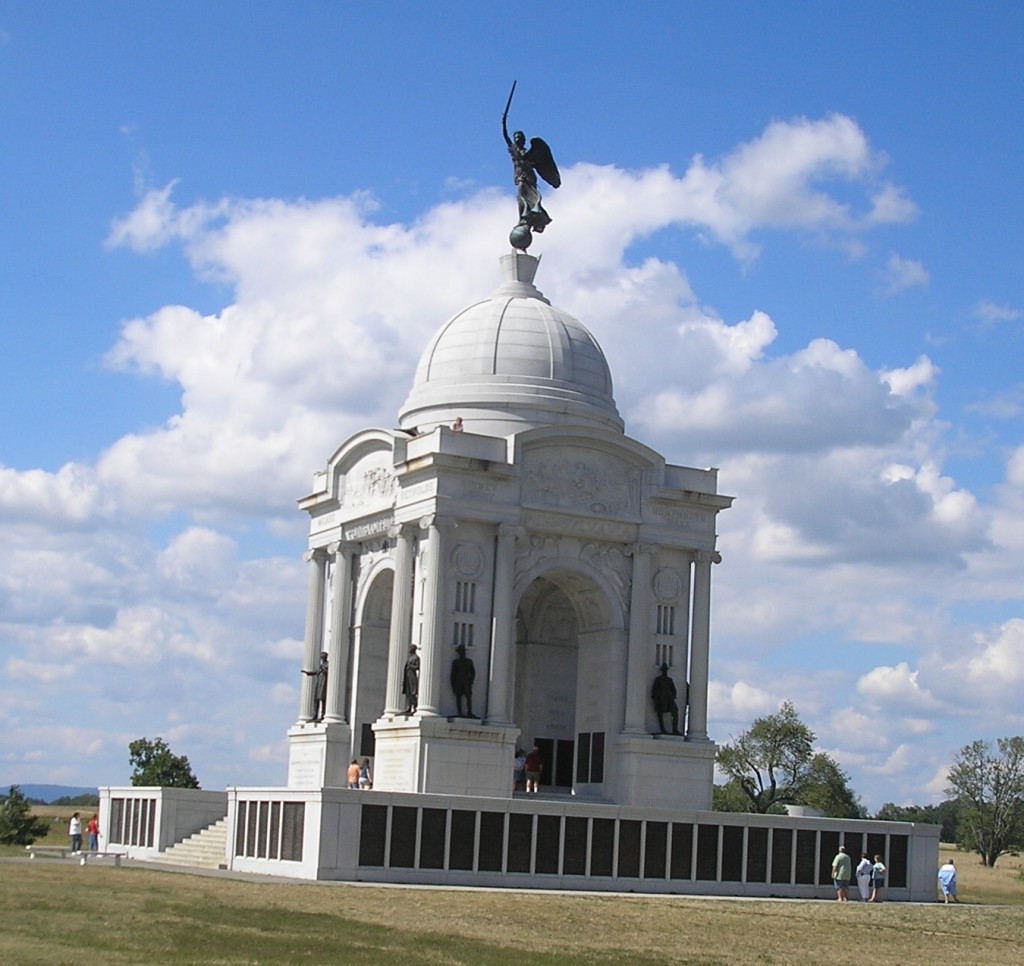 (Part 5 of an ongoing series on the Battle of Gettysburg).
On 27 September 1910, Pennsylvanians who had fought at Gettysburg returned for the dedication of this memorial in their honor.  Built of Mt. Airy granite, it stands 110 feet high, weighs 3,840 tons, and can be seen from many parts of the battlefield.  It is Gettysburg's largest monument.

Listed on 90 bronze tablets along the base are the names of each of the 34,530 Pennsylvania soldiers who participated in the battle.

Pennsylvania also erected 123 regimental monuments at other locations on the battlefield.  The Southern states did not provide monuments for each regiment, but honored their sons with statewide memorials, many of which may be seen along West Confederate Avenue.
At the 50th Anniversary Reunion at Gettysburg in 1913, a Pennsylvania veteran points out his name to a friend from New York.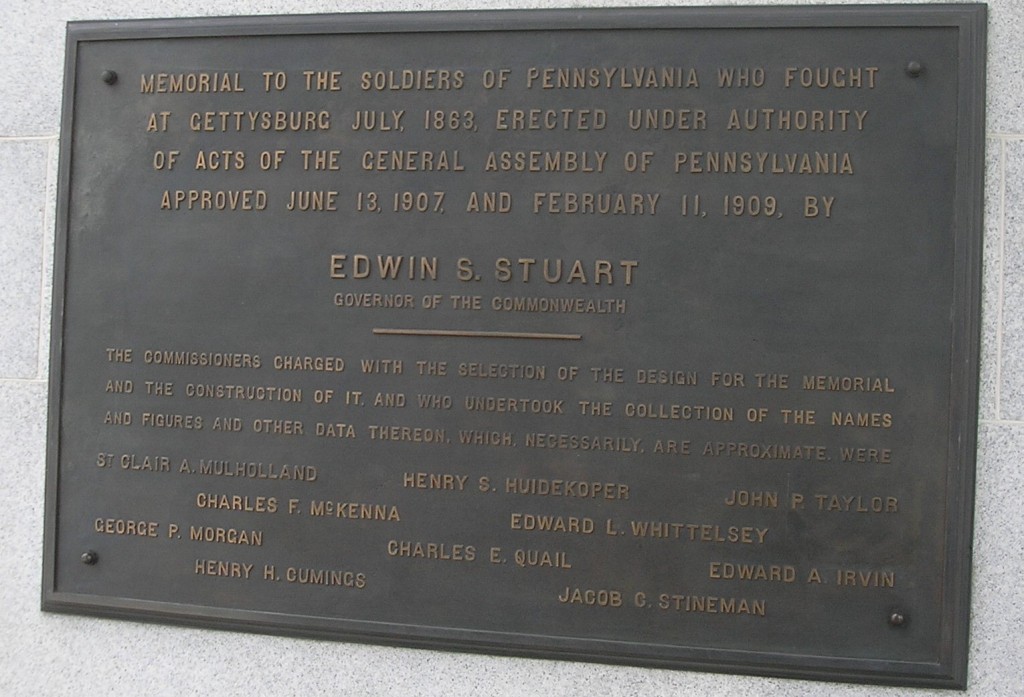 Atop the monument is a statue of the Goddess of Victory and Peace by Philadelphia Sculptor Samuel Murray.  This colossal bronze figure holds a sword of victory and a palm branch of peace.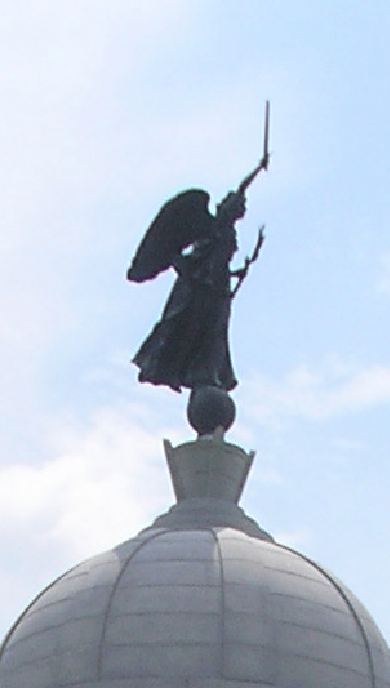 Above the triumphial arches are bas-reliefs by Samuel Murray depicting the infantry, the the artillery, and the signal corps.  Inscribed on the cornice are the names of the distinguished Pennsylvania generals who commanded an army, a corps, or a division at Gettysburg.  Inside the arches are inscribed the names of the brigade commanders.  Between the Ionic columns are eight bronze statues of President Abraham Lincoln, Pennsylvania Governor Andrew Curtin, and Pennsylvania generals Meade, Reynolds, Hancock, Pleasonton, Birney, and Gregg.  Finally, bronze tablets around the base and on some interior walls record the name of every Pennsylvania soldier who participated in the Battle of Gettysburg.  Tablets are in numberical order by regiment with about 400 names on each tablet.  The names of soldiers who were killed in the battle are marked with a star preceding the name.
All the bronze tablets on which are inscribed the names of the men who fought in Pennsylvania regiments at the battle of Gettysburg will be featured in future posts.  In addition, the known names of Lykens Valley area residents who were members of those regiments at any time will be noted in the posts.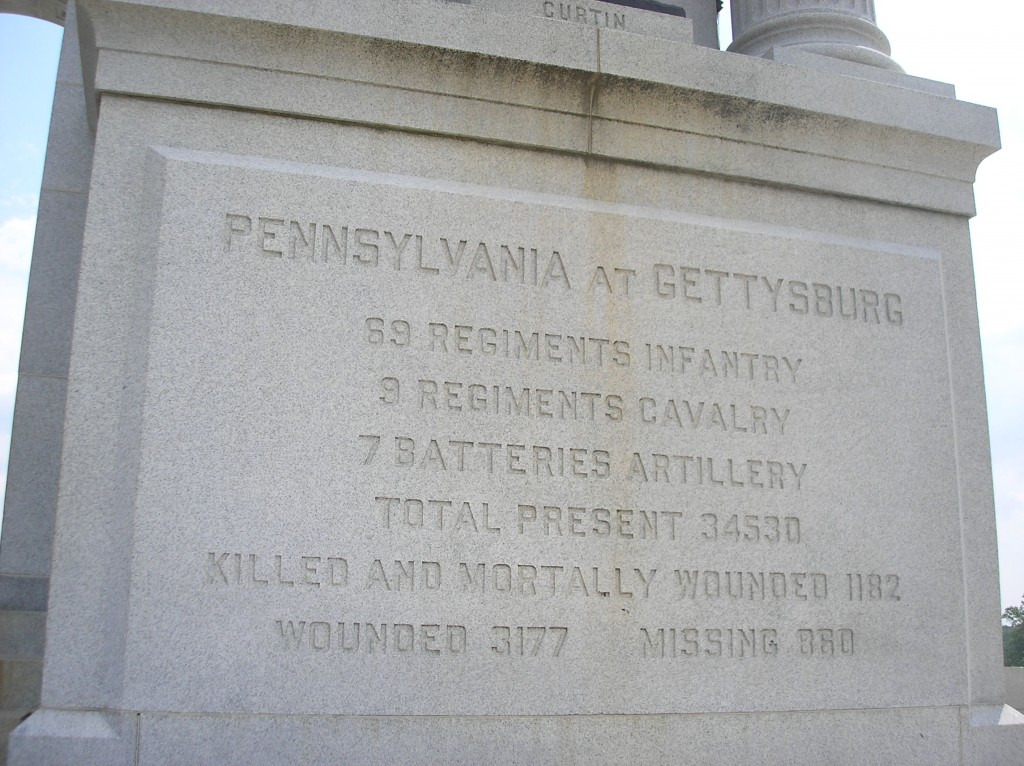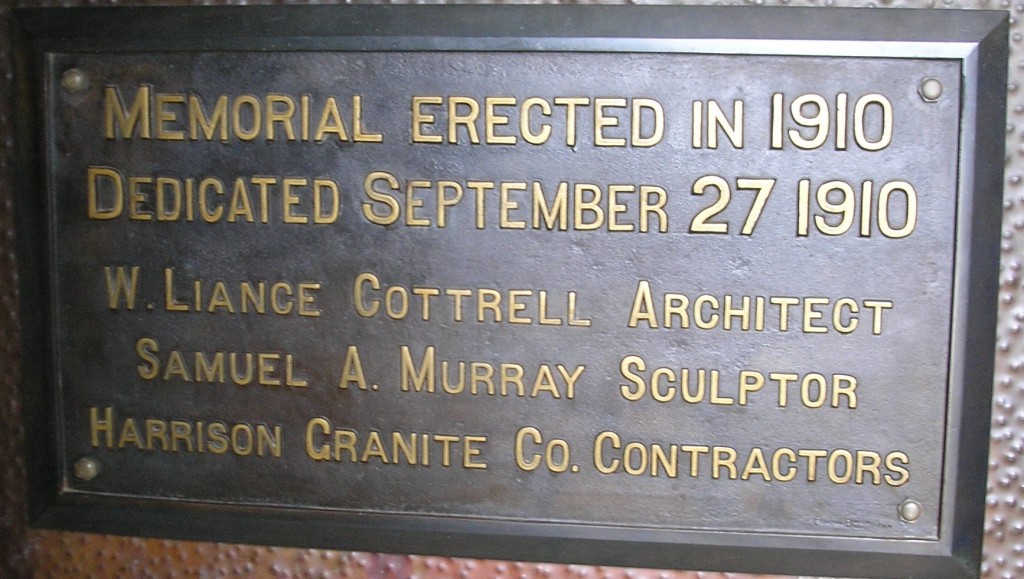 Additional photos of the memorial follow: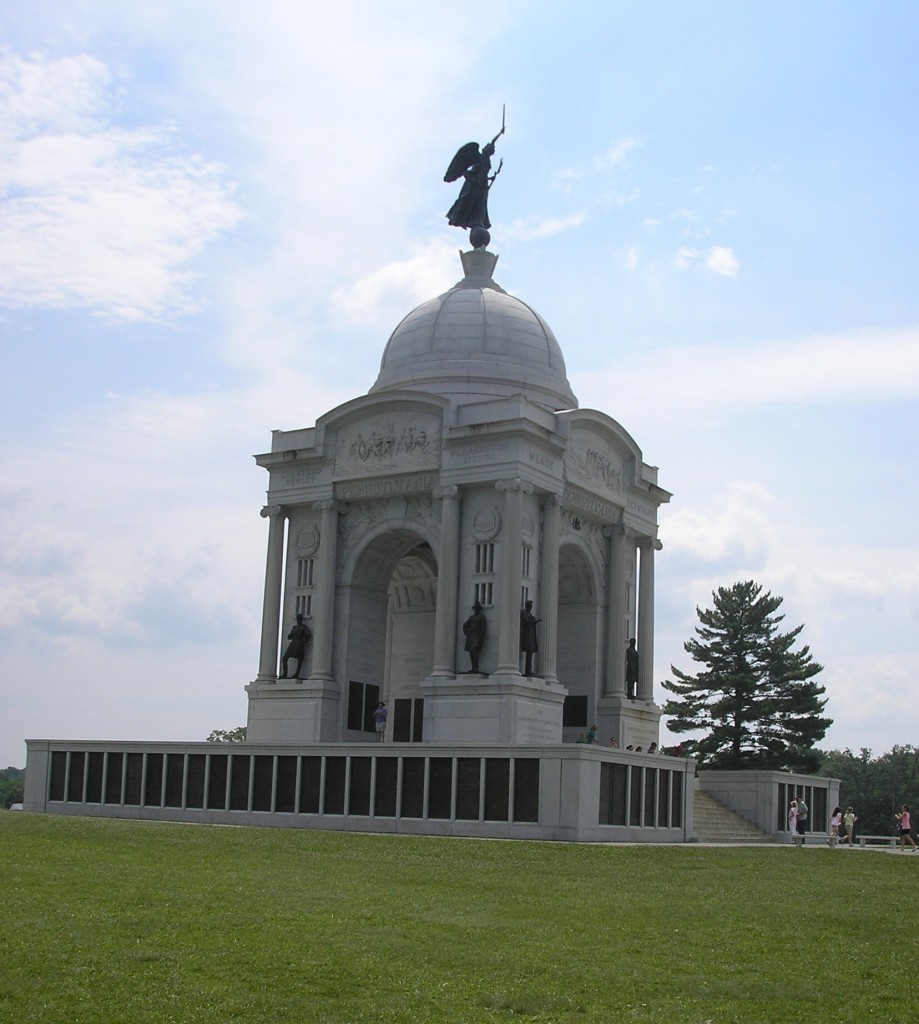 View of the battlefield from atop the memorial: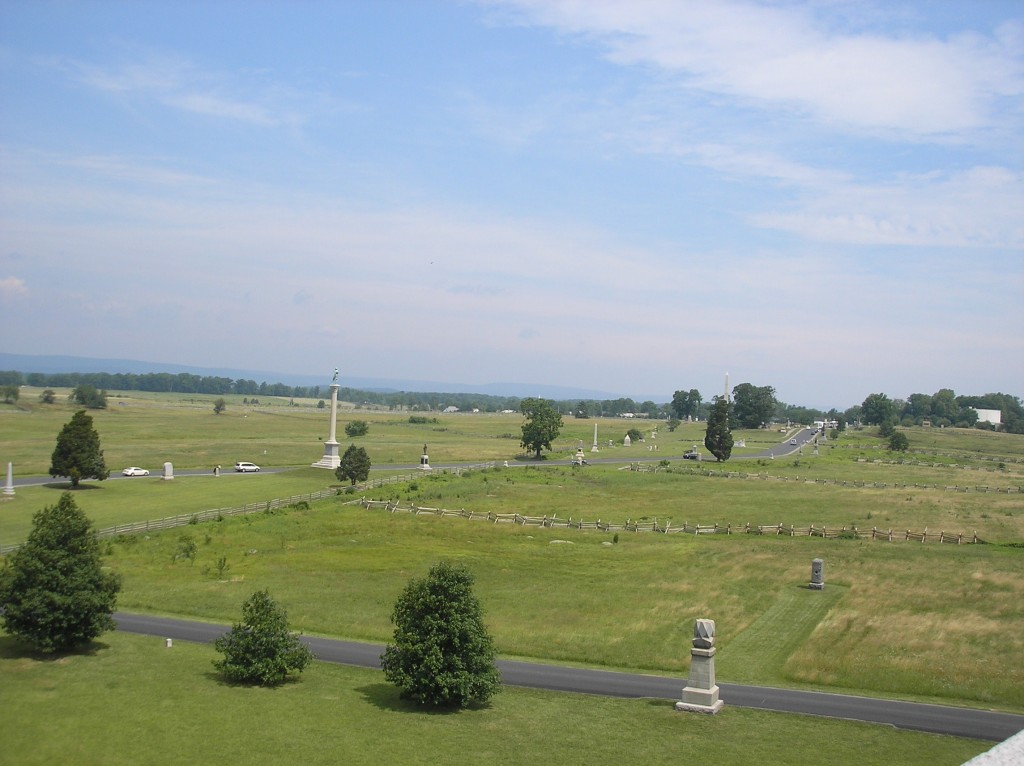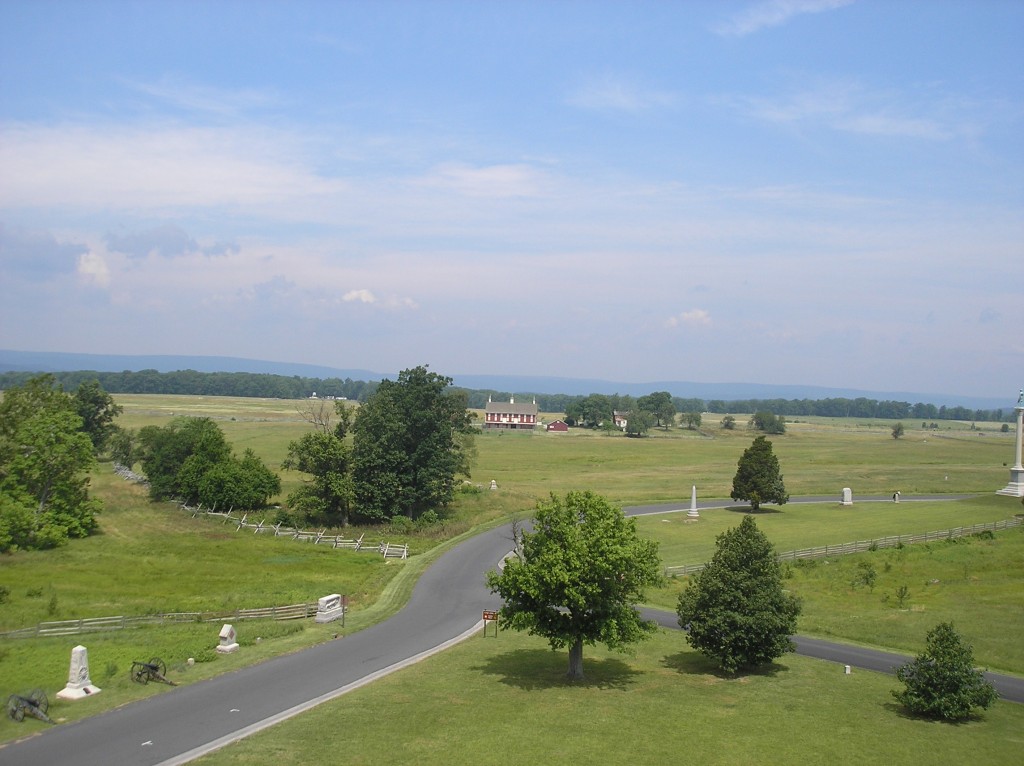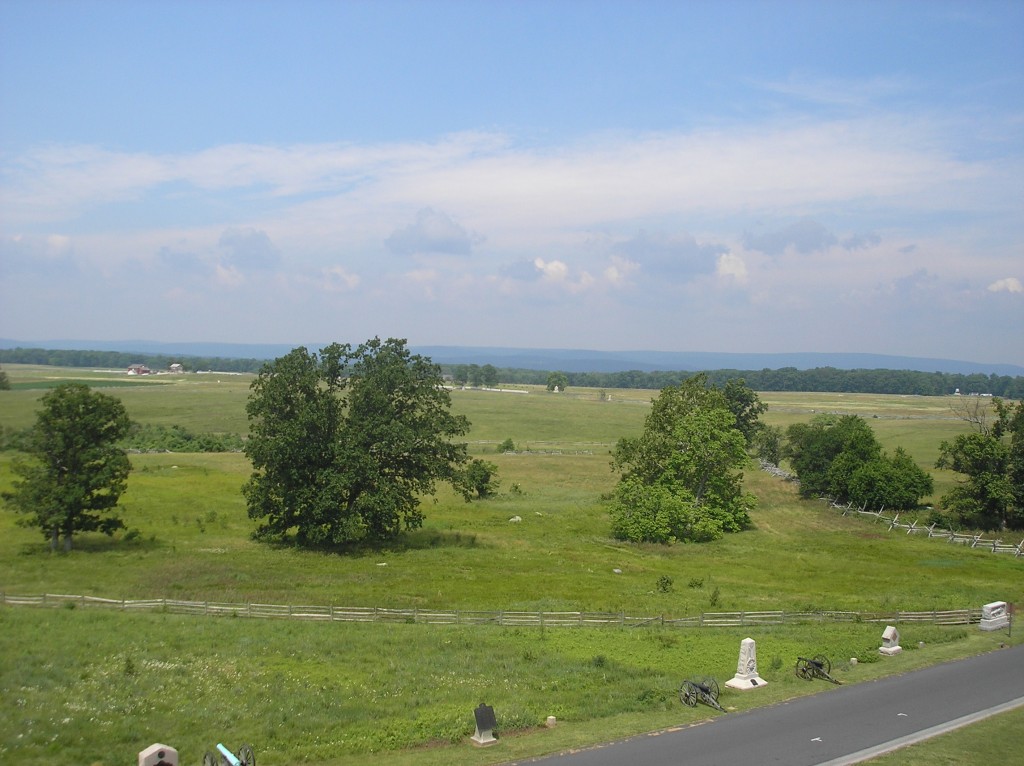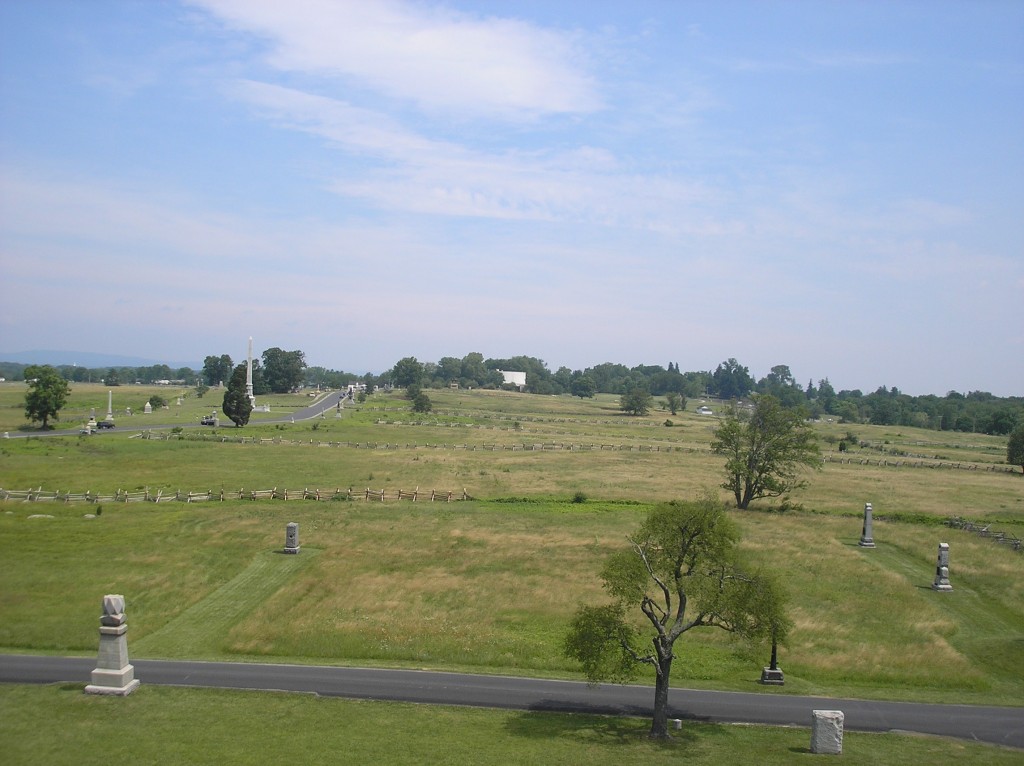 Previous posts on the Battle of Gettysburg:  Part 1:  Pennsylvania Regiments at Gettysburg – The Makeup of an Army.  Part 2: Pennsylvania Regiments at Gettysburg – Corps and Generals.  Part 3:  Gen. George G. Meade – Hero of Gettysburg.  Part 4: Two Years of Grim War.