Posted By Norman Gasbarro on November 9, 2011
The murder victim of the Halifax bank robbery of 14 March 1901 was Charles W. Ryan.  Ryan was one of the three bank officials who were present in the bank at the time that Wesley Keiper and Henry Rowe entered the bank attempting to rob it.  In the gunfire that ensued, Charles W. Ryan was fatally wounded.  Accounts differ as to how Ryan was shot.  Some say that he had his own gun at the bank and when he reached for it a struggle ensued and shots were fired.  Just before he was executed, Henry Rowe stated he believed that he was the one who had fired the shots that killed Ryan – not his accomplice Weston Keiper, although both received the death penalty for their crime.
Charles W. Ryan was born on 7 February 1841 to Andrew Ryan, a farmer in the Halifax area and his wife Elizabeth [Gayman] Ryan.  In 1850, he was the youngest of the children living in the household, with older brother Andrew Ryan Jr. living there and working as a farmer.  See below.  Family records indicate that the father, Andrew Ryan, passed away later in the year.
In 1860, just before the Civil War, Charles was living with an older brother, Isaac Ryan and his family, and working as a farm hand, probably on the family farm.  It is not known at this time who the two elderly women were who were also in the same household, both of whom were "living on income."  See below.
Early in the Civil War, on 13 September 1862, Charles W. Ryan was mustered into the 6th Pennsylvania Infantry, Company E, a militia formed to meet the emergency of 1862.  His service was short, lasting only two weeks until his discharge on 27 September 1862.  Nevertheless, in responding to the emergency, he received credit for Civil War service. But,, because he was in the military for less than three months, he was not eligible for a pension. Therefore, no pension application record will be found for him or for his widow following his untimely death at the bank robbery.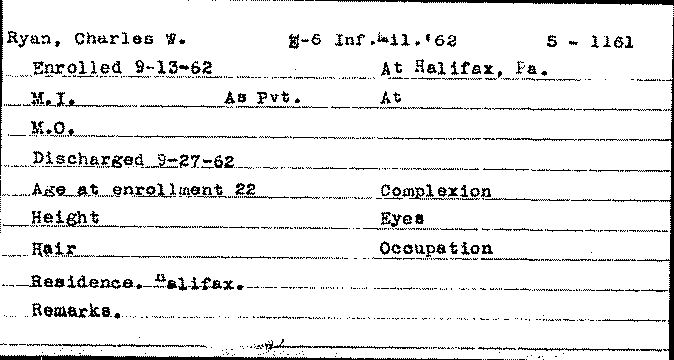 About a year after his discharge, and with the recent memory of the Gettysburg battle and Pennsylvania incursion of Gen. Robert E. Lee and his army, Charles W. Ryan married Louisa Mary Collier, who is sometimes found in the records as Mary Louisa Collier.  She was the daughter of Joseph Collier (1810-1878) and Mary [Hepler] Collier (1817-1872).  Mary Hepler was from Mahantongo Township, Schuylkill County and undoubtedly was related to the Hepler families that settled in and around Gratz, but the exact connection has not yet been made.  The family they began in 1866 with the birth of Harris Joseph Ryan had increased by one more child by the Census of 1870, with the birth of Laura M. Ryan about 1868.  The household consisted of the Ryan family and two additional persons who were listed as laborers, either boarders or farm hands who worked on the Ryan farm.  See below.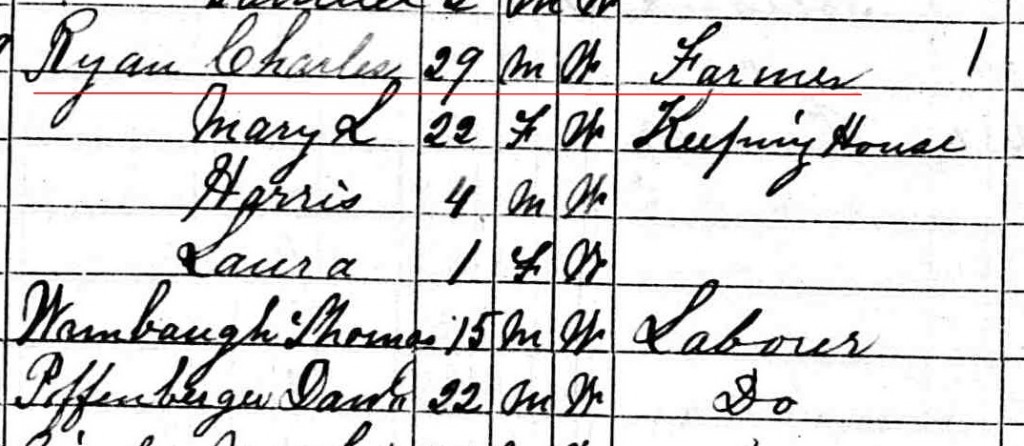 The 1880 Census saw Charles still working at farming and again, in addition to the Ryan family, the household consisted of two additional persons who were listed as servants.  Son Harris J. Ryan was "at school" a fact that will be again noted in a later blog post.  A third child, Luther W. Ryan, appears in this census as an 8-year old.  See below.
In 1890, Charles W. Ryan could not be located in any Pennsylvania veterans' census enumeration.  However, a census return for Cookstown, New Hanover Township, Burlington County, New Jersey names a Civil War veteran, Charles W. Ryan, without giving a regiment name.  Could this be the same Charles W. Ryan who returned to Halifax by 1900 to purchase ten shares of the new Halifax National Bank?  If it is the same person, why was he in New Jersey?  Because most of the 1890 Census was destroyed by fire, there is no way to know if there was a household in Cookstown, New Jersey in 1890 which included any other members of the Ryan family.  One speculation centers on son Harris, who may have been attending school in New Jersey – or may have been working there, with the parents going to live with him.  See below for veterans' census return for 1890.
In 1900, Charles W. Ryan is in Halifax.  Strangely, the name of his wife is missing from the Census of 1900, although her age is given and there is a line where her name should be.  There is a servant with the surname "Collier" in the household, possibly a member of his wife's family.  Where is Louisa [Collier] Ryan, if not in the Ryan household in Halifax?  The fact that Charles W. Ryan is listed as a "bank cashier" in the 1900 Census probably indicates that he held this position with the original Halifax Bank, and then when the Halifax National Bank was formed in late 1900, he assumed the same position with the new bank.  As in the case of the bank president, Abraham Fortenbaugh, much of the record is missing for a period of twenty or more years prior to the bank robbery.  See below.
Another interesting connection found in the records is that Luther W. Ryan, the youngest son of Charles and Louisa, who was born about 1871, is named in the 1900 Census as the Postmaster of Halifax.  The bank history states that "L. W. Ryan" was appointed as assistant cashier on 23 Mar 1901, when the then assistant cashier, Isaac Lyter was elevated to cashier following the murder of Charles W. Ryan.  This "L. W. Ryan" also served as a director of the bank from 1911 to 1916, perhaps inheriting his father's shares?
Charles W. Ryan was buried in Halifax Methodist Cemetery.  None of the stories of his murder report that he was a Civil War veteran, yet his grave is clearly marked with the "G.A.R." star and decorated with the American flag.
Louisa [Collier] Ryan is buried next to her husband, but she did not die until 1930, although there is some dispute of this in reading her grave marker – which appears to have been altered from the date 1928.  According to records, she died in Palo Alto, Santa Clara County, California in 1930 and she is listed in the 1930 census at the home of her son, Harris J. Ryan, who was then going by the name Joseph Ryan and working as a university teacher at Palo Alto.  There were no grandchildren.  Harris J. Ryan died in 1934 at the age of 68.
Tomorrow, the blog post will present the bank robbers and a bit of their history – Weston Keiper, Henry Rowe, and their accomplice, Frank Sholley  – and give some connections to the Civil War.
The portrait of Charles W. Ryan is from the Halifax Area Historical Society display of items related to the Halifax Bank Robbery.  Grave marker photos are from the Collier family.  Census returns are from Ancestry.com.  The Halifax Area Historical Society can be contacted at P.O. Box 72, Halifax, PA 17032.  Hours are by appointment.