Posted By Norman Gasbarro on November 12, 2011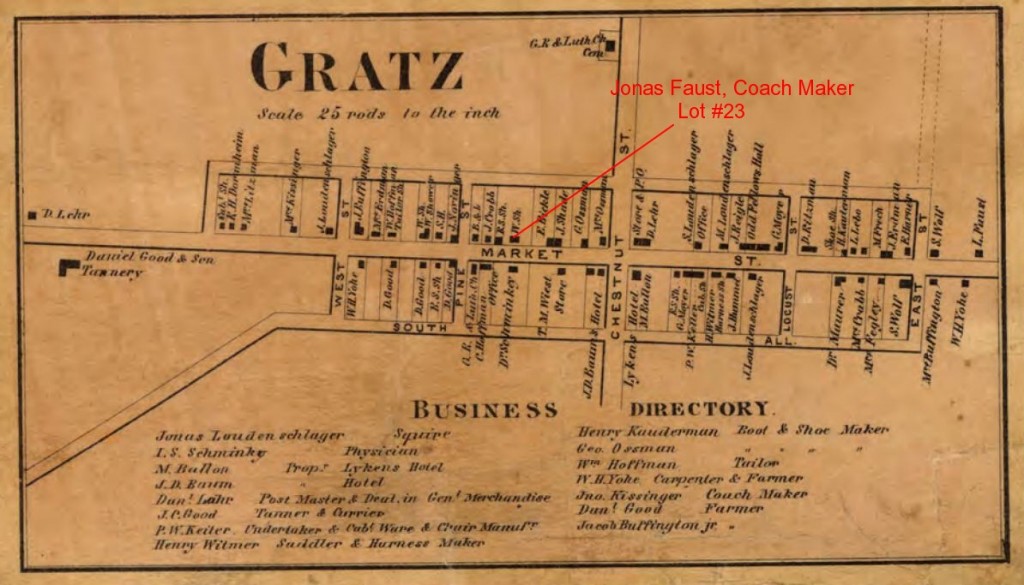 The house on this on this lot, known as Lot #23, was originally built as a residence for Simon Gratz some time before 1822 and therefore it one of the oldest houses in the borough.  Whether Simon Gratz actually lived or syayed here is not known, but on the 75th anniversary of the founding of Simeon's Church in 1897, a history of the church revealed that Simon Gratz allowed this house to be used for early religious services and therefore it can be said that this was the the site of the first organized religious services in Gratz.
Tax records indicate that that by 1858, the property was owned by Jonas Faust (1830-1884), a coach maker.  He lived in the house and on an adjacent lot he conducted his coach making business.  An apprentice coach maker, Daniel Sherer, was living here with the Faust family in 1860.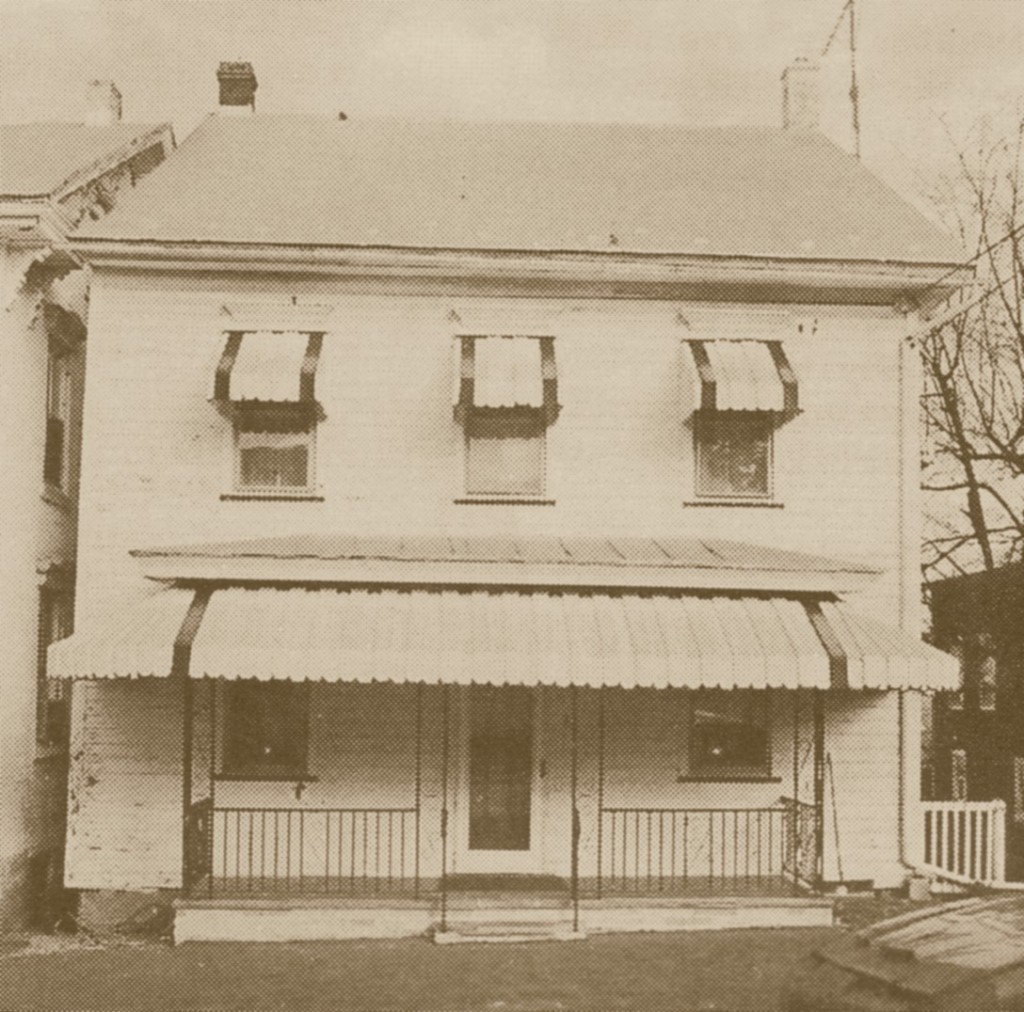 The earliest picture of the house available at the Gratz Historical Society, was probably taken in the second half of the twentieth century and is shown above.
Jonas Faust (1830-1884)  married Catherine S. Hoffman (1834-1874) whose paternal grandfather's line went back to Johann Peter Hoffman (1709-1797).  Prior to the Civil War, four girls were born to this couple:  Clara Faust (1854-1861), Agnes Faust (1856-?), Delilah Faust(1857-1857), and Elizabeth Faust (1859-?).  Two of the girls died before the war or as the war began.
Jonas Faust enlisted in the 50th Pennsylvania Infantry, Company A, on 9 September 1861 and served throughout most of the war until May 1865 when he was discharged.  During his service he re-enlisted on 1 January 1864 at Blaine's Crossroads, Tennessee, at which time he was serving as Commissary Sergeant.  It is possible that he either returned to Gratz on furlough at some point during the war, or his wife may have visited him some place during his service, because two sons were born during the war:  Henry C. Faust (1863-?) and William Faust (1864-1874).  These sons are recorded in the 1870 census, at which time the family had moved from Gratz to Wiconisco Township and Jonas had changed occupations from coach maker to carpenter.  After the Civil War, four more children were born to the couple:  Mary Faust (1866-?), Sallie Faust (1868-?), Harry Faust (1870-?), and Charles Faust (1872-?).  It's possible that all of these later children were born in Wisonisco Township rather than Gratz as it is not known for certain when the Faust's left Gratz.  It is believed that Catherine [Hoffman] Faust lived in this Gratz house with her young children during the Civil War while her husband was away in the military service – and during the war, two children were born here.
Catherine [Hoffman] Faust died in 1874, perhaps of causes related to late childbirth, and she left her husband with a family of young children, whereupon he re-married to Sarah DelCamp.  Jonas and Sarah proceeded to have children as follows:  Zukeik Faust (1876-?), Shelton Faust (1878-?), Nellie Faust (1879-?), Jonas L. Faust (1881-?), and Florence Faust (1883-?).  Then Jonas Faust died in 1884 leaving his second wife with minor children.
Catherine [Hoffman] Faust is buried in Calvary United Methodist Cemetery, Wiconisco.  Her grave marker is pictured above.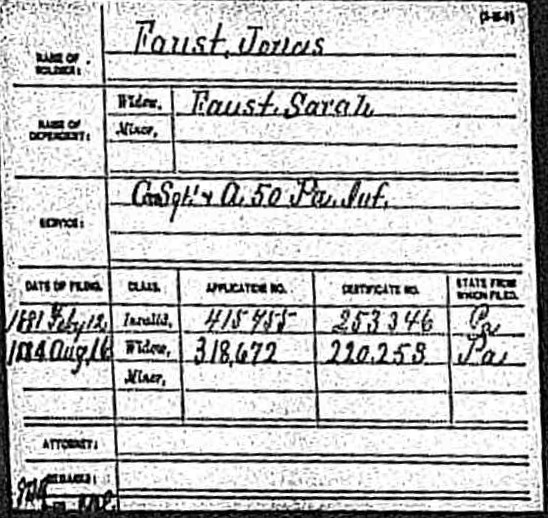 Fortunately for Sarah [DelCamp] Faust, she was left with some support as Jonas had applied for a invalid pension in 1881 and the record above shows that after Jonas' death in 1884, Sarah received a widow's pension which she collected until her death in 1919.
Jonas Faust is buried in Calvary United Methodist Cemetery, Wiconisco, next to his first wife.  His grave marker was previously pictured as part of a post on that cemetery.
This Gratz property was sold in 1870 to Charles Gerhard (1837-1909), also a coach maker and owner of Lot #21 next door, who in turn re-sold it the same year to William Boyer and Christiana Boyer.  Then again, a sale took place in 1875 to Daniel Boyer.  Charles Gerhard's association with the Civil War has already been discussed in a prior post.  No Civil War service has been located for William Boyer.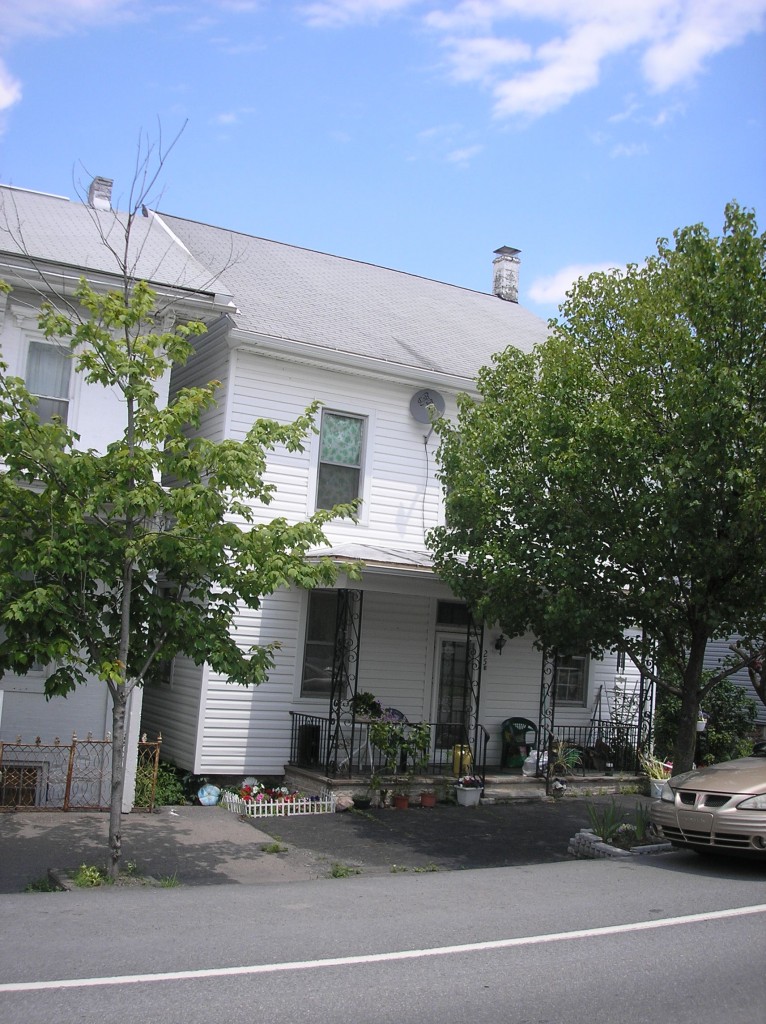 This is part 24 of an ongoing series on Gratz during the Civil War.  Some of the information for this post was taken from the book A Comprehensive History of the Town of Gratz Pennsylvania.