Posted By Norman Gasbarro on November 2, 2011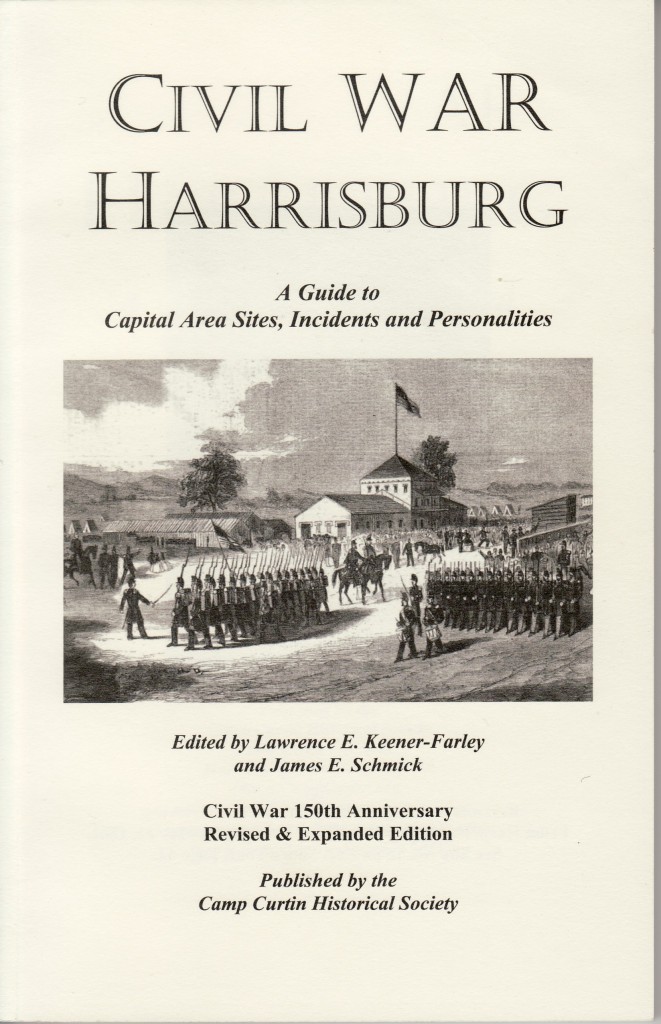 A revised and expanded edition of Civil War Harrisburg: A Guide to Capital Area Sites, Incidents and Personalities has recently been published by the Camp Curtin Historical Society.  The book which is edited by Lawrence E. Keener-Farley and James E. Schmick, is available directly through the web site of the Camp Curtin Historical Society and at the gift shop at the National Civil War Museum.
Featured in this edition are 60 new pages including articles on the coming of the Civil War, pre-war Harrisburg, the visit of Albert Prince of Wales, and many other useful sections.
A walking tour of Downtown Harrisburg is a centerpiece of this publication.  It features descriptions of thirteen locations all within walking distance of the Harrisburg Transportation Center and Capitol building:  (1) Camelback Bridge; (2) Jones House; (3) Thomas Morris Chester; (4) Salem United Church of Christ; (5) Pennsylvania Railroad Station; (6) Pennsylvania Flag Collection; (7) Soldiers Grove including the Underground Railroad Historical Marker; (8) Capital Park; (9) Hartranft Equestrian Statue; (10) Pennsylvania State Capitol; (11) Pennsylvania State Museum; (12) Pennsylvania State Archives; and (13) Broad Street Market.  The Civil War significance of each is explained and in some cases period engravings or photographs are included.
Following the walking tour, a section on a driving tour of the East Shore Civil War-related sites in Dauphin County begins.  This features the following:  (1) National Civil War Museum at Reservoir Park; (2) Harrisburg Cemetery; (3) Camp Curtin; (4) Camp Curtin Church; (5) Dauphin County Civil War Memorial; (6) Pennsylvania National Fire Museum; (7) Harris-Cameron Mansion, home of the Historical Society of Dauphin County; (8) Midland Cemetery in Steelton, an historic African American cemetery; and (9) Lincoln Cemetery in Penbrook, another African American cemetery.
The final section of the book is a driving tour of the West Shore Civil War-related sites.  These are the following:  (1) Fort Washington in Lemoyne; (2) Fort Couch in Leymoyne; (3) Whitehall Orphans School Monument in Camp Hill; (4) Skirmish at Oyster Point, Camp Hill; (5) Battle of Sporting Hill in Hampden Township; (6) Rupp House in Hampden Township; (7) Mechanicsburg Sites of Mayor Hummel's House, Ashland House Hotel, and Confederate Hospital; and (8) the Mechanicsburg Museum.
Through the book there are "special features" that elaborate on aspects of the war.
This book is very useful for anyone planning a trip to visit Civil War sites in the Harrisburg area.  While much of the information contained therein is readily available on the internet, having it all in one place while walking and driving around is very helpful.  In some cases, the book notes that the site is not open to the public or that visiting is by appointment only.  In a few cases, the web site is given where directions or hours of operation and accessibility can be obtained.
The Camp Curtin Historical Society and Civil War Round Table, Inc. is dedicated to "educating the public about the Civil War history of the Harrisburg area."  It has worked with the Pennsylvania Civil War Trails program to develop and create a "unified heritage tourism trail in south central Pennsylvania, linking other communities involved in the Gettysburg campaign."   Further information on the programs in support of the 150th Anniversary of the Civil War can be obtained through their web site.