Posted By Norman Gasbarro on November 19, 2011
Today, the blog post continues to feature members of the 177th Pennsylvania Infantry, Company I, who served the full term of nine months and received honorable discharges on 5 August 1863.  The research results presented here are based on preliminary data gathering on each of the members of the company and searches for Pension Index Cards that reference the pension application files that are available at the National Archives in Washington, D.C.  Some of the members of this company have been previously discussed on blog posts here and reference to those posts are provided with links.
In addition, much has already been written on Benjamin J. Evitts, the elected captain of this company (click here for previous posts on Benjamin J. Evitts).   Click here for previous posts on the 177th Pennsylvania Infantry.  Click her
The 177th Pennsylvania Infantry, Company I,was a drafted militia that served for nine months.  No member of this militia was reported injured as a result of a military act, so, theoretically, nearly all the pension applications should be post-1890, when "age" became the most significant factor for the veteran to receive a pension.  This should be reflected in the date of application on the Pension Index Card.  If the veteran died before 1890, there probably was no application made by the veteran, but it is possible that a widow applied.  In the column for "Certificate Number," if no number appears, this would indicate that an application was made, but no pension was awarded.  If a number appears in the "Certificate Number" column, it can be assumed that a pension was awarded, although the date of the award cannot be determined from the Pension Index Card.
—————————-
SAMUEL H. BRUBAKER
It is  mystery who this person could be.  There are several other persons named Samuel Brubaker who served in the Civil War from Pennsylvania, but no record has yet been located (Pension Index Card or Census of 1890) which connects any of them to the 177th Pennsylvania Infantry.  Readers are invited to contribute information to better identify this veteran.
——————————
JONAS BUBB (1827-1886)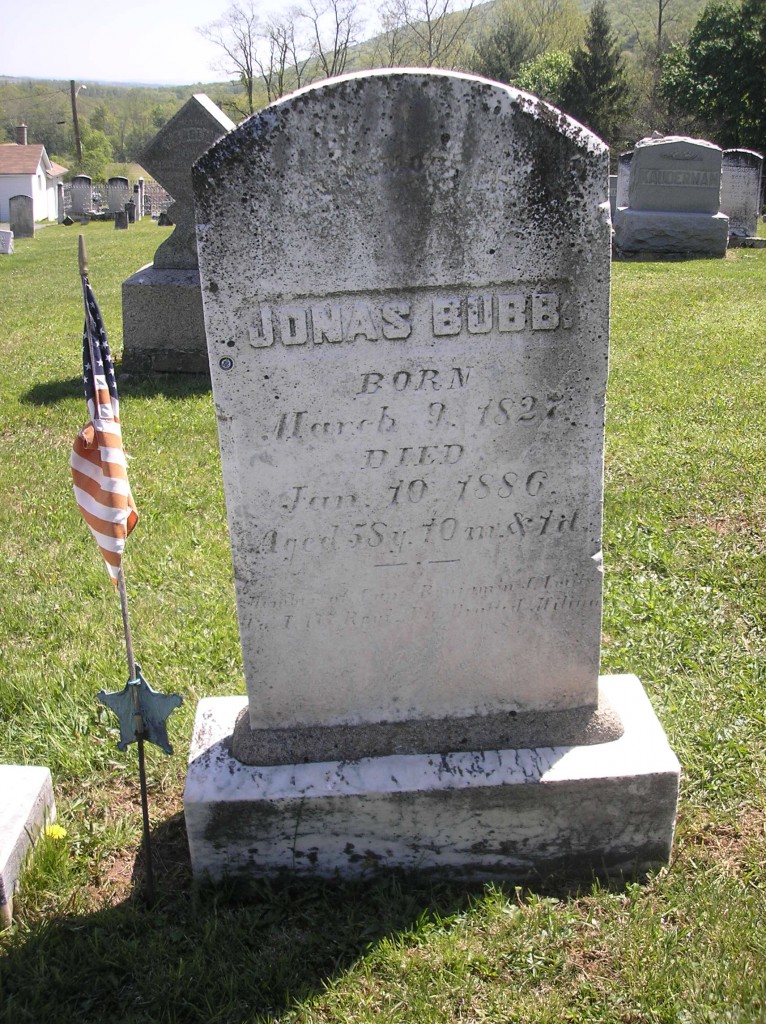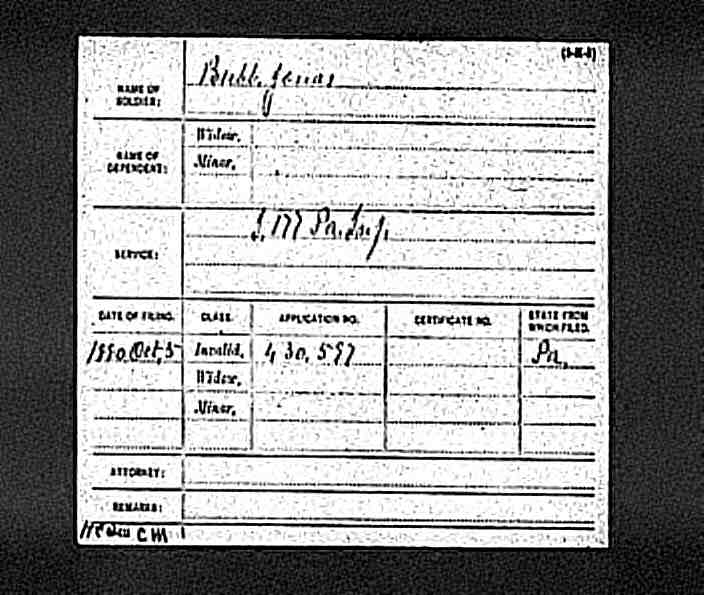 Jonas Bubb married Rebecca Bordner (1837-1890) some time just prior to the Civil War.  Children born to this marriage (dates approximate) were:  John Adam Bubb (1859-?), Mary Bubb (1861-?), McLada Bubb (1862-?), Lewis Bubb (1863-?), and Benjamin Bubb (1865-?).  The closeness of the birthdays of the children indicates that neither the war (nor his service in it) slowed down the couple's progress in having a family.  In any event, when Jonas went off to war with the 177th Pennsylvania Infantry in November 1862, Rebecca [Bordner] Bubb had small children at home and was undoubtedly pregnant with another.  From the census records, it appears that Jonas and his family lived in several places in the Lykens Valley, including Gratz and Lykens Township, where he worked as a plasterer.
Jonas Bubb is buried in Grand View Cemetery, Pillow, Dauphin County, Pennsylvania.
——————————
DANIEL CARLE (1834-1894)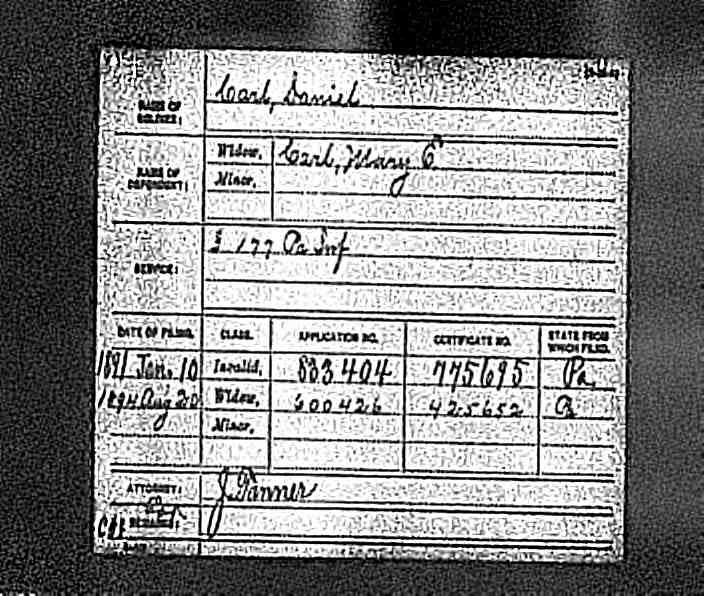 Also found in the records as Daniel Carl.  In that there are several persons with the same name, it is possible than some of the records have become co-mingled.  The Daniel Carl of service in the 177th Pennsylvania Infantry, Company I, was born around 1834 in Berrysburg, Dauphin County, Pennsylvania, the son of Jeremiah Carl and Julianna Redel.  He was married at least three times: first to Catherine Rowe (1840-1873) of Washington Township, with whom he had at least five children.  Catherine's death in 1873 was probably the result of a late childbirth of their last child, Catherine M. Carl.  Daniel married second to Hannah Riegle, who was about 51 years old at the time whereas Daniel was about 41, and no children were born of that union.  There was no record that Hannah had a prior marriage, nor has any connection yet been made with other members of the Riegle family in the Lykens Valley.  Daniel's third marriage was only a few years later in 1879 to Mary E. Hoy.  No known children resulted from the third marriage, although Mary was presumably 22 at the time of the marriage.  She survived Daniel and lived until 1933.  The Pension Index Card shows that Mary, the third wife,  applied for an received a widow's pension for Daniel's Civil War service – which she collected for nearly forty years after his death!
The place of burial of Daniel Carl has not yet been located.
—————————–
JACOB DEITZ (1833-?)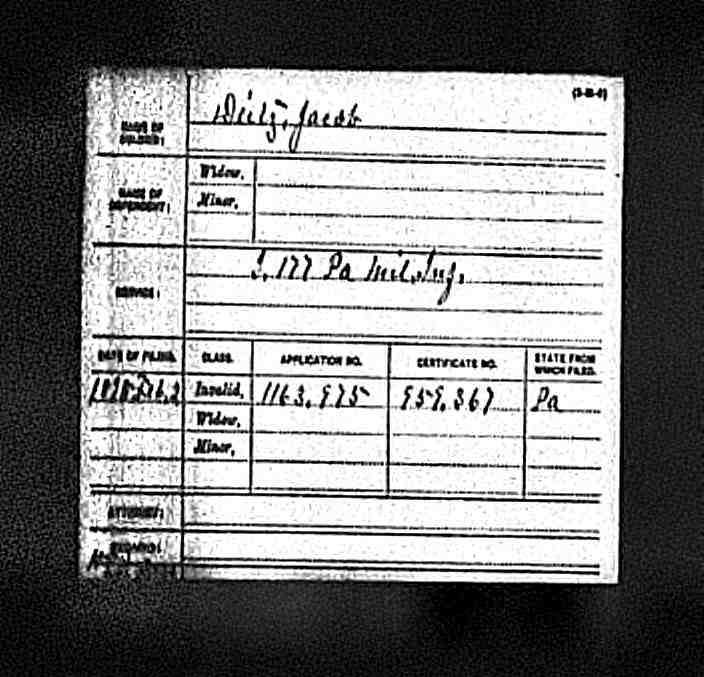 Jacob Deitz was born around 1833, the son of Johannes Deitz and Catherine [Stine] Deitz, probably around Erdman, Lykens Township, as he was baptized at the Zion (Klinger) Lutheran Church in Erdman.  During the Civil War he was drafted into the 177th Pennsylvania Infantry in November 1862 and he served through his term to discharge on 5 August 1863.  No other war service has been located for him.  In applying for a pension he had to enlist the aid of his Capt. Benjamin J. Evitts, who provided testimony that he was worthy of the award.  Copies of Jacob Deitz' pension application file are available at the Gratz Historical Society.  Jacob never married and his death date and place of burial has not yet been located.
Jacob Deitz had a brother, Joseph Deitz, who was also drafted into this same regiment, but Joseph was discharged on a Surgeon's Certificate of Disability.  Another brother, John Deitz, who was 43 years old at the time of the Federal Draft of 1863, registered, but was not drafted.  John Deitz is buried in Zion (Klinger) Church Cemetery, Erdman.
——————————
The continuation of the "Honorable Discharges" of the 177th Pennsylvania Infantry, Company I, will appear tomorrow.