Posted By Norman Gasbarro on October 24, 2011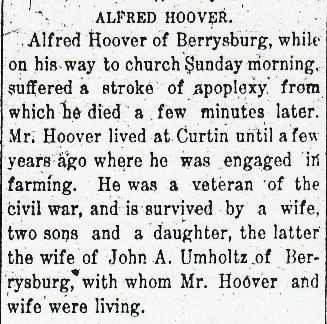 In a previous post on this blog, the story of Pvt. Alfred Hoover of Berrysburg was featured.  The obituary of Alfred Hoover has been found and has now been added to his file.  The obituary is from the Lykens Standard, 7 February 1902.
ALFRED HOOVER
Alfred Hoover of Berrysburg, while on his way to church Sunday morning, suffered a stroke of apoplexy from which he died a few minutes later.  Mr. Hoover lived at Curtin until a few years ago where he was engaged in farming.  He was a veteran of the civil war, and is survived by a wife, two sons and a daughter, the latter the wife of John A. Umholtz of Berrysburg, with whom Mr. Hoover and wife were living.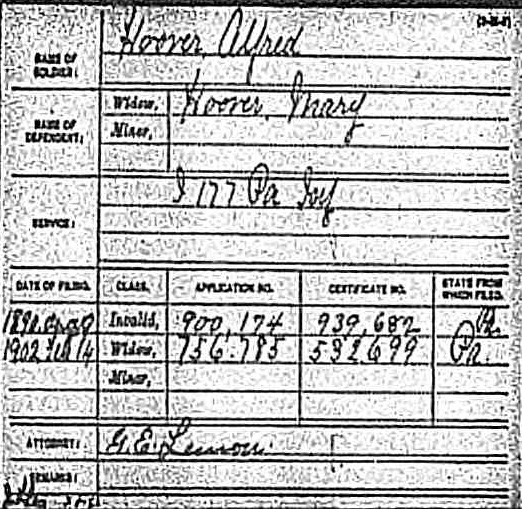 Alfred Hoover served in the 177th Pennsylvania Infantry, Company I, under Captain Benjamin Evitts of Gratz and Lykens Township.  The Pension Index Card for Pvt. Hoover was attached to the previous post and is now referenced to the series of posts featuring the Pension Index Cards of the veterans of the 177th Pennsylvania Infantry.  For other posts on the 177th Pennsylvania Infantry, click here.  For other posts on the Hoover family, click on the tag "Hoover family."
As is noted on the Pension Index Card, the widow's application for pension occurred in the same month and year of Alfred's death.  By 1902, undertakers and lawyers had perfected the system of paperwork to insure a smooth transition of the pension from the deceased veteran to his widow much in the same way today that Social Security information and death benefits are handled today through funeral directors.
Alfred Hoover's pension application files are available at the Gratz Historical Society and include descriptions of his military service.  Some of these descriptions were reported in the previous post.
Alfred Hoover is buried in Riegle's Cemetery in Curtin, just west of Berrysburg, Dauphin County.
His grave is marked with a G.A.R. star-flag holder and the stone indicates his service in the 177th Pennsylvania Infantry.