Posted By Norman Gasbarro on October 21, 2011
Jacob Weidel (1831-1901) was a coal miner for most of his life.  According to his obituary which was found in the Lykens Standard of 4 October 1901, he was also a Civil War veteran:
When Abraham Lincoln called for 100,000 men on 4 August 1862 for nine months to defend the flag and the union, he promptly enlisted from Juniata County, where he was then living.  He belonged to the 151st Regiment (151st Pennsylvania Infantry), P.V. (George F. McFarland, Captain), which was terribly cut up in the fight at Gettysburg.
While Jacob Weidel's name does appear on the rolls of the 151st Pennsylvania Infantry, it does not appear on the Pennsylvania Memorial at Gettysburg for service in Company D.  One explanation for this could be that he was on furlough during the time of the battle.  Another explanation could be that he was sick or in the hospital and did not participate in the battle.  A final possibility could be that his name was inadvertently omitted from the monument.
The indication in the obituary that Jacob Weidel served under "Captain" George F. McFarland is also confusing in that at the time of Gettysburg, according to the tablet, McFarland was supposedly serving as Lieutenant Colonel of the regiment.  A check of the registers at the Pennsylvania Archives explains this discrepancy.  McFarland was wounded at the Battle of Gettysburg on 1 July 1863, while Captain of Company D.  He was then discharged from Company D and promoted to Lieutenant Colonel of the regiment.  Captain Walter L. Owens, listed on the Gettysburg plaque, had been previously promoted from the position of 2nd Sergeant on 19 November 1862 and assumed the position of Captain when Captain McFarland was wounded and then promoted.
The 1890 Veterans' Census for Williamstown, Dauphin County, Pennsylvania, lists Jacob Weidel with his dates of service from 13 September 1862 through 29 July 1863 which would include the Gettysburg dates of 1 July 1863 through 3 July 1863.  However, Weidel was given an opportunity to state whether he incurred any disability during the Civil War and none was indicated.  The dates given by Weidel to the 1890 census official coincide somewhat with the dates on the index card at the Pennsylvania Archives shown below: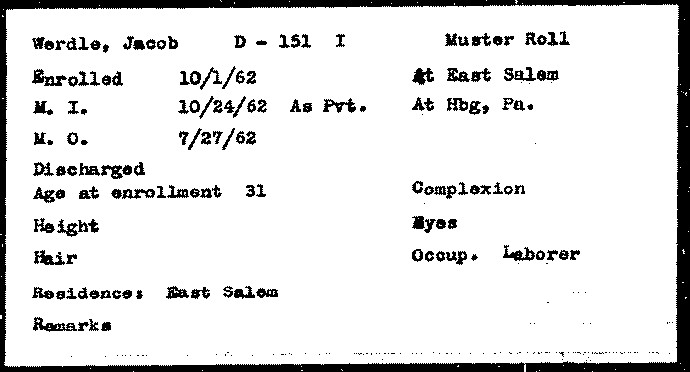 Unfortunately, the Pension Index Card for Jacob Weidel is misfiled in the Ancestry.com records and it is impossible to access it until the misfiling is corrected.  The pension file may offer some clues as to the reason that Jacob's name is not on the Pennsylvania Memorial at Gettysburg.  Likewise, the actual military records, obtainable at the Pennsylvania Archives , may show whether he was present for muster in early July 1863.
Excerpts from the obituary of Jacob Weidel from the Lykens Standard appear below:
Jacob Weidel of Dayton, after serving his day and generation faithfully, died at 11:15 p.m., Friday, 27 September [1901], aged 70 years, 8 months and 5 days.  The funeral was held Tuesday afternoon, Rev. N. A. Barr officiating, assisted by Rev. S. H. Chubb of Wiconisco.  Rev. Barr preached an able and timely sermon from Isaiah 46:3-4.

As far as is known, he is survived by only two sisters, Mrs. Sarah Hopple of Juniata County, and Mrs. Angelina Lebb of Lykens.

Jacob Weidel was born on 22 January 1831, near what used to be called the Old Forge, just east of Elizabethville, and then embraced in Lykens Township.  His parents were George and Nancy Weidel.  At the age of 7 years he was bound out to a family by the name of Zimmerman in Armstrong Valley.  When 14 years old he came back to work in the mines, the family then living about one mile east of Wiconisco, just north of the Sheafer buildings.  Young Jacob attended the public schools in an old school house just west of Aaron Row's in Williamstown where he learned to read, write and the fundamental branches of arithmetic.  When scarcely out of his teens he was working in the mines of Bear Gap, now Short Mountain Colliery and for upwards of fifty years he followed the occupation of mining in which he was generally successful.

[During his time working in the mines he was] caught in a rush of rock and coal and was buried for several hours.  For a while it seemed that he would never be gotten out alive, but brave men, skillful hands and cool heads won the day, and he was finally extricated, but he never recovered fully from the effects of that accident and for the last few years he was an invalid, his nervous system shattered and his mind weakened, the result of years of hard work underground in bad air, in wet, heat and cold, which together with the accident above referred to, no doubt hastened his death.

On 28 September 1850, he was married to Miss Sarah Belles, who survives him.  This union was blessed with 11 children, 47 grandchildren and 7 great grandchildren.  Of this number 5 children, 13 grandchildren and two great grandchildren preceded him to the eternal word.  The six living children are Emanuel T. Weidel, of Williamstown; Louisa, married to Henry C. Acaley of Llewellyn; John H. Weidel, of Williamstown; Catharine, married to Jerome S. Landis of Mt. Carmel; Sarah E., married to Jonathan F. Hawk of Dayton; and Jacob U. Weidel, of Altoona.  For the last 30 years he has resided in the valley, where he had made himself a home just west of Dayton.  Several years ago he sold the old home and took up residence in Dayton.  During the 70s he was a member of the Williams Township schoolboard.  He was a member of Ashlar Lodge, No. 570, F. and A. M. of Wiconisco, which had charge of his funeral, also of Washington Camp, P.O.S. of A. of Wiconisco.
A copy of the complete obituary is available from the Civil War Research Project.   Other information is also available on Jacob Weidel and his military service.  The Society is seeking more information, including pictures and documents including papers from the pension file.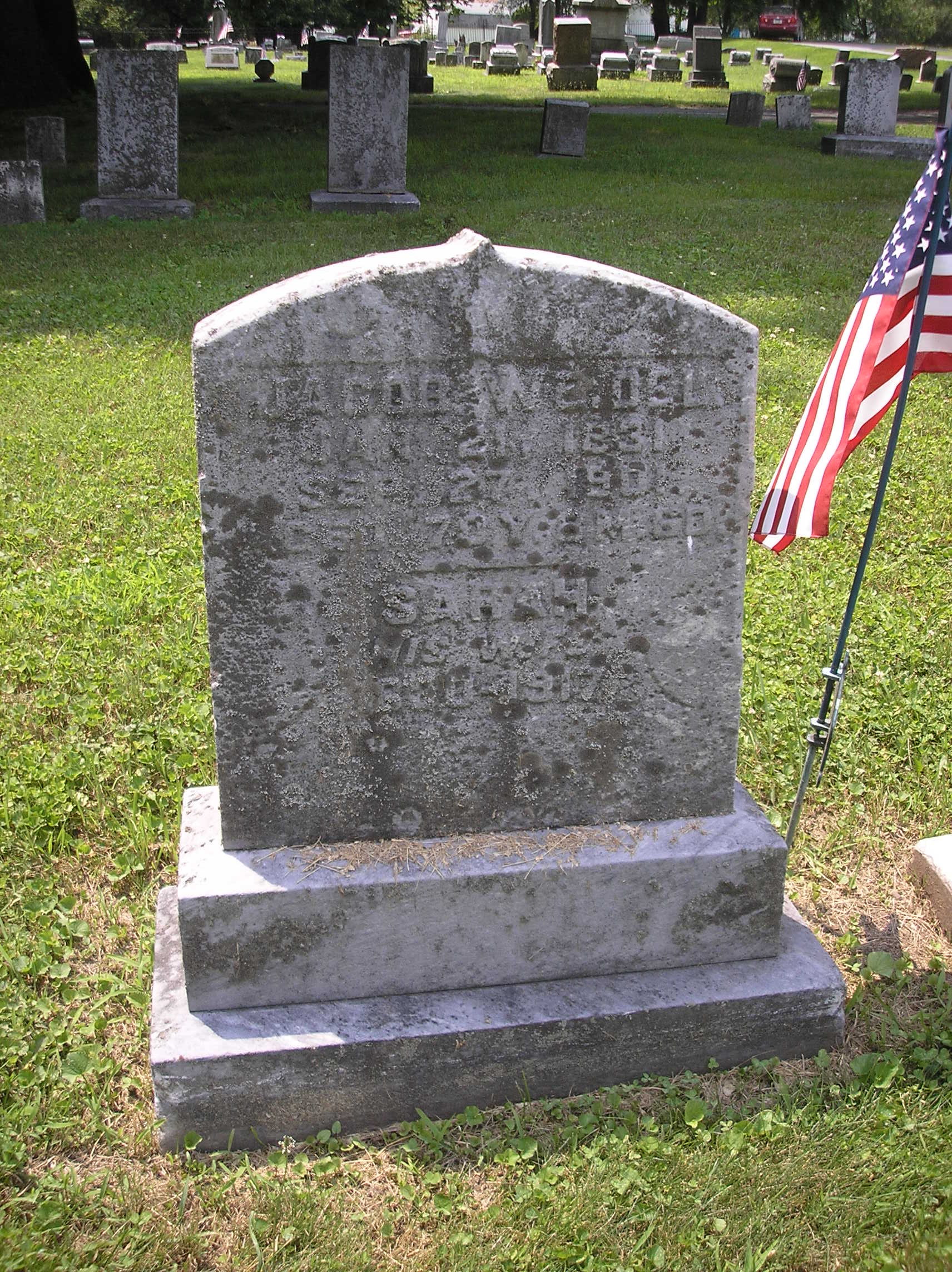 Previously, on this blog, the grave marker of Jacob Weidel was pictured as part of a post on Calvary United Methodist Cemetery at Wiconisco.  It was also noted that Jacob Weidel's name appears on the Lykens G.A.R. Monument as a veteran who did not join the Heilner Post.

It is not known why Jacob chose to not join the G.A.R. post at Lykens or whether he was a member of the post at Williamstown.  However, his grave is marked with a G.A.R. star and flag holder as appropriately it should be because of his service during the Civil War.