Posted By Norman Gasbarro on October 27, 2011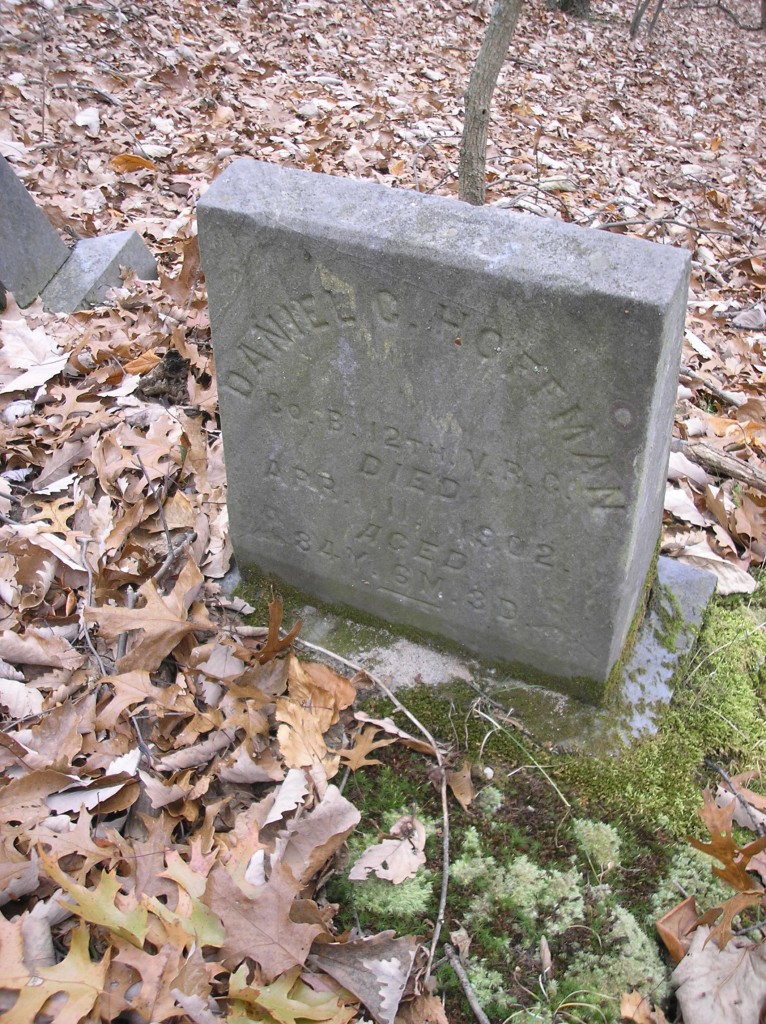 DANIEL C. HOFFMAN (1817-1902)
LYKENS — Daniel C. Hoffman of North Lykens who has been a resident of Lykens for more than 52 years, died at his home Friday last [11 April 1902], aged 84 years, 7 months and 8 days.  The funeral was held Monday, service being conducted in the U.B church by Revs. Z. A. Weidler and D. L. Mackenzie, after which interment took place on the Women's Relief Corps plot in Odd Fellows' Cemetery.  The pallbearers were selected from M. M. Hoffman Camp, S and V, and consisted of the following:  James Hoffman, John Williams, DeWitt Mackenzie, James Spangler, William Hoffman and Claude Minnich.  The Misses Ella Ely and Rena Moyer rendered appropriate hymns at the services.

Daniel C. Hoffman was born in Lykens Township on 8 September 1817 and was a brother of the late Jacob D. Hoffman, a prominent figure in Dauphin county politics, and a former sheriff  He was married to Frances Frantz of Lykens Valley on 22 March 1843 and five children were born unto the couple, two of whom, Edwin Hoffman and Hannah E. Hoffman, preceded him in the grave.  The surviving children are Sarah Hoffman (Mrs. Jacob Ganer); Mary E. Hoffman; and Charles F. Hoffman.  His wife preceded him to the grave on 22 June 1869.  There are 5 grandchildren and 3 great grandchildren.

Deceased enlisted as a private in Company H, 12th Regiment Veteran Reserve Corps.  (Benjamin F. Clayton, Captain) on 23 September 1861, to serve 3 years or during the war, and was discharged on 27 September 1864 at Washington, D.C., by reason of expiration of service.

Deceased worked in the mines 30 years, but for a number of years past has not been able to engage in any work.  he was a member of the first band ever organized in this town, and was a respected citizen, a kind, indulgent father and his death removes from our midst one more of the few survivors of the struggle of 1861-1865.
The above information is from the Lykens Standard, 18 April 1902.
For an explanation of the Veteran Reserve Corps, see a prior post on this blog, "The Invalid Corps (or Veteran Reserve Corps)."   Not much is known of the actual service of Daniel C. Hoffman in this regiment.  Perhaps more research will reveal the extent of his duties and the places where he was stationed.

Daniel C. Hoffman was a member of the Heilner Post, No. 232, G.A.R., of Lykens, as noted on the Lykens G.A.R. Monument.  It is not known why this fact was not mentioned in the obituary or why there was no participation by Heilner Post in the funeral.  However, it was noted that at the time of his death there were "few survivors" of the Civil War and the Women's Relief Corps was mentioned in the first paragraph.  The Women's Relief Corps took over when the men were no longer able to do so and survived as an organization well past the death of the last Civil War veteran.
Also not noted was the fact that Daniel C. Hoffman was a direct descendant of Johann Peter Hoffman (1709-1797), pioneer settler of the Lykens Valley.  Previous blog posts on the Hoffman family can be found by clicking here.