Posted By Norman Gasbarro on October 23, 2011
Daniel Schaffner (1827-1910) was born in Lykens Township, Dauphin County, Pennsylvania, 6 August 1827, the son of Christian Schaffner and Christina [Hoffman] Schaffner.  Through his mother, he was a direct descendant of Johann Peter Hoffman (1709-1797), pioneer settler of the Lykens Valley.  When Daniel was eight years old, his father died, and at age twelve, he was employed as a farm hand, where he remained for about two years.  Afterward, he went to Gratz and was employed in a store where he learned the trade of store and tavern keeper.  Within a few years, he joined a brother Martin in Hoernerstown, Schuylkill County and apprenticed as a carpenter.  Always alert to improving himself, he returned to Lykens Township where his mother lived to attend school and later teach in the Lykens Valley for about ten school sessions, alternately returning to Hoernerstown to work as a carpenter.  It was in Hoernerstown that he met his wife-to-be, Salome Hoerner, and upon marriage in 1852, decided to make Hoernerstown his permanent home.
Daniel Schaffner's Civil War service is reported in the History of Dauphin County, page 246.

When Gen. Lee invaded Pennsyvlania Mr. Schaffner enlisted in the militia, 9 June 1863, the term being for three months [36th Pennsylvania Infantry, Company E].  He was discharged 12 August 1863, and on 1 March 1865, enlisted in Company I, Eighty-seven Regiment, Pennsylvania Volunteer Infantry [87th Pennsylvania Infantry].  He participated in engagements before Petersburg and at Sailor's Creek, Virginia, and was present at the surrender of Lee.  At times he acted as corporal in his company.  He was honorably discharged on 29 June 1865.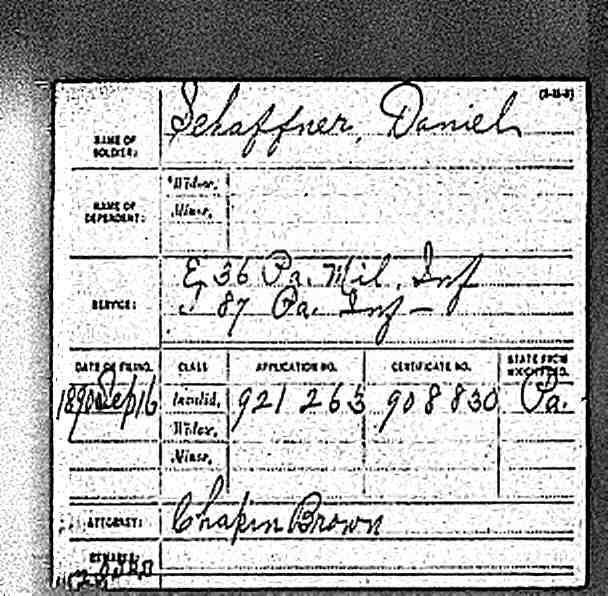 Before and during the Civil War, the union of Daniel Schaffner and Salome Hoerner produced eight children.  The first six children were born before the war:  Jacob Franklin Schaffner, born in 1854; Henry Clay Schaffner, born in 1855; Daniel Webster Schaffner; William Edward Schaffner, born 1858 and died 1859; Clara Elizabeth Schaffner, born 1859 and died 1860; and John Calvin Schaffner, born 1860 and died 1861.  Therefore, when Daniel Schaffner went off to war in 1863, he left his wife with the care of three young children and the memory of the recent tragedies of the deaths of three others.  During the war, Salome conceived and bore two more children:  Sarah Caroline Schaffner, born in 1863 just days after her father went off to war; and Alfred Martin Schaffner, born 11 October 1864, just a few months before Daniel Schaffner went off for his second enlistment.  Salome [Hoerner] Schaffner had to maintain the home, take care of young children, and work to support the family while Daniel was at war.
Of the children who survived to adulthood, at least two were college graduates:  Jacob Franklin Schaffner, who attended the Berrysburg Academy and later graduated from Palatinate College in Myerstown in preparation for a career as a teacher and later as a lawyer; and Alfred Martin Schaffner, who was a graduate of the theological seminary of Franklin and Marshall College and became a well-known reformed Church pastor in Columbia County.
After the war, using his previously-learned skills from the store where he worked in Gratz, Schaffner decided to open a general merchandise store in Hoernerstown.  In 1867 he became Justice of the Peace, a position  he then continued to hold for most of his life.  Although he had to stand for re-election, there was little or no opposition to him continuing to serve.  Under Pres. William McKinley's administration he was appointed postmaster of Hoernerstown and then moved the post office into his general store.  He continued to serve as postmaster until his death in 1910.    His experience as a teacher led him to seek a position as a director of the schools of South Hanover Township, also a position he held for many years.  In political affairs, he was an independent Democrat.  In religious affairs, he served as a deacon and elder of the Reformed Church of Hummelstown.Daniel and Salome Schaffner are buried in Hoernerstown, Schuylkill County, Pennsylvania.
Daniel Schaffner's younger brother, Eli Schaffner, was also a Civil War veteran who was drafted into the 177th Pennsylvania Infantry, Company I, but was discharged on a Surgeon's Certificate of Disability.
Information for this post was taken from the files of the Civil War Research Project.