Posted By Norman Gasbarro on October 16, 2011
The Civil War Sesquicentennial was commemorated at Franklin Square in Philadelphia on Fourth of July weekend, 2011, with "encampments" of re-enactors representing several Pennsylvania-related military units.  One of the units represented was the 3rd Regiment Infantry of United States Colored Troops (U.S.C.T.).  It has been previously reported on this blog that several men from the Lykens Valley area served in U.S.C.T. regiments during the Civil War and a post describing the monument in Philadelphia to their memory was presented here in January.
Shown below are some photos of the display and activities of the 3rd Regiment Infantry U.S.C.T. Re-enactors at Franklin Square, Philadelphia, 1 July 2011.  The broadside distributed by the re-enactors is also presented.  Anyone wishing to contact the "recruiters" of the 3rd Regiment Infantry U.S.C.T. can do so through their web site.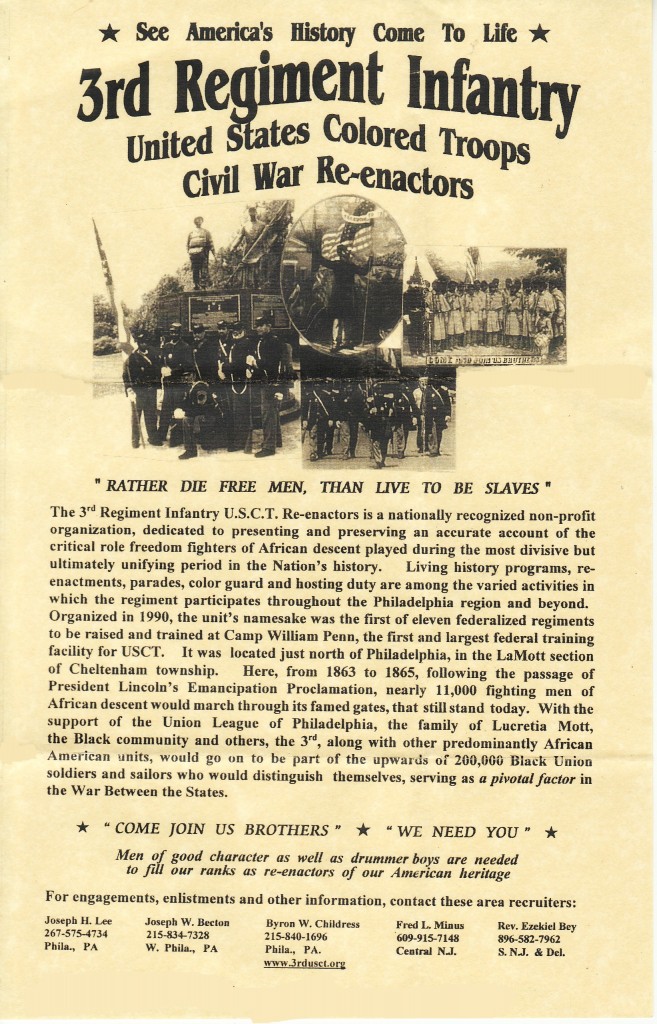 * See America's History Come to Life *

3rd Regiment Infantry

United States Colored Troops

Civil War Re-enactors

"RATHER DIE FREE MEN, THAN LIVE TO BE SLAVES"

The 3rd Regiment Infantry U.S.C.T. Re-enactors is a nationally recognized non-profit organization, dedicated to presenting and preserving an accurate account of the critical role freedom fighters of African descent played during the most divisive but ultimately unifying period in the Nation's history.  Living history programs, re-enactments, parades, color guard and hosting duty are among the varied activities in which the regiment participates throughout the Philadelphia region and beyond.  Organized in 1990, the unit's namesake was the first of eleven federalized regiments to be raised and trained at camp William Penn, the first and largest federal training facility for USCT.  It was located just north of Philadelphia, in the LaMott section of Cheltenham township.  Here, from 1863 to 1865, following the passage of President Lincoln's Emancipation Proclamation, nearly 11,000 fighting men of African descent would march through its famed gates, that still stand today.  With the support of the Union League of Philadelphia, the family of Lucretia Mott, the Black community and others, the 3rd, along with other predominantly African American units, would go on to be part of the upwards of 200,000 Black Union soldiers and sailors who would distinguish themselves, serving as a pivotal factor in the War Between the States.

* "COME JOIN US BROTHERS" * "WE NEED YOU" *

Men of good character as well as drummer boys are needed to fill our ranks as re-enactors of our American heritage.